Abstract
Objective
To study the profile of children with Hemophagocytic Lymphohistiocytosis (HLH) in a tertiary care hospital for children.
Methods
A retrospective analysis of case records of 52 children diagnossed with HLH was performed.
Results
Of the 52 children 13% (n = 7) had Familial HLH and 87% (n = 45) had secondary HLH (sHLH). Common manifestations were fever (100%), organomegaly (87%), respiratory distress (54%), neurological symptoms (31%) and skin rashes (26.2%). Anemia and thrombocytopenia were present in 51% and 73% respectively. Hyperferritinemia was present in 96% and hypofibrinogenemia in 42% and high lactate dehydrogenase (LDH) in 91%. Bone marrow examination showed hemophagocytosis in 80%. Most common etiology among infections was viral infections (67%), of which Dengue was the most common (52%). Among children with sHLH 51% received supportive care only. Thirty-seven percent (n = 17) received intravenous (IV) immunoglobulin and steroids. Of these 77% (n = 35) recovered completely. Children with familial HLH were initiated on HLH 2004 protocol but all of them expired due to disease progression.
Conclusions
Identifying HLH early and managing it, poses a significant challenge. Prompt recognition and initiation of immunosuppressive therapy is extremely important for the better outcome; hence high clinical suspicion and structured work up including immunological, and genetic studies is required. It may be difficult to differentiate primary and secondary HLH in many instances unless genetic analysis is done. Identification of familial HLH is necessary for early referral to Hematopoietic Stem Cell Transplantation (HSCT). Hence screening for primary HLH needs to be considered in all children with HLH.
This is a preview of subscription content, log in to check access.
Access options
Buy single article
Instant access to the full article PDF.
US$ 39.95
Price includes VAT for USA
Subscribe to journal
Immediate online access to all issues from 2019. Subscription will auto renew annually.
US$ 99
This is the net price. Taxes to be calculated in checkout.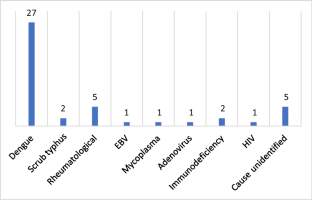 References
1.

Allen CE, Yu X, Kozinetz CA, McClain KL. Highly elevated ferritin levels and the diagnosis of hemophagocytic lymphohistiocytosis. Pediatr Blood Cancer. 2008;50:1227–35.

2.

Henter JI, Horne A, Aricó M, et al. HLH-2004: diagnostic and therapeutic guidelines for hemophagocytic lymphohistiocytosis. Pediatr Blood Cancer. 2007;48:124–31.

3.

Janka G, Imashuku S, Elinder G, Schneider M, Henter JI. Infection-and malignancy-associated hemophagocytic syndromes. Secondary hemophagocytic lymphohistiocytosis. Hematol Oncol Clin North Am. 1998;12:435–44.

4.

Sieni E, Cetica V, Hackmann Y, et al. Familial hemophagocytic lymphohistiocytosis: when rare diseases shed light on immune system functioning. Front Immunol. 2014;5:167.

5.

Filipovich AH. Hemophagocytic lymphohistiocytosis (HLH) and related disorders. Hematology Am Soc Hematol Educ Program. 2009;127–31. https://doi.org/10.1182/asheducation-2009.1.127.

6.

Janka G. Hemophagocytic lymphohistiocytosis: when the immune system runs amok. Klin Padiatr. 2009;221:278–85.

7.

Niece JA, Rogers ZR, Ahmad N, Langevin AM, McClain KL. Hemophagocytic lymphohistiocytosis in Texas: observations on ethnicity and race. Pediatr Blood Cancer. 2010;54:424–8.

8.

Picard C, Al-Herz W, Bousfiha A, et al. Primary immunodeficiency diseases: an update on the classification from the International Union of Immunological Societies Expert Committee for Primary Immunodeficiency 2015. J Clin Immunol. 2015;35:696–726.

9.

Rosado FG, Kim AS. Hemophagocytic lymphohistiocytosis: an update on diagnosis and pathogenesis. Am J Clin Pathol. 2013;139:713–27.

10.

Ho C, Yao X, Tian L, Li FY, Podoltsev N, Xu ML. Marrow assessment for hemophagocytic lymphohistiocytosis demonstrates poor correlation with disease probability. Am J Clin Pathol. 2014;141:62–71.

11.

Karthik R. Infectious causes of macrophage activation syndrome. J Assoc Physicians India. 2007;55:877–8.

12.

Ellis EM, Sharp TM, Pérez-Padilla J, et al. Incidence and risk factors for developing dengue-associated hemophagocytic lymphohistiocytosis in Puerto Rico, 2008–2013. PLoS Negl Trop Dis. 2016;10:e0004939.

13.

Ramachandran B, Balasubramanian S, Abhishek N, Ravikumar KG, Ramanan AV. Profile of hemophagocytic lymphohistiocytosis in children in a tertiary care hospital in India. Indian Pediatr. 2011;48:31–5.

14.

Veerakul G, Sanpakit K, Tanphaichitr VS, Mahasandana C, Jirarattanasopa N. Secondary hemophagocytic lymphohistiocytosis in children: an analysis of etiology and outcome. J Med Assoc Thailand. 2002;85:S530–41.

15.

Rajagopala S, Singh N. Diagnosing and treating hemophagocytic lymphohistiocytosis in the tropics: systematic review from the Indian subcontinent. Acta Med Acad. 2012;41:161–74.

16.

Bergsten E, Horne A, Aricó M, et al. Confirmed efficacy of etoposide and dexamethasone in HLH treatment: long term results of the cooperative HLH-2004 study. Blood. 2017;130:2728–38.

17.

Henter JI, Samuelsson-Horne A, Arico M, et al. Treatment of hemophagocytic lymphohistiocytosis with HLH-94 immunochemotherapy and bone marrow transplantation. Blood. 2002;100:2367–73.

18.

Madkaikar M, Shabrish S, Desai M. Current updates on classification, diagnosis and treatment of hemophagocytic lymphohistiocytosis (HLH). Indian J Pediatr. 2016;83:434–43.

19.

Jordan MB, Allen CE, Weitzman S, Filipovich AH, McClain KL. How I treat hemophagocytic lymphohistiocytosis. Blood. 2011;118:4041–52.
Acknowledgements
The authors thank all the treating consultants, Pediatric intensive care team, Pathologists and Nurses at Kanchi Kamakoti CHILDS Trust hospital, Chennai for their support in diagnosis and management.
Ethics declarations
Conflict of Interest
None.
Additional information
Publisher's Note
Springer Nature remains neutral with regard to jurisdictional claims in published maps and institutional affiliations.
About this article
Cite this article
Nandhakumar, D., Loganatha, A., Sivasankaran, M. et al. Hemophagocytic Lymphohistiocytosis in Children. Indian J Pediatr (2020). https://doi.org/10.1007/s12098-020-03190-6
Received:

Accepted:

Published:
Keywords
Familial HLH

Secondary HLH

Genetic analysis

HSCT