Abstract
Despite evidence about the value of high quality postnatal services for the survival, health and wellbeing of the mother and neonate, sub-optimal use of the available services delivered through public sector remains a persistent challenge in India and most low-middle income countries. An extensive search till Dec 31, 2017 in databases including PubMed, Scopus and Science Direct was conducted and selected studies were organized, categorized and summarized for integrated review. Of the 3463 studies screened, 47 relevant studies were identified through integrated systematic process. The 'nexus' framework consisting of four domains namely: social-cultural, educational, organizational and economic-physical were used to determine the promoters and inhibitors of postnatal care-utilization. The important inhibitory factors at household and community context were myths-cultural practices, gaps in the awareness of mother and families regarding danger signs and postnatal complications and hesitancy to contact health workers due to trust deficit. There were lack of clarity about job responsibilities, poor quality of training, skills building and supervision of front line workers. Quality of home visits, and irregular incentives to health workers were other factors. The facilitating factors were mother's autonomy, young mothers, access to media and repeated and timely contact with the health worker, antenatal care (ANC) attendance and institutional deliveries, conditional cash transfer and availability of health insurance. Several factors like social mobilization, skill building and training cut across the domains of the nexus framework. The review suggested a multi-dimensional focus on implementing integrated continuum of care models covering prenatal-postnatal and infancy period.
This is a preview of subscription content, log in to check access.
Access options
Buy single article
Instant access to the full article PDF.
US$ 39.95
Price includes VAT for USA
Subscribe to journal
Immediate online access to all issues from 2019. Subscription will auto renew annually.
US$ 99
This is the net price. Taxes to be calculated in checkout.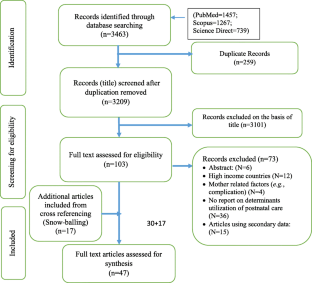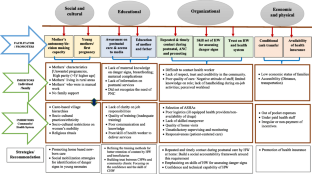 References
1.

Lawn JE, Cousens S, Zupan J. 4 million neonatal deaths: when? Where? Why? Lancet. 2005;365:891–900.

2.

Sankar MJ, Neogi SB, Sharma J, et al. State of newborn health in India. J Perinatol. 2016;36:S3–8.

3.

Levels & Trends in Child Mortality. Estimates developed by the UN Inter-agency group for child mortality estimation. [Internet] Report 2017. Available at: https://www.unicef.org/publications/index_101071.html

4.

International Institute for Population Sciences (IIPS) and ICF. National Family Health Survey (NFHS-4), India. Mumbai. [Internet] Report. 2015–16. Available at: http://rchiips.org/NFHS/NFHS-4Reports/India.pdf

5.

Oestergaard MZ, Inoue M, Yoshida S, et al; United Nations Inter-Agency Group for Child Mortality. Estimation and the Child Health Epidemiology Reference Group. Neonatal mortality levels for 193 countries in 2009 with trends since 1990: a systematic analysis of progress, projections, and priorities. PLoS Med. 2011;8:e1001080.

6.

Key demographic indicators. UNICEF. [Internet] Available at: https://data.unicef.org/topic/child-survival/under-five-mortality. Accessed on 9 September 2019.

7.

Lunze K, Higgins-Steele A, Simen-Kapeu A, et al. Innovative approaches for improving maternal and newborn health - a landscape analysis. BMC Pregnancy Childbirth. 2015;15:337.

8.

Baqui AH, Ahmed S, Arifeen SE, et al; Projahnmo 1 Study Group. Effect of timing of first postnatal care home visit on neonatal mortality in Bangladesh: an observational cohort study. BMJ. 2009;339:b2826.

9.

Pitt C, Tawiah T, Soremekun S, et al. Cost and cost-effectiveness of newborn home visits: findings from the Newhints cluster-randomized controlled trial in rural Ghana. Lancet Glob Health. 2016;4:e45–56.

10.

WHO/RHT/MSM/983. Postpartum Care of the Mother and Newborn: A Practical Guide. Geneva: WHO Document Production Services; 2004. p. 49–58.

11.

World Health Statistics. WHO: 2014. [Internet] Available at: http://apps.who.int/iris/bitstream/handle/10665/112738/9789240692671_eng.pdf?sequence=1. Accessed on 9 September 2019.

12.

Singh A, Padmadas SS, Mishra US, Pallikadavath S, Johnson FA, Matthews Z. Socio-economic inequalities in the use of postnatal care in India. PLoS One. 2012;7:e37037.

13.

Gebrehiwot G, Medhanyie AA, Gidey G, Abrha K. Postnatal care utilization among urban women in northern Ethiopia: cross-sectional survey. BMC Womens Health. 2018;18:78.

14.

Duggan AK, McFarlane EC, Windham AM, et al. Evaluation of Hawaii's healthy start program. Futur Child. 1999;9:66–90.

15.

Whittemore R, Knafl K. The integrative review: updated methodology. J Adv Nurs. 2005;52:546–53.

16.

Phillips AB, Merrill JA. Innovative use of the integrative review to evaluate evidence of technology transformation in healthcare. J Biomed Inform. 2015;58:114–21.

17.

Bingler S. Rebuilding for the Community in New Orleans. CELE Exchange 2010/14. © OECD 2010. ISSN 2072-7925.

18.

Kanté AM, Chung CE, Larsen AM, Exavery A, Tani K, Phillips JF. Factors associated with compliance with the recommended frequency of postnatal care services in three rural districts of Tanzania. BMC Pregnancy Childbirth. 2015;15:1–10. Open access. https://doi.org/10.1186/s12884-015-0769-8.

19.

Mohan D, Gupta S, LeFevre A, Bazant E, Killewo J, Baqui AH. Determinants of postnatal care use at health facilities in rural Tanzania: multilevel analysis of a household survey. BMC Pregnancy Childbirth. 2015;15:1–10. Open access. https://doi.org/10.1186/s12884-015-0717-7.

20.

Mrisho M, Obrist B, Schellenberg JA, et al. The use of antenatal and postnatal care: perspectives and experiences of women and health care providers in rural southern Tanzania. BMC Pregnancy Childbirth. 2009;9:1–12. Open access. https://doi.org/10.1186/1471-2393-9-10.

21.

Mahiti GR, Mkoka DA, Kiwara AD, Mbekenga CK, Hurtig AK, Goicolea I. Women's perceptions of antenatal, delivery, and postpartum services in rural Tanzania. Glob Health Action. 2015;8:28567.

22.

Nkwabong E, Ilue EE, Bisong CE. Factors associated with poor attendance at the postpartum clinic six weeks after delivery in Cameroon. Int J Gynecol Obstet. 2015;129:248–50.

23.

Limenih MA, Endale ZM, Dachew BA. Postnatal care service utilization and associated factors among women who gave birth in the last 12 months prior to the study in Debre Markos Town, Northwestern Ethiopia: a community-based cross-sectional study. Int J Reproduct Med. 2016;Article ID 7095352:1–7.

24.

Tekle Haimanot AN, Niguse D, Tesfay A. Early postnatal care service utilization and associated factors among mothers who gave birth in the last 12 months in Aseko district, Arsi zone, south East Ethiopia in 2016. J Women Health Care. 2017;6:358.

25.

Workineh YG, Hailu DA. Factors affecting utilization of postnatal care service in Amhara region, Jabitena District, Ethiopia. Sci J Publ Health. 2014;2:169–76.

26.

Angore BN, Tufa EG, Bisetegen FS. Determinants of postnatal care utilization in urban community among women in Debre Birhan town, northern Shewa, Ethiopia. J Health Popul Nutr. 2018;37:10.

27.

Berhe M, Medhaniye AA, Kahsay G, et al. Essential neonatal care utilization and associated factors among mothers in public health facilities of Aksum town, North Ethiopia, 2016. PLoS One. 2017;12:e0175902.

28.

Darega B, Dida N, Tafese F, Ololo S. Institutional delivery and postnatal care services utilizations in Abuna Gindeberet district, west Shewa, Oromiya region, Central Ethiopia: a community-based cross sectional study. BMC Pregnancy Childbirth. 2016;16:149.

29.

Tesfahun F, Worku W, Mazengiya F, Kifle M. Knowledge, perception and utilization of postnatal care of mothers in Gondar Zuria district, Ethiopia: a cross-sectional study. Matern Child Health J. 2014;18:2341–51.

30.

Hordofa MA, Almaw SS, Berhanu MG, Lemio HB. Postnatal care service utilization and associated factors among women in Dembecha district, Northwest Ethiopia. Sci J Public Health. 2015;3:686–92.

31.

Phiri PWC, Rattanapan C, Mongkolchati A. Determinants of postnatal service utilisation among mothers in rural settings of Malawi. Health Soc Care Commun. 2014;23:493–501.

32.

Zamawe CF, Masache GC, Dube AN. The role of the parents' perception of the postpartum period and knowledge of maternal mortality in uptake of postnatal care: a qualitative exploration in Malawi. Int J Womens Health. 2015;7:587–94.

33.

Adams YJ, Stommel M, Ayoola A, Horodynski M, Malata A, Smith B. Use and evaluation of postpartum care services in rural Malawi. J Nurs Scholarsh. 2017;49:87–95.

34.

Jacobs C, Moshabela M, Maswenyeho S, Lambo N, Michelo C. Predictors of antenatal care, skilled birth attendance, and postnatal care utilization among the remote and poorest rural communities of Zambia: a multilevel analysis. Front Public Health. 2017;5:11.

35.

Elkhoudri N, Baali A, Amor H. Postnatal care: levels and determinants in Morocco. Iran J Public Health. 2017;46:242–8.

36.

Sacks E, Masvawure TB, Atuyambe LM, et al. Postnatal care experiences and barriers to care utilization for home- and facility-delivered newborns in Uganda and Zambia. Matern Child Health J. 2016;21:599–606.

37.

Nabukera SK, Witte K, Muchunguzi C, et al. Use of postpartum health services in rural Uganda: knowledge, attitudes and barriers. J Community Health. 2006;31:84–93.

38.

Izudi J, Amongin D. Use of early postnatal care among postpartum women in eastern Uganda. Int J Gynecol Obstet. 2015;129:161–4.

39.

Ganle JK, Parker M, Fitzpatrick R, Otupiri E. A qualitative study of health system barriers to accessibility and utilization of maternal and newborn healthcare services in Ghana after user-fee abolition. BMC Pregnancy Childbirth. 2014;14:425.

40.

Izudi J, Akwang GD, Amongin D. Early postnatal care use by postpartum mothers in Mundri East County, South Sudan. BMC Health Serv Res. 2017;17:442.

41.

Bhaisare KA, Khakase GM. Study of utilization of postnatal care services in tribal area of Maharashtra. Int J Med Sci Public Health. 2014;3:1487–91.

42.

Neogi SB, Sharma J, Chauhan M, et al. Care of newborn in the community and at home. J Perinatol. 2016;36:S13–7.

43.

Sharma A, Thakur PS, Kasar PK, Tiwari R, Sharma R. Utilization of postnatal care in tribal area of Madhya Pradesh, India: a community based cross-sectional study. Int J Med Sci Public Health. 2014;3:1266–71.

44.

Verma DS, Khan ME, Hazra A. Increasing postnatal care of mothers and newborns including follow-up cord care and thermal care in rural Uttar Pradesh. J Fam Welf. 2010;56:31–41.

45.

Paudel M, Khanal V, Acharya B, Adhikari M. Determinants of postnatal service utilization in a western district of Nepal: community based cross sectional study. J Womens Health Care. 2013;2:126.

46.

Dhakal S, Chapman GN, Simkhada PP, van Teijlingen ER, Stephens J, Raja AE. Utilisation of postnatal care among rural women in Nepal. BMC Pregnancy Childbirth. 2007;7:19.

47.

Karkee R, Khanal V. Postnatal and neonatal care after home birth: a community- based study in Nepal. Women Birth. 2015;29:e39–43.

48.

Shahjahan M, Chowdhury HA, Al-Hadhrami AY, Harun GD. Antenatal and postnatal care practices among mothers in rural Bangladesh: a community based cross-sectional study. Midwifery. 2017;52:42–8.

49.

Islam MR, Odland JO. Determinants of antenatal and postnatal care visits among indigenous people in Bangladesh: a study of the Mru community. Rural Remote Health. 2011;11:1672.

50.

Sultana N, Shaikh BT. Low utilization of postnatal care: searching the window of opportunity to save mothers and newborns lives in Islamabad capital territory, Pakistan. BMC Res Notes. 2015;8:645.

51.

Titaley CR, Hunter CL, Heywood P, Dibley MJ. Why don't some women attend antenatal and postnatal care services?: a qualitative study of community members' perspectives in Garut, Sukabumi and Ciamis districts of West Java Province, Indonesia. BMC Pregnancy Childbirth. 2010;10:61.

52.

Probandari AA, Arcita A, Kothijah K, Pamungkasari EP. Barriers to utilization of postnatal care at village level in Klaten district, Central Java Province, Indonesia. BMC Health Serv Res. 2017;17:541.

53.

Yamashita T, Suplido SA, Ladines-Llave C, Tanaka Y, Senba N, Matsuo H. A cross-sectional analytic study of postpartum health care service utilization in the Philippines. PLoS One. 2014;9:e85627.

54.

Yamashita T, Suplido SA, Llave C, Tuliao MT, Tanaka Y, Matsuo H. Understanding postpartum healthcare services and exploring the challenges and motivations of maternal health service providers in the Philippines: a qualitative study. Trop Med Health. 2015;43:123–30.

55.

Tao F, Huang K, Long X, Tolhurst R, Raven J. Low postnatal care rates in two rural counties in Anhui Province, China: perceptions of key stakeholders. Midwifery. 2011;27:707–15.

56.

You H, Chen J, Bogg L, et al. Study on the factors associated with postpartum visits in rural China. PLoS One. 2013;8:e55955.

57.

Lomoro OA, Ehiri JE, Qian X, Tang SL. Mothers' perspectives on the quality of postpartum care in Central Shanghai, China. Int J Qual Health Care. 2002;14:393–401.

58.

Chen L, Qiong W, van Velthoven MH, et al. Coverage, quality of and barriers to postnatal care in rural Hebei, China: a mixed method study. BMC Pregnancy Childbirth. 2014;14:31.

59.

Xiang YX, Xiong JY, Tian MM, Yuan F, Feng ZC. Factors influencing the utilization of postpartum visits among rural women in China. J Huazhong Univ Sci Technol Med Sci. 2014;34:869–74.

60.

Newbrander W, Natiq K, Shahim S, Hamid N, Skena NB. Barriers to appropriate care for mothers and infants during the perinatal period in rural Afghanistan: a qualitative assessment. Glob Public Health. 2014;9:S93–109.

61.

Abushaikha L, Khalaf I. Exploring the roles of family members in women's decision to use postpartum healthcare services from the perspectives of women and health care providers. Women Health. 2014;54:502–12.

62.

Khalaf IA, Abu-Moghli FA, Callister LC, Mahadeen AI, Kaawa K, Zomot AF. Jordanian health care providers' perceptions of post-partum health care. Int Nurs Rev. 2009;56:442–9.

63.

Dhaher E, Mikolajczyk RT, Maxwell AE, Krämer A. Factors associated with lack of postnatal care among Palestinian women: a cross-sectional study of three clinics in the West Bank. BMC Pregnancy Childbirth. 2008;8:26.

64.

Sitrin D, Guenther T, Murray J, et al. Reaching mothers and babies with early postnatal home visits: the implementation realities of achieving high coverage in large-scale programs. PLoS One. 2013;8:e68930.

65.

Barimani M, Vikström A. Successful early postpartum support linked to management, informational, and relational continuity. Midwifery. 2015;31:811–7.

66.

Somefun OD, Ibisomi L. Determinants of postnatal care non-utilization among women in Nigeria. BMC Res Notes. 2016;9:21.

67.

Davies H. Falling public trust in health services: implications for accountability. J Health Serv Res Policy. 1999;4:193–4.

68.

Grant M, Wilford A, Haskins L, Phakathi S, Mntambo N, Horwood CM. Trust of community health workers influences the acceptance of community-based maternal and child health services. Afr J Prim Health Care Fam Med. 2017;9:e1–8.

69.

Ebener S, Guerra-Arias M, Campbell J, et al. The geography of maternal and newborn health: the state of the art. Int J Health Geogr. 2015;14:19.

70.

Beck CT. Facilitating the work of a meta-analyst. Res Nurs Health. 1999;22:523–30.
Acknowledgements
The author acknowledges the doctoral committee for their guidance and Dr. Abha Mishra (AM) and Dr. Pallavi Singh (PS) for offering time for screening titles of the articles.
Ethics declarations
Conflict of Interest
None.
Additional information
Publisher's Note
Springer Nature remains neutral with regard to jurisdictional claims in published maps and institutional affiliations.
Electronic supplementary material
About this article
Cite this article
Deshmukh, V., John, S. & Arora, N.K. Utilization of Postnatal Healthcare Services Delivered through Home Visitation and Health Facilities for Mothers and Newborns: An Integrative Review from Developing Countries. Indian J Pediatr 87, 207–216 (2020). https://doi.org/10.1007/s12098-019-03101-4
Received:

Accepted:

Published:

Issue Date:
Keywords
Nexus framework

Homebased care

Community health worker