Clinical guide SEOM on venous thromboembolism in cancer patients
Open Access
Clinical Guides in Oncology
Abstract
Venous thromboembolism (VTE) is a common event in cancer patients and one of the major causes of cancer-associated mortality and a leading cause of morbidity. In recent years, the incidence rates of VTE have notably increased; however, VTE is still commonly underestimated by oncologists. VTE is considered an adverse prognostic factor in cancer patients in all settings. In 2011 the Spanish Society of Medical Oncology (SEOM) first published a clinical guideline of prophylaxis and treatment of VTE in cancer patients. In an effort to incorporate evidence obtained since the original publication, SEOM presents an update of the guideline for thrombosis and cancer in order to improve the prevention and management of VTE.
Keywords
Cancer 
Thrombosis 
Guidelines 
Anticoagulation 
Introduction
Venous thromboembolism (VTE) is a significant cause of morbidity and death in patients with cancer. Although deep vein thrombosis (DVT) of limbs and pulmonary embolism (PE) are the most commonly encountered venous thrombotic complications, other vascular territories, such as the splanchnic veins and central nervous system can be involved. The risk of VTE is estimated to be fourfold higher in cancer patients compared with non-cancer patients. The true incidence of VTE in cancer patients remains uncertain, with reported incidence rates ranging from 0.8 % to over 30 % in some populations, and depends on several factors (tumor, host and treatment-related factors) [1]. VTE is often asymptomatic or minimally symptomatic, therefore the incidence is likely to be much higher. A steady increase in the incidence of cancer-associated thrombosis (CAT) has been observed in the past two decades due to multiple factors: increasing age of general population and cancer prevalence, improved imaging techniques with enhanced detection of incidental thrombosis and greater thrombogenicity of current multiagent chemotherapy regimens. Cancer patients with VTE have an increased incidence of VTE recurrence and anticoagulant-related bleeding complications compared with patients without cancer. VTE has been found to be an adverse prognosis factor in all stages of cancer [2]. In the last decade it was postulated that the aggressiveness of a malignant tumor is clearly correlated to the incidence of VTE.
Here, we review the prophylaxis and treatment of VTE in cancer patients using the GRADE system for all the recommendations [3, 4].
Risk factors
The risk of VTE varies notably between cancer patients, even in the same patient over the course of the disease. Risk factors for CAT can be divided into three categories: patient-, treatment- and cancer- related factors (Table 
1
).
Table 1
Risk factors for VTE
Cancer-related
 Site
  Very high risk: pancreas, brain, stomach
  High risk: lung, kidney, colon, uterus, bladder, testicular tumor
  Low risk: prostate, breast
 Stage/metastatic disease
  Higher for metastatic disease over locally advanced or local disease
 Histology
  Higher for adenocarcinoma over squamous cell carcinoma
 Tumor grade
  Higher for high-grade tumors (grade 3–4) compared to low grade (grade 1–2)
 Initial period after diagnosis (3–6 months)
 Active disease
 Vascular compression due to tumoral mass or lymphadenopathy
Treatment-related
 Chemotherapy
  Cisplatin
 Surgery
 Hospitalization
 Hormonal treatment
 Indwelling catheters
 Glucocorticoids
 Transfusions
   Erythrocyte and platelet transfusions
 Erythropoietic stimulating agents
 Antiangiogenic agents
   Thalidomide and lenalidomide
Patient-related
 Older age
  >65 years
 Obesity
  >35 BMI
 African-American
 Female
 Prior VTE history
 Chronic venous insufficiency
 Comorbidities/medical problems (infection, pulmonary or renal disease, arterial thromboembolism, others)
 Pregnancy
 Tobacco
 Poor performance status
 Low level of activity/physical exercise
 Major trauma and immobilization
 Inherited thrombophilia (Factor V Leiden)
Treatment
The goals of anticoagulant therapy in cancer patients with CAT are to improve symptoms, reduce risk of recurrent VTE and decrease the risk of post-thrombotic syndrome (PTS). Anticoagulation is the cornerstone of treatment. Cancer patients present a higher risk of recurrent VTE and anticoagulant treatment-related bleeding compared to those without malignancy during anticoagulation therapy [23].
Special situations in the management of cancer-associated VTE
Treatment of recurrent VTE during anticoagulation therapy
The reported rates of recurrent VTE during anticoagulant therapy in clinical trials are 7–10.5 % in patients treated with LMWH (Table 
5
). Gender, tumor type, TNM staging and prior history of VTE have been found to be risk factors for VTE recurrence in cancer patients. Cancer progression should also be considered in patients with recurrent VTE. Despite the high frequency and relevance of recurrent VTE in clinical practice, there is a lack of evidence to guide its management. An empirical approach for the management of recurrent VTE is proposed (Fig. 
1
). HIT in patients who were first exposed to LMWH or UFH, non-compliance and sub-therapeutic anticoagulant doses have to be ruled out and adjusted. If recurrent VTE occurs while receiving therapeutic anticoagulation VKA doses, it is recommended VKA be switched to LMWH. In patients who experience VTE recurrence despite therapeutic weight-adjusted LMWH, it is recommended to continue LMWH at a higher dose starting with an LMWH dose escalation by 20–25 %. If another VTE episode occurs after the first dose escalation, further dose increase or twice-daily dosing of LMWH is considered to be reasonable option. The use of peak anti-activated factor X (anti-factor Xa) levels may help to estimate further tailor LMWH escalation, although published evidence to support this strategy is lacking. The insertion of an inferior vena cava (IVC) filter in addition to anticoagulation is not currently recommended in preventing recurrent thrombosis. Data on the efficacy and safety of IVC filters in cancer patients are limited to retrospective single-center series and anecdotal reports. Available data from the PREPIC trial shows that IVC filter reduced the risk of PE but increased that of DVT and had no impact on patient survival [
37
]. Therefore, the use of IVC filters should be considered only in patients who cannot received anticoagulation or recurrent VTE occurs despite adequate anticoagulant therapy management, although evidence from prospective data are not available.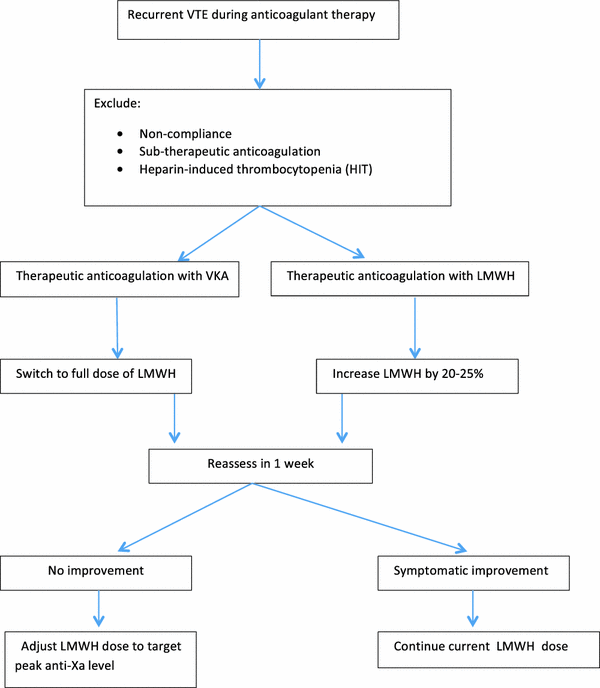 Recommendation
If recurrent VTE occurs with therapeutic weight-adjusted doses, a dose escalation could be performed (level of evidence: grade 2C).
IVC must be considered when anticoagulation is contraindicated or recurrent PE occurs despite adequate anticoagulant management (failure of anticoagulation). It is recommended to associate anticoagulation therapy to IVC, in those cases in which anticoagulation is contraindicated, it should be resumed as soon as possible (level of evidence: grade 2C).
Thrombocytopenia
The optimal dosing of LMWH in the thrombocytopenic patient has not been properly investigated in clinical trials. The recommended approach by expert consensus is to maintain full-dose anticoagulation for platelet count >50 × 109/L. For platelet counts between 20 and 50 × 109/L, half-dose or prophylaxis dose of LMWH and close monitoring. And for platelet count <20 × 109/L, it is recommended to hold anticoagulation. In the acute period after VTE (first month), the risk of recurrent VTE is higher and platelet transfusion to maintain platelet counts >50 × 109 should be considered to allow maintaining a full-dose anticoagulant treatment.
Anticoagulation in special situations: obesity, renal impairment and elderly
LMWH must be used with caution in obese and elderly patients and in those with renal insufficiency. Due to their predominantly renal elimination, LMWH accumulation is expected with long-term use in those with creatinine clearance <30 mL/min. Obese patients and elderly patients have a lower proportion of lean body mass as a percentage of total body weight. As a result, LMWH dosing based on total body weight could cause supra-therapeutic anticoagulation. LMWH appropriate dosing in patients with severe renal impairment (CrCl < 30 mL/min) is uncertain and must be cautiously used with regular monitoring of renal function and anti-Xa levels with dosage adjustment. UFH and AVK therapy are not reliant on renal elimination and are considered to be an alternative approach in this setting for long-term treatment according to expert recommendations if anti-factor Xa is not available.
Anticoagulation and central nervous system malignancies
VTE is common perioperatively and through the course of brain tumor therapy with an incidence of 20–30 % per year of survival. These patients also have the risk of potentially serious and life-threatening intracranial bleeding. No randomized controlled trials exist to evaluate the best management of VTE in patients with primary or metastatic intracranial tumors. Nonetheless, small retrospective studies indicate that anticoagulation can be safely used in this challenging setting and therefore standard anticoagulation is recommended in these patients.
Management of splanchnic vein thrombosis
Splanchnic vein thrombosis (SVT), involving the portal, splenic, mesenteric, or hepatic veins is a common event in cancer patients. Treatment of SVT is a clinical challenge due to heterogeneity of clinical presentations, increased bleeding risk, and lack of evidence from clinical trials. In recent years, different advances in diagnostic imaging techniques have led to an increase in the diagnosis of incidental SVT. Patients with acute, symptomatic SVT with low risk of bleeding should be treated with anticoagulation therapy. For patients with asymptomatic incidentally detected SVT, there is no specific guidance on treatment. It is reasonable to withhold anticoagulation if the patient is truly asymptomatic, especially if radiologic evidence indicates that the thrombus is chronic. Closely monitoring imaging is recommended to detect thrombus progression if anticoagulation is not given.
Recommendation
Acute symptomatic SVT should be treated with anticoagulant therapy. Treatment of asymptomatic incidentally detected SVT should be individualized in every patient (level of evidence: grade 2C).
Prevention of PTS
PTS is a frequent complication (20–50 %) within the first 2 years after DVT and is a common cause of morbidity. Clinical manifestations are usually leg pain, edema, swelling and eczematous skin changes which may range from mild complaints to intense pain intervening with daily activities. The only method that has been shown to be potentially effective in the prevention of PTS is the use of graduated compression stockings. Previous small and non-placebo trials suggest a benefit of elastic compression stockings (ECS) to prevent PTS with an overall reduction of 50 % in severe PTS. A recent study published in 2014 (SOX trial) [38] randomized patients to ECS used for 2 years or placebo after a first proximal DVT. The incidence of PTS was 14.2 % in the experimental arm vs. 12.7 % in the placebo group (HR 1.13, 95 % CI 0.73–1.76; p = 0.58). The findings of the SOX trial do not support routine wearing of ECS after DVT for the prevention of PTS.
Recommendation
ECS is not recommended routinely to prevent PTS (level of evidence: grade 1B).
VTE: Antiangiogenic therapy/anti-epidermal growth factor receptor (EFGR) therapy
Venous or arterial thromboembolism and bleeding are adverse events linked to angiogenesis inhibitors. Combination treatment with bevacizumab and chemotherapy compared with chemotherapy alone was associated with a modest but significant twofold increased risk of arterial thromboembolic disease (ATD), but the impact on the risk of VTE remains controversial [39, 40]. Development of ATD with bevacizumab treatment was associated with a prior arterial thromboembolic event in patients older than 65 years. The prophylactic use of acetylsalicylic acid is controversial. The start of treatment with bevacizumab after an ATD must be individualized, but the minimum interval recommended is 6 months. If an ATD takes place during treatment with bevacizumab, its use must be stopped permanently because the safety of resuming bevacizumab has not been studied. In patients who develop VTE during bevacizumab treatment, the minimum safety interval recommended to resume bevacizumab is 2 weeks with stable dose of anticoagulant treatment. If there is a grade 4 VTE episode during treatment with bevacizumab, its use must be permanently stopped. Recommendations regarding aflibercept (an anti-VEGF recombinant fusion protein) are similar to those with bevacizumab.
VEGF tyrosine kinase inhibitors (TKI) are used in multiple cancers. In a meta-analysis evaluating the risk of ATD associated with sunitinib and sorafenib, a significant threefold increase was observed [41]. These results may be related to the higher time exposure to sunitinib and sorafenib in the trials as confounding factor.
A meta-analysis that explored the risk of VTE with anti-EGFR drugs (either monoclonal antibodies-MoAbs- or TKIs) showed that anti-EFGR therapy increased by 32 % the risk of VTEs, but not of ATEs. This thrombotic risk is increased with cetuximab and panitumumab but not with gefitinib and erlotinib. The differences in the results between MoAbs and oral TKIs are still unknown, but the association of cetuximab and panitumumab with other cytotoxic agents probably matters [42].
Anticoagulation in the absence of VTE to improve survival in cancer patients
The mechanism by which anticoagulation might provide a survival benefit beyond the prevention of VTE is unknown. Several clinical trials have tested anticoagulant therapy in cancer patients without VTE with survival as primary end point with inconclusive results [43, 44, 45, 46]. The survival benefit may be dependent on the tumor and the extent of disease, being larger with localized disease and small-cell lung cancer.
Recommendation
Currently anticoagulant therapy in cancer patients without VTE with the intention to improve survival cannot be recommended (level of evidence: grade 1B).
New oral anticoagulants and VTE in cancer patients
There are three (NOACs) currently marketed in Spain, dabigatran etexilate (direct thrombin inhibitor), rivaroxaban and apixaban (factor Xa inhibitors). NOACs have been studied in large randomized clinical trials for acute VTE treatment and for VTE prophylaxis. In these trials, the number of patients with active cancer enrolled was small. Due to the paucity of data in the oncology subgroup, the results of these trials cannot be generalized to cancer patients, and additional information is needed about the efficacy and safety of NOACs in this population. There is an additional concern about the drug interactions between NOACs and either chemotherapy or biological treatments.
Recommendation
NOACS are not recommended for the treatment of VTE in cancer patients (level of evidence: grade 1B).
Anti-Xa monitoring
The determination of anti-Xa in blood is the method of choice for monitoring the therapeutic range of LMWH. Anti-Xa monitoring is not routinely recommended in LMWH treatment. There is only one randomized trial that compares adjusted vs. fixed doses of LMWH in the treatment of DVT. Treatment efficacy and hemorrhagic complications did not differ between the two groups [47]. In special populations like obese, renally impaired, elderly, thrombocytopenic or patients with high risk of bleeding anti-Xa is currently recommended.
Recommendation
Anti-Xa monitoring is not routinely recommended in LMWH treatment (level of evidence: grade 1B).
Notes
Conflict of interest
Dr. Andres J. Muñoz Martin: "I declare to have received a research funding from Leo Pharma at the time of the presentation of the Clinical Guideline, to have a consultant or advisory role at Sanofi and Laboratorios Rovi. These activities, such as the research funding have no connection, nor have influenced the content of the present Clinical Guide. Therefore, I declare no conflict of interest." The rest of the authors of this Clinical Guide declare no conflicts of interests.
Copyright information
© The Author(s) 2014
Open AccessThis article is distributed under the terms of the Creative Commons Attribution License which permits any use, distribution, and reproduction in any medium, provided the original author(s) and the source are credited.