Abstract
Under the network environment, the simulation for the evolution of the interaction behavior between immigrants is explored from two aspects of the crowd risk appetite and neighbor behavior effectiveness. The utility will choose decision-making behavior of the immigrants combined with the randomness of complex social network, establish the stochastic equilibrium evolution model of neighbor preferred, and use MATALAB and Netlogo to simulation analysis. The results show that: 1) The different risk preference of individual groups have different behavior decision state evolution regular; 2) social network structure of the randomness and connectivity play an important role for the stability of the crowd behavior decision-making and evolution; 3) the size of the information flow in the social network relationship and neighbor preferences effect on the balance of work behavior evolution. The study to some extent analyzed the influence factors of immigrants' behavior change, explains the inherent law of the people neighbor preferred behavior evolution, provide the supportive theoretical evidence for the immigrants' behavior management under the network environment.
This is a preview of subscription content, log in to check access.
Access options
Buy single article
Instant unlimited access to the full article PDF.
US$ 39.95
Price includes VAT for USA
Subscribe to journal
Immediate online access to all issues from 2019. Subscription will auto renew annually.
US$ 99
This is the net price. Taxes to be calculated in checkout.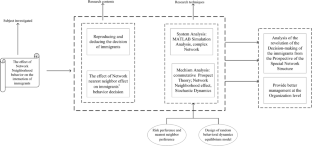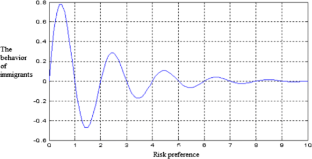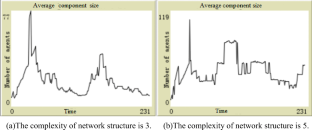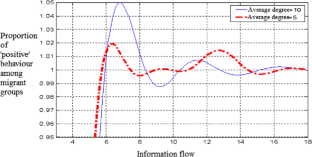 References
1.

Qian Z, Xue J (2017) Small town urbanization in Western China: villager resettlement and integration in Xi'an [J]. Land Use Policy 68(1):152–159

2.

Yuefang D (2018) Investing in resettlement and benefit-sharing in China: New paradigm, approaches, challenges, and prospects [M]. Challenging the Prevailing Paradigm of Displacement and Resettlement. Routledge, :162–179

3.

Yuefang D, Steil S (2003) China three gorges project resettlement: policy, planning and implementation [J]. J Refug Stud 16(4):422–443

4.

Kleinwechter U (2012) Rural-urban migration in China: an analytical framework of migrants' contributions to rural development [J]. J Altern Perspect Soc Sci 4(4):757–789

5.

Fan X, Liu H, Zhang Z, Zhang J (2018) The spatio-temporal characteristics and modeling research of inter-provincial migration in China [J]. Sustainability 10(3):618

6.

Meng L (2013) Evaluating China's poverty alleviation program: a regression discontinuity approach [J]. J Public Econ 101(1):1–11

7.

Ge J, Lei Y (2013) Mining development, income growth and poverty alleviation: a multiplier decomposition technique applied to China [J]. Resources Policy 38(3):278–287

8.

Cernea M (2016) The state and involuntary resettlement: Reflections on comparing legislation on development-displacement in China and India [J]. Development-induced displacement in India and China: A comparative look at the burdens of growth, : vii-liii

9.

Ministry of Agriculture and Rural Affairs of the People's Republic of China. China's Cabinet Issues Five-Year Plan for Poverty Alleviation. Available online: http://english.agri.gov.cn/news/dqnf/201612/t20161205_237563.htm (accessed on 16 April 2018)

10.

Baykara-Krumme H (2013) Returning, staying, or both? Mobility patterns among elderly Turkish migrants after retirement [J]. Transnational Social Review 3(1):11–29

11.

De Haas H, Fokkema T (2010) Intra-household conflicts in migration decision making: return and pendulum migration in Morocco [J]. Popul Dev Rev 36(3):541–561

12.

Urbaniec K, Mikulčić H, Rosen MA, Duić N (2017) A holistic approach to sustainable development of energy, water and environment systems [J]. J Clean Prod 155(1):1–11

13.

Liu M, Heijman W, Zhu X, Dries L, Huang J (2016) Individual and social optima of rural land allocation by stakeholders: a case study on eco-fragile areas of northern China [J]. The Rangeland Journal 38(1):57–72

14.

Mohabir N, Jiang Y, Ma R (2017) Chinese floating migrants: rural-urban migrant labourers' intentions to stay or return [J]. Habitat International 60:101–110

15.

Ji X, Qian Z, Zhang L, Zhang T (2018) Rural labor migration and Households' land rental behavior: evidence from China [J]. China & World Economy 26(1):66–85

16.

Jiang F, Zhao X, Bai Q (2018) Simulation and stability analysis of conflict events between employees and organization based on the social network [J]. Concurrency and Computation: Practice and Experience, e5097

17.

Minor TR, Hunter AM (2002) Stressor controllability and learned helplessness research in the United States: sensitization and fatigue processes [J]. Integrative Physiological & Behavioral Science 37(1):44–58

18.

Hwang SS, Xi J, Cao Y, Feng X, Qiao X (2007) Anticipation of migration and psychological stress and the three gorges dam project, China [J]. Soc Sci Med 65(5):1012–1024

19.

Feng X (2004) Fall and take root: social adaptation of rural migrants in Sanxia area [J]. Sociol Res 5(1):19–27

20.

Juhua Y (2010) Index of assimilation for rural-to-urban migrants: a further analysis of the conceptual framework of assimilation theory [J]. Population & Economics 2(1):64–70

21.

Fu BJ, Wu BF, Lü YH, Xu ZH, Cao JH, Niu D et al (2010) Three gorges project: efforts and challenges for the environment [J]. Prog Phys Geogr 34(6):741–754

22.

Hua X, Huang J, Li C (2019) Human Capital, Social Capital and Economic Recovery of Ecological Immigrants: The Empirical Study on the Middle Route Project of South-to-North Water Transfer [J]. Ekoloji Dergisi, (107)

23.

De Groot R (2006) Function-analysis and valuation as a tool to assess land use conflicts in planning for sustainable, multi-functional landscapes [J]. Landsc Urban Plan 75(3–4):175–186

24.

Fontefrancesco M, Barstow C, Grazioli F et al (2019) Keeping or changing? Two different cultural adaptation strategies in the domestic use of home country food plant and herbal ingredients among Albanian and Moroccan migrants in Northwestern Italy [J]. J Ethnobiol Ethnomed 15(1):11
Acknowledgements
This paper is funded by the Open Fund Project of the Research Center for Reservoir Resettlement, a key research base for humanities and social sciences in Hubei Province.
The Influence of Social Security on the Adaptation Period of Poverty Alleviation Migrants——Based on Cognitive Theory and Processing Effect (2018KF01).
At the same time, this work was supported by the Humanities and Social Sciences Fund of the Ministry of Education, China.
Research on Cultural Fusion Mechanism of Reservoir Resettlement in Minority Areas: A New Perspective Based on Perspective Dynamics (19YJCZH264).
Additional information
Publisher's note
Springer Nature remains neutral with regard to jurisdictional claims in published maps and institutional affiliations.
This article is part of the Topical Collection: Special Issue on Future Networking Applications Plethora for Smart Cities
Guest Editors: Mohamed Elhoseny, Xiaohui Yuan, and Saru Kumari
About this article
Cite this article
Jiang, F., Zhang, J. & Zhao, X. Research on the influence mechanism of resettlers participation in migrant work in the context of relationship network. Peer-to-Peer Netw. Appl. (2020). https://doi.org/10.1007/s12083-019-00847-8
Received:

Accepted:

Published:
Keywords
Behavioral decision

Risk appetite

Neighbor behavior effectiveness

The random social network