Abstract
Background
Combination therapy with HBIG and NAs has reduced HBV recurrence post LT. Despite its efficacy, costs of HBIG remain prohibitive. With high-potency NAs, HBIG's use has been questioned. We aim to evaluate the efficacy and safety of HBIG-free regimens in patients transplanted for HBV-related liver disease.
Methods
A review of LT patients at the National University Hospital, Singapore from 2001 to 2015 was performed. Patients transplanted for HBV were divided by antiviral treatment received: high- or low-potency NAs, or a combination of HBIG with high-potency NAs. Post-transplant outcomes were reviewed till data censure. Primary outcome was recurrence of HBV viremia post-transplant, while secondary outcomes were HBsAg sero-clearance, graft survival and mortality.
Results
Among 58 patients, 51 (88%) had persistent HBV viral suppression. Patients on a high-potency agent had significantly higher viral suppression compared to those on a low-potency agent (97% vs 72%, p = 0.02). This was also seen in patients with VL detectable at transplant (100% vs 50%, p < 0.01). None of the 16 patients with VL detectable at transplant and treated with high-potency agents developed recurrence. 42 patients (72%) achieved persistent HBsAg sero-clearance. Although this was higher in the high-potency NA-only group, it was not statistically significant (p = 0.56). There were no graft failures or mortalities attributed to HBV recurrence.
Conclusion
With the use of high-potency agents, HBIG may not be necessary in the treatment of patients transplanted for HBV-related liver disease, even in the presence of detectable VL at time of transplant.
This is a preview of subscription content, log in to check access.
Access options
Buy single article
Instant unlimited access to the full article PDF.
US$ 39.95
Price includes VAT for USA
Subscribe to journal
Immediate online access to all issues from 2019. Subscription will auto renew annually.
US$ 99
This is the net price. Taxes to be calculated in checkout.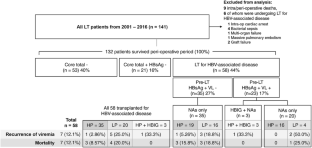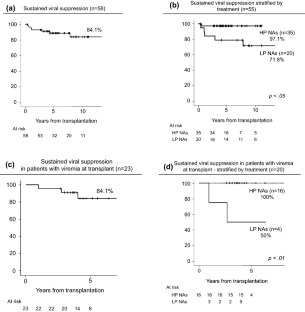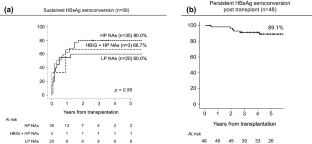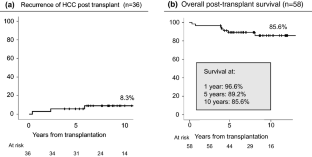 Abbreviations
ALP:

Alkaline phosphatase

ALT:

Alanine aminotransferase

Anti-HBc:

Antibody to Hepatitis B core antigen

Anti-HBe:

Antibody to Hepatitis B e antigen

Anti-HBs:

Anti-Hepatitis B surface antigen

AST:

Aspartate aminotransferase

ETV:

Entecavir

HBIG:

Hepatitis B immunoglobulin

HBeAg:

Hepatitis B e antigen

HBsAg:

Hepatitis B surface antigen

HBV:

Hepatitis B virus

HCC:

Hepatocellular carcinoma

HP:

High potency (nucleoside analog)

INR:

International normalized ratio

LAM:

Lamivudine

LdT:

Telbivudine

LT:

Liver transplantation

LP:

Low potency (nucleoside analog)

MELD:

Model for end-stage liver disease

NA:

Nucleos(t)ide analog

OLTx:

Orthotopic liver transplantation

TDF:

Tenofovir

ULN:

Upper limit of normal

VL:

Viral load
References
1.

Ott JJ, Stevens GA, Groeger J, Wiersma ST. Global epidemiology of Hepatitis B virus infection: new estimates of age-specific HBsAg seroprevalence and endemicity. Vaccine. 2012;30:2212–2219.

2.

Liaw YF. Antiviral therapy of chronic Hepatitis B: opportunities and challenges in Asia. J Hepatol. 2009;51:403–410.

3.

Terrault NA, Bzowej NH, Chang KM, Hwang JP, Jonas MM, Murad MH. AASLD Guidelines for Treatment of Chronic Hepatitis B. Hepatology. 2016;63:261–283.

4.

Todo S, Demetris AJ, Van Thiel D, Teperman L, Fung JJ, Starzl TE. Orthotopic liver transplantation for patients with Hepatitis B virus–related liver disease. Hepatology. 1991;13:619–626.

5.

Starzl TE, Demetris AJ, Van Thiel D. Medical progress: liver transplantation. N Engl J Med. 1989;321:1014–1022.

6.

Marzano A, Gaia S, Ghisetti V, et al. Viral load at the time of liver transplantation and risk of Hepatitis B virus recurrence. Liver Transpl. 2005;11:402–409.

7.

Loomba R, Rowley AK, Wesley R, et al. Hepatitis B immunoglobulin and Lamivudine improve Hepatitis B-related outcomes after liver transplantation: meta-analysis. Clin Gastroenterol Hepatol. 2008;6:696–700.

8.

Samuel D, Forns X, Berenguer M, et al. Report of the monothematic EASL conference on liver transplantation for viral hepatitis (Paris, France, January 12–14, 2006). J Hepatol Neth. 2006;45:127–143.

9.

Burra P, Germani G, Adam R, et al. Liver transplantation for HBV-related cirrhosis in Europe: an ELTR study on evolution and outcomes. J Hepatol. 2013;58:287–296.

10.

Terrault N, Roche B, Samuel D. Management of the hepatitis B virus in the liver transplantation setting: a European and an American perspective. Liver Transpl. 2005;11:716–732.

11.

Saab S, Chen PY, Saab CE, Tong MJ. The management of Hepatitis B in liver transplant recipients. Clin Liver Dis. 2016;20:721–736.

12.

Laryea MA, Watt KD. Immunoprophylaxis against and prevention of recurrent viral hepatitis after liver transplantation. Liver Transpl. 2012;18:514–523.

13.

Terrault NA, Zhou S, Combs C, et al. Prophylaxis in liver transplant recipients using a fixed dosing schedule of hepatitis B immunoglobulin. Hepatology. 1996;24:1327–1333.

14.

Terrault NA, Lok AS, McMahon BJ, Chang KM, Hwang JP, Jonas MM, Brown RS, Bzowej NH, Wong JB. Update on prevention, diagnosis, and treatment of chronic hepatitis B: AASLD 2018 hepatitis B guidance. Hepatology. 2018;67(4):1560–1599.

15.

Dindoost P, Jazayeri SM, Alavian SM. Hepatitis B immune globulin in liver transplantation prophylaxis: an update. Hepatitis Monthly. 2012;12:168–176.

16.

Kasraianfard A, Watt KD, Lindberg L, Alexopoulos S, Rezaei N. HBIG remains significant in the era of new potent nucleoside analogues for prophylaxis against hepatitis B recurrence after liver transplantation. Int Rev Immunol. 2016;35:312–324.

17.

Yuen MF, Seto WK, Chow DH, et al. Long-term lamivudine therapy reduces the risk of long-term complications of chronic hepatitis B infection even in patients without advanced disease. Antivir Ther. 2007;12:1295–1303.

18.

Lam YF, Seto WK, Wong D, et al. Seven-year treatment outcome of entecavir in a real-world cohort: effects on clinical parameters, HBsAg and HBcrAg levels. Clin Transl Gastroenterol. 2017;8:e125.

19.

Kitrinos KM, Corsa A, Liu Y, et al. No detectable resistance to tenofovir disoproxil fumarate after 6 years of therapy in patients with chronic hepatitis B. Hepatology. 2014;59:434–442.

20.

Fung J, Cheung C, Chan SC, et al. Entecavir monotherapy is effective in suppressing hepatitis B virus after liver transplantation. Gastroenterology. 2011;141:1212–1219.

21.

Fung J, Chan SC, Cheung C, et al. Oral nucleoside/nucleotide analogs without hepatitis B immune globulin after liver transplantation for hepatitis B. Am J Gastroenterol. 2013;108:942–948.

22.

Manini MA, Whitehouse G, Bruce M, et al. Entecavir or tenofovir monotherapy prevents HBV recurrence in liver transplant recipients: a 5-year follow-up study after hepatitis B immunoglobulin withdrawal. Dig Liver Dis. 2018;50(9):944–953.

23.

Radhakrishnan K, Chi A, Quan DJ, Roberts JP, Terrault NA. Short course of postoperative hepatitis B immunoglobulin plus antivirals prevents reinfection of liver transplant recipients. Transplantation. 2017;101:2079–2082.

24.

Fung J, Wong T, Chok K, et al. Long-term outcomes of entecavir monotherapy for chronic hepatitis B after liver transplantation: results up to 8 years. Hepatology. 2017;66:1036–1044.

25.

Faria LC, Gigou M, Roque-Afonso AM, et al. Hepatocellular carcinoma is associated with an increased risk of hepatitis B virus recurrence after liver transplantation. Gastroenterology. 2008;134(7):1890–1899.

26.

Qasim W, Brunetto M, Gehring AJ, et al. Immunotherapy of HCC metastases with autologous T cell receptor redirected T cells, targeting HBsAg in a liver transplant patient. J Hepatology. 2015;62(2):486–491.

27.

Fung J, Wong T, Chok K, et al. Oral nucleos(t)ide analogs alone after liver transplantation in chronic hepatitis B with preexisting rt204 mutation. Transplantation. 2017;101(10):2391–2398.

28.

Sezgin Goksu S, Bilal S, Coskun HS. Hepatitis B reactivation related to everolimus. World J Hepatol. 2013;5:43–45.

29.

Teplinsky E, Cheung D, Weisberg I, et al. Fatal hepatitis B reactivation due to everolimus in metastatic breast cancer: case report and review of literature. Breast Cancer Res Treat. 2013;141:167–172.

30.

Fung J, Lo R, Chan SC, et al. Outcomes including liver histology after liver transplantation for chronic hepatitis B using oral antiviral therapy alone. Liver Transpl. 2015;21:1504–1510.
Ethics declarations
Conflict of interest
Mark Muthiah, En Ying Tan, Sin Hui Melissa Chua, Daniel Huang, Glenn Bonney, Alfred Kow, Seng Gee Lim, Yock Young Dan, Poh Seng Tan, Guan Huei Lee and Boon Leng Lim declare that they have no conflict of interest.
Ethical approval
All procedures followed were in accordance with the ethical standards of the responsible committee on human experimentation (institutional and national) and with the Helsinki Declaration of 1975, as revised in 2008 (5).
Informed consent
Informed consent was obtained from all patients for being included in the study.
Additional information
Publisher's Note
Springer Nature remains neutral with regard to jurisdictional claims in published maps and institutional affiliations.
About this article
Cite this article
Muthiah, M.D., Tan, E.Y., Chua, S.H.M. et al. Nucleoside analog monotherapy for prophylaxis in Hepatitis B liver transplant patients is safe and efficacious. Hepatol Int (2020) doi:10.1007/s12072-019-10011-2
Received:

Revised:

Accepted:

Published:
Keywords
HBIG

Hepatitis B

Liver transplant

Nucleoside analogs

Low potency

High potency

Lamivudine

Tenofovir

Entecavir

Asian