Abstract
Squamous cell carcinoma of oral cavity has a high prevalence in our region. Upper alveolar cancers are uncommon but present with locally advanced disease extending to infra temporal fossa. The outcome of treatment in these tumors is poor. Surgery followed by adjuvant therapy is the mainstay of treatment. We are presenting a retrospective analysis of outcome of treatment in 20 patients with locally advanced (T4b) upper alveolar carcinoma treated by infra-structure maxillectomy with compartment resection of infra-temporal fossa and neck dissection followed by adjuvant radiotherapy or radiotherapy with chemotherapy. Study period was from 2013 to 2018. Minimum follow up was 12 months and mean follow up 30 months. 12 patients are alive and disease free, 6 patients had local recurrence and 2 patients had regional recurrence with one having pulmonary metastasis. We observed that positive or close margins (< 5 mm after formalin fixation) predisposed to early recurrence. Erosion of pterygoid plates was a poor prognostic factor. Cervical lymph node metastasis occurred late in disease, but carried poor prognosis. Compartment resection of infra temporal fossa gave better outcome compared to other studies which reported outcome of treatment in upper alveolar cancers.
This is a preview of subscription content, log in to check access.
Access options
Buy single article
Instant access to the full article PDF.
US$ 39.95
Price includes VAT for USA
Subscribe to journal
Immediate online access to all issues from 2019. Subscription will auto renew annually.
US$ 99
This is the net price. Taxes to be calculated in checkout.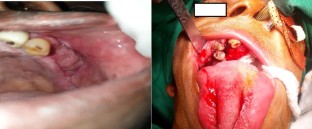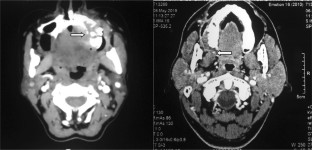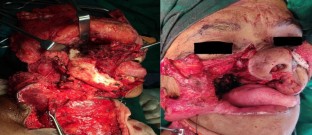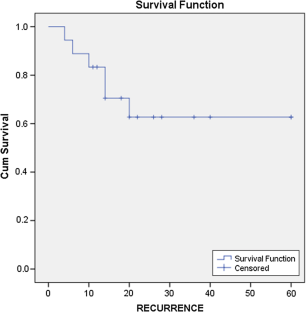 References
1.

Kalyani R, Das S, Bindra MS, Kumar H (2010) Cancer profile in Kolar: a ten year study. Indian J Cancer 47:160–165

2.

Morris LG, Patel SG, Shah JP, Ganly I (2011) High rates of regional failure in squamous cell Carcinoma of the hard palate and maxillary alveolus. Head Neck 33(6):824–830

3.

Pathak KA, Mathur N, Talole S, Deshpande MS, Chaturvedi P, Pai PS et al (2007) Squamous cell carcinoma of the superior gingival–buccal complex. Oral Oncol 43:774–779

4.

Baishya N, Rahman T, Das AK, Kalita CR, Sharma JD, Krishnatreya M et al (2019) Squamous cell carcinoma of upper alveolus: an experience of a tertiary care centre of Northeast India. South Asian J Cancer 8:44–46

5.

Vijay K, Sindhu VA, Shivaprakash R, Jaswant J, Japipalreddy RP, Naseem A et al (2013) Cancers of upper gingivobuccal sulcus, hard palate and maxilla: a tertiary care centre study in North India. Natl J of Maxillofac Surg 4:202–205

6.

Wang TC, Hua CH, Lin CC, Tsou YA, Tseng HC, Tsai MH (2010) Risk factors affect the survival outcome of hard palatal and maxillary alveolus squamous cell carcinoma: 10-year review in a tertiary referral center. Oral Surg Oral Med Oral Pathol Oral Radiol Endod 110:11–17

7.

Trivedi NP, Kekatpure V, Kuriakose MA (2012) Radical (compartment) resection for advanced buccal cancer involving masticator space (T4b): our experience in thirty patients. Clinic Otolaryngol 37:470–496

8.

Liao CT, Chang JT, Wang HM et al (2006) Surgical outcome of T4a and resected T4b oral cavity cancer. Cancer 107:337–344

9.

Mohiyuddin SMA, Pooja H, Shreeharsha M, Sumanth KR, Suresh TN, Manjunath GN, Sagayaraj A et al (2018) Outcome of compartment: a tertiary rural hospital experience. Eur Arch Otorhinolaryngol 275:2843–2850

10.

Ota Y (2017) Infratemporal surgery for oral cancer invaded to masticator space. Int J Oral Maxillofac Surg 46:372–373

11.

Lin HW, Bhattacharyya N (2009) Survival impact of nodal disease in hard palate and maxillary alveolus cancer. Laryngoscope 119:312–315
Acknowledgements
We acknowledge the contribution of Dr. Manjunath G.N., Professor in Radiation Oncology, Sri Devaraj Urs Medical College, Kolar, India for his contribution in Adjuvant treatment of all the subjects included in this study.
Funding
There was no funding by any organisation or source for this study.
Ethics declarations
Conflict of interest
There is no conflict of interest among the authors.
Ethical Approval
Institutional ethical committee clearance (SDUMC/KLR/IEC/85/2018-2019) was obtained for this study.
Human and Animal Rights
No animal or human experiments were done for this study.
Informed Consent
Consent for being included in this retrospective study without revealing the identity of the patient has been obtained from all study subjects.
Additional information
Publisher's Note
Springer Nature remains neutral with regard to jurisdictional claims in published maps and institutional affiliations.
About this article
Cite this article
Brindha, H.S., Mohiyuddin, S.M.A., Sagayaraj, A. et al. Outcome of Treatment in Locally Advanced Upper Alveolar Carcinoma Extending to Infra-temporal Fossa. Indian J Otolaryngol Head Neck Surg (2020). https://doi.org/10.1007/s12070-020-01810-3
Received:

Accepted:

Published:
Keywords
Squamous cell carcinoma

Upper alveolus

Infra-temporal fossa

Resection margins

Local recurrence

Infra-structure maxillectomy

Compartment resection