Abstract
Due to close anatomical relationship of eye with nose and sinuses it is liable to get involved secondary to sinonasal and nasopharyngeal pathology. Sinonasal and nasopharyngeal pathology may present with varied ophthalmic manifestations. Ocular involvement from sinonasal diseases occur due to direct spread to orbit, venous spread due to valveless nature of veins, cranial nerve involvement, nasolacrimal apparatus involvement and intracranial spread. The present study is to determine the sociodemographics, ocular manifestations due to sinonasal and nasopharyngeal pathology, etiological factors and routes of spread. The most common etiology in present study was sinonasal squamous cell carcinoma followed by nasal vestibulitis. The most common ocular pathology was proptosis followed by preseptal cellulitis. The most common route was erosion followed by compression and vascular. To conclude sinonasal and nasopharyngeal pathology can spread to orbit and increase the mortality and morbidity.
This is a preview of subscription content, log in to check access.
Access options
Buy single article
Instant access to the full article PDF.
US$ 39.95
Price includes VAT for USA
Subscribe to journal
Immediate online access to all issues from 2019. Subscription will auto renew annually.
US$ 99
This is the net price. Taxes to be calculated in checkout.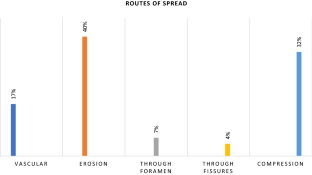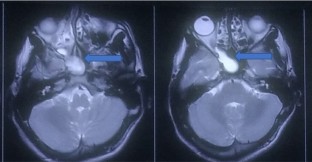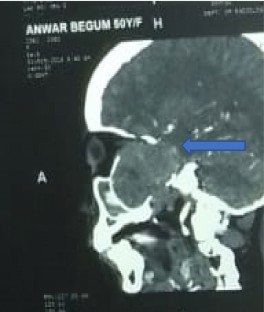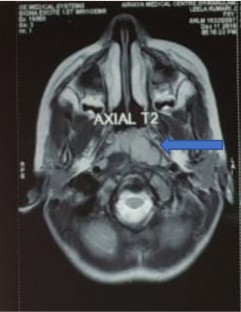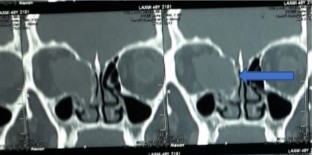 References
1.

Bier H, Ganzer U (1990) Involvement of the orbit in diseases of the paranasal sinuses. Neurosurg Rev 13(2):109–112

2.

Sayed YE (1995) Orbital involvement in sinonasal disease. Saudi J Ophthalmol 9(1):29–37

3.

Sikarwari V, Bishti RS, Kumari D, Shukla RK (2013) Ophthalmic manifestations in ENT diseases and surgical procedures. IOSR J Dent Med Sci 11(4):87–92

4.

Williamson Noble FA (1954) Diseases of the orbit and its contents, secondary to pathological conditions of the nose and para-nasal sinuses. Ann R Coll Surg Engl 15(1):46–64

5.

Morus Jones H (1981) Some orbital complications of nose and throat conditions. J R Soc Med 74(6):409–414

6.

Malik TG, Farooq K, Rashid A (2011) Paranasal sinuses and nasal cavity; the notorious neighbours of orbit. Prof Med J 18(1):154–159

7.

Sabharwal KK, Chouhal AL, Jain S (2006) Evaluation of proptosis. Indian J Radiol Imaging 16(4):683–688

8.

Johnson LN, Krohel GB, Yeon EB, Parnes SM (1984) Sinus tumors invading the orbit. Ophthalmology 91(3):209–217

9.

Sinha V, Bharadwaj D, George A, Memon RA (2005) Proptosis through eyes of ENT surgeon. Indian J Otolaryngol Head Neck Surg 57(3):207–209

10.

Ghosh D, Khanna S, Baruah DK (2013) Ophthalmological manifestations of ENT diseases: an overview. Indian J Otorhinolaryngol Head Neck Surg 65(3):197–202
Ethics declarations
Conflict of interest
The authors declare that they have no competing interests.
Human and Animal Rights
No animals are involved in research.
Informed Consent
Informed consent has been taken from all the patients who were included.
Additional information
Publisher's Note
Springer Nature remains neutral with regard to jurisdictional claims in published maps and institutional affiliations.
About this article
Cite this article
Novshaba Nazeer, N., Reddy, L.S., Ivaturi, P.B. et al. Routes of Spread to Eye from the Notorious Neighbour i.e. Nose, Sinuses and Nasopharynx. Indian J Otolaryngol Head Neck Surg (2020). https://doi.org/10.1007/s12070-020-01804-1
Received:

Accepted:

Published:
Keywords
Sinonasal

Nasopharyngeal

Ocular manifestations

Proptosis

Preseptal cellulitis