Abstract
To study the prevalence of chronic suppurative otitis media among school children in Belagavi, rural area of South India. A community based descriptive cross sectional survey was conducted in 7 schools of rural areas of Belagavi district in Karnataka over a period of 2 months between 15th July and 15th September 2018. A survey demographic data collection was done on 694 school children aged between 6 and 14 years attending these schools. A detailed history and otoscopic examination was done in the school premises. Data received from the study was entered and statistical analysis was done. CSOM was present in 36 (5.2%) out of 694 students examined among which 22 (6.8%) of them lived in families with overcrowding. H/o cleaning the ear with various materials was given by 27 (7.4%) of them. 29 (9.3%) of them had recurrent respiratory tract infection, 7 students had active disease. The prevalence of CSOM in this study is relatively lower in this part of the rural South India. There is a higher prevalence of safe disease with central perforation than unsafe disease. Recurrent respiratory tract infections and history of cleaning of ear were the predictors of CSOM among school children. There is a need for better knowledge of illness and screening programme for early detection and management.
This is a preview of subscription content, log in to check access.
Access options
Buy single article
Instant access to the full article PDF.
US$ 39.95
Price includes VAT for USA
Subscribe to journal
Immediate online access to all issues from 2019. Subscription will auto renew annually.
US$ 99
This is the net price. Taxes to be calculated in checkout.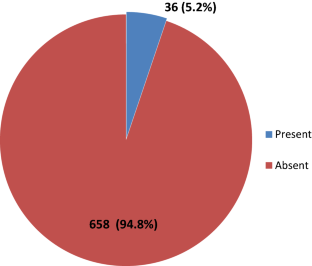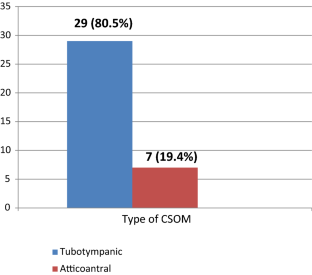 References
1.

Kong K, Coates HL (2009) Natural history, definitions, risk factors and burden of otitis media. Med J Aust 191(Suppl9):S39–S43

2.

Thakur SK, Singh SK, Acharya R, Anwar A, Ghimire N (2017) Sociodemographic profile and the associated factors of chronic otitis media in rural areas of eastern Nepal. Int J Otorhinolaryngol Head Neck Surg 3:222–227

3.

Hunt L, Mulwafu W, Knott V et al (2017) Prevalence of paediatric chronic suppurative otitis media and hearing impairment in rural Malawi: a cross-sectional survey. PLoS One 12(12):e0188950

4.

Smith AW, Hatcher J, Mackenzie IJ, Thompson S, Bal I, Macharia I, et al (1996) Randomised controlled trial of treatment of chronic suppurative otitis media in Kenyan school children. Lancet 348(9035):1128–1133

5.

World Health Organization (1996) Prevention of hearing impairment from chronic otitis media. In: Report of a WHO/CIBA foundation workshop, held at The CIBA Foundation. World Health Organization, London, U.K., pp 19–21

6.

Acuin J (2004) Chronic suppurative otitis media-Burden of illness and management options. World Health Organization, Geneva

7.

Vikram BK, Khaja N, Udayashankar SG et al (2008) Clinico-epidemiological study of complicated and uncomplicated chronic suppurative otitis media. J Laryngol Otol 122:442–446

8.

Basak B, Gayen GC, Das M, et al (2014) Demographic profile of CSOM in a rural tertiary care hospital. IOSR J Pharm 4(6):43–46

9.

Parvez A, Khan Z, Hashmi SF, Khan MS (2016) A cross sectional study of chronic suppurative otitis media and its associated factors among primary school children in rural and urban areas of Aligarh, India. Int J Commun Med Public Health 3:2150–2154

10.

Chen CH, Lin CJ, Hwang YH et al (2003) Epidemiology of otitis media in Chinese children. Clin Otolaryngol Allied Sci 28(5):442–445

11.

Rupa V, Jacob A, Joseph A (1999) CSOM: prevalence and practices among rural south indian children. Int J Pediatr Otorhinolaryngol 48(3):217–221

12.

Verma AK et al (1995) Epidemiology of CSOM and deafness in a rural area and developing an intervention strategy. Indian J Pediatr 62(6):725–729

13.

Shaheen MM, Raquib A, Ahmad SM (2012) Indian J Otolaryngol Head Neck Surg 64:36

14.

Kamal N, Joarder AH, Chowdhury AA, Khan AW (2004) Prevalence of chronic suppurative otitis media among the children living in two selected slums of Dhaka City. Bangladesh Med Res Counc Bull 30(3):95–104

15.

Kumari MS, Madhavi J, Krishna NB, Meghanadh KR, Jyothy A (2016) Prevalence and associated risk factors of otitis media and its subtypes in South Indian population. Egypt J Ear Nose Throat Allied Sci 17:57–62

16.

Giles M, Asher I (1991) Prevalence and natural history of otitis media with perforation in Maori school children. J Laryngol Otol 105:257–260

17.

Muftah S, Mackenzie I, Faragher B, Brabin B (2015) Prevalence of chronic suppurative otitis media (CSOM) and associated hearing impairment among school-aged children in Yemen. Oman Med J 30(5):358
Ethics declarations
Conflict of interest
Shama A. Bellad, Avinash Kavi, R. S. Mudhol declare that we have no cConflict of interest.
Ethical Approval
The study has been approved by the institutional ethics committee and the study has been performed in accordance with the ethical standards as laid down in the 1964 Declaration of Helsinki and its later amendments or comparable ethical standards.
Informed consent
As the study participants are below 18 years of age and not eligible to give consent, assent was obtained from class teacher and the school headmaster.
Additional information
Publisher's Note
Springer Nature remains neutral with regard to jurisdictional claims in published maps and institutional affiliations.
About this article
Cite this article
Bellad, S.A., Kavi, A. & Mudhol, R.S. Prevalence of Chronic Suppurative Otitis Media Among School Children Residing in Rural Area of Belagavi, South India. Indian J Otolaryngol Head Neck Surg 71, 1549–1552 (2019). https://doi.org/10.1007/s12070-019-01627-9
Received:

Accepted:

Published:

Issue Date:
Keywords
Chronic suppurative otitis media

Prevalence

Children

Belagavi