Abstract
Inverted papilloma (IP) is a benign tumor remarkable for its tendency toward recurrence. Local relapse implicates incomplete resection concerning the bone adjacent to tumor base. The high false negative rates on biopsies, mainly when nasal polyps coexist, may affect the surgical management and outcomes. Our objective was to study the impact of preoperative histologic diagnosis in IP recurrence, particularly in patients with pre-surgical diagnosis of inflammatory polyps. A retrospective analysis of 62 patients treated for IP was conducted. Demographic data and information about smoking status, alcohol intake, tumor location, histology, presence of nasal polyps, staging, malignancy, previous biopsies and surgical approach were evaluated to identify factors associated with recurrence. Prevalence of nasal polyps was higher in patients with recurrence. Smoking history, alcohol abuse, staging, histologic type, malignancy and surgical approach were not associated with recurrence. The presence of nasal polyps at endoscopy was inversely associated with the diagnosis of IP at incisional biopsy. Incidental histologic diagnosis of IP after surgery increased the risk of recurrence more than tenfold. Biopsy reporting the diagnosis of IP previous to surgery was inversely associated to recurrence. In patients with IP, coexistence of nasal polyps at initial endoscopy and lack of pathological IP diagnosis prior to surgery are strongly associated with a higher risk of recurrence. When excisional biopsy reports IP incidentally, an early revision surgery should be considered in order to avoid future aggressive surgeries because of tumor recurrence.
This is a preview of subscription content, log in to check access.
Access options
Buy single article
Instant access to the full article PDF.
US$ 39.95
Price includes VAT for USA
Subscribe to journal
Immediate online access to all issues from 2019. Subscription will auto renew annually.
US$ 99
This is the net price. Taxes to be calculated in checkout.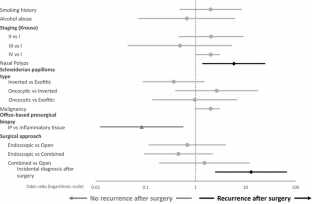 References
1.

Lisan Q, Laccourreye O, Bonfils P (2016) Sinonasal inverted papilloma: from diagnosis to treatment. Eur Ann Otorhinolaryngol Head Neck Dis 133(5):337–341. https://doi.org/10.1016/j.anorl.2016.03.006

2.

Han MW, Lee BJ, Jang YJ, Chung YS (2010) Clinical value of office-based endoscopic incisional biopsy in diagnosis of nasal cavity masses. Otolaryngol Head Neck Surg 143(3):341–347. https://doi.org/10.1016/j.otohns.2010.05.019

3.

Klimek T, Atai E, Schubert M, Glanz H (2000) Inverted papilloma of the nasal cavity and paranasal sinuses: clinical data, surgical strategy and recurrence rates. Acta Otolaryngol 120(2):267–272

4.

Akkari M, Lassave J, Mura T, Gascou G, Pierre G, Cartier C, Garrel R, Crampette L (2016) Atypical presentations of sinonasal inverted papilloma: surgical management and influence on the recurrence rate. Am J Rhinol Allergy 30(2):149–154. https://doi.org/10.2500/ajra.2016.30.4288

5.

Garavello W, Gaini RM (2006) Incidence of inverted papilloma in recurrent nasal polyposis. Laryngoscope 116(2):221–223. https://doi.org/10.1097/01.mlg.0000191469.79374.57

6.

Healy DY Jr, Chhabra N, Metson R, Holbrook EH, Gray ST (2016) Surgical risk factors for recurrence of inverted papilloma. Laryngoscope 126(4):796–801. https://doi.org/10.1002/lary.25663

7.

Krouse JH (2000) Development of a staging system for inverted papilloma. Laryngoscope 110(6):965–968. https://doi.org/10.1097/00005537-200006000-00015

8.

Hoffmann D, Hoffmann I (1997) The changing cigarette, 1950–1995. J Toxicol Environ Health 50(4):307–364. https://doi.org/10.1080/009841097160393

9.

Cao Y, Giovannucci EL (2016) Alcohol as a risk factor for cancer. Semin Oncol Nurs 32(3):325–331. https://doi.org/10.1016/j.soncn.2016.05.012

10.

Sousa AM, Vicenti AB, Speck Filho J, Cahali MB (2012) Retrospective analysis of 26 cases of inverted nasal papillomas. Braz J Otorhinolaryngol 78(1):26–30

11.

Dragonetti A, Gera R, Sciuto A, Scotti A, Bigoni A, Barbaro E, Minni A (2011) Sinonasal inverted papilloma: 84 patients treated by endoscopy and proposal for a new classification. Rhinology 49(2):207–213. https://doi.org/10.4193/Rhino09.053

12.

Busquets JM, Hwang PH (2006) Endoscopic resection of sinonasal inverted papilloma: a meta-analysis. Otolaryngol Head Neck Surg 134(3):476–482. https://doi.org/10.1016/j.otohns.2005.11.038

13.

Justice JM, Davis KM, Saenz DA, Lanza DC (2014) Evidence that human papillomavirus causes inverted papilloma is sparse. Int Forum Allergy Rhinol 4(12):995–1001. https://doi.org/10.1002/alr.21358

14.

Buchwald C, Franzmann MB, Tos M (1995) Sinonasal papillomas: a report of 82 cases in Copenhagen County, including a longitudinal epidemiological and clinical study. Laryngoscope 105(1):72–79. https://doi.org/10.1288/00005537-199501000-00016

15.

Hong SL, Kim BH, Lee JH, Cho KS, Roh HJ (2013) Smoking and malignancy in sinonasal inverted papilloma. Laryngoscope 123(5):1087–1091. https://doi.org/10.1002/lary.23876

16.

Moon IJ, Lee DY, Suh MW, Han DH, Kim ST, Min YG, Lee CH, Rhee CS (2010) Cigarette smoking increases risk of recurrence for sinonasal inverted papilloma. Am J Rhinol Allergy 24(5):325–329. https://doi.org/10.2500/ajra.2010.24.3510

17.

Roh HJ, Mun SJ, Cho KS, Hong SL (2016) Smoking, not human papilloma virus infection, is a risk factor for recurrence of sinonasal inverted papilloma. Am J Rhinol Allergy 30(2):79–82. https://doi.org/10.2500/ajra.2016.30.4272

18.

Sciarretta V, Fernandez IJ, Farneti P, Pasquini E (2014) Endoscopic and combined external-transnasal endoscopic approach for the treatment of inverted papilloma: analysis of 110 cases. Eur Arch Otorhinolaryngol 271(7):1953–1959. https://doi.org/10.1007/s00405-013-2817-1

19.

Cordoba Garcia R (2015) Smoking prevalence and mortality in Spain. Med Clin (Barc) 145(12):532–533. https://doi.org/10.1016/j.medcli.2015.06.003

20.

Ferrari P, Jenab M, Norat T, Moskal A, Slimani N, Olsen A, Tjonneland A, Overvad K, Jensen MK, Boutron-Ruault MC, Clavel-Chapelon F, Morois S, Rohrmann S, Linseisen J, Boeing H, Bergmann M, Kontopoulou D, Trichopoulou A, Kassapa C, Masala G, Krogh V, Vineis P, Panico S, Tumino R, van Gils CH, Peeters P, Bueno-de-Mesquita HB, Ocke MC, Skeie G, Lund E, Agudo A, Ardanaz E, Lopez DC, Sanchez MJ, Quiros JR, Amiano P, Berglund G, Manjer J, Palmqvist R, Van Guelpen B, Allen N, Key T, Bingham S, Mazuir M, Boffetta P, Kaaks R, Riboli E (2007) Lifetime and baseline alcohol intake and risk of colon and rectal cancers in the European prospective investigation into cancer and nutrition (EPIC). Int J Cancer 121(9):2065–2072. https://doi.org/10.1002/ijc.22966

21.

Kim DY, Hong SL, Lee CH, Jin HR, Kang JM, Lee BJ, Moon IJ, Chung SK, Rha KS, Cho SH, Kim KR, Kim SW, Kim DW, Chung YJ, Kim KS, Won TB, Shim WS, Park CH, Kang IG, Roh HJ (2012) Inverted papilloma of the nasal cavity and paranasal sinuses: a Korean multicenter study. Laryngoscope 122(3):487–494. https://doi.org/10.1002/lary.22495

22.

Gao X, Hou L, Feng N, Ma R (2012) Clinical analysis of nasal inverted papilloma complicated with nasal polyp. Lin Chung Er Bi Yan Hou Tou Jing Wai Ke Za Zhi 26(17):781–782

23.

Chiu AG, Jackman AH, Antunes MB, Feldman MD, Palmer JN (2006) Radiographic and histologic analysis of the bone underlying inverted papillomas. Laryngoscope 116(9):1617–1620. https://doi.org/10.1097/01.mlg.0000230401.88711.e6

24.

Vorasubin N, Vira D, Suh JD, Bhuta S, Wang MB (2013) Schneiderian papillomas: comparative review of exophytic, oncocytic, and inverted types. Am J Rhinol Allergy 27(4):287–292. https://doi.org/10.2500/ajra.2013.27.3904

25.

Kucur C, Oghan F, Özbay I, Erdogan O, Tok S, Sanal B, Korkmaz M, Yildirim N (2015) Unilateral nasal pathologies: clinical presentation and management. ENT Updates 5(1):23

26.

Tritt S, McMains KC, Kountakis SE (2008) Unilateral nasal polyposis: clinical presentation and pathology. Am J Otolaryngol 29(4):230–232. https://doi.org/10.1016/j.amjoto.2007.07.001

27.

Cook PR, Davis WE, McDonald R, McKinsey JP (1993) Antrochoanal polyposis: a review of 33 cases. Ear Nose Throat J 72(6):401–402, 404–410

28.

DelGaudio JM, Loftus PA, Hamizan AW, Harvey RJ, Wise SK (2017) Central compartment atopic disease. Am J Rhinol Allergy 31(4):228–234. https://doi.org/10.2500/ajra.2017.31.4443

29.

Larsen K, Tos M (2002) The estimated incidence of symptomatic nasal polyps. Acta Otolaryngol 122(2):179–182

30.

Yaman H, Yilmaz S, Karali E, Guclu E, Ozturk O (2010) Evaluation and management of antrochoanal polyps. Clin Exp Otorhinolaryngol 3(2):110–114. https://doi.org/10.3342/ceo.2010.3.2.110

31.

Fang G, Lou H, Yu W, Wang X, Yang B, Xian J, Song X, Fan E, Li Y, Wang C, Zhang L (2016) Prediction of the originating site of sinonasal inverted papilloma by preoperative magnetic resonance imaging and computed tomography. Int Forum Allergy Rhinol 6(12):1221–1228. https://doi.org/10.1002/alr.21836
Ethics declarations
Conflict of interest
The authors declare that they have no conflict of interest.
Ethical Approval
All procedures performed in studies involving human participants were in accordance with the ethical standards of the institutional and/or national research committee and with the 1964 Helsinki declaration and its later amendments or comparable ethical standards.
About this article
Cite this article
Mariño-Sánchez, F., de los Santos, G., Giribet, A. et al. Incidental Histopathologic Finding of Sinonasal Inverted Papilloma Among Surgically Excised Polyps Increases the Risk of Tumor Recurrence. Indian J Otolaryngol Head Neck Surg 71, 1910–1917 (2019). https://doi.org/10.1007/s12070-018-1302-y
Received:

Accepted:

Published:

Issue Date:
Keywords
Inverted papilloma

Schneiderian papilloma

Sinonasal tumor

Incidental finding

Risk factors