Abstract
Purpose
The aim of this paper is to review the literature on recurrent pectus excavatum (PE) and present our surgical approach to a complex case of recurrent PE in an adult patient at a Mexican Hospital.
Methods
We present the case of an adult patient with severe and symptomatic PE, with history of a failed Nuss procedure 1 year previous our intervention, which consisted of a combination of both classic techniques, by performing an osteochondrectomy of affected cartilages and placing a titanium bar substernal and stabilizing coastal arches with secondary osteosynthesis system (Stratos ™ system, medXpert, Germany).
Results
Adequate correction of thoracic silhouette and both cardiac and respiratory disorders in the 1-year follow-up was achieved as indicated by the improvement of the patient's Haller index.
Conclusion
Successful surgical correction of pectus excavatum is achieved when the thoracic silhouette is restored, thus improving cardiopulmonary symptoms. As there are many different techniques available, the more minimally invasive ones are reserved for mild cases, but the treatment of complex cases as in our patient requires a combination of multiple techniques and reconstruction materials in order to achieve adequate correction of the thoracic deformity and reduce recurrence rate.
This is a preview of subscription content, log in to check access.
Access options
Buy single article
Instant unlimited access to the full article PDF.
US$ 39.95
Price includes VAT for USA
Subscribe to journal
Immediate online access to all issues from 2019. Subscription will auto renew annually.
US$ 99
This is the net price. Taxes to be calculated in checkout.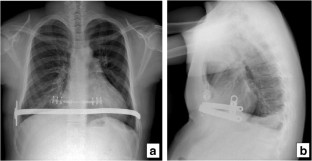 References
1.

Nuss D, Obermeyer R, Kelly RE Jr. Pectus excavatum from a pediatric surgeon's perspective. Ann Cardiothoracic Surg. 2016;5:493–500.

2.

Varela P. Pectus excavatum: history and new proposals for diagnosis and treatment. Rev Med Clin Condes. 2009;20:769–75.

3.

Elsayed HH, Hassaballa AS, Abdel Hady SM, Elbastawisy SE, Ahmed TA. Choosing between the modified Ravitch and Nuss procedures for pectus excavatum: considering the patients perspective. Ann R Coll Surg Engl. 2016;98:581–5.

4.

Nuss D, Kelly RE Jr, Croitoru DP, Katz ME. A 10-year review of a minimally invasive technique for the correction of pectus excavatum. J Pediatr Surg. 1998;33:545–52.

5.

Fonkalsrud EW, Dunn JC, Atkinson JB. Repair of pectus excavatum deformities:30 years of experience with 375 patients. Ann Surg. 2000;231:443–8.

6.

Kelly RE, Goretsky MJ, Obermeyer R, et al. Twenty-one years of experience with minimally invasive repair of pectus excavatum by the Nuss procedure in 1215 patients. Ann Surg. 2010;252:1072–81.

7.

Croitoru DP, Kelly RE Jr, Goretsky MJ, Gustin T, Keever R, Nuss D. The minimally invasive Nuss technique for recurrent or failed pectus excavatum repair in 50 patients. J Pediatr Surg. 2005;40:181–6.

8.

Redlinger RE Jr, Kelly RE Jr, Nuss D, Kuhn MA, Obermeyer RJ, Goretsky MJ. One hundred patients with recurrent pectus excavatum repaired via the minimally invasive Nuss technique- effective in most regardless of initial operative approach. J Pediatr Surg. 2011;46:1177–81.

9.

Pilegaard HK. Extending the use of Nuss procedure in patients older than 30 years. Eur J Cardiothorac Surg. 2011;40:334–7.

10.

Luu TD, Kogon BE, Force SD, Mansour KA, Miller DL. Surgery for recurrent pectus deformities. Ann Thorac Surg. 2009;88:1627–31.

11.

Johnson KN, Jaroszewski DE, Ewais M, Lackey JJ, McMahon L, Notrica DM. Hybrid technique for repair of recurrent pectus excavatum after failed open repair. Ann Thorac Surg. 2015;99:1936–43.

12.

Jaroszewski DE, Ewais MM, Lackey JJ, et al. Revision of failed, recurrent or complicated pectus excavatum after Nuss. Ravitch or cardiac surgery. J Vis Surg. 2016;2:74.

13.

Novoa NM, Aranda Alcaide JL, Gomez Hernández MT, Fuentes MG, Goñi E, Jimenez Lopez MF. Chest wall- reconstruction: yesterday, today and the future. Shanghai Chest. 2019;3:15.

14.

Corcoles Padilla JM, Bolufer Nadal S, Kurowski K, Gálvez Muñoz C, Rodriguez Paniagua JM. Use and versatility of titanium for the reconstruction of the thoracic wall. Cir Esp. 2014;92:89–94.

15.

Dagnino Urrutia BL, Patillo Silva JC, Salisbury Devizenci C, Cifuentes Ortiz IJ. Thoracic wall reconstruction with latissimus dorsi flap in pediatric patients.Cir Plast Ibero-Lat.2019;45:67-72.

16.

De Baerdemaeker RA, Hendrickx B, Geeroms M, Zeltzer AA, Hamdi M. Correction of Pectus Excavatum anterior chest wall deformity in adults using custom made silicone implant. Ann Plast Reconstr Surg. 2019;2:1021.
Ethics declarations
Conflict of Interest
No
Funding
No
Ethics Committee approval
No, this is a case report and literature revision so no experiment was performed.
Informed Consent
We have informed consent for both surgery and the development of this paper.
Human and animal rights
This is a case report and literature revision so no experiment was performed , no animals were involved either.
Additional information
Publisher's note
Springer Nature remains neutral with regard to jurisdictional claims in published maps and institutional affiliations.
About this article
Cite this article
Ortiz, J.A.R., Abrego, B.V. Surgical correction of recurrent pectus excavatum of an adult patient, case report, and review of literature. Indian J Thorac Cardiovasc Surg (2020). https://doi.org/10.1007/s12055-019-00913-z
Received:

Revised:

Accepted:

Published:
Keywords
Pectus excavatum

Chest wall repair

Osteosynthesis

Reconstruction

Deformity

Recurrence