Local strategies to promote energy retrofitting of single-family houses
Abstract
Energy retrofitting of existing buildings is a central challenge for local, national, and international climate policies, and in several countries, single-family houses represent a major energy-saving potential. Although many municipalities are implementing local climate policies with initiatives to promote energy retrofitting of buildings, little research has been done regarding the role of single-family houses in local climate policies. Thus, we have little knowledge about specific initiatives to promote energy retrofitting amongst owners of single-family houses, we know little about experience from such initiatives, and we lack knowledge about the extent to which national and EU policies support local initiatives directed at homeowners. This article provides insights into these issues from an explorative study on local climate strategies in Danish front-runner municipalities where single-family housing is the dominating building segment. Based on a study of local governance strategies in 12 municipalities targeting homeowners' engagement in energy retrofitting, the paper finds that these municipalities have developed promising local network-based ways to engage homeowners in energy retrofitting, but finds simultaneously that the national policy mix is only partly supporting these local initiatives. The paper also points out that the local and regional context for the programmes, including the local economic situation, is of great importance, and this context creates both potentials and challenges for the local programmes.
Keywords
Energy retrofitting 
Climate strategies 
Homeowners 
Single-family houses 
Local initiatives 
Networks 
Policy mixes 
Introduction
An important precondition for reducing CO2 emissions is the reduction of the total energy consumption. As the energy consumption for buildings accounts for approximately 40% of total energy consumption at EU level, the energy retrofitting of the existing building stock is at the core of international, national, and local energy policies. In spite of national and European initiatives to regulate and promote energy retrofitting and energy savings (Mahapatra et al. 2013; Rosenow et al. 2016), evaluations and studies suggest that renovation activities regarding energy retrofitting are still not widespread (Bartiaux et al. 2014; Beillan et al. 2011). Although energy retrofitting of single-family houses has a large potential for reducing CO2 emissions (Mahapatra et al. 2013), private initiatives to pursue this potential have been limited. However, an increasing number of municipalities are formulating and implementing climate strategies (Dent et al. 2016; Kern and Alber 2009; Trencher et al. 2016) which might increase private retrofitting activities. More knowledge about the actual capacity and capability of cities' initiatives to increase homeowners' retrofitting is therefore needed (Webb et al. 2016). Furthermore, more knowledge is required about the conditions for operating under national and international regulation frameworks. Although many cities and local authorities are active in energy and climate planning, their formal power has declined due to market liberalisation of the energy sector, and therefore, municipalities need to develop new local governance instruments (Hodson and Marvin 2012), including different modes of urban energy intermediation (Hodson et al. 2013). This calls for research into a more detailed understanding of the differences across cities and their ambitions regarding formulating climate policies and initiatives towards private homeowners, in order to grasp where motivations and competences come from. Much of recent research has focused on larger cities and hence there is a tendency to ignore less economically influential areas (Dent et al. 2016; Trencher et al. 2016). Moreover, not all municipal climate strategies include promoting initiatives towards local homeowners (Millard-Ball 2012), and it is also uncertain if the municipalities gain the expected benefits from the initiatives, which include not just direct benefits gained through reduced GHG emissions, but also other co-benefits such as economic savings, local action, and generating of local knowledge (Bulkeley and Betsill 2003). To sum up, so far, there has been little focus on local strategies initiated by municipalities and directed specifically towards retrofitting by homeowners, and therefore, we have limited understanding of the drivers, challenges, and the potential of such local governance strategies, as well as their relation to national and international policies.
The aim of the paper is to identify, discuss, and analyse different local municipal initiatives and policies for encouraging owners of single-family houses to energy retrofit their buildings and to shed light on the limitations and solutions of the different efforts. The paper investigates conditions for municipalities to work with promoting energy efficiency in single-family houses, and discusses to which extent such initiatives are supported by national policies and which other factors might be decisive for municipalities to initiate them. Danish municipalities are used as a case for exploring these questions, as Denmark is often viewed as a front-runner country within policies for reducing energy use in buildings (Murphy 2014). Further, Denmark has a high share of single-family houses.
Review of existing literature: retrofitting single-family houses, policy mixes, and local climate initiatives
The theory and background in this project draw on two slightly different areas. One is research into understandings of how, why, and why not owners of single-family houses retrofit and energy upgrade their homes. The other area is about policy approaches for this, especially on the interlinkage between national and international policies for energy retrofitting on one hand, and energy retrofitting initiatives targeting single-family houses promoted from a local municipality level on the other hand.
Danish policy mixes to promote energy retrofitting
The long-term energy policy goal in Denmark is that by 2050, the energy system should be carbon neutral (Klima-, Energi- og Bygningsministeriet 2014). Energy demand from buildings represents a major part of achieving this, and a government committee dubbed "Network for energy renovation" has stated that in this context, single-family houses represent a main challenge (Klima-, Energi- og Bygningsministeriet 2014). Technical calculations show that, in 2011, the energy demand from single-family houses represented more than 50% of the total energy demand from the Danish building stock, and that they represent the part of the building sector with the greatest potential for reductions (Klima-, Energi- og Bygningsministeriet 2014). Thus, single-family houses are generally recognised as one of the main targets of Danish policy for greenhouse gas (GHG) emission reductions.
International and national policy mixes for promoting energy retrofitting
The Danish national initiatives for pursuing these goals generally follow the EU regulations for the energy efficiency of buildings. Danish national energy policy has included various arrangements and tools to motivate private homeowners to energy retrofit their buildings, and these together constitute the overall national policy framework for local initiatives. (Oikonomou and Jepma
2008
) suggest four categories for policy interventions, which are useful to outline the main Danish policies for motivating energy-efficient retrofitting (for more details on these policies see Gram-Hanssen
2014b
):
As the Danish national policy for pursuing these goals generally follows the EU regulations for energy efficiency of buildings, the Danish experience is in line with experience in other EU countries. In general, in Denmark as well as in other EU countries, the policy can be said to have had a limited impact so far, especially compared with the ambitions for this area (Gram-Hanssen et al. 2018; Visscher et al. 2016).
Local policies and the role of municipalities
There are 98 municipalities in Denmark, all acting as local authorities and with a high degree of autonomy. They are responsible for the overall planning and administration of the municipality, including provision of welfare services, planning and development, and sustainable development, including spatial planning for heat provision, in the form of, e.g. district heating or gas. How ambitious municipalities are regarding the sustainable development, however, varies. Thus, the extent to which municipalities engage in promoting energy retrofitting of single-family homes also varies. Some municipalities have set targets for CO2 reductions, or in other ways formulated ambitious plans, and some municipalities have joined voluntary agreements with third parties such as the Danish Society for Nature Conservation.
Due to a large administrative reform in 2007 where a number of municipalities were merged, reducing the number from 275 to 98, the municipalities today typically consist of a mix of cities, towns, suburbs, villages, and rural settings. Over the last decade, there has been a strong urbanisation and a migration to the larger cities, leaving many municipalities in the western and southern part of Denmark in a challenged situation, with a high out-migration, loss of jobs, a changing demography, and a reduced public service level, as well as with poor building conditions and hence large potentials for retrofitting.
Material and methods
Selected municipalities
The empirical material includes studies of 12 Danish municipalities. The selection was based on previous knowledge of how municipalities work decisively with strategies for motivating homeowners to energy retrofit, including network formation and village-oriented initiatives (Gram-Hanssen et al. 2015). We were specifically interested in front-runners in this field. Thus, the selected municipalities are not representative of all Danish municipalities. Using front-runners in a case study has the advantage of learning from the municipalities with the most experience in this area. Based on understandings of how to generalise on case studies (Flyvbjerg 2006), these types of result can also be of general interest in relation to other municipalities which have not (yet) the same ambitions.
The geographical location of the 12 selected municipalities is shown in Fig. 
1
. The selected municipalities are spread out in different parts of the country, with a few near the city centres of Copenhagen and Aarhus, representing the economic growth areas in Denmark, whereas more are located in less economically favourable areas.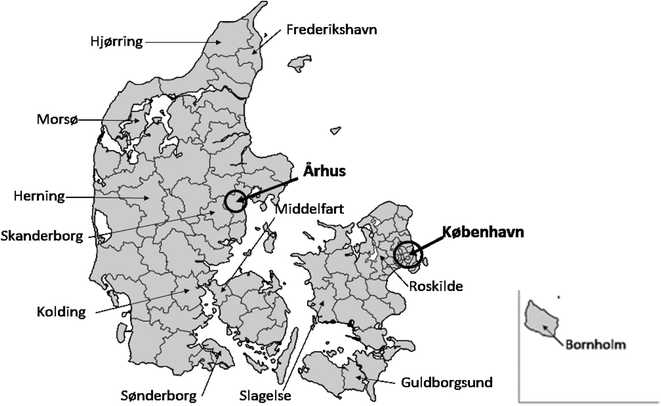 Characteristics of the 12 selected municipalities are shown in Table 1, which summarises key figures for each municipality, compared with the national average for the same parameters.
As seen in Table
1
, all the selected municipalities have signed up for either or both of the two voluntary agreements of respectively the Danish Society for Nature Conservation (Klima-kommune (Climate Municipality)) and the EU voluntary climate agreement (Covenant of Mayors). Besides this type of voluntary agreements with a third party, some municipalities have formulated overarching climate plans or energy plans that embrace interactions between energy efficiency, CO
2
neutrality, local job creation, more attractive housing stock, branding of the municipality, etc. Examples of this are ProjectZero, a public-private collaboration in Sønderborg, the EnergyCity in the municipality of Frederikshavn, and the Green Growth Programme in the municipality of Middelfart. The initiatives and programmes for promoting energy retrofitting amongst single-family owners are typically a part of these overarching policies. Such policies typically provide a platform for the initiatives to reach homeowners and strengthen their credibility as well as their links with other initiatives in the municipality.
Table 1
Key characteristics of the 12 selected municipalities as regards single-family housing (SFH), as well as the national average for the same figures [source: Statistics Denmark (2017); The Danish Society for Nature Conservation (http://www.dn.dk); Covenant of Mayors (http://www.covenantofmayors.eu/index_en.html)]
Municipalities

Size (km2)

Population

No. of SFH

% SFH of residential buildings

Average household income (DKK)

Voluntary climate agreements (year of signing)

Bornholm

588

39,695

11,634

62

425,129

Climate Municipality (2008)

Frederikshavn

651

60,356

18,044

77

461,786

Climate Municipality (2007)

Covenant of Mayors (2011)

Guldborgsund

901

61,257

18,163

76

425,487

Covenant of Mayors (2009)

Herning

1321

88,386

19,820

72

498,724

Climate Municipality (2009)

Hjørring

927

65,307

18,861

76

509,448

Climate Municipality (2010)

Covenant of Mayors (2013)

Kolding

604

92,282

20,364

71

530,442

Climate Municipality (2008)

Middelfart

299

38,093

10,327

71

444,802

Climate Municipality Plus (2008)

Morsø

366

20,665

6628

73

569,742

Climate Municipality (2009)

Roskilde

212

87,015

15,761

73

607,789

Climate Municipality (2008)

Covenant of Mayors (2009)

Skanderborg

417

60,401

14,220

72

449,906

Climate Municipality (2009)

Slagelse

568

78,828

15,211

67

474,561

Covenant of Mayors (2009)

Sønderborg

497

74,801

19,555

77

425,129

Climate Municipality (2008)

Covenant of Mayors (2012)

National average

438

58,480

11,278

70

500,550

71 municipalities (72% of all) have signed up as "Climate Municipality", and

36 municipalities (37% of all) have signed the Covenant of Mayors
Study methods
The study methods include document analysis, a telephone-based survey of the municipalities, and in-depth follow-up telephone interviews with the planners in charge of local climate policy in the 12 municipalities. Interviews were performed in 2013. The in-depth telephone interviews were based on a semi-structured interview guide that focused on describing the activities of the municipalities directed towards retrofitting of single-family housing, mapping the networks and the cooperation partners as well as the background for the initiatives, and asked about the experience so far. Detailed notes from interviews were taken (but no transcription of the interviews) and the written case descriptions were afterwards approved by the municipalities.
Results: local climate governance in front-runner municipalities
Analysis of what Danish front-runner municipalities are doing to promote more energy-efficient retrofitting amongst single-family housing reveals many similarities and a few differences in the approaches taken. Much of their work is about establishing networks with different actors who have contact to homeowners. Figure
2
illustrates in principle the network of these groups of actors. The actors enrolled might include craftsmen in local SMEs, e.g. electricians, plumbers, and carpenters, as well as actors such as energy consultants, energy suppliers, financial institutions, real estate agents, and educational centres for craftsmen and builders. These networks are supported by parts of the national policy mixes, including the energy-saving obligations for the energy providers, motivating them to obtain energy savings amongst end-users, e.g. through co-financing an energy consultant. The energy consultant reports the energy savings achieved by reporting the implemented energy improvements through the standard value catalogue that converts these improvements into specific annual energy savings.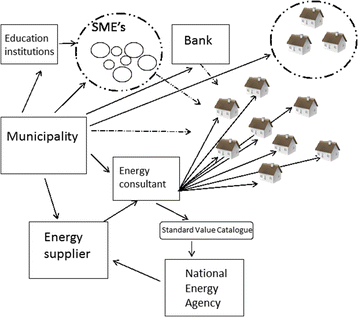 The types of activities used by the municipalities are summarised in Table
2
. Results show that the interviewed municipalities used various types of communication (e.g. websites, special events, commercials) in their efforts to inform and market their initiatives to homeowners. Besides, the activities can be distinguished into two other types of contacts towards homeowners, either direct contact to homeowners or a collective approach of village contact. Activities related to craftsmen/builders typically include establishing networks and retraining, and finally the table shows which municipalities that involve other collaborative initiatives towards either energy suppliers or financial institutions. In Table
2
, the different approaches and included initiatives in the 12 municipalities are summarised.
Table 2
Overview of the 12 studied municipalities and the initiatives included to promote energy retrofitting of single-family houses
Initiatives

Towards citizens

Towards builders

Other collaborative initiatives

Municipalities

General communication

Energy audits

Village contact

Establishing networks

Retraining

Energy suppliers

Financial institutions

Frederikshavn

X

X

X

X

X

X

X

Herning

X

 

X

 
 

X

 

Hjørring

X

 
 

X

 

X

 

Kolding

X

X

X

X

X

X

X

Middelfart

X

X

X

X

X

X

X

Morsø

X

X

X

X

X

X

X

Skanderborg

X

 
 
 

X

 
 

Sønderborg

X

X

X

X

X

X

X

Guldborgsund

X

X

X

X

X

X

X

Roskilde

X

X

X

X

X

X

 

Slagelse

X

X

X

X

X

 
 

Bornholm

X

X

 

X

X

X

X
The following sections describe in more detail how the municipalities work with these approaches.
Discussion
Based on these findings from front-runner municipalities and their governance activities towards owners of single-family houses, more general learnings in relation to the literature presented previously are discussed below: also in relation to national policy in a multilevel governance perspective.
Conclusions
The Danish municipalities' initiatives for promoting energy retrofitting in single-family houses seem to be filling a gap on how to reach the owners of single-family houses. These houses represent more than 50% of the energy use in the Danish building stock. Our study has examined these local initiatives, the means of reaching the building owners, and to which extent the national policy mixes support energy retrofitting. These local initiatives address many of the so-called barriers to energy retrofitting outlined in research studies, including the direct contact to the homeowner, independent assessment of retrofitting solutions, and qualified craftsmen to carry out the retrofit as well as pursuing more neighbourhood-oriented approaches in the contact with homeowners. We conclude that the municipal initiatives have to some extent been supported by the national policy mixes. The energy savings obligations that motivate local energy providers to collaborate with municipalities on energy savings in single-family houses have been particularly important for the local programmes, but the National Knowledge Centre for Energy Savings in Buildings has also been important for training craftsmen. In contrast, other elements in the national policy mix have not been utilised, including the requirements in the building codes for energy improvements in relation to renovation activities and the EPC certificate for energy efficiency.
This emphasises that, although in many cases national policies on energy reduction in private households might not have directly measurable effects, they might provide an important framework for the formulation and implementation of local climate policies. Thus, we argue that in many cases, the main achievement of these national policies has been to frame and support local climate policies.
An important precondition for the local programmes is that they are often embedded in ambitious climate plans and regional development strategies, as well as being located in peripheral regions. In these regions, the local housing market is dominated by low housing prices, where energy costs take up a much larger proportion of the household budget compared with the housing market in growth areas, thereby making energy retrofitting more attractive, but also more difficult to finance. Therefore, the municipalities' ability to involve different actors (energy suppliers, craftsmen, financing organisations, etc.) and establish local partnerships is crucial for the success of the programmes. Nevertheless, the initiatives remain fragile, partly because the business case for municipalities and energy suppliers remains uncertain due to the high costs of contacting the homeowners. Therefore, we will probably see a continuous development and adaptation of these initiatives in the future. Approaching homeowners and encouraging energy retrofit as part of the municipalities' climate plans and governance strategies is a new and large challenge, but as single-family houses represent a large energy consumer in many countries, this is an important field to be engaged in for municipalities. Acknowledging the interplay between national and local climate policies, and the relative success of local initiatives towards local house-owners, we suggest a stronger national emphasis on providing room for local actions and facilitating such actions. This could include more explicit policy formulations of local initiatives and a continuous compilation of experience gained from establishing local networks and strategies for promoting local energy retrofitting activities. This would also include an acknowledgement and interest in the very different economic situations which are the reality in different parts of the country, and which strongly influence possibilities for retrofitting single-family houses in different regions, and thus lay very different foundations for the climate strategies in different types of municipalities.
Notes
Compliance with ethical standards
Conflict of interest
The authors declare that they have no conflict of interest.
Copyright information
© Springer Science+Business Media B.V., part of Springer Nature 2018