Industrial energy efficiency and climate change mitigation
Abstract
Industry contributes directly and indirectly (through consumed electricity) about 37% of the global greenhouse gas emissions, of which over 80% is from energy use. Total energy-related emissions, which were 9.9 GtCO2 in 2004, have grown by 65% since 1971. Even so, industry has almost continuously improved its energy efficiency over the past decades. In the near future, energy efficiency is potentially the most important and cost-effective means for mitigating greenhouse gas emissions from industry. This paper discusses the potential contribution of industrial energy-efficiency technologies and policies to reduce energy use and greenhouse gas emissions to 2030.
Keywords
Greenhouse gas mitigation 
Industry 
Energy efficiency 
Policy 
Potentials 
Introduction
This article is based on chapter 7 of the Working Group III report to the IPCC Fourth Assessment (IPCC 2007) and provides a review of the trends, opportunities, and policy options to reduce greenhouse gas (GHG) emissions from the industrial sector. Industry uses almost 40% of worldwide energy. It contributes almost 37% of global GHG emissions. In most countries, CO2 accounts for more than 90% of CO2-eq GHG emissions from the industrial sector (Price et al. 2006; US EPA 2006). These CO2 emissions arise from three sources: (1) the use of fossil fuels for energy, either directly by industry for heat and power generation or indirectly in the generation of purchased electricity and steam, (2) non-energy uses of fossil fuels in chemical processing and metal smelting, and (3) non-fossil fuel sources, for example cement and lime manufacture. Industrial processes, primarily chemical manufacturing and metal smelting, also emit other GHGs, including methane (CH4), nitrous oxide (N2O), HFCs, CFCs, and PFCs,
The energy intensity of industry has steadily declined in most countries since the oil price shocks of the 1970s. Historically, industrial energy-efficiency improvement rates have typically been around 1%/year. However, various countries have demonstrated that it is possible to double these rates for extended periods of time (i.e., 10 years or more) through the use of policy mechanisms. Still, large potentials exist to further reduce energy use and GHG emissions in most sectors and economies.
Historic and future trends
Globally, energy-intensive industries still emit the largest share of industrial GHG emissions (Dasgupta and Roy
2000
; IEA
2007
,
2008
; Sinton and Fridley
2000
). Hence, this paper focuses on the key energy-intensive industries: iron and steel, chemicals (including fertilizers), petroleum refining, minerals (cement, lime, glass, and ceramics), and pulp and paper. The production of energy-intensive industrial goods has grown dramatically and is expected to continue growing as population and per capita income increase. Since 1970, global annual production of cement increased 336%; aluminum, 252%; steel, 95% (USGS
2005
); ammonia, 353% (IFA
2005
); and paper, 190% (FAO
2008
). Much of the world's energy-intensive industry is now located in developing nations (see Fig. 
1
). In 2006, developing countries accounted for 74% of global cement manufacture (USGS
2005
), 63% of global nitrogen fertilizer production, about 50% of global primary aluminum production (USGS
2008
), and 48% of global steel production (USGS
2008
).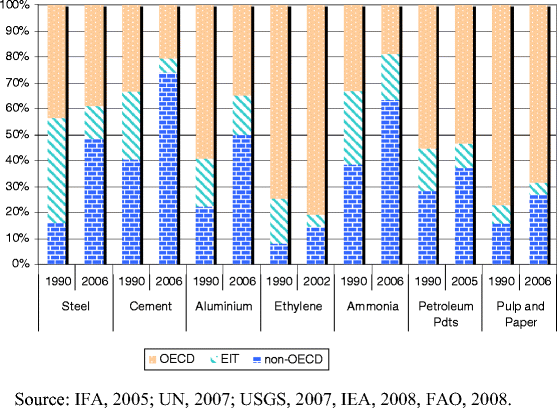 In 2006, developing countries accounted for 49% of final energy use by industry, developed countries 40%, and economies in transition 11%. Since many facilities in developing nations are new, they sometimes incorporate the latest technology and have the lowest specific emission rates (BEE 2006; IEA 2006b). Many older, inefficient facilities remain in both industrialised and developing countries. However, there is a huge demand for technology transfer (hardware, software, and know-how) to developing nations to achieve energy efficiency and emissions reduction in their industrial sectors. Though large-scale production dominates these energy-intensive industries, globally small- and medium-sized enterprises have significant shares in many developing countries, which create special challenges for mitigation efforts.
Total industrial sector GHG emissions are currently estimated to be about 12 GtCO
2
-eq/year. Global and sectoral data on final energy use, primary energy use, and energy-related CO
2
emissions, including indirect emissions related to electricity use, for 1971 to 2005 are shown in Table 
1
. In 1971, the industrial sector used 91 EJ of primary energy, 40% of the global total of 227 EJ. By 2005, industry's share of global primary energy use declined to 38%.
Table 1
Industrial sector final energy, primary energy, and energy-related carbon dioxide emissions, nine world regions, 1971–2005
 

Final energy (EJ)

Primary energy (EJ)

Energy-related carbon dioxide, including indirect emissions from electricity use (MtCO2)

1971

1990

2005

1971

1990

2005

1971

1990

2005

Pacific OECD

6.02

8.04

10.09

8.29

11.47

14.29

524

710

821

North America

20.21

19.15

21.89

25.88

26.04

28.06

1,512

1,472

1461

Western Europe

14.78

14.88

16.69

19.57

20.06

21.83

1,380

1,187

1144

Central and East Europe

3.75

4.52

2.80

5.46

7.04

3.85

424

529

246

Former Soviet Union

11.23

18.59

10.81

15.67

24.63

15.00

1,095

1,631

873

Developing Asia

7.34

19.88

37.88

9.38

26.61

60.47

714

2,012

4505

Latin America

2.79

5.94

8.39

3.58

7.53

11.16

178

327

480

Sub-Saharan Africa

1.24

2.11

2.44

1.7

2.98

3.56

98

178

203

Middle East and North Africa

0.83

4.01

6.72

1.08

4.89

8.65

65

277

468

World

68.18

97.13

117.71

90.61

131.25

166.86

5,990

8,324

10,199
Energy use represents the largest source of GHG emissions in industry (83%). In 2005, energy use by the industrial sector resulted in emissions of 10.2 GtCO2, 38% of global CO2 emissions from energy use. Direct CO2 emissions totalled 5.2 Gt, the balance being indirect emissions associated with the generation of electricity and other energy carriers. The developing nations' share of industrial CO2 emissions from energy use grew from 18% in 1971 to 55% in 2005. In 2000, CO2 emissions from non-energy uses of fossil fuels (e.g., production of petrochemicals) and from non-fossil fuel sources (e.g., cement manufacture) were estimated to be 1.7 GtCO2 (Olivier and Peters 2005). Industrial emissions of non-CO2 gases totaled about 0.4 GtCO2-eq in 2000 and are projected to be at about the same level in 2010. Direct GHG emissions from the industrial sector are currently about 7.3 GtCO2-eq, and total emissions, including indirect emissions, are about 12.3 GtCO2-eq.
Future projections of the IPCC (IPCC 2000) show energy-related industrial CO2 emissions of 14 and 20 GtCO2 in 2030 for the B2 and A1B scenarios1, respectively. In both scenarios, CO2 emissions from industrial energy use are expected to grow significantly in the developing countries while remaining essentially constant in the A1 scenario and declining in the B2 scenario for the industrialized countries and countries with economies-in-transition.
Energy efficiency and GHG emission mitigation
IEA (2005) found, "The energy intensity of most industrial processes is at least 50% higher than the theoretical minimum." This provides a significant opportunity for reducing energy use and its associated CO2 emissions. A wide range of technologies have the potential for reducing industrial GHG emissions, of which energy efficiency is one of the most important, especially in the short- to mid-term. Other opportunities include fuel switching, material efficiency, renewables, and reduction of non-CO2 GHG emissions. Within each category, some technologies such as the use of more efficient motor systems are broadly applicable across all industries, while others are process specific. Below, we discuss cross-cutting and industry-wide technology opportunities, process or sector-specific technologies, as well as management or operational opportunities.
Medium-term mitigation potential and cost
An attempt to estimate global mitigation potential from national and regional estimates was unsuccessful. Information is lacking for the former Soviet Union, Africa, Latin America, and parts of Asia. However, we were able to develop a global estimate for the industrial sector by summing estimates of the mitigation potential in specific industry sub-sectors, e.g., iron and steel. Table 
2
presents an estimate of the industrial sector mitigation potential and cost in 2030.
Table 2
Estimated potential for CO2 emission reduction in 2030
 

Areaa

2030 production (Mt)b

Mitigation potential (%)

Cost range, ($/tCO2-eq)

Mitigation potential (MtCO2-eq/year)

A1

B2

A1

B2

CO2 emissions from processes and energy use

Steelc,d

Global

1,554

1,578

15–40

<50

430–1,500

420–1,500

OECD

436

388

15–40

<50

90–300

80–260

EIT

176

193

25–40

<50

80–240

85–260

Dev. Nat.

941

997

25–40

<50

260–970

250–940

Primary aluminume,f

Global

49

43

15–25

<100

53–82

49–75

OECD

12

12

15–25

<100

16–25

15–22

EIT

6

6

15–25

<100

12–19

8–13

Dev. Nat.

31

25

15–25

<100

25–38

26–40

Cementg,h,i

Global

5,524

4,418

11–40

<50

720–2,100

480–1,700

OECD

596

553

11–40

<50

65–180

50–160

EIT

313

219

11–40

<50

40–120

20–60

Dev. Nat.

4,615

3,645

11–40

<50

610–1,800

410–1,500

Ethylenej

Global

329

218

20

<20

85

58

OECD

138

147

20

<20

35

40

EIT

19

11

20

<20

5

3

Dev. Nat.

171

60

20

<20

45

15

Ammoniak,l

Global

199

195

25

<20

110

100

OECD

20

18

25

<20

11

10

EIT

19

22

25

<20

10

12

Dev. Nat.

159

155

25

<20

87

80

Petroleum refiningm

Global

4,838

4,697

10–20

Half <20

150–300

140–280

OECD

2,220

2,123

10–20

Half <50

70–140

67–130

EIT

412

415

10–20

Half <50

12–24

12–24

Dev. Nat.

2,206

2,160

10–20

Half <50

68–140

65–130

Pulp and papern

Global

1,226

927

5–40

<20

49–420

37–300

OECD

657

536

5–40

<20

28–220

22–180

EIT

62

42

5–40

<20

3–21

2–13

Dev. Nat.

508

349

5–40

<20

18–180

13–110

Other industries, electricity conservation

 

Global

 
 
 

25% <20

1,100–1,300

410–540

OECD

 
 
 

25% <50

140–210

65–140

EIT

 
 
 

50% <100

340–350

71–85

Dev. Nat.

 
 
 

–d

640–700

280–320

Total

Sumo,p,q

Global

 
 
 
 

2,300–7,500

1,500–6,100

OECD

 
 
 
 

400–1500

300–1,300

EIT

 
 
 
 

500–900

200–600

Dev. Nat.

 
 
 
 

1,500–4,600

1,000–3,800
Mitigation potential and cost for industrial CO
2
emissions were estimated as follows:
1.

Price et al. (2006) estimates for 2030 production rate by industry and geographic area for the SRES A1 and B2 scenarios (IPCC 2000) were used.

 

2.

Mitigation potential estimates available from literature have been supplemented by mitigation potential estimates developed by assuming deployment of current best practice by all plants in 2030.

 
Mitigation cost estimates are based on both published values and expert judgment. In most cases, the available cost information was not comprehensive, and we have not developed marginal abatement cost curves. Estimates have not been made for some smaller industries (e.g., glass) and for the light industries. A significant amount of information was available on industrial sector mitigation potential and cost by country or region. To build up a truly global estimate from this data was not possible at the time as robust information was lacking for the former Soviet Union, Africa, Latin America, and parts of Asia.
Table 2 is based on a limited number of studies and implicitly assumes that current trends will continue until 2030. Key uncertainties in the projections include the rate of technology development and diffusion, the cost of future technology, future energy and carbon prices, the level of industrial activity in 2030, and policy driver, both climate and non-climate. The use of two scenarios, A1B and B2, helps in estimation of range of values to reflect uncertainties.
About a third of the savings potential of electric motor systems (see above) was assumed to be realized in the baseline, resulting in a net mitigation potential of 13% of industrial electricity use. This mitigation potential was included in the estimates of mitigation potential for energy-intensive industries presented in Table 2.
However, it is also necessary to consider the potential for electricity savings from non-energy-intensive industries, which are large consumers of electricity. Due to data limitations, US data (EIA 2005) on electricity use as a fraction of total energy use by industry and on the fraction of electricity use consumed by motor-driven systems were taken as representative of global patterns. The emission reduction potential from motor systems in the non-energy-intensive industries have been estimated as residual by subtracting the savings from energy-intensive industries from total industrial emissions reduction potential.
The total potential for GHG emission mitigation in the industrial sector by 2030 is estimated to be 10–33% of the A1B SRES scenario and 9–37% in the B1 SRES scenario.
Lessons learned and policy implications
Industry can respond to the potential for increased government regulation or changes in consumer preferences in two ways: by mitigating its own GHG emissions and by developing new, lower GHG emission products and services. To the extent that industry does this before being required by either regulation or the market, it is demonstrating the type of anticipatory or planned adaptation. Due to the variety of barriers faced by industrial decision makers, there is no "silver bullet", i.e., no single policy to resolve the barriers for all industries. We discuss in next sections a portfolio of policies that have been tried in various countries.
Voluntary programs and agreements
Voluntary agreements are defined as formal agreements that are essentially contracts between government and industry that include negotiated targets with time schedules and commitments on the part of all participating parties (IEA 1997). Voluntary agreements by industry have been implemented in industrialized countries since the early 1990s. These agreements fall into three categories: completely voluntary, voluntary with the threat of future taxes or regulation if shown to be ineffective, and voluntary, but associated with an energy or carbon tax (Price 2005). Agreements that include explicit targets and exert pressure on industry to meet those targets are the most effective (UNFCCC 2002). Voluntary agreements typically cover a period of 5 to 10 years so that strategic energy-efficiency investments can be planned and implemented.
Independent assessments find that experience with voluntary agreements has been mixed with some of the earlier programs appearing to have been poorly designed, failing to meet targets or only achieving business-as-usual savings (Bossoken 1999; Chidiak 2000, 2002; Hansen and Larsen 1999; OECD 2002; Starzer 2000). Recently, a number of voluntary agreement programs have been modified and strengthened, while additional countries, including some newly industrialized and developing countries, are adopting such agreements in efforts to increase the efficiency of their industrial sectors (Price 2005). The more successful programs are typically those that have either an implicit threat of future taxes or regulations or those that work in conjunction with an energy or carbon tax, such as the Dutch Long-Term Agreements, the Danish Agreement on Industrial Energy Efficiency, and the UK Climate Change Agreements. Such programs can provide energy savings beyond business-as-usual (Bjørner and Jensen 2002; Future Energy Solutions 2004, 2005) and are cost effective (Phylipsen and Blok 2002). The Long-Term Agreements, for example, stimulated between 27% and 44% (17 to 28 PJ) of the observed energy savings, which was a 50% increase over historical autonomous energy-efficiency rates in the Netherlands prior to the agreements (Kerssemeeckers 2002; Rietbergen et al. 2002).
In addition to the energy and carbon savings, these agreements have important longer-term impacts (Delmas and Terlaak 2000; Dowd et al. 2001), including changing attitudes, reducing barriers to innovation and technology adoption, creating market transformations, promoting positive dynamic interactions between different actors involved in technology research and development, deployment, and market development, and facilitating cooperative arrangements that provide learning mechanisms within an industry.
Financial instruments: taxes, subsidies, and access to capital
To date, there is limited experience with taxing industrial GHG emissions. The UK Climate Change Levy applies to industry only and is levied on all non-household use of coal, gas, electricity, and non-transport LPG. Fuels used for electricity generation or non-energy uses, waste-derived fuels, renewable energy, including quality CHP, which uses specified fuels and meets minimum efficiency standards, are exempted from the tax.
Subsidies are also used to stimulate investment in energy-saving measures by reducing investment cost. Subsidies to the industrial sector include grants, favorable loans, and fiscal incentives such as reduced taxes on energy-efficient equipments, accelerated depreciation, tax credits, and tax deductions. Many developed and developing countries have financial schemes to promote industrial energy savings. Evaluations show that subsidies for industry may lead to energy savings and can create a larger market for energy-efficient technologies (De Beer et al. 2000b; WEC 2001). Whether the benefits to society outweigh the cost of these programs or whether other instruments would have been more cost effective has to be evaluated on a case-by-case basis.
Investors in developing countries tend to have a weak capital base. Development and finance institutions therefore often play a critical role in implementing energy-efficiency policies. Their role often goes beyond the provision of project finance and may directly influence technology choice and the direction of innovation (George and Prabhu 2003). The retreat of national development banks in some developing countries (as a result of both financial liberalization and financial crises in national governments) may hinder the widespread adoption of mitigation technologies because of lack of financial mechanisms to handle the associated risk.
Regulation and labeling
For specific activities and regions, there is scope for reducing greenhouse gas emissions from industrial sectors via regulation. For example, mandating the labeling of mass-produced motor systems or of products containing fluorinated gases is an option, as well as training and certification requirements for technicians or planners or requiring adequate investment profitability calculations based on life cycle costing approaches. The first regulations on non-CO2 GHGs are emerging in Europe. A new EU regulation (EC 842/2006) on fluorinated gases includes prohibition of the use of SF6 in magnesium die casting. The regulation contains a review clause that could lead to further use restrictions. National legislation is in place in Austria, Denmark, Luxembourg, Sweden, and Switzerland that limits the use of HFCs in refrigeration equipment, foams, and solvents. During the review of permits for large installations under the EU's Integrated Pollution Prevention and Control (IPPC) Directive (EC, 96/61), a number of facilities have been required to implement best available control technologies, e.g., for N2O and fluorinated gases.
Technology research, development, deployment, and diffusion (RDD&D)
Most industrial processes use at least 50% more than the theoretical minimum energy requirement determined by the laws of thermodynamics, suggesting a large potential for energy-efficiency improvement and GHG emission mitigation (IEA 2006a). However, RDD&D is required to capture these potential efficiency gains and achieve significant GHG emission reductions. It is important to realize that successful technologies must also meet a host of other performance criteria, including cost competitiveness, safety, and regulatory requirements, as well as winning consumer acceptance. A review of 54 emerging energy-efficient technologies, produced or implemented in the US, EU, Japan, and other industrialized countries for the industrial sector, found that 20 of the technologies had environmental benefits in the areas of "reduction of wastes" and "emissions of criteria air pollutants". In addition, 35 of the technologies had productivity or product quality benefits (Worrell et al. 2002). Inclusion of quantified co-benefits in an energy-conservation supply curve for the US iron and steel industry doubled the potential for cost-effective savings (Worrell et al. 2003). In many situations, a range co-benefits result from improving efficiencies at the useful energy level. Long-term efficiency approaches by process substitution relying on major innovations are likely to become increasingly important as existing technology options reach full market penetration.
Industry is not running out of energy-efficient technologies, as new technologies are developed continuously (Worrell et al. 2002). Technology RDD&D is carried out by both governments (public sector) and companies (private sector). Ideally, the roles of the public and private sectors will be complementary. Flannery (2001) argued that it is appropriate for governments to identify the fundamental barriers to technology and find solutions that improve performance, including environmental, cost and safety performance, and perhaps customer acceptability but that the private sector should bear the risk and capture the rewards of commercializing technology. Studies by Luiten and Blok (2003a, b) have shown that a better understanding of the technology and the development process cultivating "champions" for technology development is essential in the design of effective government support of technology development. In its analysis of its Accelerated Technology scenarios, IEA (2006a), as well as the estimate of the 2030 potential discussed above, found that end-use energy efficiency, much of it in the industrial sector, contributed most to mitigation of CO2 emissions from energy use. It accounted for 39–53% of the projected reduction. However, IEA countries spent only 17% of their public energy R&D budgets on energy efficiency (IEA 2005).
Conclusions
Industry contributes directly and indirectly about 37% of the global greenhouse gas emissions. Total energy-related industrial emissions have grown by 65% since 1971.
Full use of available mitigation options is not being made in either industrialized or developing nations due to a number of barriers like limited access to capital, lack of management attention, insufficient availability of knowledge, or qualified service providers. Although industry has almost continuously improved its energy efficiency over the past decades, energy efficiency remains the most cost-effective option for GHG mitigation for the next decades. Reduction of non-CO2 GHGs and energy efficiency are the least cost options. It proved to be difficult to estimate the potential for energy-efficiency improvement on a global scale. Only few regional or global studies have been undertaken since the IPCC Third Assessment Report (IPCC 2001). Key uncertainties in the projection of mitigation potential and cost in 2030 are the rate of technology development and diffusion, the cost of future technology, future energy and carbon prices, the level of industry activity in 2030, and policy drivers, both climate and non-climate.
Key gaps in knowledge are baseline energy intensity for specific industries, especially in transition economies, the potential energy-efficiency improvement potential in non-energy-intensive industries, quantification of co-benefits, sustainable development implications of mitigation options, and the impact of consumer preferences. Further research is recommended to improve the knowledge base and improve our understanding of the mechanisms to realize energy-efficiency and greenhouse gas mitigation opportunities in the industrial sector.
Footnotes
1.

The terms refer to the IPCC Special report on Emission Scenarios and denote two different world views. The A1-family of scenarios assumes a world of rapid economic growth and regional convergence, with global population peaking mid-century. The B2 scenario reflects a world with modest economic and population growth, while the economies are more locally oriented. Neither scenario is considered more or less probably than the other.
Notes
Acknowledgments
We wish to thank the other lead and contributing authors of the original chapter in the 4th Assessment Report of the IPCC for their contribution to the original chapter on which this article is based. We also would like to thank the review editors of the original chapter, as well as all reviewers that provided comments on earlier versions of the report and the two reviewers, who provided comments on an earlier version of this manuscript.
Open Access
This article is distributed under the terms of the Creative Commons Attribution Noncommercial License which permits any noncommercial use, distribution, and reproduction in any medium, provided the original author(s) and source are credited.
Copyright information
© The Author(s) 2008
Open AccessThis is an open access article distributed under the terms of the Creative Commons Attribution Noncommercial License (https://creativecommons.org/licenses/by-nc/2.0), which permits any noncommercial use, distribution, and reproduction in any medium, provided the original author(s) and source are credited.