Abstract
This paper presents results of a study of long term trends in the characteristics of the within-season temporal profile of southwest monsoon rainfall over western India during the last five decades in relation to global warming induced regional climate change. In contrast to recent climate change analyses and projections, no significant long-term trends have been observed in this study. Slow decadal scale variations observed are analysed in relation to Pacific Decadal Oscillations (PDO). Daily variations in rainfall anomaly show opposite characteristics during negative and positive phases of PDO. The above-normal rainfall (>25%) is found during the starting phase of monsoon in negative PDO. Over the last decade, i.e., during 2000–2007, the seasonal rainfall amount, as well as seasonal span of southwest monsoon over western India is indicative of a gradual increase.
This is a preview of subscription content, log in to check access.
Access options
Buy single article
Instant access to the full article PDF.
US$ 39.95
Price includes VAT for USA
Subscribe to journal
Immediate online access to all issues from 2019. Subscription will auto renew annually.
US$ 99
This is the net price. Taxes to be calculated in checkout.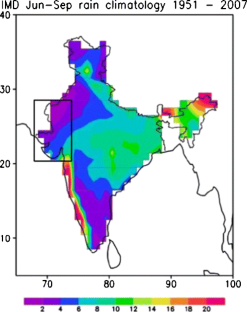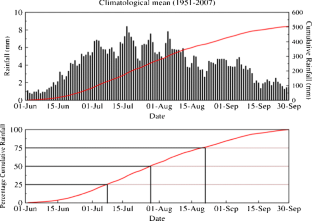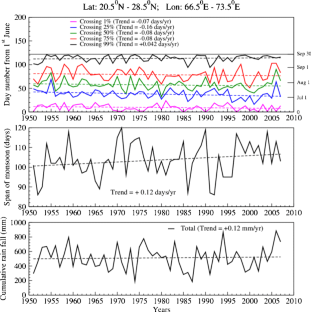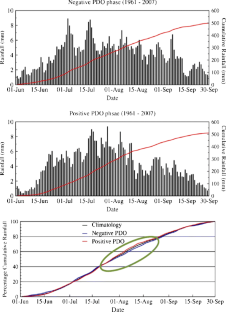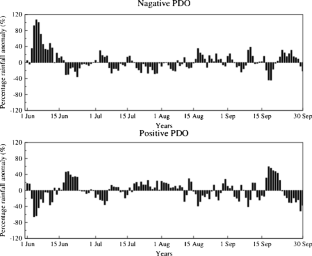 References
Anderson G C and Nash D J 2013 Long-term variability in the date of monsoon onset over western India; Clim. Dyn. 40 2589–2603.

Goswami B N, Venugopal V, Sengupta D, Madhusoodanan M S and Xavier P K 2006 Increasing trend of extreme rain events over India in a warming environment; Science 314 1442–1445.

Ghosh S, Lunia V and Gupta A 2009 Trend analysis of Indian summer monsoon rainfall at different spatial scales; Atmos. Sci. Lett. 10 285–290.

Ghosh S, Das D, Kao S C and Ganguly A R 2011 Lack of uniform trends but increasing spatial variability in observed Indian rainfall extremes; Nat. Clim. Change 2 86–91.

Guhathakurta P, Rajeevan M, Sikka D R and Tyagi A 2015 Observed changes in southwest monsoon rainfall over India during 1901–2011; Int. J. Climatol. 35 1881–1898.

Guhathakurta P, Sreejith O P and Menon P A 2011 Impact of climate change on extreme rainfall events and flood risk in India; J. Earth Syst. Sci. 120 359–373.

Jagannathan P and Bhalme H N 1973 Changes in the pattern of distribution of southwest monsoon rainfall over India associated with sunspots; Mon. Wea. Rev. 101 694–700.

Kishtawal C M, Niyogi D, Tewari M, Pielke R A and Shepherd J M 2010 Urbanization signature in the observed heavy rainfall climatology over India; Int. J. Clim. 30 1908–1916.

Krishna Kumar K, Patwardhan S K, Kulkarni A, Kamala K, Rao Koteswara K and Jones R 2011 Simulated projections for summer monsoon climate over India by a high-resolution regional climate model (PRECIS); Curr. Sci. 101 (3) 312–326.

Krishnan R and Sugi M 2003 Pacific decadal oscillation and variability of the Indian summer monsoon rainfall; Clim. Dyn. 21 233–242.

Mantua N J, Hare S R, Zhang Y, Wallace J M and Francis R C 1997 A Pacific decadal climate oscillation with impacts on salmon; Bull. Am. Meteorol. Soc. 78 1069–1079.

Rajeevan M, Bhate J, Kale J D and Lal B 2006 High resolution daily girded rainfall data for the Indian region: Analysis of break and active monsoon spells; Curr. Sci. 91 (3) 296–306.

Ramanathan V, Crutzen P J, Kiehl J T and Rosenfeld D 2001 Aerosols, climate, and the hydrological cycle; Science 294 2119–2124.

Satyanarayana P and Srinivas V V 2008 Regional frequency analysis of precipitation using large-scale atmospheric variables; J. Geophys. Res. 13 (D24110). doi: 10.1029/2008JD010412.

Sinha P, Mohanty U C, Kar S C, Dash S K, Robertson A W and Tippett M K 2012 Seasonal prediction of the Indian summer monsoon rainfall using canonical correlation analysis of the NCMRWF global model products; Int J. Clim. 33 1601–1614.

Tyagi A, Mazumdar A B, Khole M, Gaonkar S B and Devi S 2011 Re-determination of normal dates of onset of southwest monsoon over India; Mausam 62 321–328.

Yadav R K 2016 On the relationship between Iran surface temperature and north-west India summer monsoon rainfall; Int. J. Clim., doi: http://dx.doi.org/10.1002/joc.4648.
Acknowledgements
PDO data are obtained from Joint Institute for the Study of the Atmosphere and Ocean (JISAO), University of Washington, USA. Funding for the study is provided by Ministry of Earth Sciences (MoES), Govt. of India under the Indo–UK Changing Water Cycle Programme (MoES/ NERC/16/02/10 PC-II). We are thankful to the reviewers and the editor for their suggestions.
Additional information
Corresponding editor: A K Sahai
About this article
Cite this article
Bhandari, S., Srivastava, R. & Mehta, V. Long-term changes in the within-season temporal profile of southwest monsoon over western India. J Earth Syst Sci 125, 1313–1319 (2016). https://doi.org/10.1007/s12040-016-0736-4
Received:

Revised:

Accepted:

Published:

Issue Date:
Keywords
Southwest monsoon

decadal climate variability

Pacific decadal oscillations.