Abstract
A colorimetric and fluorescence turn-off probe 10-(4-azido phenyl)-5,5-difluoro-5h-dipyrrolo[1,2-c:1',2'-f][1,3,2] diazaborinin-4-ium-5-uide, 1, for selective detection of H2S is reported. The probe displayed a robust decrease in fluorescence intensity with high sensitivity, specificity and least toxicity to detect exogenous H2S and also in live normal human oral fibroblast cells loaded with probe 1. The detection limit of probe 1 being 0.17 µm for H2S.
Graphic abstract
A colorimetric and fluorescence turn-off BODIPY probe 1, for selective detection of exogenous H2S in live normal human oral fibroblast cells loaded with probe 1 and poisonous H2S gas formed under biodegradation in sewage waters and water tanks and corroded pipe lines. The detection limit of probe 1 being 0.17 μM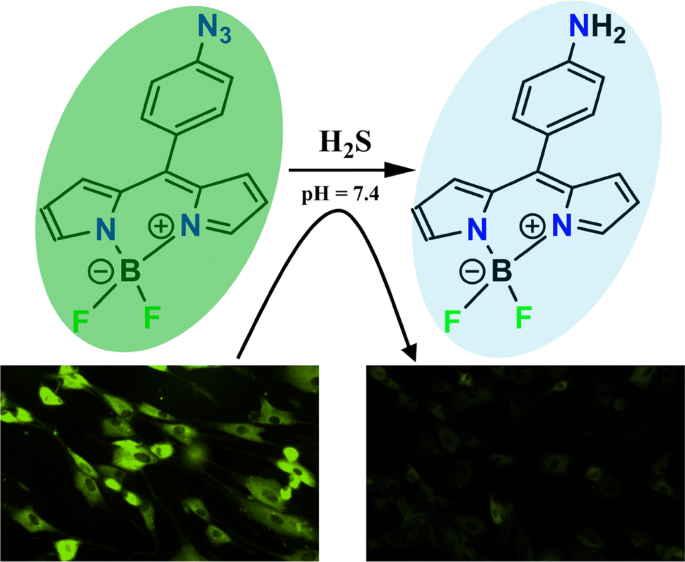 This is a preview of subscription content, log in to check access.
Access options
Buy single article
Instant unlimited access to the full article PDF.
US$ 39.95
Price includes VAT for USA
Subscribe to journal
Immediate online access to all issues from 2019. Subscription will auto renew annually.
US$ 99
This is the net price. Taxes to be calculated in checkout.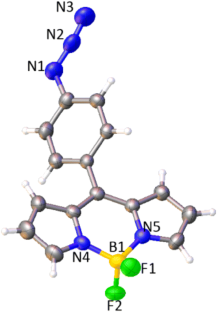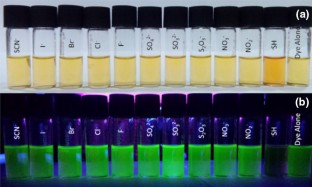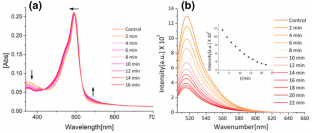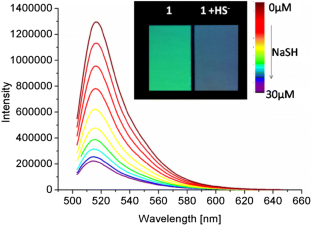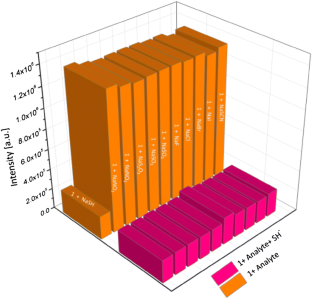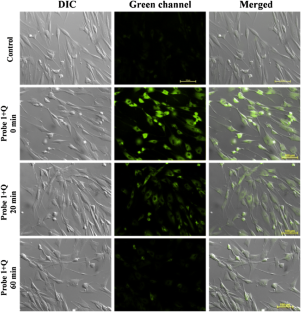 References
1.

Wang R 2002 Two's company, three's a crowd: can H2S be the third endogenous gaseous transmitter? FASEB J. 16 1792

2.

Pryor W A, Houk K N, Foote C S, Fukuto J M, Ignarro L J, Squadrito G L and Davies K J 2006 Free radical biology and medicine: it's a gas, man! Am. J. Physiol. Regul. Integr. Comp. Physiol. 291 R491

3.

Cotton F A and Wilkinson G 1988 Advanced Inorganic Chemistry (New York: Wiley)

4.

Myers R J 1986 The new low value for the second dissociation constant for H2S: Its history, its best value, and its impact on the teaching of sulfide equilibria J. Chem. Edu. 63 687

5.

Papapetropoulos A, Pyriochou A, Altaany Z, Yang G, Marazioti A, Zhou Z, Jeschke M G, Branski L K, Herndon D N, Wang R and Szabo C 2009 Hydrogen sulfide is an endogenous stimulator of angiogenesis Proc. Natl. Acad. Sci. 106 21972

6.

Cai W-J, Wang M-J, Moore P K, Jin H-M, Yao T and Zhu Y-C 2007 The novel proangiogenic effect of hydrogen sulfide is dependent on Akt phosphorylation Cardiovasc. Res. 76 29

7.

Hosoki R, Matsuki N and Kimura H 1997 The possible role of hydrogen sulfide as an endogenous smooth muscle relaxant in synergy with nitric oxide Biochem. Biophys. Res. Commun. 237 527

8.

Abe K and Kimura H 1996 The possible role of hydrogen sulfide as an endogenous neuromodulator J. Neurosci. 16 1066

9.

Kaneko Y, Kimura Y, Kimura H and Niki I 2006 L-cysteine inhibits insulin release from the pancreatic beta-cell: possible involvement of metabolic production of hydrogen sulfide, a novel gasotransmitter Diabetes 55 1391

10.

Li L, Bhatia, Zhu Y Z, Zhu Y C, Ramnath R D, Wang Z J, Anuar F B, Whiteman M, Salto-Tellez M and Moore P K 2005 Hydrogen sulfide is a novel mediator of lipopolysaccharide-induced inflammation in the mouse FASEB J. 19 1196

11.

Yang G, Wu L, Jiang B, Yang W, Qi J, Cao K, Meng Q, Mustafa A K, Mu W, Zhang S, Snyder S H and Wang R 2008 H2S as a physiologic vasorelaxant: hypertension in mice with deletion of cystathionine gamma-lyase Science 322 587

12.

Kamoun P, Belardinelli M C, Chabli A, Lallouchi K and Chadefaux-Vekemans B 2003 Endogenous hydrogen sulfide overproduction in Down syndrome Am. J. Med. Genet. Part A 116A 310

13.

Wu L, Yang W, Jia X, Yang G, Duridanova D, Cao K and Wang R 2009 Pancreatic islet overproduction of H2S and suppressed insulin release in Zucker diabetic rats Lab. Invest. 89 59

14.

Fiorucci S, Antonelli E, Mencarelli A, Orlandi S, Renga B, Rizzo G, Distrutti E, Shah V and Morelli A 2005 The third gas: H2S regulates perfusion pressure in both the isolated and perfused normal rat liver and in cirrhosis Hepatology 42 539

15.

Wallace K J, Cordero S R, Tan C P, Lynch V M and Anslyn E V 2007 A colorimetric response to hydrogen sulfide Sens. Actuat. B: Chem. 120 362

16.

Searcy D G and Peterson M A 2004 Hydrogen sulfide consumption measured at low steady state concentrations using a sulfidostat Anal. Biochem. 324 269

17.

Bérubé P R, Parkinson P D and Hall E R 1999 Measurement of reduced sulphur compounds contained in aqueous matrices by direct injection into a gas chromatograph with a flame photometric detector J. Chromatogr. A 830 485

18.

Sasakura K, Hanaoka K, Shibuya N, Mikami Y, Kimura Y, Komatsu T, Ueno T, Terai T, Kimura H and Nagano T 2011 Development of a highly selective fluorescence probe for hydrogen sulfide J. Am. Chem. Soc. 133 18003

19.

Choi M G, Cha S, Lee H, Jeon H L and Chang S K 2009 Sulfide-selective chemosignaling by a Cu2+ complex of dipicolylamine appended fluorescein Chem. Commun. 7390

20.

Hou F, Huang L, Xi P, Cheng J, Zhao X, Xie G, Shi Y, Cheng F, Yao X, Bai D and Zeng Z 2012 A Retrievable and Highly Selective Fluorescent Probe for Monitoring Sulfide and Imaging in Living Cells Inorg. Chem. 51 2454

21.

Wang M Q, Li K, Hou J T, Wu M Y, Huang Z and Yu X Q 2012 BINOL-based fluorescent sensor for recognition of Cu(II) and sulfide anion in water J. Org. Chem. 77 8350

22.

Kaushik R, Ghosh A and Jose D A 2017 Recent progress in hydrogen sulfide (H2S) sensors by metal displacement approach Coord. Chem. Rev. 347 141

23.

Qian Y, Karpus J, Kabil O, Zhang S Y, Zhu H L, Banerjee R, Zhao J and He C 2011 Selective fluorescent probes for live-cell monitoring of sulfide Nat. Commun. 2 495

24.

Lippert A R, New E J and Chang C J 2011 Reaction-based fluorescent probes for selective imaging of hydrogen sulfide in living cells J. Am. Chem. Soc. 133 10078

25.

Peng H, Cheng Y, Dai C, King A L, Predmore B L, Lefer D J and Wang B 2011 A fluorescent probe for fast and quantitative detection of hydrogen sulfide in blood Angew. Chem., Int. Ed. 50 9672

26.

Mishra P K, Saha T and Talukdar P 2015 Hydrogen sulfide mediated cascade reaction forming an iminocoumarin: applications in fluorescent probe development and live-cell imaging Org. Biomol. Chem. 13 7430

27.

Zhang J, Peng F, Dong X and Zhao W 2015 Water-soluble BODIPY Derivative as a Highly Selective & ldquo; Turn-on & rdquo; Fluorescent Probe for Hydrogen Sulfide in Living Cells Chem. Lett. 44 1524

28.

Henthorn H A and Pluth M D 2015 Mechanistic Insights into the H2S-Mediated Reduction of Aryl Azides Commonly Used in H2S Detection J. Am. Chem. Soc. 137 15330

29.

Ozdemir T, Sozmen F, Mamur S, Tekinay T and Akkaya E U 2014 Fast responding and selective near-IR Bodipy dye for hydrogen sulfide sensing Chem. Commun. 50 5455

30.

Cao X, Lin W, Zheng K and He L 2012 A near-infrared fluorescent turn-on probe for fluorescence imaging of hydrogen sulfide in living cells based on thiolysis of dinitrophenyl ether Chem. Commun. 48 10529

31.

Kolemen S and Akkaya E U 2017 Reaction-based BODIPY probes for selective bio-imaging Coord. Chem. Rev. 354 121

32.

Ji Y, Xia L J, Chen L, Guo X F, Wang H and Zhang H J 2018 A novel BODIPY-based fluorescent probe for selective detection of hydrogen sulfide in living cells and tissues Talanta 181 104

33.

Zhang J, Ji X, Zhou J, Chen Z, Dong X and Zhao W 2018 Pyridinium substituted BODIPY as NIR fluorescent probe for simultaneous sensing of hydrogen sulphide/glutathione and cysteine/homocysteine Sens. Actuat. B-Chem. 257 1076

34.

Zhao Z, Cao L, Zhang T, Hu R, Wang S, Li S, Li Y and Yang G 2016 Novel Reaction-Based Fluorescence Probes for the Detection of Hydrogen Sulfide in Living Cells ChemistrySelect 1 2581

35.

Ji A, Fan Y, Ren W, Zhang S and Ai H 2018 A Sensitive Near-Infrared Fluorescent Sensor for Mitochondrial Hydrogen Sulfide ACS Sens. 3 992

36.

Zhang Y, Song K H, Tang S, Ravelo L, Cusido J, Sun C, Zhang H F and Raymo F M 2018 Far-Red Photoactivatable BODIPYs for the Super-Resolution Imaging of Live Cells J. Am. Chem. Soc. 140 12741

37.

Zhu X-Y, Wu H, Guo X-F and Wang H 2019 Novel BODIPY-based fluorescent probes with large Stokes shift for imaging hydrogen sulfide Dyes Pigm. 165 400

38.

Zhou N, Yin C, Chao J, Zhang Y and Huo F 2019 An isoxazole-accelerated nitro oxidation type fluorescent detection and imaging for hydrogen sulfide in cells Sens. Actuat. B Chem. 287 131

39.

Gong D, Zhu X, Tian Y, Han S C, Deng M, Iqbal A, Liu W, Qin W and Guo H 2017 A Phenylselenium-Substituted BODIPY Fluorescent Turn-off Probe for Fluorescence Imaging of Hydrogen Sulfide in Living Cells Anal. Chem. 89 807

40.

Gupta N, Reja S I, Bhalla V, Gupta M, Kaur G and Kumar M 2015 A bodipy based dual functional probe for the detection of hydrogen sulfide and H2S induced apoptosis in cellular systems Chem. Commun. 51 10875

41.

Chen Y, Shang X, Li C, Xue Z, Chen H, Wu H and Wang T 2018 The synthesis, crystal, hydrogen sulfide detection and cell assessment of novel chemsensors based on coumarin derivatives Sci. Rep. 8 16159

42.

Xu Z-y, Wu Z-y, Tan H-y, Yan J-w, Liu X-l, Li J-y, Xu Z-y, Dong C-z and Zhang L 2018 Piperazine-tuned NBD-based colorimetric and fluorescent turn-off probes for hydrogen sulfide Anal. Methods 10 3375

43.

Yang X-F, Zhu H-B and Liu M 2017 Transition-metal-based (Zn2+ and Cd2+) metal-organic frameworks as fluorescence "turn-off" sensors for highly sensitive and selective detection of hydrogen sulfide Inorg. Chim. Acta 466 410

44.

Galardon E, Tomas A, Roussel P and Artaud I 2009 New fluorescent zinc complexes: towards specific sensors for hydrogen sulfide in solution Dalton Trans. 42 9126

45.

Wang J, Yu H, Li Q and Shao S 2015 A BODIPY-based turn-on fluorescent probe for the selective detection of hydrogen sulfide in solution and in cells Talanta 144 763

46.

Zhang J, Zhou J, Dong X, Zheng X and Zhao W 2016 A near-infrared BODIPY-based fluorescent probe for the detection of hydrogen sulfide in fetal bovine serum and living cells RSC Adv. 6 51304
Acknowledgements
We thank Prof. S. Mondal, Department of Chemical Sciences, Indian Institute of Science Education and Research, Mohali for X-ray structure analysis. NP acknowledges the support from CSIR [08/003/(0108)/2015-EMR-I], New Delhi for an SRF. Dr. R. S. thanks D. S. Kothari Post-doctoral fellowship (Grant No. F.13-949/2013(BSR)) and Prof. S.S thanks SERB, DST India for funding the project, EMR/2015/001328.
Electronic supplementary material
Below is the link to the electronic supplementary material.
About this article
Cite this article
Paul, N., Sarkar, R., Sarkar, R. et al. Detection of hydrogen sulfide using BODIPY based colorimetric and fluorescent on-off chemosensor. J Chem Sci 132, 21 (2020). https://doi.org/10.1007/s12039-019-1724-4
Received:

Revised:

Accepted:

Published:
Keywords
BODIPY

H2S sensing

Fluorescent probe

Cell imaging

Naked eye detection