Nickel-zinc hydroxy salts with varying amounts of octahedral Zn2+: trends in stability and selectivity in anion exchange reaction
Abstract
Nickel-zinc hydroxy acetates with varying amounts of octahedral zinc, Ni(3-x)Zn(2+x)(OH)8(OAc)2·mH2O, with x varying from 0 to 2, have been synthesized. The crystallographic 'a' parameter increases linearly with octahedral zinc content in the series. While the thermal stability is almost the same for the entire series of compounds, the stability of the compound in the alkaline medium increases with a decrease in octahedral zinc content. The selectivity for chloride ion from a mixture of chloride and bromide ions increases linearly with an increase in octahedral zinc content.
Graphic abstract
The stability of Ni-Zn hydroxy acetate in alkaline medium decreases with increased octahedral substitution of Zn
2+
, while its selectivity for chloride in anion exchange increases.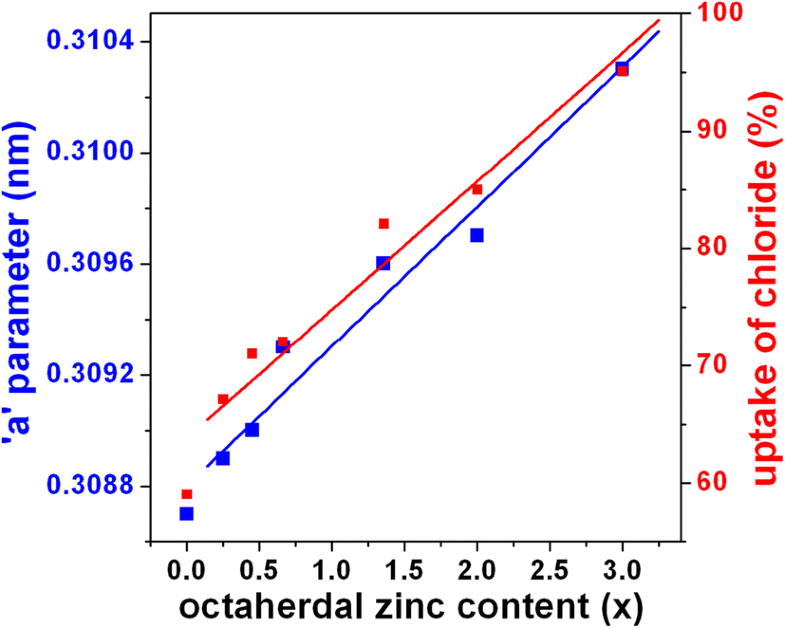 Keywords
Anionic clay 
hydroxy salt 
anion exchange 
selectivity 
Notes
Acknowledgement
This work was funded by SERB, DST, India (Grant: EMR/2015/001982).
Copyright information
© Indian Academy of Sciences 2019