Formal total synthesis of mandelalide A
Abstract
In this article the formal total synthesis of mandelalide A has been described in details. The highly convergent and flexible strategy developed for mandelalide A involved the construction of key building blocks ent-9 and 7, and their assembly to the target compound. For the synthesis and coupling of these building blocks, the Brown's crotylation, Sharpless asymmetric dihydroxylation followed by in situ Williamson type etherification, modified Prins cyclization, Masamune-Roush olefination and Heck cyclization were employed, the latter being crucial for the highly stereoselective formation of the macrocycle of mandelalide A. Initially, Julia Kocienski olefination, ring-closing metathesis reaction were investigated for the synthesis of the aglycone of the proposed structure of the mandelalide A, and found to be unsuccessful.
Graphical Abstract
Highly convergent and flexible strategy has been developed for mandelalide A
via
coupling of two building blocks
ent
-9 and 7 through Masamune-Roush olefination followed by intramolecular Heck cyclization.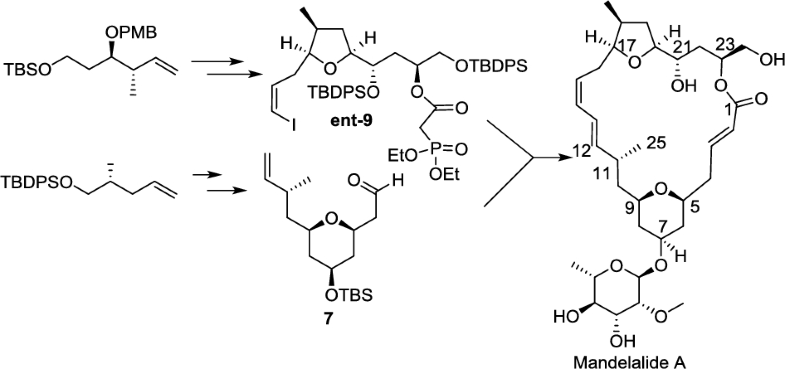 Keywords
Cytotoxic 
Heck cyclization 
natural products 
ring closing metathesis 
total synthesis 
Notes
Acknowledgements
V.Y thanks CSIR, New Delhi for the research fellowship. S.G is thankful to CSIR for funding through ORIGIN and CSIR-Young Scientist Research Grant.
Note: IICT Manuscript Communication Number IICT/Pubs/2018/319.
Copyright information
© Indian Academy of Sciences 2019