C2H5OH⋯HX (X=OH, SH, F) interactions: Is there a carbon bond?
Abstract
Computational study of ethanol complexes with H2O, H2S and HF molecules has been carried out using a MP2 level of theory. Carbon bonding and hydrogen bonding interactions have been analyzed in this study for all the complexes. The interaction between the carbon atom of CH2 group of ethanol and electron-rich centre of other molecules such as the O atom of water has been found. In addition to C⋯X interaction, C-H⋯X interaction has also been observed for all the complexes. Ab initio calculations and Atoms in Molecules (AIM) theoretical calculations confirm this. The hydrogen bonding interactions with the OH group of ethanol have also been analyzed.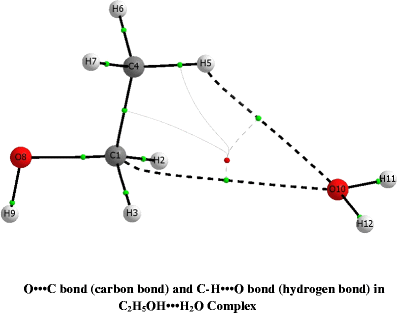 Keywords
Carbon bond 
hydrogen bond 
AIM theoretical calculation 
Notes
Acknowledgements
Authors thank Prof Narayan Adhikari and Central Department of Physics, Kirtipur, Kathmandu, Nepal for Computational facilities. Authors also would like to acknowledge the anonymous reviewer for his/her detailed and helpful comments on the manuscript.
Copyright information
© Indian Academy of Sciences 2016