Abstract
The corrosion inhibitive action of a few benzimidazole derivatives namely 2-(benzamido) ethylbenzimidazole (BAEBI), 2-(β-benzenesulphonamido) ethylbenzimidazole (BSAEBI), 2-(benzamido) methylbenzimidazole (BAMBI) and 2-(β-benzenesulphonamido) methylbenzimidazole (BSAMBI), towards mild steel in hydrochloric acid has been studied using potentiodynamic polarization and electrochemical impedance spectroscopic (EIS) methods. The results show that these compounds get adsorbed on the mild steel surface following Temkin adsorption isotherm, and act as mixed-type inhibitors. The inhibition efficiencies are found to follow the order, BAEBI > BSAEBI > BAMBI > BSAMBI. This observation is explained in terms of chain length, relative effects of amido and sulphonamido groups, possible structural factors, spatial orientations, energy gap between the frontier molecular orbitals, different intrinsic molecular parameters, like, global hardness and softness, and number of electrons transferred.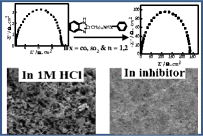 This is a preview of subscription content, log in to check access.
Access options
Buy single article
Instant unlimited access to the full article PDF.
US$ 39.95
Price includes VAT for USA
Subscribe to journal
Immediate online access to all issues from 2019. Subscription will auto renew annually.
US$ 99
This is the net price. Taxes to be calculated in checkout.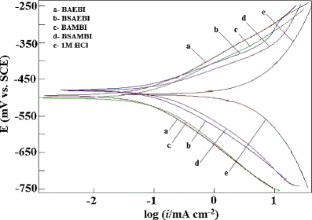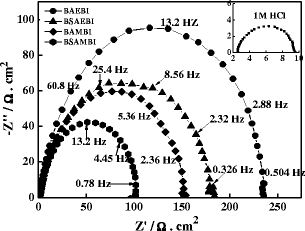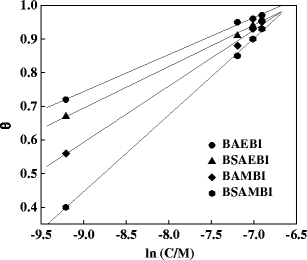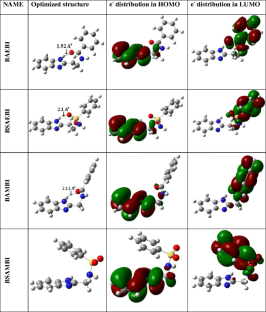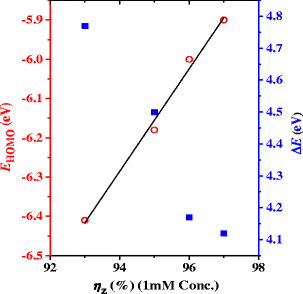 References
1.

Khaled K F 2010 Mater. Chem. Phys. 124 760

2.

Popova A, Christov M, Raicheva S and Sokolova E 2004 Corros. Sci. 46 1333

3.

Bentiss F and Lagrenée M 2010 J. Mater. Environ. Sci. 2 13

4.

Quraishi M A and Sardar R 2003 J. Appl. Electrochem. Soc. 33 1163

5.

Palomar-Pardavé M, Romero-Romo M, Herrera-Hernández H, Abreu-Quijano M A, Likhanova N V, Uruchurtu J and Juárez-García J M 2012 Corros. Sci. 54 231

6.

Ahamad I, Prasad R, Ebenso Eno E and Quraishi M A 2012 Int. J. Electrochem. Sci. 7 3436

7.

Hassan N and Holze R 2009 J. Chem. Sci. 121 693

8.

Nataraja S E, Venkatesha T V, Tandon H C and Shylesha B S 2011 Corros. Sci. 53 4109

9.

Khaled K F and Al-Qahtani M M 2009 Mater. Chem. Phys. 113 150

10.

Kovačević N and Kokalj A 2012 Mater. Chem. Phys. 137 331

11.

Abd El-Maksoud S A and Fouda A S 2005 Mater. Chem. Phys. 93 84

12.

Obot I B, Obi-Egbedi N O and Umoren S A 2009 Int. J. Electrochem. Sci. 4 863

13.

El Ashry E S H, El Nemr A, Essawy S A and Ragab S 2008 Prog. Org. Coat. 61 11

14.

Popova A, Christov M and Vasilev A 2011 Corros. Sci. 53 1770

15.

Abboud Y, Abourriche A, Saffaj T, Berrada M, Charrouf M, Bennamara A, Cherqaoui A and Takky D 2006 Appl. Surf. Sci. 252 8178

16.

Aljourani J, Golozar M A and Raeissi K 2010 Mater. Chem. Phys. 121 320

17.

Tang Y, Zhang F, Huc S, Cao Z, Wua Z and Jing W 2013 Corros. Sci. 74 271

18.

Chohan Z H, Shaibh A U, Rauf A and Supuran C T 2006 J. Enz. Inh. Med. Chem. 21 741

19.

Urra L, Gonzalez M P, Collado Isidro G and Hernandez-Galan R 2007 J. Mol Graphics Model 25 680

20.

Ozden S, Karates H, Yidiz S and Goker H 2004 Archiv der Pharmazie 337 556

21.

Nandi M M and Ray R 1987 Ind. J. Chem. 26A 345

22.

Nandi M M and Ray R 1988 Ind. J. Chem. 27A 687

23.

Ranjana and Nandi M M 2011 Ind. J. Chem. Tech. 18 29

24.

Frisch M J et al. 2009 Gaussian 09, Rev: D.01 (Gaussian, Inc., Wallingford, CT)

25.

Pajkossy T 2005 Solid State Ionics 176 1997

26.

Rammelt U and Reinhard G 1987 Corros. Sci. 27 373

27.

Jorcin J B O. M E, Pébère N and Tribollet B 2006 Electrochim. Acta 51 1473

28.

Obot I B and Obi-Egbedi N O 2010 Mater. Chem. Phys. 122 325

29.

Foo K Y and Hameed B 2010 Chem. Eng. J. 156 2

30.

ElBribri A, Tabyaoui M, Tabyaoui B, El Attari H and Bentiss F 2013 Mater. Chem. Phys. 141 240

31.

Fuchs-Godec R, Palavic M G and Tomic M V 2012 Ind. Eng. Chem. Res. 51 274

32.

Zarrouk A, Hammouti B, Dafali A and Bentiss F 2013 Ind. Eng. Chem. Res. 52 2560

33.

Wang X, Wan Y, Zeng Y and Gu Y 2012 Int. J. Electrochem. Sci. 7 2403

34.

Jørgensen C K 1963 In Inorganic complexes (London: Academic) p. 40

35.

Bhattacharyya A 1989 Asian J. Chem. 2 166

36.

Ghosh N N and Nandi M M 1976 Ind. J. Chem. 14A 778

37.

Khaled K F 2010 Electrochim. Acta 55 6523

38.

Gece G 2008 Corros. Sci. 50 2981

39.

Panja S S and Chakraborty T 2003 J. Chem. Phys. 118 6200

40.

Pauling L 1960 In The Nature of the Chemical Bond (New York: Cornell University Press)

41.

Parr R G and Pearson R G 1983 J. Am. Chem. Soc. 105 7512

42.

Geerlings P, De Proft F and Langenaeker W 2003 Chem. Rev. 103 1793

43.

Kabanda M M, Murulana L C, Ozcan M, Karadag F, Dehri I, Obot I B and Ebenso E E 2012 Int. J. Electrochem. Sci. 7 5035

44.

Lukovits I, Kálmán E and Zucchi F 2001 Corrosion 57 3
Acknowledgements
DS thanks Department of Science and Technology, Govt. of India for supporting a research project under Fast Track Scheme for Young Scientists (no. SR/FT/CS-110/2010).
Additional information
Supplementary Information
Supplementary material includes potentiodynamic polarizarions curves for all the inhibitors with 1M and 0.1M concentrations (figures S1 a–d), Bode plots for all the inhibitors with 1M concentration (figures S2 a–d), and diagram of the equivalent circuit used to fit the EIS data (figure S3) and the SEM images of the corroded metal sample (figure S4 a–b).
Electronic supplementary material
Below is the link to the electronic supplementary material.
About this article
Cite this article
DUTTA, A., PANJA, S.S., NANDI, M.M. et al. Effect of optimized structure and electronic properties of some benzimidazole derivatives on corrosion inhibition of mild steel in hydrochloric acid medium: Electrochemical and theoretical studies. J Chem Sci 127, 921–929 (2015). https://doi.org/10.1007/s12039-015-0850-x
Received:

Revised:

Accepted:

Published:

Issue Date:
Keywords
Adsorption

corrosion inhibition

electrochemical techniques

quantum mechanical calculations.