Sulphamic acid-functionalized magnetic Fe3O4 nanoparticles as recyclable catalyst for synthesis of imidazoles under microwave irradiation
Abstract
Trisubstituted imidazoles have been synthesized in high yield in the presence of sulphamic acid-functionalized magnetic Fe3O4 nanoparticles (SA–MNPs) as a novel solid acid catalyst under solvent-free classical heating conditions or using microwave irradiation. The heterogeneous catalyst could be recovered easily and reused many times without significant loss of catalytic activity.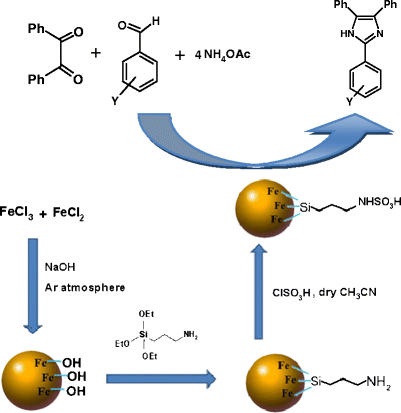 Keywords
Magnetic nanoparticles 
sulphamic acid 
imidazole 
solid acid catalyst 
microwave irradiation 
Notes
Acknowledgement
We gratefully acknowledge the financial support from the Research Council of the University of Kashan (Grant No. (159198/I)).
Copyright information
© Indian Academy of Sciences 2013