A new bioactive ursane-type triterpenoid from Croton bonplandianum Bail
Abstract
A new triterpenoid 3α-hydroxy-urs-12,15-dien (1) of ursane skeleton along with three others, viz. oleanolic acid (2) and ursolic acid (3) and β-sitosterol (4) were isolated from the root of Croton bonplandianum Bail. Their chemical structures were established on the basis of spectroscopic analysis (IR, 1D NMR, 2D NMR, Mass, etc.) and by chemical means. A probable biosynthetic pathway of compound 1 was also proposed. Preliminary investigation with the new compound showed potent activity against a series of fungal pathogens.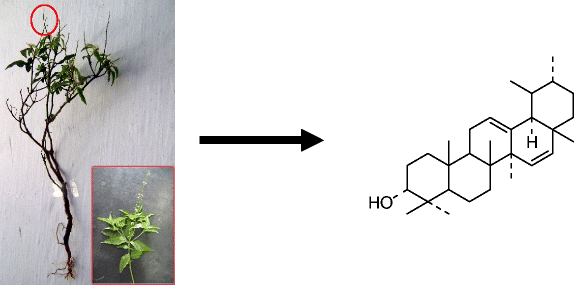 Keywords
Croton bonplandianum
3α-hydroxy-urs-12,15-dien 
antifungal 
Notes
Acknowledgement
Financial support from the University Grants Commission (UGC), New Delhi, India is acknowledged.
Copyright information
© Indian Academy of Sciences 2013