Bhageerath—Targeting the near impossible: Pushing the frontiers of atomic models for protein tertiary structure prediction#
Abstract
Protein folding, considered to be the holy grail of molecular biology, remains intractable even after six decades since the report of the first crystal structure. Over 70,000 X-ray and NMR structures are now available in protein structural repositories and no physico-chemical solution is in sight. Molecular simulation methodologies have evolved to a stage to provide a computational solution to the tertiary structures of small proteins. Knowledge base driven methodologies are maturing in predicting the tertiary structures of query sequences which share high similarities with sequences of known structures in the databases. The void region thus seems to be medium (>100 amino acid residues) to large proteins with no sequence homologs in the databases and hence which has become a fertile ground for the genesis of hybrid models which exploit local similarities together with ab initio models to arrive at reasonable predictions. We describe here the development of Bhageerath an ab initio model and Bhageerath-H a hybrid model and present a critique on the current status of prediction of protein tertiary structures.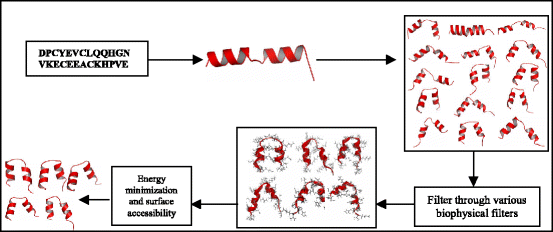 Keywords
Ab initio
protein folding 
molecular dynamics simulation 
protein structure prediction 
Bhageerath
critical assessment of protein structure prediction (CASP) 
References
1.

2.

3.

4.

5.

6.

7.

8.

9.

Lindorff-Larsen K, Piana S, Palmo K, Maragakis P, Klepeis J L, Dror R O and Shaw D E 2010

Proteins 78

1950

Google Scholar

10.

11.

12.

13.

14.

15.

16.

17.

18.

19.

20.

21.

22.

23.

24.

25.

26.

27.

28.

Shaw D E, Maragakis P, Lindorff-Larsen K, Piana S, Dror R O, Eastwood M P, Bank J A, Jumper J M, Salmon J K, Shan Y and Wriggers W 2010

Science 330

341

CrossRef

Google Scholar

29.

30.

31.

32.

33.

Cooper S, Khatib F, Treuille A, Barbero J, Lee J, Beenen M, Leaver-Fay A, Baker D, Popovic Z and Players F 2010

Nature 466

756

CrossRef

Google Scholar

34.

35.

36.

37.

38.

Berman H M, Westbrook J, Feng Z, Gilliland G, Bhat T N, Weissig H, Shindyalov I N, Bourne P E 2000

Nucleic Acids Res. 28

235

CrossRef

Google Scholar

39.

Floudas C A, Fung H K, McAllister S R, Monnigmann M and Rajgaria R 2006

Chem. Eng. Sci. 61

966

CrossRef

Google Scholar

40.

Jayaram B, Bhushan K, Shenoy S R, Narang P, Bose S, Agrawal P, Sahu D and Pandey V 2006

Nucleic Acids Res. 34

6195

CrossRef

Google Scholar

41.

42.

Narang P, Bhushan K, Bose S and Jayaram B 2006

J. Biomol. Struct. Dyn. 23

385

Google Scholar

43.

Hubbard S J and Thornton J M 1993

NACCESS Computer Program

(London: Department of Biochemistry and Molecular Biology, University College London)

Google Scholar

44.

45.

46.

47.

48.

49.
Copyright information
© Indian Academy of Sciences 2012