Abstract
Approximately 15% of patients experience seizures after spontaneous intracerebral hemorrhage (ICH). The pathogenesis of seizures post-ICH is not well-known; however, iron deposition–related neuronal injury following hemoglobin breakdown may contribute. Profiling known miRNAs to identify biomarkers for post-ICH late seizures, we found 64 differentially expressed miRNA: 32 upregulated and 32 downregulated in seizure vs. non-seizure. Functional classification of upregulated miRNA for KEGG pathways and biological processes identified enrichment for cell cycle, protein modifications, and FoxO neurotrophin signaling pathways. No significant enrichment was found for downregulated miRNA. Molecular functions Gene Ontology (GO) terms enriched for upregulated miRNA are numerous, while downregulated miRNAs were associated with ion channel activity. RT-PCR confirmed two miRNAs, 4317 and 4325, were differentially expressed in patients who developed seizures at 1 year. MiR-4317 regulates SLC38A1, a glutamine–glutamate transporter. Integrated miRNA–mRNA network analysis identified COMMD6, APOBEC2, and RASSF6—involved in NF-kB regulation. Two miRNAs (miR-4317 and 4325) differentiated post-ICH late seizures vs. non-seizures at 1 year. The results suggest functional and miRNA–mRNA networks as potential biomarkers for post-ICH late seizures.
This is a preview of subscription content, log in to check access.
Access options
Buy single article
Instant access to the full article PDF.
US$ 39.95
Price includes VAT for USA
Subscribe to journal
Immediate online access to all issues from 2019. Subscription will auto renew annually.
US$ 99
This is the net price. Taxes to be calculated in checkout.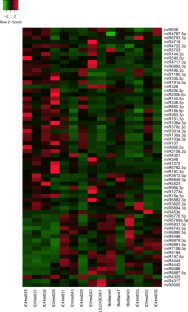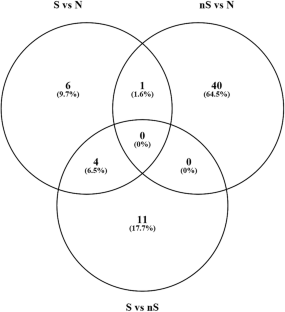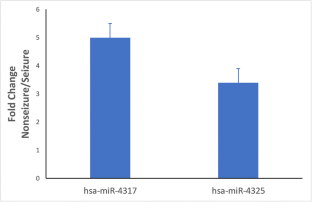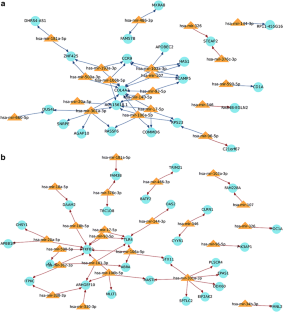 References
1.

Sacco S, Marini C, Toni D, Olivieri L, Carolei A (2009) Incidence and 10-year survival of intracerebral hemorrhage in a population-based registry. Stroke 40(2):394–399. https://doi.org/10.1161/STROKEAHA.108.523209

2.

Morgenstern LB, Hemphill JC 3rd, Anderson C, Becker K, Broderick JP, Connolly ES Jr, Greenberg SM, Huang JN et al (2010) Guidelines for the management of spontaneous intracerebral hemorrhage: a guideline for healthcare professionals from the American Heart Association/American Stroke Association. Stroke 41(9):2108–2129. https://doi.org/10.1161/STR.0b013e3181ec611b

3.

Gupta SR, Naheedy MH, Elias D, Rubino FA (1988) Postinfarction seizures. A clinical study. Stroke 19(12):1477–1481

4.

Berges S, Moulin T, Berger E, Tatu L, Sablot D, Challier B, Rumbach L (2000) Seizures and epilepsy following strokes: recurrence factors. Eur Neurol 43(1):3–8. https://doi.org/10.1159/000008120

5.

Keep RF, Hua Y, Xi G (2012) Intracerebral haemorrhage: mechanisms of injury and therapeutic targets. Lancet Neurol 11(8):720–731. https://doi.org/10.1016/s1474-4422(12)70104-7

6.

Arntz R, Rutten-Jacobs L, Maaijwee N, Schoonderwaldt H, Dorresteijn L, van Dijk E, de Leeuw FE (2013) Post-stroke epilepsy in young adults: a long-term follow-up study. PLoS One 8(2):e55498. https://doi.org/10.1371/journal.pone.0055498

7.

Tanaka T, Yamagami H, Ihara M, Motoyama R, Fukuma K, Miyagi T, Nishimura K, Toyoda K et al (2015) Seizure outcomes and predictors of recurrent post-stroke seizure: a retrospective observational cohort study. PLoS One 10(8):e0136200. https://doi.org/10.1371/journal.pone.0136200

8.

Biffi A, Rattani A, Anderson CD, Ayres AM, Gurol EM, Greenberg SM, Rosand J, Viswanathan A (2016) Delayed seizures after intracerebral haemorrhage. Brain J Neurol 139(Pt 10):2694–2705. https://doi.org/10.1093/brain/aww199

9.

Claessens D, Bekelaar K, Schreuder F, de Greef BTA, Vlooswijk MCG, Staals J, van Oostenbrugge RJ, Rouhl RPW (2017) Mortality after primary intracerebral hemorrhage in relation to post-stroke seizures. J Neurol 264(9):1885–1891. https://doi.org/10.1007/s00415-017-8573-1

10.

Merkler AE, Gialdini G, Lerario MP, Parikh NS, Morris NA, Kummer B, Dunn L, Reznik ME, Murthy SB, Navi BB, Grinspan ZM, Iadecola C, Kamel H (2018) Population-based assessment of the long-term risk of seizures in survivors of stroke. Stroke 49 (6):1319–1324. doi:https://doi.org/10.1161/STROKEAHA.117.020178

11.

Roberts MA, Godfrey JW, Caird FI (1982) Epileptic seizures in the elderly: I. Aetiology and type of seizure. Age Ageing 11(1):24–28

12.

Brodie MJ, Kwan P (2005) Epilepsy in elderly people. BMJ 331(7528):1317–1322. https://doi.org/10.1136/bmj.331.7528.1317

13.

Sung CY, Chu NS (1990) Epileptic seizures in elderly people: aetiology and seizure type. Age Ageing 19(1):25–30

14.

Cho CH (2011) Frontier of epilepsy research - mTOR signaling pathway. Exp Mol Med 43(5):231–274. https://doi.org/10.3858/emm.2011.43.5.032

15.

Willmore LJ, Sypert GW, Munson JB (1978) Recurrent seizures induced by cortical iron injection: a model of posttraumatic epilepsy. Ann Neurol 4(4):329–336. https://doi.org/10.1002/ana.410040408

16.

Diamond ML, Ritter AC, Jackson EK, Conley YP, Kochanek PM, Boison D, Wagner AK (2015) Genetic variation in the adenosine regulatory cycle is associated with posttraumatic epilepsy development. Epilepsia 56(8):1198–1206. https://doi.org/10.1111/epi.13044

17.

Annegers JF, Coan SP (2000) The risks of epilepsy after traumatic brain injury. Seizure 9(7):453–457. https://doi.org/10.1053/seiz.2000.0458

18.

Musto AE, Rosencrans RF, Walker CP, Bhattacharjee S, Raulji CM, Belayev L, Fang Z, Gordon WC et al (2016) Dysfunctional epileptic neuronal circuits and dysmorphic dendritic spines are mitigated by platelet-activating factor receptor antagonism. Sci Rep 6:30298. https://doi.org/10.1038/srep30298

19.

Musto AE, Walker CP, Petasis NA, Bazan NG (2015) Hippocampal neuro-networks and dendritic spine perturbations in epileptogenesis are attenuated by neuroprotectin d1. PLoS One 10(1):e0116543. https://doi.org/10.1371/journal.pone.0116543

20.

Musto AE, Samii M (2011) Platelet-activating factor receptor antagonism targets neuroinflammation in experimental epilepsy. Epilepsia 52(3):551–561. https://doi.org/10.1111/j.1528-1167.2010.02920.x

21.

Zheng HW, Wang YL, Lin JX, Li N, Zhao XQ, Liu GF (2012) Circulating MicroRNAs as potential risk biomarkers for hematoma enlargement after intracerebral hemorrhage. CNS Neurosci Ther 18:1003–1011. https://doi.org/10.1111/cns.12019

22.

Rosell A, Vilalta A, Garcia-Berrocoso T, Fernandez-Cadenas I, Domingues-Montanari S, Cuadrado E, Delgado P, Ribo M et al (2011) Brain perihematoma genomic profile following spontaneous human intracerebral hemorrhage. PLoS One 6(2):e16750. https://doi.org/10.1371/journal.pone.0016750

23.

Yang T, Gu J, Kong B, Kuang Y, Cheng L, Cheng J, Xia X, Ma Y et al (2014) Gene expression profiles of patients with cerebral hematoma following spontaneous intracerebral hemorrhage. Mol Med Rep 10(4):1671–1678. https://doi.org/10.3892/mmr.2014.2421

24.

Chen X, Ba Y, Ma L, Cai X, Yin Y, Wang K, Guo J, Zhang Y et al (2008) Characterization of microRNAs in serum: a novel class of biomarkers for diagnosis of cancer and other diseases. Cell Res 18(10):997–1006. https://doi.org/10.1038/cr.2008.282

25.

Reid G, Kirschner MB, van Zandwijk N (2011) Circulating microRNAs: association with disease and potential use as biomarkers. Crit Rev Oncol Hematol 80(2):193–208. https://doi.org/10.1016/j.critrevonc.2010.11.004

26.

Sorensen SS, Nygaard AB, Nielsen MY, Jensen K, Christensen T (2014) miRNA expression profiles in cerebrospinal fluid and blood of patients with acute ischemic stroke. Transl Stroke Res 5(6):711–718. https://doi.org/10.1007/s12975-014-0364-8

27.

Liu DZ, Tian Y, Ander BP, Xu H, Stamova BS, Zhan X, Turner RJ, Jickling G et al (2010) Brain and blood microRNA expression profiling of ischemic stroke, intracerebral hemorrhage, and kainate seizures. J Cereb Blood Flow Metab 30(1):92–101. https://doi.org/10.1038/jcbfm.2009.186

28.

Cannon JR, Xi G, Keep RF (2007) Recent research on changes in genomic regulation and protein expression in intracerebral haemorrhage. Int J Stroke 2(4):265–269. https://doi.org/10.1111/j.1747-4949.2007.00160.x

29.

Ritchie ME, Phipson B, Wu D, Hu Y, Law CW, Shi W, Smyth GK (2015) Limma powers differential expression analyses for RNA-sequencing and microarray studies. Nucleic Acids Res 43(7):e47. https://doi.org/10.1093/nar/gkv007

30.

Dweep H, Sticht C, Pandey P, Gretz N (2011) miRWalk--database: prediction of possible miRNA binding sites by "walking" the genes of three genomes. J Biomed Inform 44(5):839–847. https://doi.org/10.1016/j.jbi.2011.05.002

31.

Dweep H, Gretz N (2015) miRWalk2.0: a comprehensive atlas of microRNA-target interactions. Nat Methods 12(8):697. https://doi.org/10.1038/nmeth.3485

32.

Bisognin A, Sales G, Coppe A, Bortoluzzi S, Romualdi C (2012) MAGIA(2): from miRNA and genes expression data integrative analysis to microRNA-transcription factor mixed regulatory circuits (2012 update). Nucleic Acids Res 40(Web Server issue):W13–W21. https://doi.org/10.1093/nar/gks460

33.

Livak KJ, Schmittgen TD (2001) Analysis of relative gene expression data using real-time quantitative PCR and the 2(−Delta Delta C(T))mMethod. Methods 25(4):402–408. https://doi.org/10.1006/meth.2001.1262

34.

Matsumoto T, Marusawa H, Endo Y, Ueda Y, Matsumoto Y, Chiba T (2006) Expression of APOBEC2 is transcriptionally regulated by NF-kappaB in human hepatocytes. FEBS Lett 580(3):731–735. https://doi.org/10.1016/j.febslet.2005.12.081

35.

de Bie P, van de Sluis B, Burstein E, Duran KJ, Berger R, Duckett CS, Wijmenga C, Klomp LW (2006) Characterization of COMMD protein-protein interactions in NF-kappaB signalling. Biochem J 398(1):63–71. https://doi.org/10.1042/BJ20051664

36.

Ye HL, Li DD, Lin Q, Zhou Y, Zhou QB, Zeng B, Fu ZQ, Gao WC et al (2015) Low RASSF6 expression in pancreatic ductal adenocarcinoma is associated with poor survival. World J Gastroenterol 21(21):6621–6630. https://doi.org/10.3748/wjg.v21.i21.6621

37.

Zhao B-Q, Wang S, Kim H-Y, Storrie H, Rosen BR, Mooney DJ, Wang X, Lo EH (2006) Role of matrix metalloproteinases in delayed cortical responses after stroke. Nat Med 12(4):441–445 doi:http://www.nature.com/nm/journal/v12/n4/suppinfo/nm1387_S1.html Accessed 26 Mar 2006

38.

Rodriguez-Yanez MCM, Freijo MM, Lopez-Fernandez JC, Marti-Fabregas J (2013) Clinical practice guidelines in intracerebral haemorrhage. Neurologia 28(4):236–246

39.

Broderick JP, Brott TG, Duldner JE, Tomsick T, Huster G (1993) Volume of intracerebral hemorrhage. A powerful and easy-to-use predictor of 30-day mortality. Stroke 24(7):987–993. https://doi.org/10.1161/01.str.24.7.987

40.

Gong C, Ennis SR, Hoff JT, Keep RF (2001) Inducible cyclooxygenase-2 expression after experimental intracerebral hemorrhage. Brain Res 901(1–2):38–46

41.

Mracsko E, Liesz A, Karcher S, Zorn M, Bari F, Veltkamp R (2014) Differential effects of sympathetic nervous system and hypothalamic-pituitary-adrenal axis on systemic immune cells after severe experimental stroke. Brain Behav Immun 41:200–209. https://doi.org/10.1016/j.bbi.2014.05.015

42.

Hu Y-Y, Huang M, Dong X-Q, Xu Q-P, Yu W-H, Zhang Z-Y (2011) Ginkgolide B reduces neuronal cell apoptosis in the hemorrhagic rat brain: possible involvement of Toll-like receptor 4/nuclear factor-kappa B pathway. J Ethnopharmacol 137(3):1462–1468. https://doi.org/10.1016/j.jep.2011.08.034

43.

Ohnishi M, Monda A, Takemoto R, Matsuoka Y, Kitamura C, Ohashi K, Shibuya H, Inoue A (2013) Sesamin suppresses activation of microglia and p44/42 MAPK pathway, which confers neuroprotection in rat intracerebral hemorrhage. Neuroscience 232:45–52. https://doi.org/10.1016/j.neuroscience.2012.11.057

44.

Yang Q, Zhuang X, Peng F, Zheng W (2016) Relationship of plasma matrix metalloproteinase-9 and hematoma expansion in acute hypertensive cerebral hemorrhage. Int J Neurosci 126(3):213–218. https://doi.org/10.3109/00207454.2015.1007372

45.

Vezzani A, Friedman A, Dingledine RJ (2013) The role of inflammation in epileptogenesis. Neuropharmacology 69:16–24. https://doi.org/10.1016/j.neuropharm.2012.04.004

46.

Broer S, Brookes N (2001) Transfer of glutamine between astrocytes and neurons. J Neurochem 77(3):705–719

47.

Iwuchukwu I, Nguyen D, Sulaiman W (2016) MicroRNA profile in cerebrospinal fluid and plasma of patients with spontaneous intracerebral hemorrhage. CNS Neurosci Ther 22(12):1015–1018. https://doi.org/10.1111/cns.12656

48.

Cheng X, Ander BP, Jickling GC, Zhan X, Hull H, Sharp FR, Stamova B (2019) MicroRNA and their target mRNAs change expression in whole blood of patients after intracerebral hemorrhage. J Cereb Blood Flow Metab:271678x19839501. doi:https://doi.org/10.1177/0271678x19839501

49.

Zhu Y, Wang JL, He ZY, Jin F, Tang L (2015) Association of altered serum microRNAs with perihematomal edema after acute intracerebral hemorrhage. PLoS One 10(7):e0133783. https://doi.org/10.1371/journal.pone.0133783

50.

Guo D, Liu J, Wang W, Hao F, Sun X, Wu X, Bu P, Zhang Y et al (2013) Alteration in abundance and compartmentalization of inflammation-related miRNAs in plasma after intracerebral hemorrhage. Stroke 44(6):1739–1742. https://doi.org/10.1161/STROKEAHA.111.000835
Acknowledgments
We thank Lauren Alluli for patient consent and sample preparation.
Funding
Research reported in this publication/presentation is supported by the Ochsner Translational Medicine Research Initiative sponsored by the Ochsner Health System (II) and the Ochsner Clinic Foundation (II and WS).
Ethics declarations
Conflict of Interest
The authors declare that they have no conflict of interest.
Additional information
Publisher's Note
Springer Nature remains neutral with regard to jurisdictional claims in published maps and institutional affiliations.
Electronic Supplementary Material
About this article
Cite this article
Iwuchukwu, I., Nguyen, D., Beavers, M. et al. MicroRNA Regulatory Network as Biomarkers of Late Seizure in Patients with Spontaneous Intracerebral Hemorrhage. Mol Neurobiol (2020). https://doi.org/10.1007/s12035-020-01872-y
Received:

Accepted:

Published:
Keywords
Circulating miRNA

Intracerebral hemorrhage

Stroke

Seizure