Nasal Administration of Cationic Nanoemulsions as CD73-siRNA Delivery System for Glioblastoma Treatment: a New Therapeutical Approach
Abstract
Glioblastoma is the most devastating primary brain tumor. Effective therapies are not available, mainly due to high tumor heterogeneity, chemoresistance, and the difficulties imposed by blood-brain barrier. CD73, an enzyme responsible for adenosine (ADO) production, is overexpressed in cancer cells and emerges as a target for glioblastoma treatment. Indeed, ADO causes a variety of tumor-promoting actions, particularly by inducing tumor immune escape, whereas CD73 inhibition impairs tumor progression. Here, a cationic nanoemulsion to deliver CD73siRNA (NE-siRNA CD73R) via nasal route aiming glioblastoma treatment was developed. NE-siRNA CD73R was uptaken by glioma cells in culture, resulting in a parallel 60–80% decrease in AMPase activity and 30–50% in cell viability. Upon nasal delivery, NE-siRNA CD73R was detected in rat brain and serum. Notably, treatment with CD73siRNA complexes of glioma-bearing Wistar rats reduced tumor growth by 60%. Additionally, NE-siRNA CD73R treatment decreased 95% ADO levels in liquor and tumor CD73 expression, confirming in vivo CD73 silencing. Finally, no toxicity was observed in either primary astrocytes or rats with this cationic nanoemulsion. These results suggest that nasal administration of cationic NE as CD73 siRNA delivery system represents a novel potential treatment for glioblastoma.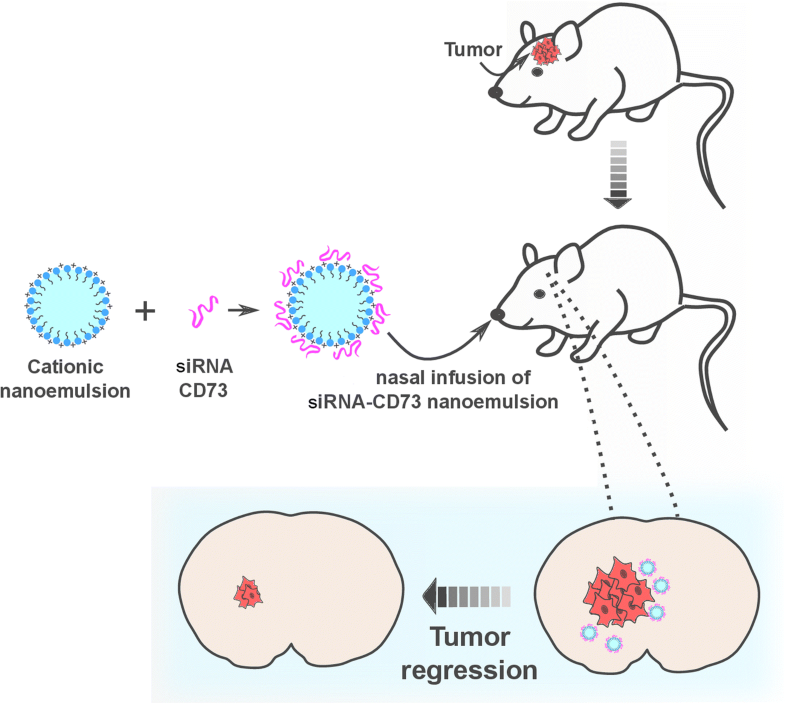 Keywords
Adenosine 
Brain delivery 
Cationic nanoemulsion 
CD73 
Glioma 
Abbreviations
ADO

adenosine

ATCC

American Type Culture Collections

BBB

Blood-brain barrier

CD73

Ecto-5′-nucleotidase

CNS

Central nervous system

CSF

Cerebrospinal fluid

DAPI

4′, 6-diamidino-2-phenylindole, dihydrochloride

DMEM

Dulbecco's Modified Eagle Medium

DOTAP

1,2-dioleoyl-sn-glycero-3-trimethylammonium propane

FBS

Fetal bovine serum

HPCL

High-performance liquid chromatography

INO

Inosine

NE

Nanoemulsion

NE-siRNA CD73R

nanoemulsion loaded rat CD73 siRNA

NE-siRNA CD73H

nanoemulsion loaded human CD73 siRNA

NE-siRNA scramble

nanoemulsion loaded GFP siRNA

NR-NE

Nile red label nanoemulsion

MCT

Medium chain triglycerides

PCS

Photon correlation spectroscopy

siRNA

Small interfering ribonucleic acids

RT

Room temperature

TCA

Trichloroacetic acid

TMZ

Temozolomide
Notes
Funding Information
This study was supported by the Brazilian agencies: Conselho Nacional de Desenvolvimento Científico e Tecnológico (CNPq — Processo 422298/2016-6; 310846/2014-5), Coordenação de Aperfeiçoamento de Pessoal de Nível Superior (CAPES), Fundação de Amparo à Pesquisa do Estado do Rio Grande do Sul (FAPERGS — Processo 16/2551-0000265-7; PRONEX —Processo 16/2551-0000473-0); J.H. Azambuja, R.S. Schuh, N.E. Gelsleichter, L.R. Beckenkamp, G.S. Lenz, da Costa, J.C. were recipients of UFCSPA, CAPES, or CNPq fellowships. J.S. received support from the Canadian Institutes of Health Research (CIHR) and was the recipient of a "Chercheur National" Scholarship from the Fonds de Recherche du Québec – Santé (FRQS).
Compliance with Ethical Standards
Conflict of Interest
The authors declare that they have no conflicts of interest.
Copyright information
© Springer Science+Business Media, LLC, part of Springer Nature 2019