Neurocognitive Disorders in Heart Failure: Novel Pathophysiological Mechanisms Underpinning Memory Loss and Learning Impairment
Abstract
Heart failure (HF) is a major public health issue affecting more than 26 million people worldwide. HF is the most common cardiovascular disease in elder population; and it is associated with neurocognitive function decline, which represent underlying brain pathology diminishing learning and memory faculties. Both HF and neurocognitive impairment are associated with recurrent hospitalization episodes and increased mortality rate in older people, but particularly when they occur simultaneously. Overall, the published studies seem to confirm that HF patients display functional impairments relating to attention, memory, concentration, learning, and executive functioning compared with age-matched controls. However, little is known about the molecular mechanisms underpinning neurocognitive decline in HF. The present review round step recent evidence related to the possible molecular mechanism involved in the establishment of neurocognitive disorders during HF. We will make a special focus on cerebral ischemia, neuroinflammation and oxidative stress, Wnt signaling, and mitochondrial DNA alterations as possible mechanisms associated with cognitive decline in HF. Also, we provide an integrative mechanism linking pathophysiological hallmarks of altered cardiorespiratory control and the development of cognitive dysfunction in HF patients.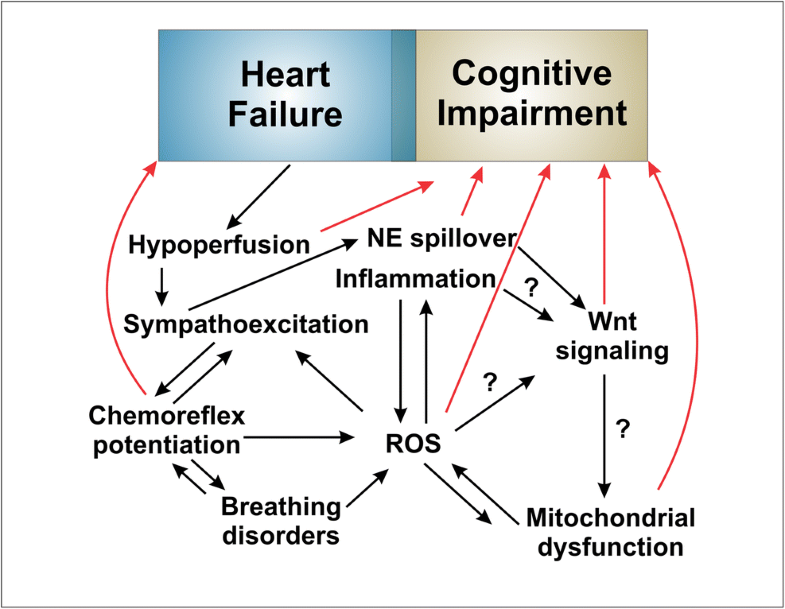 Keywords
Heart failure 
Cognitive impairment 
Aging 
Cardiorespiratory control 
Signal pathway 
Notes
Funding Information
This work was supported by the Fondo de Desarrollo Científico y Tecnológico (Fondecyt) (grant number 1180172), the Basal Center of Excellence in Aging and Regeneration (AFB 170005), and the special grant "Lithium in Health and Disease" from the Sociedad Química y Minera de Chile (SQM).
Compliance with Ethical Standards
Conflict of Interest
The authors declare that they have no conflict of interest.
Copyright information
© Springer Science+Business Media, LLC, part of Springer Nature 2019