Abstract
In this study, we determined whether a prediction of final infarct volume (FIV) and clinical outcomes in patients with an acute stroke is improved by using a contrast transfer coefficient (K trans) as a biomarker for blood–brain barrier (BBB) dysfunction. Here, consecutive patients admitted with signs and symptoms suggesting acute hemispheric stroke were included in this study. Ninety-eight participants with intra-arterial therapy were assessed (46 female). Definition of predicted FIV was performed using conventional perfusion CT (PCT-PIV) parameters alone and in combination with K trans (K trans-PIV). Multiple logistic regression analyses and linear regression modeling were conducted to determine independent predictors of the 90-day modified Rankin score (mRS) and FIV, respectively. We found that patients with favorable outcomes were younger and had lower National Institutes of Health Stroke Scale (NIHSS) score, smaller PCT-PIV, K trans-PIV, and smaller FIV (P < 0.001). K trans-PIV showed good correlation with FIV (P < 00.001, R 2 = 0.6997). In the regression analyses, K trans-PIV was the best predictor of clinical outcomes (P = 0.009, odds ratio (OR) = 1.960) and also the best predictor for FIV (F = 75.590, P < 0.0001). In conclusion, combining PCT and K trans maps derived from first-pass PCT can identify at-risk cerebral ischemic tissue more precisely than perfusion parameters alone. This provides improved accuracy in predicting FIV and clinical outcomes.
This is a preview of subscription content, log in to check access.
Access options
Buy single article
Instant access to the full article PDF.
US$ 39.95
Price includes VAT for USA
Subscribe to journal
Immediate online access to all issues from 2019. Subscription will auto renew annually.
US$ 99
This is the net price. Taxes to be calculated in checkout.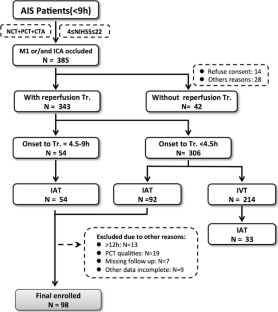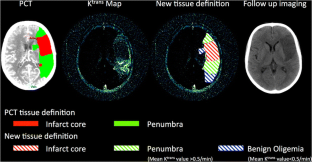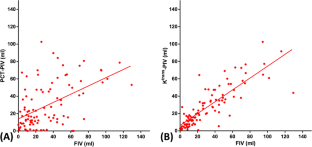 References
1.

Zhu G, Michel P, Aghaebrahim A, Patrie JT, Xin W, Eskandari A et al (2013) Prediction of recanalization trumps prediction of tissue fate: the penumbra: a dual-edged sword. Stroke 44:1014–1019

2.

Wintermark M, Flanders AE, Velthuis B, Meuli R, van Leeuwen M, Goldsher D et al (2006) Perfusion-ct assessment of infarct core and penumbra: receiver operating characteristic curve analysis in 130 patients suspected of acute hemispheric stroke. Stroke 37:979–985

3.

Kamalian S, Kamalian S, Konstas AA, Maas MB, Payabvash S, Pomerantz SR et al (2012) Ct perfusion mean transit time maps optimally distinguish benign oligemia from true "at risk" ischemic penumbra, but thresholds vary by postprocessing technique. AJNR. Am J Neuroradiol 33:545–549

4.

Hacke W, Albers G, Al-Rawi Y, Bogousslavsky J, Davalos A, Eliasziw M et al (2005) The desmoteplase in acute ischemic stroke trial (dias): a phase ii mri-based 9-hour window acute stroke thrombolysis trial with intravenous desmoteplase. Stroke 36:66–73

5.

Hacke W, Furlan AJ, Al-Rawi Y, Davalos A, Fiebach JB, Gruber F et al (2009) Intravenous desmoteplase in patients with acute ischaemic stroke selected by MRI perfusion-diffusion weighted imaging or perfusion ct (dias-2): a prospective, randomised, double-blind, placebo-controlled study. The Lancet. Neurology 8:141–150

6.

Kidwell CS, Jahan R, Gornbein J, Alger JR, Nenov V, Ajani Z et al (2013) A trial of imaging selection and endovascular treatment for ischemic stroke. N Engl J Med 368:914–923

7.

Campbell BC, Mitchell PJ, Yan B, Parsons MW, Christensen S, Churilov L et al (2014) A multicenter, randomized, controlled study to investigate extending the time for thrombolysis in emergency neurological deficits with intra-arterial therapy (extend-ia). Int J Stroke 9:126–132

8.

Saver JL, Goyal M, Bonafe A, Diener HC, Levy EI, Pereira VM et al (2015) Solitaire with the intention for thrombectomy as primary endovascular treatment for acute ischemic stroke (swift prime) trial: Protocol for a randomized, controlled, multicenter study comparing the solitaire revascularization device with iv tpa with iv tpa alone in acute ischemic stroke. Int J Stroke 10:439–448

9.

Best AC, Acosta NR, Fraser JE, Borges MT, Brega KE, Anderson T et al (2012) Recognizing false ischemic penumbras in ct brain perfusion studies. Radiographics 32:1179–1196

10.

Kucinski T, Naumann D, Knab R, Schoder V, Wegener S, Fiehler J et al (2005) Tissue at risk is overestimated in perfusion-weighted imaging: MR imaging in acute stroke patients without vessel recanalization. AJNR Am J Neuroradiol 26:815–819

11.

Takasawa M, Jones PS, Guadagno JV, Christensen S, Fryer TD, Harding S et al (2008) How reliable is perfusion mr in acute stroke? Validation and determination of the penumbra threshold against quantitative pet. Stroke 39:870–877

12.

Kane I, Carpenter T, Chappell F, Rivers C, Armitage P, Sandercock P et al (2007) Comparison of 10 different magnetic resonance perfusion imaging processing methods in acute ischemic stroke: effect on lesion size, proportion of patients with diffusion/perfusion mismatch, clinical scores, and radiologic outcomes. Stroke 38:3158–3164

13.

Li JJ, Chen XY, Soo Y, Abrigo JM, Leung TW, Wong E et al (2013) Persistent benign oligemia causes ct perfusion mismatch in patients with intracranial large artery occlusive disease during subacute stroke. CNS Neurosci Ther 19:635–637

14.

Jongen LM, van der Worp HB, Waaijer A, van der Graaf Y, Mali WP (2010) Interrelation between the degree of carotid stenosis, collateral circulation and cerebral perfusion. Cerebrovasc Dis 30:277–284

15.

Khatri R, McKinney AM, Swenson B, Janardhan V (2012) Blood–brain barrier, reperfusion injury, and hemorrhagic transformation in acute ischemic stroke. Neurology 79:S52–57

16.

Zaidat OO, Yoo AJ, Khatri P, Tomsick TA, von Kummer R, Saver JL et al (2013) Recommendations on angiographic revascularization grading standards for acute ischemic stroke: a consensus statement. Stroke 44:2650–2663

17.

Q.Yang V, (AU) (2011) Method and system for mapping tissue status of acute stroke

18.

Bivard A, McElduff P, Spratt N, Levi C, Parsons M (2011) Defining the extent of irreversible brain ischemia using perfusion computed tomography. Cerebrovasc Dis 31:238–245

19.

Sourbron SP, Buckley DL (2013) Classic models for dynamic contrast-enhanced MRI. NMR Biomed 26:1004–1027

20.

Patlak CS, Blasberg RG (1985) Graphical evaluation of blood-to-brain transfer constants from multiple-time uptake data. Generalizations. J Cereb Blood Flow Metab 5:584–590

21.

Patlak CS, Blasberg RG, Fenstermacher JD (1983) Graphical evaluation of blood-to-brain transfer constants from multiple-time uptake data. J Cereb Blood Flow Metab 3:1–7

22.

Schellinger PD, Fiebach JB, Hacke W (2003) Imaging-based decision making in thrombolytic therapy for ischemic stroke: present status. Stroke 34:575–583

23.

Michel P, Ntaios G, Reichhart M, Schindler C, Bogousslavsky J, Maeder P et al (2012) Perfusion-ct guided intravenous thrombolysis in patients with unknown-onset stroke: a randomized, double-blind, placebo-controlled, pilot feasibility trial. Neuroradiology 54:579–588

24.

Ramos-Cabrer P, Campos F, Sobrino T, Castillo J (2011) Targeting the ischemic penumbra. Stroke 42:S7–11

25.

Obach V, Oleaga L, Urra X, Macho J, Amaro S, Capurro S et al (2011) Multimodal ct-assisted thrombolysis in patients with acute stroke: a cohort study. Stroke 42:1129–1131

26.

Kheradmand A, Fisher M, Paydarfar D (2014) Ischemic stroke in evolution: predictive value of perfusion computed tomography. J Stroke Cerebrovasc Dis 23:836–843

27.

Plaschke K, Weigand MA, Michel A, Martin E, Bardenheuer HJ (2000) Permanent cerebral hypoperfusion: 'preconditioning-like' effects on rat energy metabolism towards acute systemic hypotension. Brain Res 858:363–370

28.

Mackay KB, Stiefel TH, Foster AC (2002) Ischemic preconditioning reduces infarct volume after subdural hematoma in the rat. Brain Res 930:200–205

29.

Kitagawa K, Matsumoto M, Kuwabara K, Tagaya M, Ohtsuki T, Hata R et al (1991) 'Ischemic tolerance' phenomenon detected in various brain regions. Brain Res 561:203–211

30.

Weber R, Diener HC, Weimar C (2011) German Stroke Study C. Why do acute ischemic stroke patients with a preceding transient ischemic attack present with less severe strokes? Insights from the german stroke study. Eur Neurol 66:265–270

31.

Liu K, Sun T, Wang P, Liu YH, Zhang LW, Xue YX (2013) Effects of erythropoietin on blood–brain barrier tight junctions in ischemia-reperfusion rats. J Mol Neurosci 49:369–379

32.

Rosenberg GA (2012) Neurological diseases in relation to the blood–brain barrier. J Cereb Blood Flow Metab 32:1139–1151

33.

Dankbaar JW, Hom J, Schneider T, Cheng SC, Bredno J, Lau BC et al (2011) Dynamic perfusion-ct assessment of early changes in blood brain barrier permeability of acute ischaemic stroke patients. J Neuroradiol 38:161–166

34.

Horsch AD, Dankbaar JW, van Seeters T, Niesten JM, Luitse MJ, Vos PC, et al. (2015) Relation between stroke severity, patient characteristics and CT-perfusion derived blood-brain barrier permeability measurements in acute ischemic stroke. Clin Neuroradiol. doi:10.1007/s00062-015-0375-1

35.

Heye AK, Culling RD, Valdes Hernandez MD, Thrippleton MJ, Wardlaw JM (2014) Assessment of blood–brain barrier disruption using dynamic contrast-enhanced MRI. A systematic review. Neuroimage Clin 6:262–274
Acknowledgments
We would like to thank Statistical Elite Studios [www.tjstat.com/] for helping with statistical analyses. This study was supported by the National Natural Science Foundations of China (Grant No. 81371286 and No. 81501024), Clinical Innovation Foundation of Southwest Hospital (Grant No. SWH2013LC20), Innovation and Development Foundation of Military General Hospital of Beijing PLA (Grant No. 2015-LC-01), and Clinical Innovation Foundation of Southwest Hospital (Grant No. SWH2013LC20).
Ethics declarations
Ethical approval (No. 2013008) was obtained from the Institutional Ethics Committee at the Ethics Committee of Military General Hospital of Beijing PLA. Patients enrolled in this study signed written informed consent. All procedures were subjected to the Declaration of Helsinki.
Additional information
Nan Liu and Hui Chen contributed equally to this work.
About this article
Cite this article
Liu, N., Chen, H., Wu, B. et al. CT Permeability Imaging Predicts Clinical Outcomes in Acute Ischemic Stroke Patients Treated with Intra-arterial Thrombolytic Therapy. Mol Neurobiol 54, 2539–2546 (2017). https://doi.org/10.1007/s12035-016-9838-x
Received:

Accepted:

Published:

Issue Date:
Keywords
Permeability

Perfusion

Benign oligemia

Blood–brain barrier dysfunction