The Protective Role of Selenium on Scopolamine-Induced Memory Impairment, Oxidative Stress, and Apoptosis in Aged Rats: The Involvement of TRPM2 and TRPV1 Channels
Abstract
Inhibition of Ca2+ entry into the hippocampus and dorsal root ganglion (DRG) through inhibition of N-methyl-d-aspartate (NMDA) receptor antagonist drugs is the current standard of care in neuronal diseases such as Alzheimer's disease, dementia, and peripheral pain. Oxidative stress activates Ca2+-permeable TRPM2 and TRPV1, and recent studies indicate that selenium (Se) is a potent TRPM2 and TRPV1 channel antagonist in the hippocampus and DRG. In this study, we investigated the neuroprotective properties of Se in primary hippocampal and DRG neuron cultures of aged rats when given alone or in combination with scopolamine (SCOP). Thirty-two aged (18–24 months old) rats were divided into four groups. The first and second groups received a placebo and SCOP (1 mg/kg/day), respectively. The third and fourth groups received intraperitoneal Se (1.5 mg/kg/ over day) and SCOP + Se, respectively. The hippocampal and DRG neurons also were stimulated in vitro with a TRPV1 channel agonist (capsaicin) and a TRPM2 channel agonist (cumene hydroperoxide). We found that Se was fully effective in reversing SCOP-induced TRPM2 and TRPV1 current densities as well as errors in working memory and reference memory. In addition, Se completely reduced SCOP-induced oxidative toxicity by modulating lipid peroxidation, reducing glutathione and glutathione peroxidase. The Se and SCOP + Se treatments also decreased poly (ADP-ribose) polymerase activity, intracellular free Ca2+ concentrations, apoptosis, and caspase 3, caspase 9, and mitochondrial membrane depolarization values in the hippocampus. In conclusion, the current study reports on the cellular level for SCOP and Se on the different endocytotoxic cascades for the first time. Notably, the research indicates that Se can result in remarkable neuroprotective and memory impairment effects in the hippocampal neurons of rats.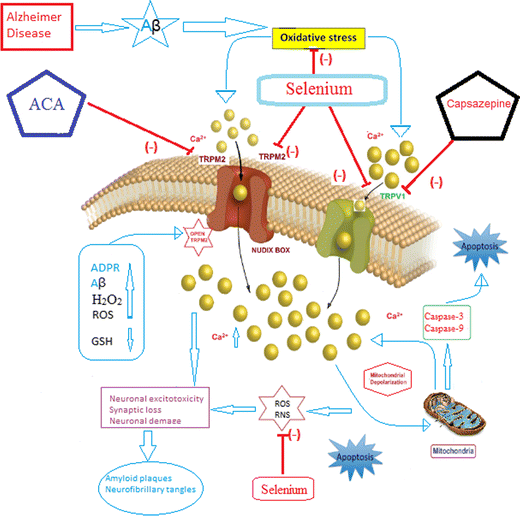 Keywords
Apoptosis 
TRPV1 
TRPM2 
Selenium 
Oxidative stress 
Dementia 
Abbreviations
[Ca2+]i

Intracellular free calcium ion

ACA

N-(p-Amylcinnamoyl)anthranilic acid

CAP

Capsaicin

CHPx

Cumene hydroperoxide

CPZ

Capsazepine

DMSO

Dimethyl sulfoxide

DRG

Dorsal root ganglion

EGTA

Ethylene glycol-bis[2-aminoethyl-ether]-N,N,N,N-tetraacetic acid

GSH

Reduced glutathione

GSH-Px

Glutathione peroxidase

HBSS

Hank's buffered salt solution

PARP

Poly (ADP-ribose) polymerase

RAM

radial arm-maze

RME

Reference memory error

ROS

Reactive oxygen species

SCOP

Scopolamine

TRP

Transient receptor potential

TRPM2

Transient receptor potential Mu

TRPV1

Transient receptor potential vanilloid 1

WC

Whole cell

WME

Working memory error
Notes
Acknowledgments
The authors wish to thank researcher Bilal Çiğ and technicians Fatih Şahin and Muhammet Şahin (Neuroscience Research Center, SDU, Isparta, Turkey) for helping with the [Ca2+]i (Fura-2AM), patch-clamp, lipid peroxidation, and antioxidant analyses. The abstract of the study will be partially published in the "8th International Congress on Psychopharmacology & 4th International Symposium on Child and Adolescent Psychopharmacology, April 20–24, 2016, in Antalya, Turkey."
Financial Disclosure
The study was supported by the Unit of Scientific Research Project (BAP), Süleyman Demirel University, Isparta, Turkey (Project Number BAP: 4257-TU-15). There is no financial disclosure for the current study.
Authorship Contributions
MN and KD formulated the hypothesis and were responsible for writing the report. İSO and HB were also responsible for the animal experiments such as the induction of memory injury through SCOP administration and injection of selenium. İSÖ performed the Ca2+ analyses Western blot, apoptosis, and mitochondrial depolarization analyses.
Compliance with Ethical Standards
The study was approved by the Local Experimental Animal Ethical Committee of Suleyman Demirel University (SDU) (protocol number 10.02.2015-03).
Conflict of Interest
The authors declare that they have no conflicts of interest.
Human and Animal Rights and Informed Consent
All research procedures and animal care complied with the guidelines of the International Association Study Plan for induction of memory injury. The animals were maintained and used according to the Animal Welfare Act and the Guide for the Care and Use of Laboratory.
Copyright information
© Springer Science+Business Media New York 2016