Inflammatory Response in the CNS: Friend or Foe?
Abstract
Inflammatory reactions could be both beneficial and detrimental to the brain, depending on strengths of their activation in various stages of neurodegeneration. Mild activation of microglia and astrocytes usually reveals neuroprotective effects and ameliorates early symptoms of neurodegeneration; for instance, released cytokines help maintain synaptic plasticity and modulate neuronal excitability, and stimulated toll-like receptors (TLRs) promote neurogenesis and neurite outgrowth. However, strong activation of glial cells gives rise to cytokine overexpression/dysregulation, which accelerates neurodegeneration. Altered mutual regulation of p53 protein, a major tumor suppressor, and NF-κB, the major regulator of inflammation, seems to be crucial for the shift from beneficial to detrimental effects of neuroinflammatory reactions in neurodegeneration. Therapeutic intervention in the p53-NF-κB axis and modulation of TLR activity are future challenges to cope with neurodegeneration.
Keywords
Neuroinflammation 
Immune response in the CNS 
Microglia activation 
Cytokines 
miRNA 
Neurodegeneration 
Introduction
In the central nervous system (CNS), degenerative processes are characterized by morphological, anatomical, and functional changes that lead to early, chronic, and progressive neuronal loss. Chronic neurodegenerative diseases are defined as hereditary, sporadic, and protein misfolding diseases, which are usually characterized also by the decline of cognitive functions, particularly learning and memory. These include Alzheimer's disease (AD) and other dementias, transmissible spongiform encephalopathies (TSEs), amyotrophic lateral sclerosis (ALS), Parkinson's disease (PD), Huntington's disease (HD), and prion diseases. The causes associated with neuronal degeneration remain poorly understood. Generally known risk factors for most neurodegenerative diseases are genetic polymorphisms and advanced age. The prevailing hypothesis is that the protein aggregates or seeds (α-synuclein, amyloid beta (Aβ), lipofuscin, tau protein) trigger a cascade of events leading to neurodegeneration and neuronal apoptosis [1, 2, 3]. Several other mechanisms may be involved in the pathogenesis of neurodegenerative disorders, including chronic inflammation, vascular factors, oxidative stress, and reduced availability of trophic factors in the brain.
Regulation of immuno-inflammatory control is one of the relevant processes involved in the pathogenesis of neurodegenerative disorders. Innate and adaptive immune response in the brain are tightly controlled in relation with the periphery. Immune activation in the CNS always involves microglia and astrocytes, which, in non-pathological conditions, contributes in the regulation of homeostasis of the brain tissue. Endothelia cells and perivascular macrophages are also important to the interpretation and propagation of inflammatory signals within the CNS [4]. In the CNS, microglia always scan the microenvironment by producing factors that influence adjacent astrocytes and neurons, particularly in response to infection or neuronal cell injury. This leads to the activation of an inflammatory response that further engages a transient, self-limiting response through the immune system and initiates tissue repair. Under pathological conditions, when the normal resolution mechanisms failed, there is an abnormal activation and production of inflammatory factors, leading to chronic neuroinflammatory state and progression of neurodegenerative changes.
Chronic neuroinflammation is observed at relatively early stages of neurodegenerative disease. The mentioned neurodegenerative factors impact on glial function by overactivation of both microglia and astrocytes triggering production and releasing large amounts of pro-inflammatory cytokines and reactive oxygen and nitrogen species (ROS, RNS). Chronic activation of microglia is linked to the degradation of protein, the dysfunction of mitochondria, and the defects of axonal transport and apoptosis, which have a detrimental effect on neuronal function and lead to cell death. Furthermore, neuroinflammation results in the subsequent infiltration of immune cells from the periphery to the CNS across the blood brain barrier (BBB), which accelerates neuroinflammation and neurodegeneration [5].
In this review, we aim to address the role of microglia, astrocytes, and immune response in the CNS in the development of neurodegenerative disorders. The review will present the "two faces" of neuroinflammation, which can result in the restoration of brain homeostasis as well as initiation or/and acceleration of neurodegenerative processes.
Inflammation, Inflammaging, and Neuroinflammation
Inflammation is a complex biological response of the body to cell and tissue damages caused by chemical (acids, alkali), physical (ionizing radiation, magnetic field, ultrasonic waves), and biological factors (viruses, bacteria, fungi, exotoxins, and endotoxins) [6]. The type and range of inflammatory response depend on the type and intensity of the irritant. In addition, the tissue and organ resistance is also important. The potency of the irritant and the time of its impact on tissue determine the type of inflammatory state, acute or chronic. Inflammation can be beneficial as an acute, transient immune response to harmful conditions such as tissue injury or an invading pathogen. The proper inflammatory reactions facilitate the repair, turnover, and adaptation of tissues. In addition, moderate inflammatory reaction leads to the inhibition of bleeding resulting from trauma and removal of necrotic tissues, exotoxins, and endotoxins with exudation. Inflammation is a multistage response. The reactions of the mobility of cells, humoral response, i.e., activation of inflammatory mediators present locally and in body fluids, and the hemostatic response are engaged. The proper inflammatory response is self-limiting and characterized by an advantage of processes of restoring homeostasis over the destructive processes [7]. However, acute inflammatory response to pathogen-associated molecular patterns (PAMPs) may be impaired during aging, leading to increased susceptibility to infection. If the activity of the stimulating factor is persistent in time and the mechanisms of the proper development of inflammation are dysregulated, the body still receives a signal of health hazard and switches from the acute to a chronic inflammatory state [7, 8]. As a result, this causes an imbalance in the immune system, thereby the inflammatory markers remain permanently and generally at low grade. Chronic inflammation consecutively leads to the tissue degeneration and development of autoimmune or circulatory system diseases, arthritis, cancers, and CNS disorders [9].
Aging is a complex process that depends on many environmental factors and genetic and epigenetic events occurring in the different types of cells and tissues throughout life. Moreover, the aging process is a chronic oxidative and inflammatory stress, leading to damage of cell components, including proteins, lipids, and DNA, and contributing to the age-related decline of physiological functions [10]. "Inflammaging," referred to as systemic, chronic inflammation, by Franceschi and Salvioli and colleagues [11, 12], is also the dominant feature of body aging and most, if not all, age-related diseases [8]. Many epidemiological studies confirm that inflammaging is a strong risk factor of various diseases, including AD, and death in the elderly. Inflammaging is connected with the increased level of inflammatory markers such as C-reactive protein (CRP) or interleukin-6 (IL-6) and also associated with many age-related changes, e.g., in the body composition, in the production and use of energy, in the maintenance of metabolic homeostasis, and in the immune response in the brain.
There are several possible mechanisms of inflammaging. Firstly, the inflammaging processes may be caused by the endogenous host-derived cell debris (damage-associated molecular patterns (DAMPs), i.e., damaged organelles, cells, and macromolecules) that accumulate with age as a consequence of both increased production and impaired elimination [8]. Secondly, aging cells and various inflammatory factors (termed the senescence-associated secretory phenotype or SASP) which they produce may be the chronic inflammation stimulators. Cellular senescence is a response to various stress factors and damages. Aging cells accumulate in various tissues where they contribute to the development of many pathological changes, for example modifying the tissue microenvironment and altering the function of nearby normal or transformed cells. Visceral adipose tissue (VAT) is the main place of senescent cell accumulation and is also a source of pro-inflammatory cytokines such as IL-6 and TNF-α [13]. Moreover, an excess and changes in the distribution of visceral adipose tissue and the composition and functioning of the lipids have clinical consequences such as metabolic syndrome. Metabolic syndrome is related to insulin resistance and impaired glucose tolerance, which lead to type 2 diabetes, obesity, dyslipidemia, elevated blood pressure, and activation of the pro-thrombotic and pro-inflammatory processes that lead to atherosclerosis and chronic inflammation [14, 15]. Studies of the association of distinct abdominal adipose tissue with the cardiometabolic risk factors and metabolic syndrome showed that metabolic syndrome individuals had significantly lower adiponectin levels and significantly higher levels of resistin, leptin, TNF-α, IL-6, intercellular adhesion molecule (ICAM), monocyte chemotactic protein-1 (MCP-1), and oxLDL than the control group. The results confirmed that deep subcutaneous adipose tissue (dSAT) is associated with increased inflammation and oxidative stress, suggesting that dSAT is an important determinant of metabolic syndrome [16]. A variety of adipokines, particularly interleukins, are considered to be associated with inflammatory processes that can lead to dementia and cognitive impairment. It is postulated that adipokines as biomarkers may enhance understanding of late-onset dementia risk over the life course, as well as the clinical progression of prodromal and manifest dementias [17]. Increasing evidence and clinical and epidemiological studies suggest an association between metabolic syndrome and type 2 diabetes and AD [18, 19]. It is indicated that diabetic patients have increased risk of developing AD and AD brains exhibit defective insulin signaling [20]. Thirdly, inflammaging may be caused by hyperactivity of the blood coagulation that increases the risk of thrombosis in the elderly. And finally, the reason for the development of inflammaging is the aging immune system (immunosenescence). Immunosenescence involves age-related remodeling changes in the organization of lymphoid organs and functions of immune cells, which have been associated with reduction of the degree of adaptive immunity and hyperactivity of the innate immune response. Immunosenescence may result from exposure to different pathogens and antigens over a lifetime, intracellular changes in immune cells, and genetic predisposition. Chronic infections, such as cytomegalovirus (CMV), human immunodeficiency virus (HIV), and Epstein-Barr virus (EBV) are known to impair the immune parameters [21, 22, 23, 24]. Decline in cell-mediated immunity may in turn cause the age-related increased incidence of Herpes zoster (varicella zoster virus, VZV) and its complications in the elderly which is a worldwide growing problem for patient, cares, healthcare systems, and employers [25].
The term "neuroinflammation" means an inflammatory response originated in the CNS (brain and spinal cord) after injury by non-infectious or infection factors, with an accumulation of glial cells (microglia, astrocytes). The critical aspects in understanding neuroinflammation and its physiological, biochemical, and behavioral consequences are its context, course, and duration [
4
]. The active parts of the neuroinflammatory process take cytokines, chemokines, and complement and pattern-recognition receptors (PRR) that are produced and expressed by microglia and astrocytes [
26
,
27
]. All the neuroinflammatory and regulatory processes within the CNS are generally initiated to prevent any disturbance of cell homeostasis. An acute inflammatory response in the CNS is caused by rapid and early activation of the glial cells as a response to different irritants (toxic proteins, infectious agents, stroke, depression, hypertension, diabetes, dementia, and other neurodegenerative disorders), which leads to repair of the damaged area of the brain. However, if harmful agents act persistent, an acute inflammatory state of the brain becomes chronic, and activation of glial cells is exaggerated, which leads to tissue degeneration. Moreover, chronic inflammation in the brain dysregulates mechanisms for clearing misfolded or damaged neuronal proteins resulting in tau-associated impairments of axonal integrity and transport, accumulation of amyloid precursor protein (APP), formation of paired helical filaments, and synaptic dysfunction. All these events precede and cause a prominent neurodegeneration and cognitive decline [
27
,
28
]. Increased levels of inflammatory mediators, such as IL-1, IL-6, or TNF-α, are one of the biomarkers of human aging and closely associated with impaired mechanisms of ROS removal as well as leveling effects of their actions. Overgeneration of ROS leads to oxidative stress and induces NFκB expression, a key activator of inflammatory reactions. It is clear, therefore, that chronic inflammation in the CNS will occur frequently in people with age-related diseases [
27
]. Although the mechanisms that ultimately lead to neurodegeneration are different in each neurodegenerative disease (AD, PD, ALS, etc.), chronic inflammation is typically a prominent feature in the progressive nature of neurodegeneration. Thus, the resolution of inflammation is an active process, which is dependent on well-orchestrated innate and adaptive immune responses, and the neuroinflammatory reactions may therefore be beneficial or detrimental, depending on their duration and strengths of activation (Fig.
1
) [
29
].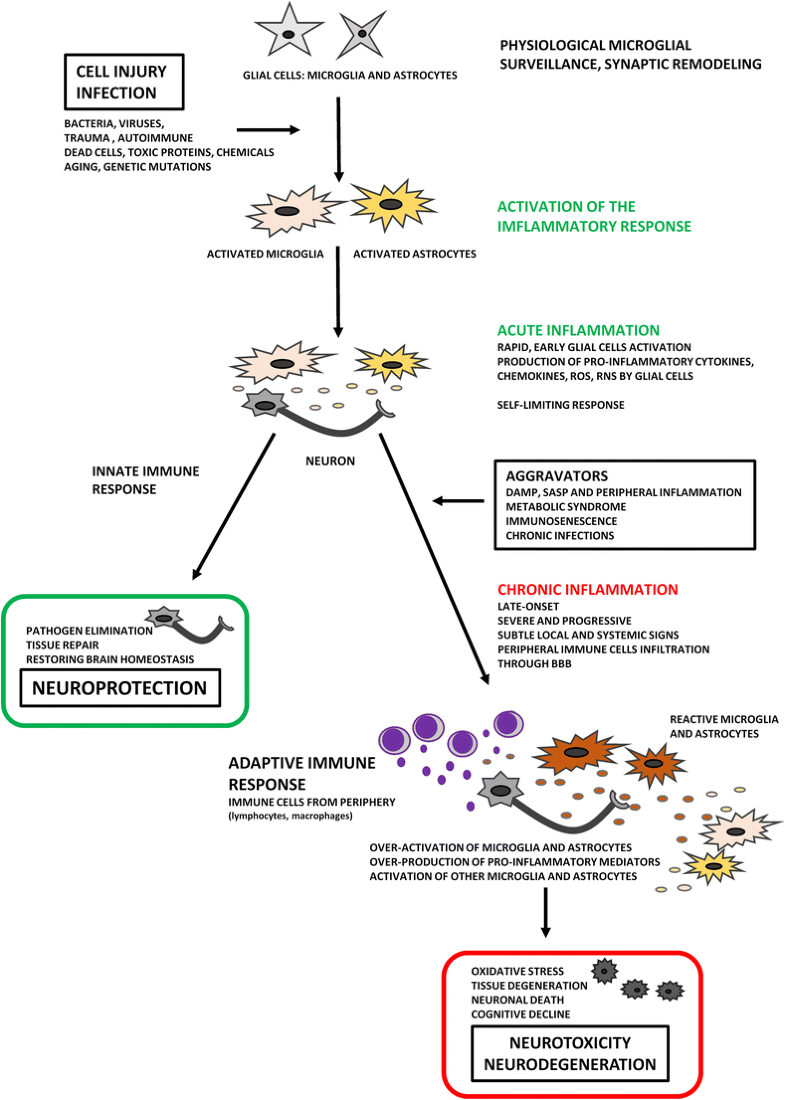 Innate and Adaptive Immune Response in the CNS
The innate and adaptive immune systems actively participate in CNS surveillance, which is critical for the maintenance of CNS homeostasis and can facilitate the resolution of infections, degeneration, and tissue damage [30]. To understand neuroinflammation, it is important to distinguish innate and adaptive immune response in the CNS [5]. Innate immune reactions activated in the CNS lead to many essential modifications in the tissue microenvironment, e.g., changes in gene expression, which are normally repressed under physiological conditions and are only induced when cells are stressed, cellular differentiation, cellular composition and promotion of the recruitment of peripheral innate immune cells (macrophages, neutrophils) through BBB and adaptive immune cells (T cells and B cells). The main resident immune cells within the CNS are microglia, complemented also by CNS-derived macrophages from meninges, choroid plexus, and perivascular space, which provide innate immunity [31]. In non-pathological conditions, microglia scan the local microenvironment constantly and detect CNS damage. In this deactivation state, microglia release many immune (anti-inflammatory) and growth (neurotropic) factors that influence astrocytes and neurons. Cell injury or pathogen infection leads to microglial activation, morphological changes, and production of pro-inflammatory mediators. Thus, microglia are the earliest responders to any changes in the CNS [5, 32]. Developing an inflammatory response next stimulates the immune system (innate immune response), to eliminate stress stimulus. The initiation of an immune response may next involve the development of adaptive immunity. In the healthy brain, this early inflammatory response is self-limited, after the stimulus is terminated (phagocytosis of pathogens, abnormal protein deposits, debris or apoptotic cells) and described as beneficial and neuroprotective [33]. A recently characterized transient form of immune activation is euflammation, which can be induced by repeated subthreshold infectious challenges and causes innate immune alterations without overt neuroimmune activation. Thus, euflammation is associated with reduced inflammation and leads to neuroprotection [34, 35].
However, if inflammatory reactions are uncontrolled and chronic, it results in microglial overactivation (reactive microglia), which releases large amounts of inflammatory agents. This attracts other cells, microglia, and astrocytes. Innate inflammation is reported in AD, PD, ALS, and other neuropathologies [33]. Reactive microglia and astrocytes potentially cause injury to the BBB, which become more permeable for periphery immune cells, and neuronal impairment. The release of cytokines, chemokines, reactive oxygen species, and pro-inflammatory mediators by reactive glial cells leads to neurotoxicity and may accelerate neurodegeneration. Moreover, recruited peripheral immune cells (mainly lymphocytes) increase inflammatory response in the CNS by releasing more inflammatory mediators. Indeed, most CNS pathologies are often connected with abnormal microglial activation. An early phase of microglial activation is essential for the effective removal of toxic agents that could be detrimental for the brain. However, chronic microglial activation is connected with the overproduction of pro-inflammatory mediators which might override the beneficial effect of these cells [29].
It is worth noting that until now it was believed that neuroinflammatory response reflects systemic inflammation, which leads to the common view that entry of circulating immune cells to the CNS could only accelerate the parenchymal damage. González and Pacheco summarize the results of several studies showing that CD4(+) T cells infiltrate the CNS in many neurodegenerative disorders, in which their participation has a critical influence on the outcome of microglial activation and consequent neurodegeneration [36]. In fact, the CNS is constantly surveyed by circulating immune cells within the CSF, which entered into the brain through choroid plexus. The immune cell content of healthy CSF is estimated to consist of approximately 90% T cells, 5% B cells, 5% monocytes, and <1% dendritic cells [37]. In the physiological state, activated T cells, along with circulating and local innate immune cells, patrol the CNS and support brain plasticity, both in health and in response to CNS trauma. Schwartz and colleagues [29, 38, 39] demonstrated that the improvement of the CNS from acute damage is non-tissue autonomous and requires the involvement of circulating leukocytes, which are needed also for fighting off neurodegenerative conditions and which brought to appreciation the pivotal role of CNS-specific T cells in CNS maintenance and repair. Authors proposed a "protective autoimmunity theory" as an essential physiological mechanism for CNS protection, repair, and maintenance in both health and pathological diseases. This theory assumes a well-controlled generation and activation of CNS-specific T cells is a purposeful process, and only when it is dysregulated these cells become destructive. Yet, it is not confirmed whether protective autoimmunity is a more general phenomenon which occurs in tissues other than the CNS.
Importantly, inflammation is not only a pathological reaction that should be completely eliminated. The local inflammatory response and the innate and adaptive immune reactions are closely related with the etiology of each disease. Moreover, the inflammatory response involves a delicate balance between the innate and adaptive immune systems to deal with inflammatory stimuli [4, 29].
Microglia and Astrocytes as Key Designers of the Resolution of Inflammation
Notes
Compliance with Ethical Standards
Conflict of Interest
The authors declare that they have no conflict of interest.
Copyright information
© The Author(s) 2016
Open Access This article is distributed under the terms of the Creative Commons Attribution 4.0 International License (http://creativecommons.org/licenses/by/4.0/), which permits unrestricted use, distribution, and reproduction in any medium, provided you give appropriate credit to the original author(s) and the source, provide a link to the Creative Commons license, and indicate if changes were made.