Ovariectomy-Induced Mitochondrial Oxidative Stress, Apoptosis, and Calcium Ion Influx Through TRPA1, TRPM2, and TRPV1 Are Prevented by 17β-Estradiol, Tamoxifen, and Raloxifene in the Hippocampus and Dorsal Root Ganglion of Rats
Abstract
Relative 17β-estradiol (E2) deprivation and excessive production of mitochondrial oxygen free radicals (OFRs) with a high amount of Ca2+ influx TRPA1, TRPM2, and TRPV1 activity is one of the main causes of neurodegenerative disease in postmenopausal women. In addition to the roles of tamoxifen (TMX) and raloxifene (RLX) in cancer and bone loss treatments, regulator roles in Ca2+ influx and mitochondrial oxidative stress in neurons have not been reported. The aim of this study was to evaluate whether TMX and RLX interactions with TRPA1, TRPM2, and TRPV1 in primary hippocampal (HPC) and dorsal root ganglion (DRG) neuron cultures of ovariectomized (OVX) rats. Forty female rats were divided into five groups: a control group, an OVX group, an OVX+E2 group, an OVX+TMX group, and an OVX+RLX group. The OVX+E2, OVX+TMX, and OVX+RLX groups received E2, TMX, and RLX, respectively, for 14 days after the ovariectomy. E2, ovariectomy-induced TRPA1, TRPM2, and TRPV1 current densities, as well as accumulation of cytosolic free Ca2+ in the neurons, were returned to the control levels by E2, TMX, and RLX treatments. In addition, E2, TMX, and RLX via modulation of TRPM2 and TRPV1 activity reduced ovariectomy-induced mitochondrial membrane depolarization, apoptosis, and cytosolic OFR production. TRPM2, TRPV1, PARP, and caspase-3 and caspase-9 expressions were also decreased in the neurons by the E2, TMX, and RLX treatments. In conclusion, we first reported the molecular effects of E2, TMX, and RLX on TRPA1, TRPM2, and TRPV1 channel activation in the OVX rats. In addition, we observed neuroprotective effects of E2, RLX, and TMX on oxidative and apoptotic injuries of the hippocampus and peripheral pain sensory neurons (DRGs) in the OVX rats.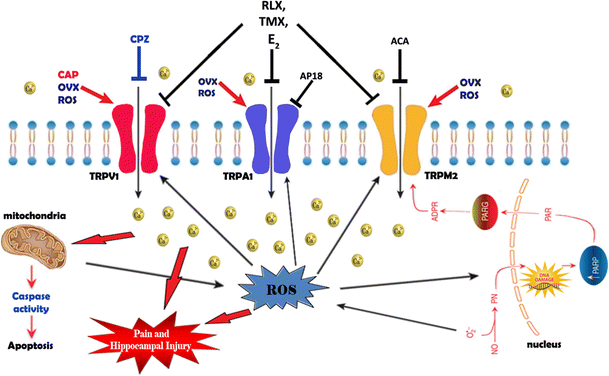 Keywords
Hippocampus 
Ovariectomy 
Raloxifene 
Tamoxifen 
TRPM2 
TRPV1 
Abbreviations
[Ca2+]i

Cytosolic free calcium ion

ACA

N-(p-Amylcinnamoyl) anthranilic acid

ADPR

ADP-ribose

CAP

Capsaicin

CHPx

Cumene hydroperoxide

CPZ

Capsazepine

DMSO

Dimethyl sulfoxide

DRG

Dorsal root ganglion

E2

17β-Estradiol

EGTA

Ethylene glycol-bis[2-aminoethyl-ether]-N,N,N,N-tetraacetic acid

HPC

Hippocampal

MPT

Permeability transition

OFR

Oxygen free radials

PARP

Poly(ADP-ribose) polymerase

RLX

Raloxifene

TMX

Tamoxifen

TRP

Transient receptor potential

TRPA1

Transient receptor potential ankyrin 1

TRPM2

Transient receptor potential melastatin

TRPV1

Transient receptor potential vanilloid 1

VGCC

Voltage-gated calcium channels

WC

Whole cell
Notes
Acknowledgments
The abstracts of the study were presented at the 6th World Congress of Oxidative Stress, Calcium Signaling and TRP Channels, held on 24 and 27 May 2016 in Isparta, Turkey (www.cmos.org.tr). The authors wish to thank the researcher technicians İshak Suat Övey and Muhammet Şahin (Neuroscience Research Center, SDU, Isparta, Turkey) for helping with the Western blot and plate reader analyses.
Authorship Contributions
MN formulated the hypothesis and was responsible for writing the report. Ovariectomy of rats was performed by MN. The analyses were performed by YY.
Compliance with Ethical Standards
Funding
Unit of Scientific Research Project (BAP) of Suleyman Demirel University.
Financial Disclosure
This study was partially supported by the Unit of Scientific Research Project (BAP) of Suleyman Demirel University in Isparta, Turkey (Project Number BAP: 4135-YL2-14). There is no financial disclosure for the current study.
Conflict of Interest
The authors declare that they have no conflict of interest.
Copyright information
© Springer Science+Business Media New York 2016