Sulforaphane Ameliorates Okadaic Acid-Induced Memory Impairment in Rats by Activating the Nrf2/HO-1 Antioxidant Pathway
Abstract
Okadaic acid (OKA) causes memory impairment and attenuates nuclear factor erythroid 2-related factor 2 (Nrf2) along with oxidative stress and neuroinflammation in rats. Sulforaphane (dietary isothiocyanate compound), an activator of Nrf2 signaling, exhibits neuroprotective effects. However, the protective effect of sulforaphane in OKA-induced neurotoxicity remains uninvestigated. Therefore, in the present study, the role of sulforaphane in OKA-induced memory impairment in rats was explored. A significant increased Nrf2 expression in the hippocampus and cerebral cortex was observed in trained (Morris water maze) rats, and a significant decreased Nrf2 expression in memory-impaired (OKA, 200 ng icv) rats indicated its involvement in memory function. Sulforaphane administration (5 and 10 mg/kg, ip, days 1 and 2) ameliorates OKA-induced memory impairment in rats. The treatment also restored Nrf2 and its downstream antioxidant protein expression (GCLC, HO-1) and attenuated oxidative stress (ROS, nitrite, GSH), neuroinflammation (NF-κB, TNF-α, IL-10), and neuronal apoptosis in the cerebral cortex and hippocampus of OKA-treated rats. Further, to determine whether modulation of Nrf2 signaling is responsible for the protective effect of sulforaphane, in vitro, Nrf2 siRNA and its downstream HO-1 inhibition studies were carried out in a rat astrocytoma cell line (C6). The protective effects of sulforaphane were abolished with Nrf2 siRNA and HO-1 inhibition in astrocytes. The results suggest that Nrf2-dependent activation of cellular antioxidant machinery results in sulforaphane-mediated protection against OKA-induced memory impairment in rats.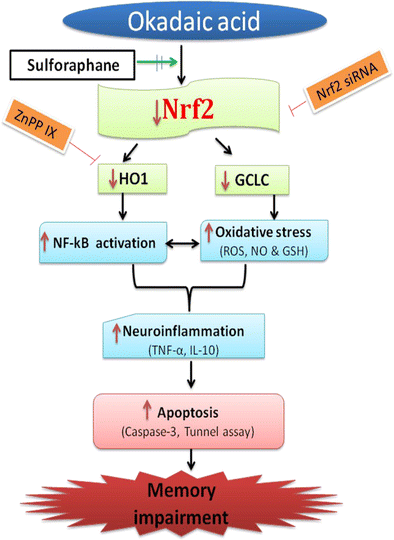 Keywords
Nrf2 
Sulforaphane 
Neuroinflammation 
Memory impairment 
Okadaic acid 
Astrocytes 
Notes
Acknowledgments
SRF to SD from the Indian Council of Medical Research (ICMR), New Delhi and NR from CSIR, New Delhi, India is gratefully acknowledged. The authors are also thankful to Dr. Prem N. Yadav for helping with the Nrf2 siRNA transfection experiment and Dr. A.K. Balapure, Head, Tissue & Cell Culture Facility CSIR-CDRI and his team for providing the rat astroglial cell line, C6.
Conflict of Interest
The authors declare that they have no competing interests.
Copyright information
© Springer Science+Business Media New York 2015