Phagocytosis of Microglia in the Central Nervous System Diseases
Abstract
Microglia, the resident macrophages of the central nervous system, rapidly activate in nearly all kinds of neurological diseases. These activated microglia become highly motile, secreting inflammatory cytokines, migrating to the lesion area, and phagocytosing cell debris or damaged neurons. During the past decades, the secretory property and chemotaxis of microglia have been well-studied, while relatively less attention has been paid to microglial phagocytosis. So far there is no obvious concordance with whether it is beneficial or detrimental in tissue repair. This review focuses on phagocytic phenotype of microglia in neurological diseases such as Alzheimer's disease, multiple sclerosis, Parkinson's disease, traumatic brain injury, ischemic and other brain diseases. Microglial morphological characteristics, involved receptors and signaling pathways, distribution variation along with time and space changes, and environmental factors that affecting phagocytic function in each disease are reviewed. Moreover, a comparison of contributions between macrophages from peripheral circulation and the resident microglia to these pathogenic processes will also be discussed.
Keywords
Microglia 
Phagocytosis 
Neurological diseases 
Macrophages 
Introduction
Microglia, which constitute 10∼20 % of glia cells, are the resident macrophages of the brain and spinal cord and act as the main immune defense in the central nervous system (CNS). Since first described by del Rio-Hortega, microglia have attracted much attention in exploring their multifaceted meticulous functions, especially related to neuronal inflammation. Microglia are inactive under physiological conditions, with small cell body and highly ramified branching processes. In response to injury or pathogen invasion however, microglia transform into active phagocytic microglia [1], migrate, and accumulate at the site of injury through a process known as chemotaxis [2]. Being different to their resting phenotype, activated microglia are identified by their retracted processes and "amoeboid" morphology, release of both pro- and anti-inflammatory molecules, and high capacity for phagocytic removal of apoptotic cells and debris [3, 4]. Activated microglia are observed in nearly all kinds of neurological diseases, including neurodegenerative diseases such as Alzheimer's disease (AD) [5], Parkinson's disease (PD) [6], and amyotrophic lateral sclerosis (ALS) [7]; infectious and inflammatory diseases such as multiple sclerosis (MS) [8, 9]; stroke [10]; and traumatic [11] and radiation-induced brain injury [12].
In recent years, numerous papers have focused on microglial function of chemotaxis and secretion of pro- and anti-inflammatory cytokines, growth factors, chemokines, and neurotrophins; however, studies regarding microglial phagocytosis are rare. Recently, "phagoptosis" has been proposed as a form of cell death, caused by phagocytosis of viable cells [13]. It is also known as "primary phagocytosis." It is provoked by exposure of "eat-me" signals and/or loss of "don't-eat-me" signals by viable cells, causing their phagocytosis by phagocytes and resulting in self-destruction [13]. Phagocytosis is normally exerted by phagocytic cells, such as microglia and macrophages [13]. Whether microglial phagocytosis plays a beneficial or detrimental role in brain diseases remains controversial, though most researchers are in favor of the former claim since efficient clearance of tissue debris is critical in reconstruction and reorganization of neuronal networking after an injury in the brain [14, 15, 16]. The crucial beneficial role of microglial phagocytosis in axon regeneration and in restoration of the microenvironment has also been shown during the recovery of an acute brain injury.
In this article, we will review the characteristics of phagocytic microglia in some brain diseases and discuss quantity variation along with time and localization, receptors and following signaling pathways that mediated microglial phagocytosis, and correlative influential factors. In addition, the relative contribution made by resident microglia and hematogenous macrophages during disease processes is also reviewed.
Receptors Involved in Microglial Phagocytosis
The activity of microglial phagocytosis relies on specific receptors expressed on the cell surface and downstream signaling pathways that contribute to the reorganization of actin protein and engulfment of harmful microparticles (Fig. 
1
; Table 
1
). Microglial phagocytosis may need different types of receptors to initiate function [
17
]. In general, there are two distinctive types of receptors, one with a high affinity to bind to foreign microbial pathogens, such as Toll-like receptors (TLRs), and another recognizing apoptotic cellular substances, such as triggering receptor expressed on myeloid cells 2 (TREM-2). Besides these two types, some receptors including Fc receptors, complement receptors [
18
], scavenger receptors (SR), pyrimidinergic receptor P2Y, G-protein coupled, 6 (P2RY6), macrophage antigen complex 2 (MAC-2), mannose receptor [
19
], and low-density lipoprotein receptor-related protein (LRP) receptor also participate in microglial clearance of misfolded, apoptotic cells and dead neurons in both acute and chronic brain injury [
20
].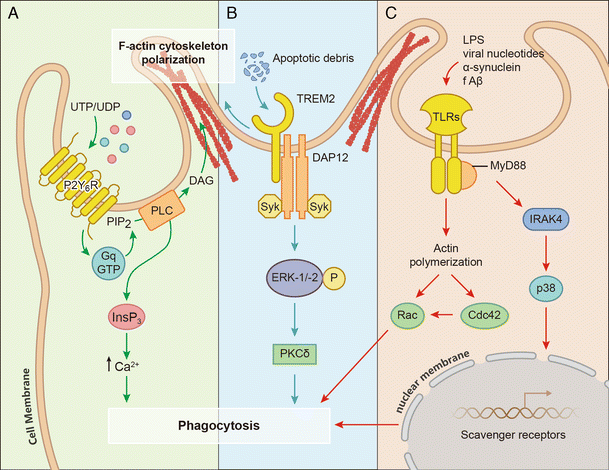 Table 1
Receptors involved in microglial phagocytosis
Receptors

Stimulus

Cell types expressed

Diseases/animal models

References

TLRs

α-Synuclein

Microglia

alpha-Synucleinopathies, Alzheimer's disease

Fibrillar Aβ

Astrocytes

Bacterial strains

Oligodendrocytes

CNS infections, spinal cord injury, and neuronal injury

LPS

Neurons

TREM-2

Amyloid protein

Microglia

Alzheimer's disease

Macrophages

Nasu-Hakola disease

Monocyte-derived dendritic cells

Multiple sclerosis/EAE

Osteoclasts

 

Fc receptors (FcγR)

α-Synuclein

Neurons

Parkinson's disease

Astrocytes

Multiple sclerosis

Microglia

Alzheimer's disease

Oligodendrocytes

 

Complement receptors (CR3 (CD11b/CD18), CR4 (CD11c/CD18))

Degenerated myelin

Microglia

Alzheimer's disease

Aβ

Macrophages

Wallerian degeneration

Apoptotic cells

 

Multiple sclerosis

Scavenger receptors (SR-A, SR-BI, CD36, RAGE)

Degenerated myelin

Microglia, astrocytes, mato cells, cerebral microvascular endothelial cells, cerebral arterial smooth muscle cells, retinal pigment epithelial cells

Multiple sclerosis/EAE

fAβ, thrombospondin-1

Amyotrophic lateral sclerosis

Anionic polysaccharide

Alzheimer's disease

Polynucleotides

 

Chemically modified proteins

 

Apoptotic cells

 

Bacteria

 

P2RY6

ATP and other nucleotides

Microglia

Neuropathic pain

Galectin-3/MAC-2

Degenerated myelin

Microglia

Traumatic brain injury

Macrophages

Spinal cord injury

Schwann cells

Multiple sclerosis/EAE

LRP receptors (low-density lipoprotein receptor-related protein-1)

LPS or Aβ

Neurons

Alzheimer's disease

Brain capillary endothelium

Phosphatidylserine receptors (phosphatidyl-serine-specific receptor)

Apoptotic and necrotic neurons

Macrophages

Alzheimer's disease

Fibroblasts

Epithelial cells

Dendritic cells

Mannose receptors

Soluble immune components, cell debris, cytotoxic substances, myelin glycoproteins, degrading enzymes, microbial ligands

Astrocytes

Ischemia

Perivascular

Meningeal

Choroid plexus macrophages
TLRs
TLRs are a class of proteins that play a key role in the innate immune system and the digestive system. TLRs are single, membrane-spanning, non-catalytic receptors usually expressed in sentinel cells, such as macrophages and dendritic cells, that recognize structurally conserved molecules derived from microbes. Once these microbes have breached physical barriers such as the skin or intestinal tract mucosa, they are recognized by TLRs, which activate immune cell responses. TLR1–9, which belong to interleukin (IL)-1R super-family, expressed exclusively on antigen presenting cells including microglia [21], macrophages, antigen presenting dendritic cells, and cerebral parenchyma cells which contain neurons, oligodendrites, and astrocytes. TLRs not only trigger the recognition of pathogen-associated molecular patterns, such as LPS or viral nucleotides, but also recognize danger-associated molecular patterns, such as deposited amyloid β (Aβ) fibril and α-synuclein [22, 23]. TLRs are also implicated in a variety of cerebral disorders, including bacterial or viral infections; neurodegenerative disorders such as AD; inflammatory demyelinating disorders such as MS; spinal cord injury (SCI); and in development or physiological processes such as neurogenesis, learning, and memory [22, 23, 24, 25]. TLRs and TLR-dependent signaling pathways are involved in antibacterial immunity and restricting viral infection in CNS infection. Of note, TLR2 and TLR4 mediate brain injury and subsequent inflammation after ischemic stroke [25, 26, 27, 28]. TLR4-, TLR2-, and TLR9-dependent signaling pathways are involved in mediating microglial phagocytosis of neurotoxic Aβ deposit in AD brain and exert a protective role in nerve regeneration [28, 29, 30]. It has been reported that TLRs regulate phagocytosis through myeloid differentiation factor 88(MyD88)-dependent and MyD88-independent signaling pathways. The MyD88-dependent pathway is triggered by TLRs through activation of IL-1 receptor-associated kinase (IRAK)-4 and p38, resulting in up-regulation of scavenger receptors [31]. On the other hand, TLRs also regulate phagocytosis by MyD88-independent actin-Cdc42/Rac pathway [32].
TREM-2
TREM-2 is a kind of pattern receptor specific for polyanionic and locates mainly on the cell surface of osteoclasts in bones and in microglia of the CNS [8, 33]. In addition to up-regulating the synthesis of chemokines and mediating protective phagocytosis of apoptotic cell debris, activation of TREM-2 receptors suppresses secretion of pro-inflammatory factors such as cytokines and ROS [8, 33]. Clinical observation showed that administration of specific agonist or antibody of TREM during the effector phase of MS led to a more severe immune response and resulted in more extensive demyelination [34]. TREM-2 on microglia via binding with DNAX-activation protein 12 (DAP12), an ITAM-containing adaptor protein, triggers the reorganization of F-actin and phosphorylation of ERK/MAPK, mediating the clearance of apoptotic neurons [34, 35]. Nasu–Hakola disease, a systemic bone cystic disorder with progressive presenile dementia followed by extensive sclerosis in the front-temporal lobe and the basal ganglia, occurs due to genetic mutation of TREM-2 and DAP12 resulting in aberrant TREM-2/DAP12 signaling pathway [36].
P2Y6
P2Y6 receptor, a member of the G-protein-coupled receptor family, is actively responsive to UDP and partially responsive to UTP and ADP. The study of P2Y6 receptor has gained increasing attention during the past several years since the elegant demonstration that P2Y6 receptor triggers the UDP-evoked microglial phagocytosis [37]. In other words, UDP, which is released from injured neurons after trauma or ischemia, acts as "eat me" signal and meditates the P2Y6-dependent phagocytosis. P2Y6, when combined with UDP, activates phospholipase C (PLC) which in turn causes the synthesis of inositol 1,4,5-trisphophate (InsP3) and triggers the booted release of Ca2+ from InsP3-receptor-sensitive stores [37]. In addition to triggering the intracellular Ca2+ over-loading, P2Y6-receptor-dependent signaling pathway also triggers actin cytoskeleton polarization to shape filopodia-like protrusions, thus facilitates the engulfment of cell debris [37].
Microglial Phagocytosis in CNS Diseases
Conclusion
Microglia, as the resident macrophage in the CNS, play a critical role in the pathological and physiological processes of CNS diseases, sustaining the homeostasis of the local brain parenchyma. Even a minim disturbance can provoke the activation of microglia and following inflammation-induced neuronal damage. Most investigators favor that microglial phagocytosis exerts a beneficial effect in repair and regeneration. Variety types of receptors expressed on the cell surface of microglia are involved in mediating phagocytic process. These activated microglia exhibit an array of phenotypes and are governed by their surrounding environment. Activated homogenous macrophages infiltrate the blood–brain barrier and contribute to debris clearance in brain disease, such as ischemia, MS, trauma, and so forth. The relative contribution of resident microglia and peripheral macrophages remains controversial. The exact mechanism and functional aspect of phagocytosis by microglia needs further study, and modulation of microglial phagocytosis might be a potential therapeutic strategy for neurological diseases.
Notes
Acknowledgments
This work was supported by the National Natural Science Foundation of China (no. 81272576 and no. 81072242), the Fundamental Research Funds for the Central Universities, and the Funds for Pearl River Science & Technology Star of Guangzhou City (2012J2200088) to Yamei Tang.
Conflict of Interest
The authors declare that there are no conflicts of interest.
Copyright information
© The Author(s) 2014
Open AccessThis article is distributed under the terms of the Creative Commons Attribution License which permits any use, distribution, and reproduction in any medium, provided the original author(s) and the source are credited.