Abstract
Tryptophan hydroxylase-type 2 (Tph2) is the first rate-limiting step in the biosynthesis of serotonin (5-HT) in the brain. The ophthalmic administration (Op-Ad) is a non-invasive method that allows delivering genetic vehicles through the eye and reaches the brain. Here, the murine Tph2 gene was cloned in a non-viral vector (pIRES-hrGFP-1a), generating pIRES-hrGFP-1a-Tph2, plus the FLAG-tag. Recombinant Tph2-FLAG was detected and tested in vitro and in vivo, where 25 μg of pIRES-hrGFP-1a-Tph2-FLAG was Op-Ad to mice. The construct was capable of expressing and producing the recombinant Tph2-FLAG in vitro and in vivo. The in vivo assays showed that the construct efficiently crossed the Hemato-Ocular Barrier and the Blood–Brain Barrier, reached brain cells, passed the optical nerves, and transcribed mRNA-Tph2-FLAG in different brain areas. The recombinant Tph2-FLAG was observed in amygdala and brainstem, mainly in raphe dorsal and medial. Relative Tph2 expression of threefold over basal level was recorded three days after Op-Ad. These results demonstrated that pIRES-hrGFP-Tph2-FLAG, administrated through the eyes was capable of reaching the brain, transcribing, and translating Tph2. In conclusion, this study showed the feasibility of delivering therapeutic genes, such as the Tph2, the first enzyme, rate-limiting step in the 5-HT biosynthesis.
This is a preview of subscription content, log in to check access.
Access options
Buy single article
Instant access to the full article PDF.
US$ 39.95
Price includes VAT for USA
Subscribe to journal
Immediate online access to all issues from 2019. Subscription will auto renew annually.
US$ 695
This is the net price. Taxes to be calculated in checkout.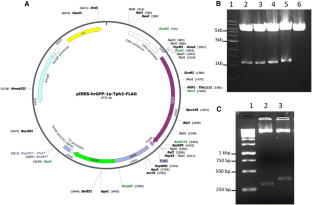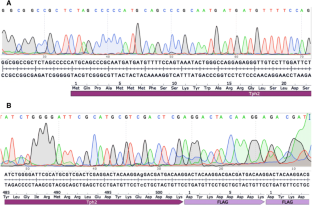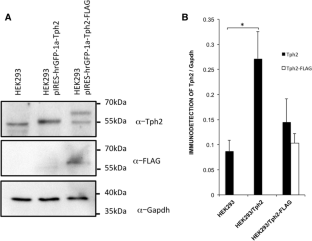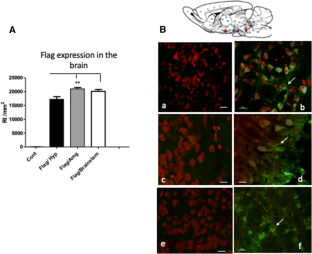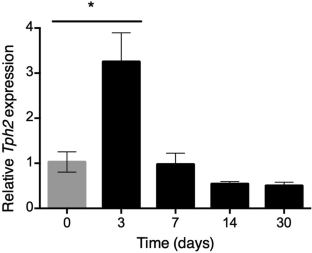 References
1.

Jacobsen, J. P., Siesser, W. B., Sachs, B. D., Peterson, S., Cools, M. J., Setola, V., et al. (2012). Deficient serotonin neurotransmission and depression-like serotonin biomarker alterations in tryptophan hydroxylase 2 (Tph2) loss-of-function mice. Molecular Psychiatry,17, 694–704.

2.

Walther, D. J., Peter, J. U., Bashammakh, S., Hortnagl, H., Vilts, M., Fink, H., et al. (2003). Synthesis of serotonin by a second tryptophan hydroxylase isoform. Science,299(5603), 76.

3.

Migliarini, S., Pacini, G., Pelosi, B., Lunardi, G., & Pasqualetti, M. (2013). Lack of brain serotonin affects postnatal development and serotonergic neuronal circuitry formation. Molecular Psychiatry.,18, 1106–1118.

4.

Patel, P. D., Pontrello, C., & Burke, S. (2004). Robust and tissue-specific expression of TPH2 versus TPH1 in rat raphe and pineal gland. Biological Psychiatry,55, 428–433.

5.

Cote, F., Thevenot, E., Fligny, C., Fromes, Y., Darmon, M., Ripoche, M. A., et al. (2003). Disruption of the non-neuronal tph1 gene demonstrates the importance of peripheral serotonin in cardiac function. Proceedings of the National academy of Sciences of the United States of America,100, 13525–13530.

6.

Berger, M., Gary, J. A., & Roth, B. L. (2009). The expanded biology of serotonin. Annual Review of Medicine,60, 355–366.

7.

Zill, P., Büttner, A., Eisenmenger, W., Müller, J., Möller, H. J., & Bondy, B. (2009). Predominant expression of tryptophan hydroxylase 1 mRNA in the pituitary: A postmortem study in human brain. Neuroscience,159, 1274–1282.

8.

Ramoz, N., Versini, A., & Gorwood, P. (2007). Eating disorders: an overview of treatment responses and the potential impact of vulnerability gene and endophenotypes. Expert Opinion Pharmacotherapy,8, 2029–2044.

9.

Thase, M. E. (2006). Managing depressive and anxiety disorders with escitalopram. Expert OpinionPharmacotherapy,7, 429–440.

10.

Beaulieu, J. M., Zhang, X., Rodriguiz, R. M., Sotnikova, T. D., Cools, M. J., Wetsel, W. C., et al. (2008). Role of GSK3 beta in behavioral abnormalities induced by serotonin deficiency. Proceedings of the National academy of Sciences of the United States of America,105, 1333–1338.

11.

Van Den Bogaert, A., Sleegers, K., De Zutter, S., Heyrman, L., Norrback, K. F., Adolfsson, R., et al. (2006). Association of brain-specific tryptophan hydroxylase, TPH2, with unipolar and bipolar disorder a Northern Swedish, isolated population. Archives of General Psychiatry,63, 1103–1110.

12.

Harvey, M., Gagne, B., Labbe, M., & Barden, N. (2007). Polymorphisms in the neuronal isoform of tryptophan hydroxylase 2 are associated with bipolar disorder in French Canadian pedigrees. Psychiatric Genetics,17, 17–22.

13.

Lopez de Lara, C., Brezo, J., Rouleau, G., Lesage, A., Dumont, M., Alda, M., et al. (2007). Effect of tryptophan hydroxylase-2 gene variants on suicide risk in major depression. Biological Psychiatry,2007(62), 72–80.

14.

Lopez, V. A., Detera-Wadleigh, S., Cardona, I., National Institute of Mental Health Genetics Initiative Bipolar Disorder Consortium, Kassem, L., & McMahon F. J. (2007). Nestedassociation between genetic variation in tryptophan hydroxylase II, bipolar affectivedisorder, and suicide attempts. Biological Psychiatry, 61, 181–186.

15.

Dejneka, N. S., Rex, T. S., & Bennett, J. (2003). Gene therapy and animal models for retinal disease. Developments in Ophthalmology,37, 188–198.

16.

Campochiaro, P. A. (2006). Potential applications for RNAi to probe pathogenesis and develop new treatments for ocular disorders. Gene Therapy,13, 559–562.

17.

Besch, D., & Zrenner, E. (2003). Prevention and therapy in hereditary retinal degenerations. Documenta Ophthalmologica,106, 31–35.

18.

Cai, X., Conley, S., & Naash, M. (2008). Nanoparticle applications in ocular genetherapy. Vision Research,48, 319–324.

19.

Wong, L. F., Goodhead, L., Prat, C., Mitrophanous, K. A., Kigsman, S. M., & Mazarakis, N. D. (2006). Lentivirus-mediated gene transfer to the central nervous system: therapeutic and research applications. Human Gene Therapy,17, 1–9.

20.

Bowers, W. J., Breakefield, X. O., & Sena-Esteves, M. (2011). Genetic therapy for the nervous system. Human Molecular Genetics,20, R28–R41.

21.

Ralph, G. S., Binley, K., Wong, L. F., Azzouz, M., & Mazarakis, N. D. (2006). Genetherapy for neurodegenerative and ocular diseases using lentiviral vectors. Clinical Science,110, 37–46.

22.

Campochiaro, P. A. (2012). Gene transfer for ocular neovascularization and macular edema. Gene Therapy,19, 121–126.

23.

Al-Dosari, M., & Gao, X. (2009). Nonviral gene delivery: Principle, limitations, and recent progress. The AAPS Journal,11, 671–681.

24.

Conley, S. M., Cai, X., & Naash, M. I. (2008). Non-viral ocular gene therapy: Assessment and future directions. Current Opinion in Molecular Therapeutics,10, 456–463.

25.

Zulliger, R., Conley, S. M., & Naash. N. I. (2015). Non-viral therapeutic approaches to ocular diseases: An overview and future directions. Journal Control Release,219, 471–487.

26.

Cruz, E. T., Romero, I. A. F., Mendoza, J. G. L., Suárez, S. O., González, R. H., Favela, F. B., et al. (2008). Efficientpost-exposure prophylaxis against rabies by applying a four-doseDNA vaccine intranasally. Vaccine,26, 6936–6944.

27.

Harmon, B. T., Aly, A. E., Padegimas, L., Sesenoglu-Laird, O., Cooper, M. J., & Waszczak, B. L. (2014). Intranasal administration of plasmid DNA nanoparticles yields successful transfection and expression of a reporter protein in rat brain. Gene Therapy,21, 514–521.

28.

Cheng, Y. S., Chen, Z. T., Liao, T. Y., Lin, C., Shen, H. C., Wang, Y. H., et al. (2017). An intranasally delivered peptide drug ameliorates cognitive decline in Alzheimer transgenic mice. EMBO Molecular Medicine,9, 703–715.

29.

Oviedo, N., Manuel-Apolinar, L., Orozco-Suárez, S., Juárez-Cedillo, T., Bekker, M. C., & Tesoro-Cruz, E. (2017). Intranasal administration of a naked plasmid reached brain cells and expressed green fluorescent protein, a candidate for future gene therapy studies. Archives of Medical Research,48, 616–622.

30.

Bloquel, C., Bourges, J. L., Touchard, E., Berdugo, M., BenEzra, D., & Behar-Cohen, F. (2006). Non-viral ocular gene therapy: Potential ocular therapeutic avenues. Advanced Drug Delivery Reviews,58, 1224–1242.

31.

Daheshia, M., Kuklin, N., Manickan, E., Chun, S., & Rouse, B. T. (1998). Immune induction and modulation by topical ocular administration of plasmid DNA encoding antigens and cytokines. Vaccine.,16, 1103–1110.

32.

Seow, Y., & Wood, M. J. (2009). Biological gene delivery vehicles: Beyond viral vectors. Molecular Therapy, 17, 767–777.

33.

Capsoni, S., Covaceuszach, S., Ugolini, G., Spirito, F., Vignone, D., Stefanini, B., et al. (2009). Delivery of NGF to the brain: intranasal versus ocular administration in anti-NGF transgenic mice. Journal of Alzheimers Disease,16, 371–388.

34.

Pichon, C., Billiet, L., & Midoux, P. (2010). Chemical vectors for gene delivery: uptake and intracellular trafficking. Curren Opinion in Biotechnology,21, 640–645.

35.

Martin, K. R., Klein, R. L., & Quigley, H. A. (2002). Gene delivery to the eye using adeno-associated viral vectors. Methods,28, 267–275.
Acknowledgments
The authors thank Minerva Crespo-Ramírez from Division of Neuroscience, Instituto de Fisiología Celular, Universidad Nacional Autónoma de México, and Isaías Angulo Viurcos from Unidad de Investigación Biomédica en Infectología e Inmunología, Hospital de Infectología, Centro Médico Nacional "La Raza", IMSS for their technical support and MDV Enrique García-Formenti and MDV Jaime Herrera Pérez from the animal facility at Centro Medico Nacional Siglo XXI, Instituto Mexicano del Seguro Social for their excellent medical and technical assistance.
Funding
This work was funded by grants from the Fondo de InvestigaciónenSalud (IMSS, Number: FIS/IMSS/PROT/G14/1320) and (FIS/IMSS/PROT/PRIO/18/071).
Ethics declarations
Conflict of interest
All authors declare that there is no actual or potential conflict of interest.
Additional information
Publisher's Note
Springer Nature remains neutral with regard to jurisdictional claims in published maps and institutional affiliations.
About this article
Cite this article
Tesoro-Cruz, E., Oviedo, N., Manuel-Apolinar, L. et al. Ophthalmic Administration of a DNA Plasmid Harboring the Murine Tph2 Gene: Evidence of Recombinant Tph2-FLAG in Brain Structures. Mol Biotechnol 62, 200–209 (2020). https://doi.org/10.1007/s12033-020-00239-x
Keywords
Ophthalmic administration

Tph2 gene

Serotonin

Brainstem

Depression