Abstract
All eukaryotes have lysosomes which contain hydrolytic enzymes such as protease to degrade waste materials and cellular fragments. As a cellular organelle, lysosomes function as the digestive system of the cell, serving both to degrade material taken up from outside the cell and to digest obsolete components of the cell itself. Conversely, melanin has photochemical functions to protect tissue from the harmful effects of ultraviolet rays. However, too much of melanin leads to problems such as hyperpigmentation, requiring materials to maintain and control the amount of melanin. In this study, we found evidence of correlation between lysosome and melanin in a new eco-friendly material, MelanoDerm, a reconstituted 3D human skin model containing normal melanocytes and keratinocytes. Melanin content assay and cell viability were measured, using 2% kojic acid as positive control, while MelanoDerm was exposed to various concentrations of lysosome. Our results indicate that lysosome may be a useful cosmetic agent for the treatment of hyperpigmentation.
This is a preview of subscription content, log in to check access.
Access options
Buy single article
Instant access to the full article PDF.
US$ 39.95
Price includes VAT for USA
Subscribe to journal
Immediate online access to all issues from 2019. Subscription will auto renew annually.
US$ 695
This is the net price. Taxes to be calculated in checkout.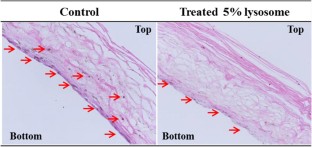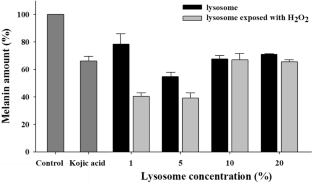 References
1.

Yoon, J., Park, J. M., Jung, S. K., Kim, Y. H., & Min, J. (2009). Characterization of antimicrobial activity of the lysosomes isolated from Saccharomyces cerevisiae. Current Microbiology,59, 48–52.

2.

Yoon, J., Park, J. M., Kim, K. J., Kim, Y. H., & Min, J. (2009). Antimicrobial activity of the cell organelles, lysosomes, isolated from egg white. Journal of Microbiology Biotechnology,19, 1364–1368.

3.

Anderson, R. R., & Parrish, J. A. (1981). The optics of human skin. Journal of Investigative Dermatology,77, 13–19.

4.

Marusa, H. C., Katarina, P., Ales, S., & Boris, T. (2012). Lysosomal pathways to cell death and their therapeutic applications. Experimental Cell Research,318, 1245–1251.

5.

Andrzej, S., Desmond, J. T., Shigeki, S., & Jacobo, W. (2004). Melanin pigmentation in mammalian skin and its hormonal regulation. Physiological Reviews,84, 1155–1228.

6.

Seth, J. O. (1995). Melanosomes are specialized members of the lysosomal lineage of organelles. Journal of Investigative Dermatology,105, 3–7.

7.

Yochida, Y., Hachiya, A., Sriwiriyanont, P., Ohuchi, A., Kitahara, T., Takema, Y., et al. (2007). Functional analysis of keratinocytes in skin color using a human skin substitute model composed of cells derived from different skin pigmentation types. FASEB Journal,21, 2829–2839.

8.

Klaus, W., & Herbert, H. (1972). Are melanosome complexes lysosomes? Journal of Investigative Dermatology,59, 170–176.

9.

Michael, S. M., & Miguel, C. S. (2001). The melanosome: Membrane dynamics in black and white. Molecular Cell Biology,2, 738–748.

10.

Raposo, G., Tenza, D., Murphy, D. M., Derson, J. F., & Marks, M. S. (2001). Distinct protein sorting and localization to premelanosomes, melanosomes and lysosomes in pigmented melanocytic cells. The Journal of Cell Biology,152, 809–823.

11.

Anthony, J. T., & Alison, G. (1998). Does α-MSH have a role in regulating skin pigmentation in human? Pigment Cell Research,11, 265–274.

12.

Jan, B., & Milan, E. (2003). Melanosome degradation: Fact or fiction. Pigment Cell Research,16, 280–286.

13.

Ohtaki, N., & Seiji, M. (1971). Degradation of mlanosomes by lysosomes. Journal of Investigative Dermatology,57, 1–5.

14.

Park, D. J., Sekhon, S. S., Yoon, J., Kim, Y. H., & Min, J. (2016). Color reduction of melanin by lysosomal and peroxisomal enzymes isolated from mammalian cells. Molecular and Cellular Biochemistry,413, 119–125.

15.

Park, D. J., Sekhon, S. S., Ahn, J. Y., Yoon, H., Ko, J. H., Lee, L., et al. (2016). Proteomic analysis of lysosomal proteins in Melanocyte B16F10 exposed to Melanin. Toxicology and Environmental Health Sciences,8, 7–11.

16.

Park, D. J., Sekhon, S. S., Ahn, J. Y., Yoon, H., Lee, L., Ko, J. H., et al. (2016). Different expression patterns of lysosomal proteins exposed to Melanin in HeLa cells. Toxicology and Environmental Health Sciences,7, 1–5.

17.

Yoon, J., Bang, S. H., Park, J. S., Chang, S. T., Kim, Y. H., & Min, J. (2011). Increased in vitro lysosomal function in oxidative stress-induced cell line. Applied Biochemistry and Biotechnology,163, 1002–1011.

18.

Fischer, A. H., Jacobson, K. A., Rose, J., & Zeller, R. (2008). Hematoxylinand eosin staining of tissue and cell sections. Cold Spring Harbor Protocols. https://doi.org/10.1101/pdb.prot4986.

19.

Claudine, T., Patrice, C., Helene, A., Thierry, L., & Nathalie, A. A. (2006). Lysosomes and lysosomal proteins in cancer cell death. Biochimica et biophysica Acta,1765, 101–125.

20.

Li, N. K., Tong, C. X., Chen, G., Brindzei, N., & Orlow, S. J. (2008). Identification of quinolones that inhibit melanogenesis by altering tyrosinase family trafficking. Molecular Pharmacology,74, 1576–1586.

21.

Ni, X., Canuel, M., & Morales, C. R. (2006). The sorting and trafficking of lysosomal proteins. Histology and Histopathology,21, 899–913.

22.

Yoon, T. J., Lei, T. C., Yamaguchi, Y., Wolber, R., & Hearing, V. J. (2003). Reconstituted 3-dimensional human skin of various ethnic origins as a vitro model for studies of pigmentation. Analytical Biochemistry,318, 260–269.

23.

Bessou-Touya, S., Picardo, M., Maresca, M., Surlève-Bazeille, J., Catherine, P., & Alain, T. (1998). Chimeric human epidermal reconstructs to study the role of melanocytes and keratinocytes in pigmentation and photoprotection. Journal of Investigative Dermatology,111, 1103–1108.
Acknowledgements
This research was supported by the Ministry of Trade, Industry & Energy (MOTIE) and Korea Institute for Advancement of Technology (KIAT) through the Encouragement Program (P0006145) for The Industries of Economic Cooperation Region.
Ethics declarations
Conflict of interest
The authors declared that they have no conflict of interest.
Additional information
Publisher's Note
Springer Nature remains neutral with regard to jurisdictional claims in published maps and institutional affiliations.
About this article
Cite this article
Park, D.J., Jeon, G., Bang, S.H. et al. Cellular Lysosomes' Activity for Melanin Reduction on Artificial Skin Tissue. Mol Biotechnol 62, 185–191 (2020). https://doi.org/10.1007/s12033-019-00235-w
Keywords
Melanin reduction

Lysosome

Lysosomal enzyme

MelanoDerm

Artificial skin tissue