Abstract
Minichromosome maintenance 10 (MCM10) plays an important role in DNA replication and is expressed in a variety of tumors, including glioma. However, its role and mechanism in glioma remain elusive. The purpose of this study was to examine the molecular function of MCM10 in glioblastoma cell lines in vitro and to further investigate the molecular mechanisms in the network mediated by MCM10. Cell proliferation, invasion, and migration were investigated in the absence of MCM10 mediated by RNA interference (RNAi) in U87 and U251 cell lines. Microarray data were obtained from U87 cells infected with a lentivirus expressing a small interfering RNA (siRNA) targeting MCM10, and ingenuity pathway analysis (IPA) was performed. Molecular signaling pathways, gene functions, and upstream and downstream regulatory genes and networks were analyzed. MCM10 was positively stained in human glioblastoma multiforme (GBM) samples according to immunohistochemistry. Silencing MCM10 in U87 and U251 cells significantly reduced cell proliferation, migration, and invasion. In U87 cells transfected with MCM10, 274 genes were significantly upregulated, while 313 genes were downregulated. IPA revealed that MCM10 is involved in the IGF-1 signaling pathway, and calcitriol appears to be a significant upstream regulator of MCM10. Other factors, such as TWIST1 and Stat3, also interact within the MCM10-mediated network. Our data indicate that MCM10 is involved in the regulation of GBM in vitro and may provide more evidence for understanding the molecular mechanisms of this fatal disease.
This is a preview of subscription content, log in to check access.
Access options
Buy single article
Instant access to the full article PDF.
US$ 39.95
Price includes VAT for USA
Subscribe to journal
Immediate online access to all issues from 2019. Subscription will auto renew annually.
US$ 199
This is the net price. Taxes to be calculated in checkout.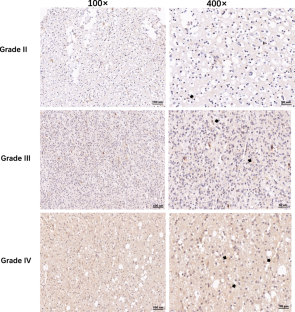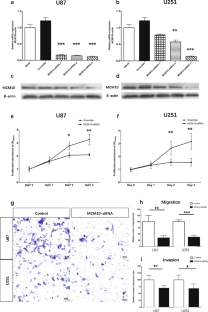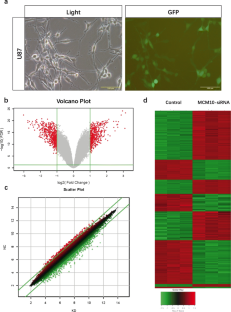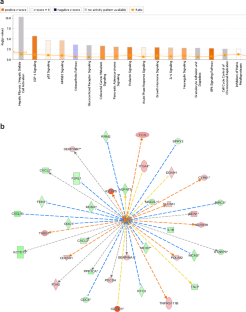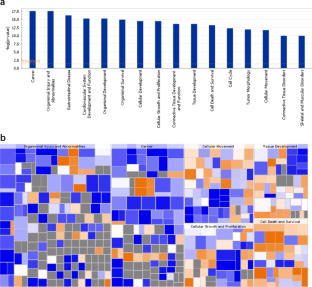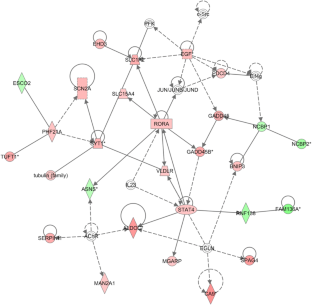 References
Baxley RM, Bielinsky AK (2017) Mcm10: a dynamic scaffold at eukaryotic replication forks. Genes 8. https://doi.org/10.3390/genes8020073

Beer TM, Myrthue A (2004) Calcitriol in cancer treatment: from the lab to the clinic. Mol Cancer Ther 3:373–381

Bielinsky AK (2016) Mcm10: the glue at replication forks. Cell Cycle 15:3024–3025. https://doi.org/10.1080/15384101.2016.1216925

Calvano SE et al (2005) A network-based analysis of systemic inflammation in humans. Nature 437:1032–1037. https://doi.org/10.1038/nature03985

Cui F, Hu J, Ning S, Tan J, Tang H (2018) Overexpression of MCM10 promotes cell proliferation and predicts poor prognosis in prostate cancer. Prostate 78:1299–1310. https://doi.org/10.1002/pros.23703

Das M, Prasad SB, Yadav SS, Govardhan HB, Pandey LK, Singh S, Pradhan S, Narayan G (2013) Over expression of minichromosome maintenance genes is clinically correlated to cervical carcinogenesis. PloS One 8:e69607. https://doi.org/10.1371/journal.pone.0069607

Erkan EP et al (2014) Depletion of minichromosome maintenance protein 7 inhibits glioblastoma multiforme tumor growth in vivo. Oncogene 33:4778–4785. https://doi.org/10.1038/onc.2013.423

Felciano RM, Bavari S, Richards DR, Billaud JN, Warren T, Panchal R, Kramer A (2013) Predictive systems biology approach to broad-spectrum, host-directed drug target discovery in infectious diseases Pacific Symposium on Biocomputing Pacific Symposium on Biocomputing:17–28

Homesley L, Lei M, Kawasaki Y, Sawyer S, Christensen T, Tye BK (2000) Mcm10 and the MCM2-7 complex interact to initiate DNA synthesis and to release replication factors from origins. Genes Dev 14:913–926

Hua C, Zhao G, Li Y, Bie L (2014) Minichromosome maintenance (MCM) family as potential diagnostic and prognostic tumor markers for human gliomas. BMC Cancer 14:526. https://doi.org/10.1186/1471-2407-14-526

Ishimi Y (2018) Regulation of MCM2-7 function. Genes Genet Syst 93:125–133. https://doi.org/10.1266/ggs.18-00026

Izumi M et al (2017) The Mcm2-7-interacting domain of human mini-chromosome maintenance 10 (Mcm10) protein is important for stable chromatin association and origin firing. J Biol Chem 292:13008–13021. https://doi.org/10.1074/jbc.M117.779371

Kang Y, Massague J (2004) Epithelial-mesenchymal transitions: twist in development and metastasis. Cell 118:277–279. https://doi.org/10.1016/j.cell.2004.07.011

Koppen A et al (2007) Direct regulation of the minichromosome maintenance complex by MYCN in neuroblastoma. Eur J Cancer 43:2413–2422. https://doi.org/10.1016/j.ejca.2007.07.024

Li WM et al (2016) MCM10 overexpression implicates adverse prognosis in urothelial carcinoma. Oncotarget 7:77777–77792. https://doi.org/10.18632/oncotarget.12795

Lim HJ, Jeon Y, Jeon CH, Kim JH, Lee H (2011) Targeted disruption of Mcm10 causes defective embryonic cell proliferation and early embryo lethality. Biochim Biophys Acta 1813:1777–1783. https://doi.org/10.1016/j.bbamcr.2011.05.012

Magrassi L, Butti G, Pezzotta S, Infuso L, Milanesi G (1995) Effects of vitamin D and retinoic acid on human glioblastoma cell lines. Acta Neurochir 133:184–190. https://doi.org/10.1007/bf01420072

Mahadevappa R et al (2018) DNA replication licensing protein MCM10 promotes tumor progression and is a novel prognostic biomarker and potential therapeutic target in breast cancer. Cancers:10. https://doi.org/10.3390/cancers10090282

Mikheev AM et al (2018) Targeting TWIST1 through loss of function inhibits tumorigenicity of human glioblastoma. Mol Oncol 12:1188–1202. https://doi.org/10.1002/1878-0261.12320

Omuro A, De Angelis LM (2013) Glioblastoma and other malignant gliomas: a clinical review. JAMA 310:1842–1850. https://doi.org/10.1001/jama.2013.280319

Padmanabhan V, Callas P, Philips G, Trainer TD, Beatty BG (2004) DNA replication regulation protein Mcm7 as a marker of proliferation in prostate cancer. J Clin Pathol 57:1057–1062. https://doi.org/10.1136/jcp.2004.016436

Polo SE, Almouzni G (2005) Histone metabolic pathways and chromatin assembly factors as proliferation markers. Cancer Lett 220:1–9. https://doi.org/10.1016/j.canlet.2004.08.024

Ramnath N et al (2001) MCM2 is an independent predictor of survival in patients with non-small-cell lung cancer. J Clin Oncol 19:4259–4266. https://doi.org/10.1200/jco.2001.19.22.4259

Reubens MC, Biller MD, Bedsole SE, Hopkins LT, Ables ET, Christensen TW (2015) Mcm10 is required for oogenesis and early embryogenesis in Drosophila. Mech Dev 138 Pt 3:291–299. https://doi.org/10.1016/j.mod.2015.09.002

Rousseau A, Mokhtari K, Duyckaerts C (2008) The 2007 WHO classification of tumors of the central nervous system - what has changed? Curr Opin Neurol 21:720–727. https://doi.org/10.1097/Wco.0b013e328312c3a7

Salomon DG et al (2014) Vitamin D receptor expression is associated with improved overall survival in human glioblastoma multiforme. J Neurooncol 118:49–60. https://doi.org/10.1007/s11060-014-1416-3

Schuldiner O, Benvenisty N (2001) A DNA microarray screen for genes involved in c-MYC and N-MYC oncogenesis in human tumors. Oncogene 20:4984–4994. https://doi.org/10.1038/sj.onc.1204459

Sclafani RA, Holzen TM (2007) Cell cycle regulation of DNA replication. Annu Rev Genet 41:237–280. https://doi.org/10.1146/annurev.genet.41.110306.130308

Scott IS, Morris LS, Rushbrook SM, Bird K, Vowler SL, Burnet NG, Coleman N (2005) Immunohistochemical estimation of cell cycle entry and phase distribution in astrocytomas: applications in diagnostic neuropathology. Neuropathol Appl Neurobiol 31:455–466. https://doi.org/10.1111/j.1365-2990.2005.00618.x

Senfter D et al (2017) Overexpression of minichromosome maintenance protein 10 in medulloblastoma and its clinical implications. Pediatri Blood Cancer 64. https://doi.org/10.1002/pbc.26670

Soling A, Sackewitz M, Volkmar M, Schaarschmidt D, Jacob R, Holzhausen HJ, Rainov NG (2005) Minichromosome maintenance protein 3 elicits a cancer-restricted immune response in patients with brain malignancies and is a strong independent predictor of survival in patients with anaplastic astrocytoma. Clin Cancer Res 11:249–258

Stillman B (2005) Origin recognition and the chromosome cycle. FEBS Lett 579:877–884. https://doi.org/10.1016/j.febslet.2004.12.011

Wharton SB, Chan KK, Anderson JR, Stoeber K, Williams GH (2001) Replicative Mcm2 protein as a novel proliferation marker in oligodendrogliomas and its relationship to Ki67 labelling index, histological grade and prognosis. Neuropathol Appl Neurobiol 27:305–313

Yang WD, Wang L (2019) MCM10 facilitates the invaded/migrated potentials of breast cancer cells via Wnt/beta-catenin signaling and is positively interlinked with poor prognosis in breast carcinoma. J Biochem Mol Toxicol 33:e22330. https://doi.org/10.1002/jbt.22330

Yoshida K, Inoue I (2004) Regulation of Geminin and Cdt1 expression by E2F transcription factors. Oncogene 23:3802–3812. https://doi.org/10.1038/sj.onc.1207488
Funding
This work was supported by Beijing Natural Science Foundation (7172041). Peng Kang is supported by Beijing Municipal Administration of Hospitals 'Youth Program' (QMS20180512) and Beijing Program of Excellent Young Investigator (2015000021469G221).
Ethics declarations
Ethical Statement
All procedures performed in studies involving human participants were in accordance with the ethical standards of the institutional and with the 1964 Helsinki declaration and its later amendments or comparable ethical standards.
Informed Consent
Informed consent was obtained from all individual participants included in the study.
Additional information
Publisher's Note
Springer Nature remains neutral with regard to jurisdictional claims in published maps and institutional affiliations.
Electronic supplementary material
About this article
Cite this article
Kang, P., Han, Z., Liao, Z. et al. Knockdown of MCM10 Gene Impairs Glioblastoma Cell Proliferation, Migration and Invasion and the Implications for the Regulation of Tumorigenesis. J Mol Neurosci (2020). https://doi.org/10.1007/s12031-020-01486-y
Received:

Accepted:

Published:
Keywords
MCM10

Glioma

Proliferation

Migration

IPA