Abstract
Neuromyelitis optica spectrum disorder (NMOSD) is an autoimmune disease that preferentially affects central nerve system. Herein, we evaluated changes of CD40L and CD40 mRNA expressions in NMOSD and controls to explore their potential roles in development of NMOSD. The expressions of CD40L and CD40 mRNA in peripheral blood mononuclear cells (PBMCs) from patients with NMOSD and healthy controls were detected by quantitative real-time PCR (qPCR). Kruskal-Wallis tests were used to compare expression levels of CD40L and CD40 mRNA between groups, and Spearman correlation analysis was performed to evaluate correlation between mRNA expression levels and annual relapse rate (ARR) of NMOSD. A total of 71 patients with NMOSD and 42 gender- and age-matched healthy volunteers were recruited in our study. Compared with healthy controls, expression of CD40L mRNA was significantly decreased in untreated patients with NMOSD, and similar trends were observed also in CD40 mRNA expression although the difference was not significant. Other than that, immunosuppressants not only successfully increased CD40L and CD40 mRNA levels during remission of NMOSD, but also corrected the negative correlation between CD40L mRNA expression and annual relapse rate (ARR) of patients NMOSD. These results favored the long-term prognosis of NMOSD patients. Our results suggest that decreased expressions of CD40L mRNA may be involved in developing of NMOSD and the proper CD40L mRNA levels benefit to prevent attacks of NMOSD. Nevertheless, the relationship between protein and mRNA expressions of CD40L and their underlying roles in the pathogenesis of NMOSD remains to be further studied.
This is a preview of subscription content, log in to check access.
Access options
Buy single article
Instant unlimited access to the full article PDF.
US$ 39.95
Price includes VAT for USA
Subscribe to journal
Immediate online access to all issues from 2019. Subscription will auto renew annually.
US$ 199
This is the net price. Taxes to be calculated in checkout.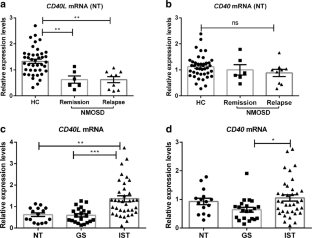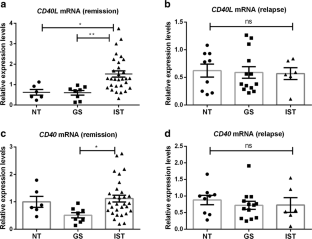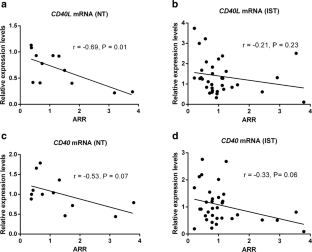 References
Aarts S, Seijkens T, van Dorst K et al (2017) The CD40-CD40L dyad in experimental autoimmune encephalomyelitis and multiple sclerosis. Front Immunol 8:1791

Anstey A, Lear JT (1998) Azathioprine: clinical pharmacology and current indications in autoimmune disorders. BioDrugs 9:33–47

Bennett JL, O'Connor KC, Bar-Or A et al (2015) B lymphocytes in neuromyelitis optica. Neurol Neuroimmunol Neuroinflamm 2:e104

Bishop GA, Hostager BS (2003) The CD40-CD154 interaction in B cell-T cell liaisons. Cytokine Growth Factor Rev 14:297–309

Bruscolini A, Sacchetti M, La Cava M et al (2018) Diagnosis and management of neuromyelitis optica spectrum disorders - an update. Autoimmun Rev 17:195–200

Chen H, Qiu W, Zhang Q et al (2017) Comparisons of the efficacy and tolerability of mycophenolate mofetil and azathioprine as treatments for neuromyelitis optica and neuromyelitis optica spectrum disorder. Eur J Neurol 24:219–226

Cooper GS, Stroehla BC (2003) The epidemiology of autoimmune diseases. Autoimmun Rev 2:119–125

Dos PG, Sato DK, Becker J, Fujihara K (2016) Th17 cells pathways in multiple sclerosis and Neuromyelitis Optica Spectrum disorders: pathophysiological and therapeutic implications. Mediat Inflamm 2016:5314541

Eaton WW, Rose NR, Kalaydjian A, Pedersen MG, Mortensen PB (2007) Epidemiology of autoimmune diseases in Denmark. J Autoimmun 29:1–9

Fan X, Lin C, Han J et al (2015) Follicular helper CD4+ T cells in human Neuroautoimmune diseases and their animal models. Mediat Inflamm 2015:638968

Field J, Shahijanian F, Schibeci S et al (2015) The MS risk allele of CD40 is associated with reduced cell-membrane bound expression in antigen presenting cells: implications for gene function. PLoS One 10:e127080

Foy TM, Aruffo A, Bajorath J, Buhlmann JE, Noelle RJ (1996) Immune regulation by CD40 and its ligand GP39. Annu Rev Immunol 14:591–617

Gerritse K, Laman JD, Noelle RJ, Aruffo A, Ledbetter JA, Boersma WJ, Claassen E (1996) CD40-CD40 ligand interactions in experimental allergic encephalomyelitis and multiple sclerosis. Proc Natl Acad Sci U S A 93:2499–2504

Houzen H, Kondo K, Niino M, Horiuchi K, Takahashi T, Nakashima I, Tanaka K (2017) Prevalence and clinical features of neuromyelitis optica spectrum disorders in northern Japan. Neurology 89:1995–2001

Iezzi G, Sonderegger I, Ampenberger F, Schmitz N, Marsland BJ, Kopf M (2009) CD40-CD40L cross-talk integrates strong antigenic signals and microbial stimuli to induce development of IL-17-producing CD4+ T cells. Proc Natl Acad Sci U S A 106:876–881

Jarius S, Wildemann B (2013) Aquaporin-4 antibodies (NMO-IgG) as a serological marker of neuromyelitis optica: a critical review of the literature. Brain Pathol 23:661–683

Li G, Diogo D, Wu D et al (2013) Human genetics in rheumatoid arthritis guides a high-throughput drug screen of the CD40 signaling pathway. PLoS Genet 9:e1003487

Liu J, Zhang Q, Shi Z, Yang M, Lian Z, Chen H, Feng H, du Q, Zhang Y, Miao X, Li H, Zhou H (2018) Increased expression of the membrane-bound CD40 ligand on peripheral CD4(+) T cells in the acute phase of AQP4-IgG-seropositive neuromyelitis optica spectrum disorders. J Neuroimmunol 325:64–68

Livak KJ, Schmittgen TD (2001) Analysis of relative gene expression data using real-time quantitative PCR and the 2(−Delta Delta C(T)) method. Methods 25:402–408

Masuda H, Mori M, Uchida T, Uzawa A, Ohtani R, Kuwabara S (2017) Soluble CD40 ligand contributes to blood-brain barrier breakdown and central nervous system inflammation in multiple sclerosis and neuromyelitis optica spectrum disorder. J Neuroimmunol 305:102–107

Mealy MA, Wingerchuk DM, Palace J, Greenberg BM, Levy M (2014) Comparison of relapse and treatment failure rates among patients with neuromyelitis optica: multicenter study of treatment efficacy. JAMA Neurol 71:324–330

Pandit L, Asgari N, Apiwattanakul M, Palace J, Paul F, Leite MI, Kleiter I, Chitnis T, GJCF International Clinical Consortium & Biorepository for Neuromyelitis Optica (2015) Demographic and clinical features of neuromyelitis optica: a review. Mult Scler 21:845–853

Ratelade J, Verkman AS (2012) Neuromyelitis optica: aquaporin-4 based pathogenesis mechanisms and new therapies. Int J Biochem Cell Biol 44:1519–1530

Schonbeck U, Mach F, Libby P (2000) CD154 (CD40 ligand). Int J Biochem Cell Biol 32:687–693

Shaffer AR, Young RM, Staudt LM (2012) Pathogenesis of human B cell lymphomas. Annu Rev Immunol 30:565–610

Shi Z, Zhang Q, Chen H, Miao X, Liu J, Lian Z, Feng H, Zhou H (2017) Association of CD40 gene polymorphisms with susceptibility to Neuromyelitis Optica Spectrum disorders. Mol Neurobiol 54:5236–5242

Sospedra M, Martin R (2005) Immunology of multiple sclerosis. Annu Rev Immunol 23:683–747

Stout RD, Suttles J (1996) The many roles of CD40 in cell-mediated inflammatory responses. Immunol Today 17:487–492

Takahashi F, Morita K, Katai K et al (1998) Effects of dietary pi on the renal Na+−dependent pi transporter NaPi-2 in thyroparathyroidectomized rats. Biochem J 333(Pt 1):175–181

Varrin-Doyer M, Spencer CM, Schulze-Topphoff U, Nelson PA, Stroud RM, Cree BA, Zamvil SS (2012) Aquaporin 4-specific T cells in neuromyelitis optica exhibit a Th17 bias and recognize Clostridium ABC transporter. Ann Neurol 72:53–64

Vazgiourakis VM, Zervou MI, Choulaki C, Bertsias G, Melissourgaki M, Yilmaz N, Sidiropoulos P, Plant D, Trouw LA, Toes RE, Kardassis D, Yavuz S, Boumpas DT, Goulielmos GN (2011) A common SNP in the CD40 region is associated with systemic lupus erythematosus and correlates with altered CD40 expression: implications for the pathogenesis. Ann Rheum Dis 70:2184–2190

Wagner M, Sobczynski M, Bilinska M et al (2015) MS risk allele rs1883832T is associated with decreased mRNA expression of CD40. J Mol Neurosci 56:540–545

Wilson R, Makuch M, Kienzler AK, Varley J, Taylor J, Woodhall M, Palace J, Leite MI, Waters P, Irani SR (2018) Condition-dependent generation of aquaporin-4 antibodies from circulating B cells in neuromyelitis optica. Brain 141:1063–1074

Wingerchuk DM, Lennon VA, Lucchinetti CF, Pittock SJ, Weinshenker BG (2007) The spectrum of neuromyelitis optica. Lancet Neurol 6:805–815

Wingerchuk DM, Banwell B, Bennett JL et al (2015) International consensus diagnostic criteria for neuromyelitis optica spectrum disorders. Neurology 85:177–189

Yamamoto K, Itoh M, Okamura T et al (2012) Relative levels of the inflammatory cytokine TNFalpha and the soluble CD40 ligand profile in serum correlate with the thyrotoxic activity of Graves' disease. Thyroid 22:516–521

Yan J, Lei J, Chen L, Deng H, Dong D, Jin T, Liu X, Yuan R, Qiu Y, Ge J, Peng X, Shao J (2018) Human leukocyte antigen F locus adjacent transcript 10 overexpression disturbs WISP1 protein and mRNA expression to promote hepatocellular carcinoma progression. Hepatology 68:2268–2284

Zeka B, Hastermann M, Hochmeister S, Kögl N, Kaufmann N, Schanda K, Mader S, Misu T, Rommer P, Fujihara K, Illes Z, Leutmezer F, Sato DK, Nakashima I, Reindl M, Lassmann H, Bradl M (2015) Highly encephalitogenic aquaporin 4-specific T cells and NMO-IgG jointly orchestrate lesion location and tissue damage in the CNS. Acta Neuropathol 130:783–798

Zeka B, Hastermann M, Kaufmann N et al (2016) Aquaporin 4-specific T cells and NMO-IgG cause primary retinal damage in experimental NMO/SD. Acta Neuropathol Commun 4:82

Zwerner J, Fiorentino D (2007) Mycophenolate mofetil. Dermatol Ther 20:229–238
Acknowledgments
The authors thank Dr. Sisi Wu and Miss Xuemei Chen (West China Hospital, Sichuan University) for their technical support in qPCR. We are also grateful to patients with NMOSD and healthy volunteers in China for their participations and supports.
Funding Information
The work was funded by the National Key Basic Research and Development Program of China (No. 2017YFC0907704) and the Fundamental Research Funds for the Central Universities of China (No. 2017SCU11049).
Ethics declarations
Conflict of Interest
The authors declare that they have no conflicts of interest.
Additional information
Publisher's Note
Springer Nature remains neutral with regard to jurisdictional claims in published maps and institutional affiliations.
Electronic supplementary material
About this article
Cite this article
Shi, Z., Feng, L., Lian, Z. et al. Decreased mRNA Expressions of CD40L in Patients with Neuromyelitis Optica Spectrum Disorder. J Mol Neurosci (2020). https://doi.org/10.1007/s12031-019-01467-w
Received:

Accepted:

Published:
Keywords
Neuromyelitis optica spectrum disorder

NMOSD

CD40L
CD40

mRNA

Immunosuppressants