Abstract
The disruption of the blood–brain barrier (BBB) and the consequent brain edema are major contributors to the pathogenesis of cerebral ischemia/reperfusion injury. RhoA is generally thought to play a crucial role in the process of BBB disruption and participate in the signaling pathways emanating from TLR4. However, it remains unverified the regulatory role of TLR4 in the RhoA/ROCK pathway in cerebral I/R injury and its effects on the BBB as well. The present study probes into the protective effect of ANF on the BBB after cerebral I/R injury and the possible mechanisms. Focal cerebral ischemia was induced by 120 min of transient middle cerebral artery occlusion (MCAO). ANF (1, 2, 4 μg/kg) was achieved by intravenous injection after 120 min of MCAO followed by 1, 24, 48, and 72 h reperfusion. Evans blue extravasation, brain water content, RhoA activity, and the expressions of TLR4, ROCK1/2, p-MLC2, MMP-2/9, ZO-1, occludin, and claudin-5 protein in rat brain were evaluated 72 h after reperfusion. ANF could significantly reduce the Evans blue extravasation and water content in the ipsilateral hemisphere and obviously increase the occludin, claudin-5, and ZO-1 expression after cerebral I/R injury. Furthermore, cerebral I/R injury induced apparently increased expression of TLR4, RhoA-GTP, ROCK1/2, p-MLC2, and MMMP-2/9, which, however, could be remarkably alleviated by ANF intervention. Taken together, the TLR4/RhoA/ROCK signaling pathway is implicated in BBB breakdown after cerebral I/R injury, and ANF preserves BBB integrity, probably via inhibiting the TLR4/RhoA/ROCK signaling pathway.
This is a preview of subscription content, log in to check access.
Access options
Buy single article
Instant unlimited access to the full article PDF.
US$ 39.95
Price includes VAT for USA
Subscribe to journal
Immediate online access to all issues from 2019. Subscription will auto renew annually.
US$ 199
This is the net price. Taxes to be calculated in checkout.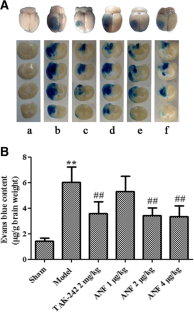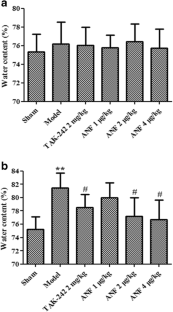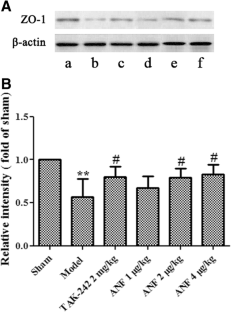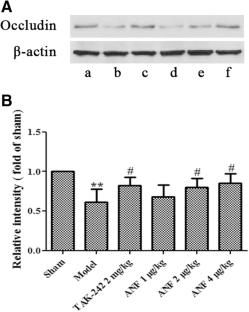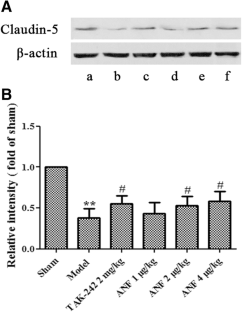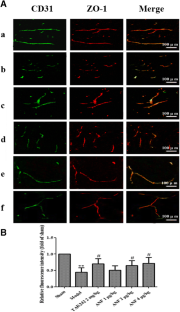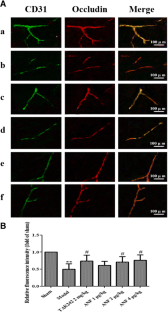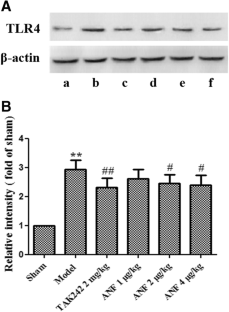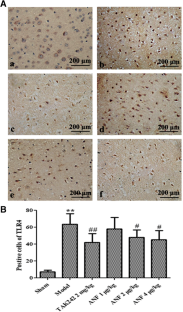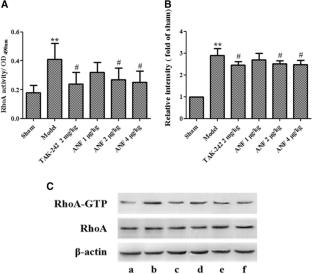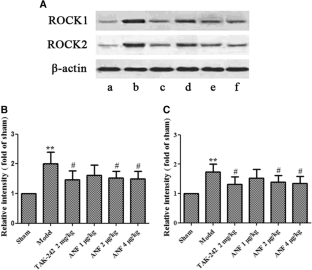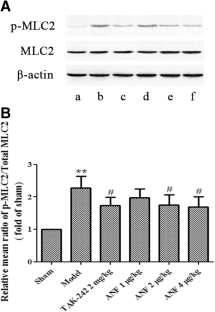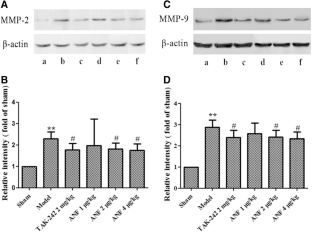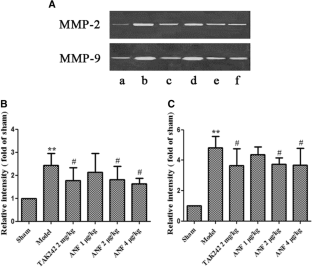 References
Abdullah Z, Bayraktutan U (2016) Suppression of PKC-α attenuates TNF-α-evoked cerebral barrier breakdown via regulations of MMP-2 and plasminogen-plasmin system. Biochim Biophys Acta 1862:1354–1366

Arbibe L, Mira JP, Teusch N, Kline L, Guha M, Mackman N, Godowski PJ, Ulevitch RJ, Knaus UG (2000) Toll-like receptor 2-mediated NF-κB activation requires a Rac1-dependent pathway. Nat Immunol 1:533–540

Asahi M, Wang X, Mori T, Sumii T, Jung JC, Moskowitz MA, Fini ME, Lo EH (2001) Effects of matrix metalloproteinase-9 gene knock-out on the proteolysis of blood-brain barrier and white matter components after cerebral ischemia. J Neurosci 21:7724–7732

Aslam M, Schluter KD, Rohrbach S, Rafiq A, Nazli S, Piper HM, Noll T, Schulz R, Gunduz D (2013) Hypoxia-reoxygenation-induced endothelial barrier failure: role of RhoA, Rac1 and myosin light chain kinase. J Physiol 591:461–473

Assunção R, Alvito P, Kleiveland CR, Lea TE (2016) Characterization of in vitro effects of patulin on intestinal epithelial and immune cells. Toxicol Lett 250-251:47–56

Berndt P, Winkler L, Cording J, Breitkreuz-Korff O, Rex A, Dithmer S, Rausch V, Blasig R, Richter M, Sporbert A, Wolburg H, Blasig IE, Haseloff RF (2019) Tight junction proteins at the blood-brain barrier: far more than claudin-5. Cell Mol Life Sci 76:1987–2002

Borlongan CV, Rodrigues AA Jr , Oliveira MC (2012) Breaking the barrier in stroke: what should we know? A mini-review. Curr Pharm Des 18:3615–3623

Cai J, Wei J, Li S, Suber T, Zhao J (2017) AM966, an antagonist of lysophosphatidic acid receptor 1, increases lung microvascular endothelial permeability through activation of Rho signaling pathway and phosphorylation of VE-cadherin. Mediat Inflamm 2017:6893560

Chen LY, Zuraw BL, Liu FT, Huang S, Pan ZK (2002) IL-1 receptor-associated kinase and low molecular weight GTPase RhoA signal molecules are required for bacterial lipopolysaccharide-induced cytokine gene transcription. J Immunol 169:3934–3939

Chen C, Li T, Zhao Y, Qian Y, Li X, Dai X, Huang D, Pan T, Zhou L (2018a) Platelet glycoprotein receptor Ib blockade ameliorates experimental cerebral ischemia-reperfusion injury by strengthening the blood-brain barrier function and anti-thrombo-inflammatory property. Brain Behav Immun 69:255–263

Chen L, Yang Q, Ding R, Liu D, Chen Z (2018b) Carotid thickness and atherosclerotic plaque stability, serum inflammation, serum MMP-2 and MMP-9 were associated with acute cerebral infarction. Exp Ther Med 16:5253–5257

ElAli A, Doeppner TR, Zechariah A, Hermann DM (2011) Increased blood-brain barrier permeability and brain edema after focal cerebral ischemia induced by hyperlipidemia: role of lipid peroxidation and calpain-1/2, matrix metalloproteinase-2/9, and RhoA overactivation. Stroke 42:3238–3244

Fujii M, Duris K, Altay O, Soejima Y, Sherchan P, Zhang JH (2012) Inhibition of Rho kinase by hydroxyfasudil attenuates brain edema after subarachnoid hemorrhage in rats. Neurochem Int 60:327–333

Ganguly R, Schram K, Fang X, Kim M, Rodrigues B, Thong FS, Sweeney G (2011) Adiponectin increases LPL activity via RhoA/ROCK-mediated actin remodelling in adult rat cardiomyocytes. Endocrinology 152:247–254

Gonçalves J, Leitão RA, Higuera-Matas A, Assis MA, Coria SM, Fontes-Ribeiro C, Ambrosio E, Silva AP (2016) Extended-access methamphetamine self-administration elicits neuroinflammatory response along with blood-brain barrier breakdown. Brain Behav Immun 62:306–317

Guo F, Tang J, Zhou Z, Dou Y, Van Lonkhuyzen D, Gao C, Huan J (2012) GEF-H1-RhoA signaling pathway mediates LPS-induced NF-κB transactivation and IL-8 synthesis in endothelial cells. Mol Immunol 50:98–107

Horng S, Therattil A, Moyon S, Gordon A, Kim K, Argaw AT, Hara Y, Mariani JN, Sawai S, Flodby P, Crandall ED, Borok Z, Sofroniew MV, Chapouly C, John GR (2017) Astrocytic tight junctions control inflammatory CNS lesion pathogenesis. J Clin Invest 127:3136–3151

Hwang JY, Aromolaran KA, Zukin RS (2013) Epigenetic mechanisms in stroke and epilepsy. Neuropsychopharmacology 38:167–182

Ishiguro M, Kawasaki K, Suzuki Y, Ishizuka F, Mishiro K, Egashira Y, Ikegaki I (2012) A Rho kinase (ROCK) inhibitor, fasudil, prevents matrix metalloproteinase-9-related hemorrhagic transformation in mice treated with tissue plasminogen activator. Neuroscience 18:302–312

Khatri R, Mckinney AM, Swenson B, Janardhan V (2012) Blood-brain barrier, reperfusion injury, and hemorrhagic transformation in acute ischemic stroke. Neurology 79:S52–S57

Kim MJ, Lee SY, Hwang JY, Kim H, Ha KT, Choi BT, Baek JU (2018) Pretreatment with Shuanghe-Tang extract attenuates postischemic brain injury and edema in a mouse model of stroke: an analysis of medicinal herbs listed in Dongui Bogam. Oxidative Med Cell Longev 2018:1–14

Lei X, Reheman A, Hou Y, Zhou H, Wang Y, Marshall AH, Liang C, Dai X, Li BX, Vanhoorelbeke K, Ni H (2014) Anfibatide, a novel GPIb complex antagonist, inhibits platelet adhesion and thrombus formation in vitro and in vivo in murine models of thrombosis. Thromb Haemost 111:279–289

Li W, Chen Z, Chin I, Chen Z, Dai H (2018) The role of VE-cadherin in blood-brain barrier integrity under central nervous system pathological conditions. Curr Neuropharmacol 16:1375–1384

Li F, Yang B, Li T, Gong X, Zhou F, Hu Z (2019) HSPB8 over-expression prevents disruption of blood-brain barrier by promoting autophagic flux after cerebral ischemia/reperfusion injury. J Neurochem 148:97–113

Liu K, Li Z, Wu T, Ding S (2011) Role of Rho kinase in microvascular damage following cerebral ischemia reperfusion in rats. Int J Mol Sci 12:1222–1231

Liu T, Zhang T, Yu H, Shen H, Xia W (2014) Adjudin protects against cerebral ischemia reperfusion injury by inhibition of neuroinflammation and blood-brain barrier disruption. J Neuroinflammation 14:107

Liu X, Su P, Meng S, Aschner M, Cao Y, Luo W, Zheng G, Liu M (2017) Role of matrix metalloproteinase-2/9 (MMP2/9) in lead-induced changes in an in vitro blood-brain barrier model. Int J Biol Sci 13:1351–1360

Luo SY, Li R, Le ZY, Li QL, Chen ZW (2017) Anfibatide protects against rat cerebral ischemia/reperfusion injury via TLR4/JNK/caspase-3 pathway. Eur J Pharmacol 15:127–137

Lv J, Hu W, Yang Z, Li T, Jiang S, Ma Z, Chen F (2018) Focusing on claudin-5: a promising candidate in the regulation of BBB to treat ischemic stroke. Prog Neurobiol 161:79–96

Nalamolu KR, Smith NJ, Chelluboina B, Klopfenstein JD, Pinson DM, Wang DZ, Vemuganti R (2018) Prevention of the severity of post-ischemic inflammation and brain damage by simultaneous knockdown of toll-like receptors 2 and 4. Neuroscience 1:82–91

Neuhaus W, Piontek A, Protze J, Eichner M, Mahringer A, Subileau EA, Lee IM (2018) Reversible opening of the blood-brain barrier by claudin-5-binding variants of Clostridium perfringens enterotoxin's claudin-binding domain. Biomaterials 161:129–143

Park JC, Baik SH, Han SH, Cho HJ, Choi H, Kim HJ, Kim DK, Mook-Jung I (2017) Annexin A1 restores Aβ1-42-induced blood-brain barrier disruption through the inhibition of RhoA-ROCK signaling pathway. Aging Cell 16:149–161

Rempe RG, Hartz AMS, Bauer B (2016) Matrix metalloproteinases in the brain and blood–brain barrier: versatile breakers and makers. J Cereb Blood Flow Metab 36:1481–1507

Ren C, Li N, Wang B, Yang Y, Gao J, Li S, Ding Y (2015) Limb ischemic perconditioning attenuates blood-brain barrier disruption by inhibiting activity of MMP-9 and occludin degradation after focal cerebral ischemia. Aging Dis 6:406–417

Rosenberg GA, Estrada EY, Dencoff JE (1998) Matrix metalloproteinases and timps are associated with blood-brain barrier opening after reperfusion in rat brain. Stroke 29:2189–2195

Sapojnikova N, Kartvelishvili T, Asatiani N, Zinkevich V, Kalandadze I, Gugutsidze D, Shakarishvili R, Tsiskaridze A (2014) Correlation between MMP-9 and extracellular cytokine HMGB1 in prediction of human ischemic stroke outcome. Biochim Biophys Acta 1842:1379–1384

Shi Y, Zhang L, Pu H, Mao L, Hu X, Jiang X, Xu N, Stetler RA (2016) Rapid endothelial cytoskeletal reorganization enables early blood-brain barrier disruption and long-term ischaemic reperfusion brain injury. Nat Commun 7:10523

Tan H, Zhong Y, Shen X, Cheng Y, Jiao Q, Deng L (2012) Erythropoietin promotes axonalregeneration after optic nerve crush in vivo by inhibition of RhoA/ROCK signaling pathway. Neuropharmacology 63:1182–1190

Teusch N, Lombardo E, Eddleston J, Knaus UG (2004) The low molecular weight GTPase RhoA and atypical protein kinaseare required for TLR2-mediated gene transcription. J Immunol 173:507–514

Toyama K, Spin JM, Deng AC, Huang TT, Wei K, Wagenhäuser MU, Yoshino T, Nguyen H (2018) MicroRNA-mediated therapy modulating blood-brain barrier disruption improves vascular cognitive impairment. Arterioscler Thromb Vasc Biol 38:1392–1406

Wang L, Fan W, Cai P, Fan M, Zhu X, Dai Y, Sun C (2013) Recombinant ADAMTS13 reduces tissue plasminogen activator-induced hemorrhage after stroke in mice. Ann Neurol 73:189–198

Wang J, Li C, Chen T, Fang Y, Shi X, Pang T, Zhang L, Liao H (2016) Nafamostat mesilate protects against acute cerebral ischemia via blood-brain barrier protection. Neuropharmacology 105:398–410

Wang LC, Wu CL, Cheng YY, Tsai KJ (2017) Deletion of nuclear localizing signal attenuates proinflammatory activity of prothymosin-alpha and enhances its neuroprotective effect on transient ischemic stroke. Mol Neurobiol 54:582–593

Wang H, Li T, Zhao L, Sun M, Jian Y, Liu J, Zhang Y, Li Y, Dang M, Zhang G (2019) Dynamic effects of ioversol on the permeability of the blood-brain barrier and the expression of ZO-1/occludin in rats. J Mol Neurosci 68:295–303

Wu F, Chen Z, Tang C, Zhang J, Cheng L, Zuo H, Zhang H (2017a) Acid fibroblast growth factor preserves blood-brain barrier integrity by activating the PI3K-Akt-Rac1 pathway and inhibiting RhoA following traumatic brain injury. Am J Transl Res 9:910–925

Wu H, Wu T, Han X, Wan J, Jiang C, Chen W, Yang Q (2017b) Cerebroprotection by the neuronal PGE2 receptor EP2 after intracerebral hemorrhage in middle-aged mice. J Cereb Blood Flow Metab 37:39–51

Xu X, Wen Z, Zhao N, Xu X, Wang F, Gao J, Jiang Y (2017) MicroRNA-1906, a novel regulator of toll-like receptor 4, ameliorates ischemic injury after experimental stroke in mice. J Neurosci 37:10498–10515

Zhai L, Liu M, Wang T, Zhang H, Li S, Guo Y (2017) Picroside II protects the blood-brain barrier by inhibiting the oxidative signaling pathway in cerebral ischemia-reperfusion injury. PLoS One 12:e0174414

Zhang S, An Q, Wang T, Gao S, Zhou G (2018) Autophagy- and MMP-2/9-mediated reduction and redistribution of ZO-1 contribute to hyperglycemia-increased blood-brain barrier permeability early reperfusion in stroke. Neuroscience 377:126–137

Zhao J, Zhang X, Dong L, Wen Y, Zheng X, Zhang C, Chen R (2015) Cinnamaldehyde inhibits inflammation and brain damage in a mouse model of permanent cerebral ischaemia. Br J Pharmacol 172:5009–5023

Zheng L, Mao Y, Abdelgawwad MS, Kocher NK, Li M, Dai X, Li B, Zheng XL (2016) Therapeutic efficacy of the platelet glycoprotein Ib antagonist anfibatide in murine models of thrombotic thrombocytopenic purpura. Blood Adv 29:75–83
Ethics declarations
Animal care and experimental protocols were approved by the Anhui Medical University Animal Care and Use Committee, in accordance with the Guide for the Care and Use of Laboratory Animals.
Conflict of Interest
The authors declare that they have no conflicts of interest.
Additional information
Publisher's Note
Springer Nature remains neutral with regard to jurisdictional claims in published maps and institutional affiliations.
About this article
Cite this article
Gong, P., Li, R., Jia, H. et al. Anfibatide Preserves Blood–Brain Barrier Integrity by Inhibiting TLR4/RhoA/ROCK Pathway After Cerebral Ischemia/Reperfusion Injury in Rat. J Mol Neurosci 70, 71–83 (2020) doi:10.1007/s12031-019-01402-z
Received:

Accepted:

Published:

Issue Date:
Keywords
Ischemic stroke

Blood–brain barrier

Toll-like receptor 4

RhoA

Matrix metalloproteinases