Abstract
Cohen syndrome is a rare autosomal recessive disorder characterized by hypotonia, obesity, developmental delay, mental retardation, and facial, oral, ophthalmic, and limb deformities. Mutations in VPS13B have been found to be responsible for this disorder. In the current report, we have assessed three Iranian families with developmental delay and skeletal deformities. Whole exome sequencing of the affected probands led to identification of the underlying genetic cause in these families. Three mutations were found in VPS13B gene. The detected mutations were c.4608_4609del (p.E1537Rfs*7), c.11486dupG (p.L3830Tfs*13), and c.10360dupC (p.L3454fs*7). The current study broadens the mutation spectrum of VPS13B gene and demonstrates different phenotypic features from classic Cohen syndrome. Moreover, the provided data can be used in genetic counseling and prenatal diagnosis of Iranian patients.
This is a preview of subscription content, log in to check access.
Access options
Buy single article
Instant access to the full article PDF.
US$ 39.95
Price includes VAT for USA
Subscribe to journal
Immediate online access to all issues from 2019. Subscription will auto renew annually.
US$ 199
This is the net price. Taxes to be calculated in checkout.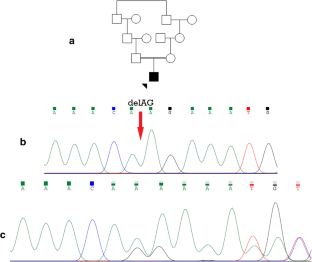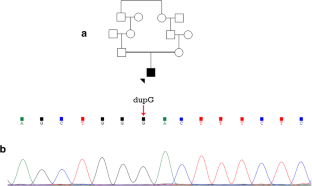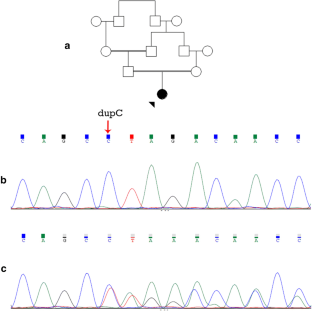 References
Carey JC, Hall BD (1978 Aug) Confirmation of the Cohen syndrome. J Pediatr 93(2):239–244

Chandler KE, Kidd A, Al-Gazali L, Kolehmainen J, Lehesjoki AE, Black GC et al (2003) Diagnostic criteria, clinical characteristics, and natural history of Cohen syndrome. J Med Genet 40(4):233–241

Cohen MM Jr, Hall BD, Smith DW, Graham CB, Lampert KJ (1973) A new syndrome with hypotonia, obesity, mental deficiency, and facial, oral, ocular, and limb anomalies. J Pediatr 83(2):280–284

Duplomb L, Duvet S, Picot D, Jego G, El Chehadeh-Djebbar S, Marle N et al (2014) Cohen syndrome is associated with major glycosylation defects. Hum Mol Genet 23(9):2391–2399

Kolehmainen J, Black GC, Saarinen A, Chandler K, Clayton-Smith J, Traskelin AL et al (2003) Cohen syndrome is caused by mutations in a novel gene, COH1, encoding a transmembrane protein with a presumed role in vesicle-mediated sorting and intracellular protein transport. Am J Hum Genet 72(6):1359–1369

Massa G, Dooms L, Vanderschueren-Lodeweyckx M (1991) Growth hormone deficiency in a girl with the Cohen syndrome. J Med Genet 28(1):48–50

Norio R (2003) Finnish disease heritage I: characteristics, causes, background. Human genetics 112(5–6):441–456

Richards S, Aziz N, Bale S, Bick D, Das S, Gastier-Foster J et al (2015) Standards and guidelines for the interpretation of sequence variants: a joint consensus recommendation of the American College of Medical Genetics and Genomics and the Association for Molecular Pathology. Genet Med 17(5):405–424

Seifert W, Holder-Espinasse M, Kuhnisch J, Kahrizi K, Tzschach A, Garshasbi M et al (2009) Expanded mutational spectrum in Cohen syndrome, tissue expression, and transcript variants of COH1. Hum Mutat 30(2):E404–E420
Additional information
Publisher's Note
Springer Nature remains neutral with regard to jurisdictional claims in published maps and institutional affiliations.
Electronic Supplementary Material
About this article
Cite this article
Alipour, N., Salehpour, S., Tonekaboni, S.H. et al. Mutations in the VPS13B Gene in Iranian Patients with Different Phenotypes of Cohen Syndrome. J Mol Neurosci 70, 21–25 (2020). https://doi.org/10.1007/s12031-019-01394-w
Received:

Accepted:

Published:

Issue Date:
Keywords
VPS13B

Cohen syndrome

Mutation

Mental retardation