Abstract
Autosomal recessive optic neuropathies (IONs) are extremely rare disorders affecting retinal ganglion cells and the nervous system. RTN4IP1 has recently been identified as the third known gene associated with the autosomal recessive ION optic atrophy 10 (OPA10). Patients with RTN4IP1 mutations show early-onset optic neuropathy that can be followed by additional neurological symptoms such as seizures, ataxia, mental retardation, or even severe encephalopathy. Here, we report two siblings from a Chinese family who presented with early-onset optic neuropathy, epilepsy, and mild intellectual disability. Using whole exome sequencing combined with Sanger sequencing, we identified novel compound heterozygous RTN4IP1 mutations (c.646G > A, p.G216R and c.1162C > T, p.R388X) which both co-segregated with the disease phenotype and were predicted to be disease-causing by prediction software. An in vitro functional study in urine cells obtained from one of the patients revealed low expression of the RTN4IP1 protein. Our results identify novel compound heterozygous mutations in RTN4IP1 which are associated with OPA10, highlighting the frequency of RTN4IP1 mutations in human autosomal recessive IONs. To our knowledge, this is the first report of RTN4IP1 carriers from China.
This is a preview of subscription content, log in to check access.
Access options
Buy single article
Instant unlimited access to the full article PDF.
US$ 39.95
Price includes VAT for USA
Subscribe to journal
Immediate online access to all issues from 2019. Subscription will auto renew annually.
US$ 199
This is the net price. Taxes to be calculated in checkout.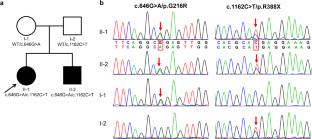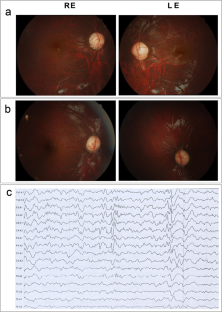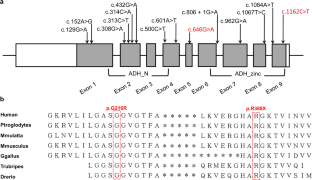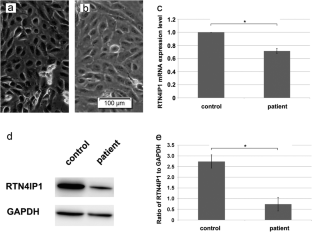 References
Almind GJ, Ek J, Rosenberg T, Eiberg H, Larsen M, Lucamp L, Brondum-Nielsen K, Gronskov K (2012) Dominant optic atrophy in Denmark - report of 15 novel mutations in OPA1, using a strategy with a detection rate of 90%. BMC Med Genet 13:65

Angebault C, Guichet PO, Talmat-Amar Y, Charif M, Gerber S, Fares-Taie L, Gueguen N, Halloy F, Moore D, Amati-Bonneau P, Manes G, Hebrard M, Bocquet B, Quiles M, Piro-Megy C, Teigell M, Delettre C, Rossel M, Meunier I, Preising M, Lorenz B, Carelli V, Chinnery PF, Yu-Wai-Man P, Kaplan J, Roubertie A, Barakat A, Bonneau D, Reynier P, Rozet JM, Bomont P, Hamel CP, Lenaers G (2015) Recessive mutations in RTN4IP1 cause isolated and syndromic optic neuropathies. Am J Hum Genet 97(5):754–760

Charif M, Nasca A, Thompson K, Gerber S, Makowski C, Mazaheri N, Bris C, Goudenege D, Legati A, Maroofian R, Shariati G, Lamantea E, Hopton S, Ardissone A, Moroni I, Giannotta M, Siegel C, Strom TM, Prokisch H, Vignal-Clermont C, Derrien S, Zanlonghi X, Kaplan J, Hamel CP, Leruez S, Procaccio V, Bonneau D, Reynier P, White FE, Hardy SA, Barbosa IA, Simpson MA, Vara R, Perdomo Trujillo Y, Galehdari H, Deshpande C, Haack TB, Rozet JM, Taylor RW, Ghezzi D, Amati-Bonneau P, Lenaers G (2018) Neurologic phenotypes associated with mutations in RTN4IP1 (OPA10) in children and young adults. JAMA Neurol 75(1):105–113

Chun BY, Rizzo JF 3rd (2016) Dominant optic atrophy: updates on the pathophysiology and clinical manifestations of the optic atrophy 1 mutation. Curr Opin Ophthalmol 27(6):475–480

Cohn AC, Toomes C, Potter C, Towns KV, Hewitt AW, Inglehearn CF, Craig JE, Mackey DA (2007) Autosomal dominant optic atrophy: penetrance and expressivity in patients with OPA1 mutations. Am J Ophthalmol 143(4):656–662

Desir J, Coppieters F, Van Regemorter N, De Baere E, Abramowicz M, Cordonnier M (2012) TMEM126A mutation in a Moroccan family with autosomal recessive optic atrophy. Mol Vis 18:1849–1857

Hanein S, Perrault I, Roche O, Gerber S, Khadom N, Rio M, Boddaert N, Jean-Pierre M, Brahimi N, Serre V, Chretien D, Delphin N, Fares-Taie L, Lachheb S, Rotig A, Meire F, Munnich A, Dufier JL, Kaplan J, Rozet JM (2009) TMEM126A, encoding a mitochondrial protein, is mutated in autosomal-recessive nonsyndromic optic atrophy. Am J Hum Genet 84(4):493–498

Hartmann B, Wai T, Hu H, MacVicar T, Musante L, Fischer-Zirnsak B, Stenzel W, Graf R, van den Heuvel L, Ropers HH, Wienker TF, Hubner C, Langer T, Kaindl AM (2016) Homozygous YME1L1 mutation causes mitochondriopathy with optic atrophy and mitochondrial network fragmentation. eLife,5,(2016-07-28), 2016, 5.

Hu WH, Hausmann ON, Yan MS, Walters WM, Wong PK, Bethea JR (2002) Identification and characterization of a novel Nogo-interacting mitochondrial protein (NIMP). J Neurochem 81(1):36–45

Jurkute N, Majander A, Bowman R, Votruba M, Abbs S, Acheson J, Lenaers G, Amati-Bonneau P, Moosajee M, Arno G, Yu-Wai-Man P (2019) Clinical utility gene card for: inherited optic neuropathies including next-generation sequencing-based approaches. Eur J Hum Genet 27(3):494-502

Lenaers G, Hamel C, Delettre C, Amati-Bonneau P, Procaccio V, Bonneau D, Reynier P, Milea D (2012) Dominant optic atrophy. Orphanet J Rare Dis 7:46

Metodiev MD, Gerber S, Hubert L, Delahodde A, Chretien D, Gerard X, Amati-Bonneau P, Giacomotto MC, Boddaert N, Kaminska A, Desguerre I, Amiel J, Rio M, Kaplan J, Munnich A, Rotig A, Rozet JM, Besmond C (2014) Mutations in the tricarboxylic acid cycle enzyme, aconitase 2, cause either isolated or syndromic optic neuropathy with encephalopathy and cerebellar atrophy. J Med Genet 51(12):834–838

Meyer E, Michaelides M, Tee LJ, Robson AG, Rahman F, Pasha S, Luxon LM, Moore AT, Maher ER (2010) Nonsense mutation in TMEM126A causing autosomal recessive optic atrophy and auditory neuropathy. Mol Vis 16:650–664

Okamoto N, Miya F, Hatsukawa Y, Suzuki Y, Kawato K, Yamamoto Y, Tsunoda T, Kato M, Saitoh S, Yamasaki M, Kanemura Y, Kosaki K (2017) Siblings with optic neuropathy and RTN4IP1 mutation. J Hum Genet 62(10):927–929

Spiegel R, Pines O, Ta-Shma A, Burak E, Shaag A, Halvardson J, Edvardson S, Mahajna M, Zenvirt S, Saada A, Shalev S, Feuk L, Elpeleg O (2012) Infantile cerebellar-retinal degeneration associated with a mutation in mitochondrial aconitase, ACO2. Am J Hum Genet 90(3):518–523

Srivastava S, Gubbels CS, Dies K, Fulton A, Yu T, Sahin M (2017) Increased survival and partly preserved cognition in a patient with ACO2-related disease secondary to a novel variant. J Child Neurol 32(9):840–845

Yu-Wai-Man P (2015) Therapeutic approaches to inherited optic neuropathies. Semin Neurol 35(5):578–586

Yu-Wai-Man P, Chinnery PF (2013) Dominant optic atrophy: novel OPA1 mutations and revised prevalence estimates. Ophthalmology 120(8):1712–1712 e1711

Yu-Wai-Man P, Griffiths PG, Brown DT, Howell N, Turnbull DM, Chinnery PF (2003) The epidemiology of Leber hereditary optic neuropathy in the north east of England. Am J Hum Genet 72(2):333–339

Yu-Wai-Man P, Votruba M, Moore AT, Chinnery PF (2014) Treatment strategies for inherited optic neuropathies: past, present and future. Eye (Lond) 28(5):521–537

Yu-Wai-Man P, Votruba M, Burte F, La Morgia C, Barboni P, Carelli V (2016) A neurodegenerative perspective on mitochondrial optic neuropathies. Acta Neuropathol 132(6):789–806

Zhang QJ, He J, Ni W, Lin X, Yao XP, Lin MT, Murong SX, Wang N, Chen WJ (2013) Noninvasive urine-derived cell lines derived from neurological genetic patients. Neuroreport 24(4):161–166

Zhang QJ, Lin X, Li JJ, Lu YQ, Guo XX, Dong EL, Zhao M, He J, Wang N, Chen WJ (2017) Application of urine cells in drug intervention for spinal muscular atrophy. Exp Ther Med 14(3):1993–1998
Acknowledgments
We thank Sarah Williams, PhD, from Liwen Bianji, Edanz Group China (www.liwenbianji.cn), for editing the English text of a draft of this manuscript.
Funding
This work was supported by the National Natural Science Foundation of China (grant nos. 81701133, 81322017, 81771230, and U1505222), the Joint Funds for the Innovation of Science and Technology, Fujian Province (2017Y9087), and the National Key Clinical Specialty Discipline Construction Program and Key Clinical Specialty Discipline Construction Program of Fujian.
Ethics declarations
Conflict of Interest
The authors declare that they have no conflict of interest.
Ethical Approval
All procedures performed in studies involving human participants were in accordance with the ethical standards of the institutional and/or national research committee and with the 1964 Helsinki declaration and its later amendments or comparable ethical standards. This article does not contain any studies with animals performed by any of the authors.
Informed Consent
Informed consent was obtained from the parents of the children.
Additional information
Publisher's Note
Springer Nature remains neutral with regard to jurisdictional claims in published maps and institutional affiliations.
Electronic Supplementary Material
About this article
Cite this article
Zou, X., Guo, X., Su, H. et al. Whole Exome Sequencing Identifies Two Novel Mutations in the Reticulon 4–Interacting Protein 1 Gene in a Chinese Family with Autosomal Recessive Optic Neuropathies. J Mol Neurosci 68, 640–646 (2019). https://doi.org/10.1007/s12031-019-01319-7
Received:

Accepted:

Published:

Issue Date:
Keywords
Inherited optic neuropathies

OPA10

RTN4IP1

Optic atrophy

Epilepsy