Abstract
Cannabidiol (CBD) exhibits neuroprotective properties in many experimental systems. However, development of CBD as a drug has been confounded by the following: (1) low potency; (2) a large number of molecular targets; (3) marginal pharmacokinetic properties; and (4) designation as a schedule 1 controlled substance. The present work compared the properties of CBD with a novel molecule (KLS-13019) that has structural similarities to CBD. The design strategy for KLS-13019 was to increase hydrophilicity while optimizing neuroprotective potency against oxidative stress toxicity relevant to hepatic encephalopathy. The protective responses of CBD and KLS-13019 were compared in dissociated rat hippocampal cultures co-treated with toxic levels of ethanol and ammonium acetate. This comparison revealed that KLS-13019 was 31-fold more potent than CBD in preventing neuronal toxicity from the combined toxin treatment, while both compounds exhibited complete protective efficacy back to control values. In addition, treatment with KLS-13019 alone was 5-fold less toxic (TC50) than CBD. Previous studies suggested that CBD targeted the Na+-Ca2+ exchanger in mitochondria (mNCX) to regulate intracellular calcium levels, an important determinant of neuronal survival. After treatment with an inhibitor of mNCX (CGP-37157), no detectable neuroprotection from ethanol toxicity was observed for either CBD or KLS-13019. Furthermore, AM630 (CB2 antagonist) significantly attenuated CBD-mediated neuroprotection, while having no detectable effect on neuroprotection from KLS-13019. Our studies indicated KLS-13019 was more potent and less toxic than CBD. Both compounds can act through mNCX. KLS-13019 may provide an alternative to CBD as a therapeutic candidate to treat diseases associated with oxidative stress.
This is a preview of subscription content, log in to check access.
Access options
Buy single article
Instant unlimited access to the full article PDF.
US$ 39.95
Price includes VAT for USA
Subscribe to journal
Immediate online access to all issues from 2019. Subscription will auto renew annually.
US$ 199
This is the net price. Taxes to be calculated in checkout.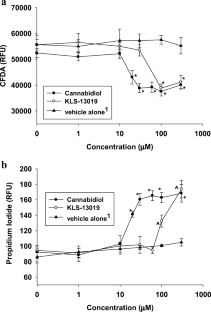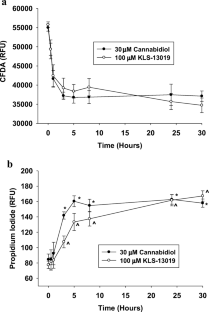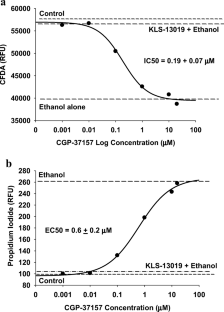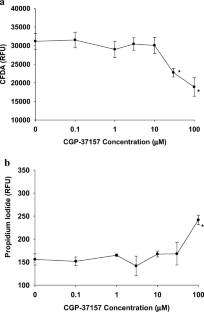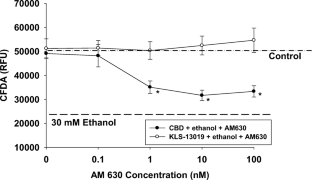 References
Aghaei I, Shabani M, Doustar N, Nazeri M, Dehpour A (2014) Peroxisome proliferator-activated receptor-γ-activation attenuates motor and cognition impairments inducted by bile duct ligation in a rat model of hepatic cirrhosis. Pharmacol Biochem Behav 120:133–139

Ahrens J, Demir R, Leuwer M, de la Roche J, Krampfl K, Foadi N, Karst M, Haeseler G (2009) The nonpsychotropic cannabinoid cannabidiol modulates and directly activates alpha-1 and alpha-1-beta glycine receptor function. Pharmacology 83:217–222

Alsenz J, Kansy M (2007) High throughput solubility measurement in drug discovery and development. Adv Drug Deliv Rev 59:546–567

Avraham Y, Grigoriadis NC, Poutahidis T, Vorobiev L, Magen I, Ilan Y, Mechoulam R, Berry EM (2011) Cannabidiol improves brain and liver function in a fulminant hepatic failure-induced model of hepatic encephalopathy in mice. Br J Pharmacol 162:1650–1658

Bih CI, Chen T, Nunn AVW, Bazelot M, Dallas M, Whalley BJ (2015) Molecular targets of cannabidiol in neurological disorders. Neurotherapy 12:699–730

Booz GW (2011) Cannabidiol as an emergent therapeutic strategy for lessening the impact of inflammation on oxidative stress. Free Radic Biol Med 51:1054–1061

Brenneman DE, Smith GR, Zhang Y, Du Y, Kondaveeti SK, Zdilla MJ, Reitz AB (2012) Small-molecule anticonvulsant agents with potent in vitro neuroprotection. J Mol Neurosci 47:368–379

Brewer GJ, Torricelli JR, Evege EK, Price PJ (1993) Optimized survival of hippocampal neurons in B27 supplemented neurobasal, a new serum-free medium combination. J Neurosci Res 35:567–576

Castillo A, Tolon MR, Fernandez-Ruiz J, Romero J, Martinez-Organd J (2010) The neuroprotective effect of cannabidiol in an in vitro model of hypoxic-ischemic brain damage in mice is mediated by CB(2) and adenosine receptors. Neurobiol Dis 37:434–440

Clarke SW, Jeffrey P (2001) Utility of metabolic stability screening: comparison of in vitro and in vivo clearance. Xenobiotica 31:591–598

Cox DA, Conforti L, Sperelakis N, Matlib MA (1993) Selectivity of inhibition of Na+-Ca2+ exchange of heart mitochondria by benzothiazepine CGP-37157. J Cardiovasc Pharmacol 21:595–599

Darkovska-Serafimovska M, Serafimovska T, Arsova-Sarafinovska Z, Stefanoski S, Keskovski Z, Balkanov T (2018) Pharmacotherapeutic considerations for use of cannabinoids to relieve pain in patients with malignant diseases. J Pain Res 11:837–842

Finlayson K, Turnbull L, January CT, Sharkey J, Kelley JS (2001) [3H]dofetilide binding to HERG transfected membranes: a potential high throughput preclinical screen. Eur J Pharmacol 430:147–148

Hampson AJ, Grimaldi M, Axelrod J, Wink D (1998) Cannabidiol and (-)Δ9-tetrahydrocannabinol are neuroprotective antioxidants. Proc Natl Acad Sci U S A 95:8268–8273

Hidalgo C, Arias-Cavieres A (2016) Calcium, reactive oxygen species and synaptic plasticity. Physiology (Bethesda) 31:201–205

Iffland K, Grotenhermen F (2017) An update on safety and side effects of cannabidiol: a review of clinical data and relevant animal studies. Cannabis Cannabinoid Res 2(1):139–154

Kinney WA, McDonnell ME, Zhong HM, Liu C, Yang L, Ling W, Qian T, Chen Y, Cai Z, Petkanas D, Brenneman DE (2016) Discovery of KLS-13019, a cannabidiol-derived neuroprotective agent, with improved potency, safety, and permeability. ACS Med Chem Lett 7:424–428

Lim K, See YM, Lee J (2017) A systematic review of the effectiveness of medical cannabis for psychiatric, movement and neurodegenerative disorders. Clin Psychopharm Neurosci 15:301–312

Lipinski CA, Lombardo F, Dominy BW, Feeney PJ (2001) Experimental and computational approaches to estimate solubility and permeability in drug discovery and development settings. Adv Drug Deliv Rev 46:3–26

Liu H, Wu PP, Yang MJ, Men L, Lin HL, Zhao YL, Tang X, Yu ZG (2016) Application of a UPLC-MS/MS method to the protein binding study of TM-2 in rat, human and beagle dog plasma. J Pharm Anal 6:32–38

Mecha M, Feliu A, Inigo PM, Mestre L, Carrillo-Salinas FJ, Guaza C (2013) Cannabidiol provides long-lasting protection against the deleterious effects of inflammation in a viral model of multiple sclerosis: a role for A2A receptors. Neurobiol Dis 59:141–150

Neumann JT, Diaz-Sylvester PL, Fleischer S, Copello JA (2011) CGP-37157 inhibits the sarcoplasmic reticulum Ca2+ ATPase and activates ryanodine receptor channels in striated muscle. Mol Pharmacol 79:141–147

Niknahad H, Jamshidzadeh A, Heidari R, Zarei M, Ommati MM (2017) Ammonia-induced mitochondrial dysfunction and energy metabolism disturbances in isolated brain and liver mitochondria, and the effect of taurine administration: relevance to hepatic encephalopathy treatment. Clin Exp Hepatol 3:141–151

Norris C, Loureiro M, Kramar C, Zunder J, Renard J, Rushlow W, Laviolette SR (2016) Cannabidiol modulates fear memory formation through interactions with serotonergic transmission in the mesolimbic system. Neuropsychopharmacol 41:2839–2850

Ong JP, Aggarwal A, Krieger D, Easley KA, Karafa MT, Van Lente F, Arroliga AC, Mullen KD (2003) Correlation between ammonia levels and the severity of hepatic encephalopathy. Am J Med 114:188–193

Pazos MR, Mohammed N, Lafuente H, Santos M, Martinez-Pinilla E, Moreno E, Valdizan E, Romero J, Pazos A, Franco R, Hillard CJ, Alvarez FJ, Martinez-Orgado J (2013) Mechanisms of cannabidiol neuroprotection in hypoxic-ischemic newborn pigs: role of 5HT(1A) and CB2 receptors. Neuropharm 71:282–291

Pertwee RG (2005) Pharmacological actions of cannabinoids. Handb Exp Pharmacol 168:1–51

Petroski RE, Geller HM (1994) Selective labeling of embryonic neurons cultures on astrocyte monolayers with 5(6)-carboxyfluorescein diacetate (CFDA). J Neurosci Methods 52:23–32

Randall RD, Thayer SA (1992) Glutamate-induced calcium transient triggers calcium overload and neurotoxicity in rat hippocampal neurons. J Neurosci 12:1882–1895

Rossignoli MT, Lopes-Aguiar C, Ruggiero RN, Do Val da Silva RA, Bueno-Junior LS, Kandratavicius L, Peixoto-Santos JE, Crippa JA, Cecilio-Hallak JE, Zuardi AW, Szawka RE, Anselmo-Franci J, Leite JP, Romcy-Pereira RN (2017) Selective post-training time window for memory consolidation interference of cannabidiol into the prefrontal cortex: reduced dopaminergic modulation and immediate gene expression in limbic circuits. Neuroscience 350:85–90

Russo EB, Burnett A, Hall B, Parker KK (2005) Agonistic properties of cannabidiol at 5HT1a receptors. Neurochem Res 30:1037–1043

Ryan D, Drysdale AJ, Lafourcade C, Pertwee RG, Platt B (2009) Cannabidiol targets mitochondria to regulate intracellular Ca2+ levels. J Neurosci 29:2053–2063

Sarafian TA, Kouyoumjian S, Tashkin D, Roth MD (2002) Synergistic cytotoxicity of 9-tetrahydrocannabianol and butylated hydroxyanisole. Toxicol Lett 133:171–179

Stern CAJ, da Silva TR, Raymundi AM, de Souza CP, Hiroaki-Sato VA, Kato L, Guimaraes FS, Andreatini R, Takahashi RN, Bertoglio LJ (2017) Cannabidiol disrupts the consolidation of specific and generalized fear memories via dorsal hippocampal CB1 and CB2 receptors. Neuropharmacology 125:220–230

Stockings E, Zagie D, Campbell G, Weier M, Hall WD, Nielsen S, Herkes GK, Farrell M, Degenhardt L (2018) Evidence for cannabis and cannabinoids for epilepsy: a systematic review of controlled and observational evidence. J Neurol Neurosurg Psychiatry 89:741–753

Tomasini MC, Borelli AC, Beggiato S, Tanganelli S, Loche A, Cacciaglia R, Ferraro L, Antonelli T (2016) GET3 prevents ethanol-induced neurotoxicity in primary cultures of rat hippocampal neurons. Alcohol Alcohol 51:128–135

Ward SJ, Riggs D, Tuma R, Kinney WA, Petkanas D, Brenneman DE (2017) Neuroprotective and anti-inflammatory effects of KLS-13019 and cannabidiol in in vitro and in vivo models of chemotherapy-induced neuropathic pain. International Cannabinoid Research Society Symposium, June 22, 2017, Montreal, Canada, 27:p 1–40

Weinstein A, Livny A, Weizman A (2016) Brain imaging studies on the cognitive, pharmacological and neurobiological effects of cannabis in humans: evidence from studies of adult users. Curr Pharm Des 22:6366–6379

Yang L, Rozenfeld R, Wu D, Devi LA, Zhang Z, Cederbaum A (2014) Cannabidiol protects liver from binge alcohol-induced steatosis by mechanisms including inhibition of oxidative stress and increase in autophagy. Free Radic Biol Med 68:260–267
About this article
Cite this article
Brenneman, D.E., Petkanas, D. & Kinney, W.A. Pharmacological Comparisons Between Cannabidiol and KLS-13019. J Mol Neurosci 66, 121–134 (2018) doi:10.1007/s12031-018-1154-7
Received:

Accepted:

Published:

Issue Date:
Keywords
Cannabidiol

Oxidative stress

Mitochondrial Na+-Ca2+ exchanger

Neuroprotection

Cannabis

Hippocampal cultures

Ethanol