This is a preview of subscription content, log in to check access.
Access options
Buy single article
Instant unlimited access to the full article PDF.
US$ 39.95
Price includes VAT for USA
Subscribe to journal
Immediate online access to all issues from 2019. Subscription will auto renew annually.
US$ 99
This is the net price. Taxes to be calculated in checkout.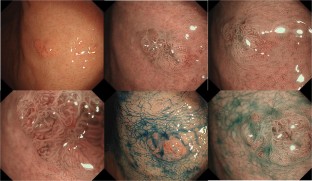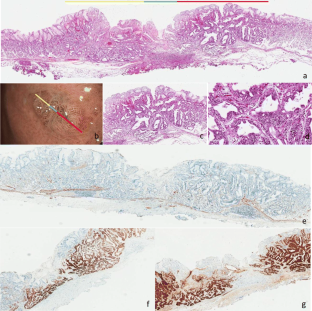 References
1.

Chiba T, Kato K, et al. Clinicopathological features of gastric adenocarcinoma of the fundic gland (chief cell predominant type) by retrospective and prospective analyses of endoscopic findings. Dig Endosc. 2016. https://doi.org/10.1111/den.12676.

2.

Kushima R, Sekine S, Matsubara A, Taniguchi H, Ikegami M, Tsuda H. Gastric adenocarcinoma of the fundic gland type shares common genetic and phenotypic features with pyloric gland adenoma. Pathol Int. 2013;63:318–25.

3.

Ueyama H, Matsumoto K, Nagahara A, et al. Gastric adenocarcinoma of the fundic gland type (chief cell predominant type). Endoscopy. 2014;46(02):153–7.

4.

Yao T, Ueyama H, Kushima R, et al. New type of gastric carcinoma-adenocarcinoma of the fundic gland type: its clinicopathological features and tumor development. Stom Intest. 2010;45:1192–201.

5.

Ueyama H, Yao T, Nakashima Y, Hirakawa K, Oshiro Y, Hirahashi M, et al. Gastric adenocarcinoma of fundic gland type (chief cell predominant type): proposal for a new entity of gastric adenocarcinoma. Am J Surg Pathol. 2010;34:609–19.

6.

Ueo T, Yonemasu H, Ishida T. Gastric adenocarcinoma of fundic gland type with unusual behavior. Dig Endosc. 2014;26:291–7.

7.

Yao K, Anagnosstopoulos GK, Ragunath K. Magnifying endoscopy for diagnosing and delineating early gastric cancer. Endoscopy. 2009;41:462–7.

8.

Singhi AD, Lazenby AJ, Montgomery EA. Gastric adenocarcinoma with chief cell differentiation: a proposal for reclassification as oxyntic gland polyp/adenoma. Am J Surg Pathol. 2012;36:1030–5.

9.

Ushiku T, Arnason T, Ban S, Hishima T, Shimizu M, Fukayama M, et al. Very well-differentiated gastric carcinoma of intestinal type analysis of diagnostic criteria. Mod Pathol. 2013;26:1620–31.

10.

Okamoto N, Kawachi H, Yoshida T, Kitagaki K, Sekine M, Kojima K, et al. "Crawling-type" adenocarcinoma of the stomach: a distinct entity preceding poorly differentiated adenocarcinoma. Gastric Cancer. 2013;16:220–32.

11.

Kitaichi T, Dohi O, et al. Clinical and pathological challenges in the diagnosis of gastric-type differentiated adenocarcinoma in the stomach: a study of endoscopic submucosal dissection cases digestion. 2018. https://doi.org/10.1159/000493095.

12.

Ota H, Yamaguchi D, Iwaya M, Kobayashi M, Tateiwa N, Iwaya Y, et al. Principal cells in gastric neoplasia of fundic gland (chief cell predominant) type show characteristics of immature chief cells. Pathol Int. 2015;65:202–4.

13.

Gotoda T, Yamamoto H, Soetikno RM. Endoscopic submucosal dissection of early gastric cancer. J Gastroenterol. 2006;41:929–42.
Acknowledgments
The authors thank Dr. Xudan Yang for kindly providing Immunohistochemical staining.
Ethics declarations
Conflict of Interest
The authors declare that they have no conflict of interest.
Ethical Approval
All procedures performed in the report were in accordance with the ethical standards of the institutional and/or national research committee and with the 1964 Helsinki Declaration and its later amendments or comparable ethical standards.
Informed Consent
Informed consent was obtained from the patient for publication of this case report.
Additional information
Publisher's Note
Springer Nature remains neutral with regard to jurisdictional claims in published maps and institutional affiliations.
About this article
Cite this article
Peng, T., Deng, L., Hou, L. et al. A Case Report: Endoscopic Diagnosis and Treatment of Gastric Adenocarcinoma of Fundic Gland Type. J Gastrointest Canc (2020). https://doi.org/10.1007/s12029-020-00360-9