Abstract
Background/objectives
Deep vein thrombosis (DVT) and pulmonary embolism (PE) are complications of hospitalization leading to increased morbidity and mortality. Routine surveillance ultrasound has become common practice in some intensive care units (ICU) to detect DVT early and initiate anticoagulation, preventing complications. However, initiating anticoagulants for asymptomatic DVT treatment may increase risk of hemorrhage. The objective of this study was to investigate the value of routine surveillance ultrasound in early DVT diagnosis in Neuro ICU patients.
Methods
This is a retrospective review of patients diagnosed with DVT during admission to the Neuro ICU at University Hospital from January 1, 2012, through December 31, 2017. Patients were identified through International Classification of Diseases 9th and 10th Revision codes for DVT and PE, screened for inclusion criteria, and then classified as surveillance group or symptom-driven group based on intervention received. Primary outcome was time to DVT diagnosis. Secondary outcome included clinically significant hemorrhage identified by anticoagulation treatment discontinuation for suspected hemorrhage or new or expanding hemorrhage on head computerized tomography (CT).
Results
A total of 116 patients were identified, with 50 included: 27 were classified as surveillance and 23 as symptom-driven. Seven patients (surveillance = 3 and symptom-driven = 4) were diagnosed with only PE and were excluded from primary outcome. Median time to DVT diagnosis was similar at 148 h for surveillance versus 172 h for symptom driven (p = 0.2). There was no difference in treatment discontinuation rates (surveillance 21% vs symptom 31%; p = 0.4). Of the 27 patients with follow-up head CT, two in the surveillance group and two in the symptom-driven group showed a new or expanding hemorrhage.
Conclusion
Routine surveillance ultrasound did not lead to significantly earlier DVT diagnosis. Hemorrhagic events were not different between groups. Utility of surveillance ultrasound in this population should be evaluated in large, prospective trials before routine use can be recommended.
This is a preview of subscription content, log in to check access.
Access options
Buy single article
Instant access to the full article PDF.
US$ 39.95
Price includes VAT for USA
Subscribe to journal
Immediate online access to all issues from 2019. Subscription will auto renew annually.
US$ 199
This is the net price. Taxes to be calculated in checkout.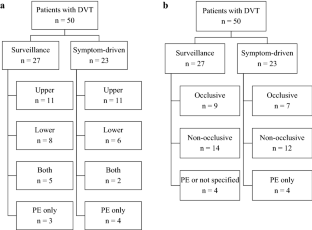 References
1.

Patel AP, Koltz MT, Sansur CA, Gulati M, Kojo Hamilton D. An analysis of deep vein thrombosis in 1277 consecutive neurosurgical patients undergoing routine weekly ultrasonography. J Neurosurg. 2013;118:505–9.

2.

Bandle J, Shackford SR, Kahl JE, et al. The value of lower-extremity duplex surveillance to detect deep vein thrombosis in trauma patients. J Trauma Acute Care Surg. 2013;74:575–80.

3.

Misra M, Roitberg B, Ebersole K, Charbel F. Prevention of pulmonary embolism by combined modalities of thromboprophylaxis and intensive surveillance protocol. Neurosurgery. 2004;54:1099–103.

4.

Dietch ZC, Edwards BL, Thames M, Shah PM, Williams MD, Sawyer RG. Rate of lower-extremity ultrasonography in trauma patients is associated with rate of deep venous thrombosis but not pulmonary embolism. Surgery. 2015;158:379–85.

5.

Piotrowski JJ, Alexander JJ, Brandt CP, McHenry CR, Yuhas JP, Jacobs D. Is deep vein thrombosis surveillance warranted in high-risk trauma patients? Am J Surg. 1996;172:210–3.

6.

Schwarcz TH, Quick RC, Minion DJ, Kearney PA, Kwolek CJ, Endean ED. Enoxaparin treatment in high-risk trauma patients limits the utility of surveillance venous duplex scanning. J Vasc Surg. 2001;34:447–52.

7.

Dengler BA, Mendez-Gomez P, Chavez A, et al. Safety of chemical DVT prophylaxis in severe traumatic brain injury with invasive monitoring devices. Neurocrit Care. 2016;25:215–23.

8.

Nyquist P, Bautista C, Jichici D, et al. Prophylaxis of venous thrombosis in neurocritical care patients: an evidence-based guideline: a statement for healthcare professionals from the neurocritical care society. Neurocrit Care. 2016;24:47–60.

9.

Malhotra AK, Goldberg SR, McLay L, et al. DVT surveillance program in the ICU: analysis of cost-effectiveness. PLoS One. 2014;9:1–7.

10.

Sauro KM, Soo A, Kramer A, et al. Venous thromboembolism prophylaxis in neurocritical care patients: are current practices, best practices? Neurocrit Care. 2018. https://doi.org/10.1007/s12028-018-061409.

11.

Malinoski D, Ewing T, Patel MS, et al. Risk factors for venous thromboembolism in critically ill trauma patients who cannot receive chemical prophylaxis. Injured. 2013;44:80–5.

12.

Harris PA, Taylor R, Thielke R, Payne J, Gonzalez N, Conde JG. Research electronic database capture (REDCap): a metadata-driven methodology and workflow process for providing translational research informatics support. J Biomed Inform. 2009;42:377–81.

13.

Kearon C, Akl EA, Ornelas J, et al. Antithrombotic therapy for VTE disease: CHEST guideline and expert panel report. Chest. 2016;149(2):315–52.
Funding
The use of REDCap was supported by Grant No. UL1-RR024982 from the Clinical and Translational Sciences Awards Program, National Institutes of Health (NIH), for data collection. This study was presented at Southwest Leadership Conference, Houston, Texas. The content is solely the responsibility of the authors and does not necessarily represent official views of the NIH.
Ethics declarations
Conflict of interest
The authors disclose no conflicts of interest and received no funding support.
Ethical Approval
The study was approved by both the University of Texas Health San Antonio Institutional Review Board (IRB protocol number HSC20170526H) and University Health System IRB.
About this article
Cite this article
Hargrove, K.L., Barthol, C.A., Allen, S. et al. Surveillance Ultrasound in the Neuro Intensive Care Unit: Time to Deep Vein Thrombosis Diagnosis. Neurocrit Care 30, 645–651 (2019). https://doi.org/10.1007/s12028-018-0652-3
Keywords
Venous thromboembolism

Ultrasonography

Intensive care units

Anticoagulation

Hemorrhage