Case report
A previously healthy 31 year old African male was assisting friends with the repair of the roof of a neighboring house. That evening at a social gathering the man complained of an apparent headache and went home early where he later died suddenly and unexpectedly. No history indicating the possibility of an underlying psychiatric illness was obtained. Due to the nature and circumstances surrounding the sudden unexpected death the body was referred for a medico-legal investigation in terms of the Inquests Act 58 of 1959.
A postmortem full-body scan using the LODOX
®
Statscan was performed prior to the commencement of the autopsy and confirmed the presence of multiple sharp radio-opaque foreign objects in the region of the stomach, small bowel, descending colon, and sigmoid colon (Fig.
1
).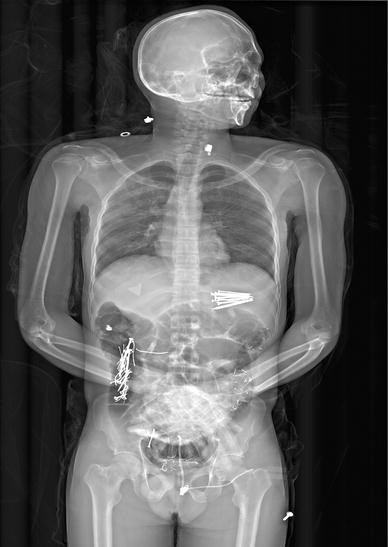 Keywords
Foreign Body 
Eating Disorder 
Razor Blade 
Foreign Object 
Prison Inmate 
These keywords were added by machine and not by the authors. This process is experimental and the keywords may be updated as the learning algorithm improves.
Copyright information
© Springer Science+Business Media New York 2016