Abstract
Obstructive sleep apnea syndrome (OSAS) is a common health problem, and associated with obesity, metabolic syndrome (MetS), and diabetes. Growing evidence shows that 25-hydroxyvitamin-D3 (25-OH-D) insufficiency and high parathyroid hormone (PTH) levels may be correlated to glucose intolerance, MetS, obesity, and cardiovascular abnormalities similar to OSAS. Bisphenol A (BPA) is an endocrine disruptor agent which exerts a wide variety of metabolic effects. It has estrogenic activity and its exposure may contribute to weight gain, obesity, impaired glucose metabolism, and the development of diabetes, also similar to OSAS. The aim of this study is to investigate the relationships between OSAS and serum BPA, 25-OH-D, and PTH levels. This study enrolled 128 subjects, with all of the OSAS patients having been diagnosed by polysomnography. The 128 subjects were divided into three groups: a control (n = 43), a moderate OSAS (n = 23) (AHI = 15–30), and a severe OSAS groups (n = 62) (AHI > 30). The serum BPA, 25-OH-D, and PTH levels for each subject were analyzed. 25-OH-D was lower in both OSAS groups, and PTH was higher in the OSAS groups than in the control subjects. The BPA levels were higher in the severe OSAS group than the moderate OSAS and control. There was a positive correlation between the BPA and body mass index, and a negative correlation between the 25-OH-D and BPA levels in all of the individuals. OSAS is related to high BPA and PTH levels, and low vitamin D levels. There is a positive association between BPA levels and OSAS, and the severity of OSAS. These results suggest that the BPA levels may have a role in the pathogenesis of OSAS.
This is a preview of subscription content, log in to check access.
Access options
Buy single article
Instant unlimited access to the full article PDF.
US$ 39.95
Price includes VAT for USA
Subscribe to journal
Immediate online access to all issues from 2019. Subscription will auto renew annually.
US$ 199
This is the net price. Taxes to be calculated in checkout.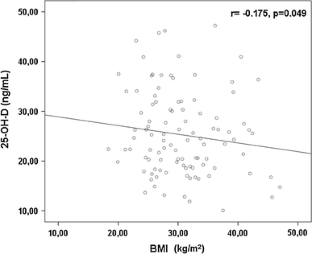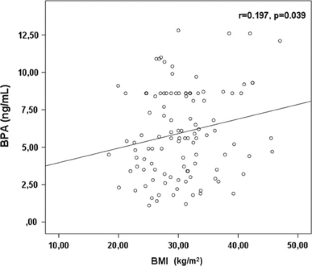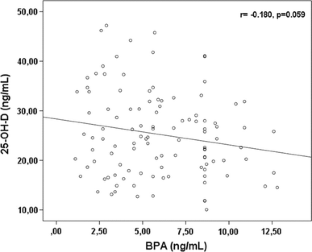 References
1.

W.W. Flemons, J.E. Remmers, The diagnosis of sleep apnea: questionnaires and home studies. Sleep 19(10 Suppl), S243–S247 (1996)

2.

N.M. Punjabi, The epidemiology of adult obstructive sleep apnea. Proc. Am. Thorac. Soc. 5(2), 136–143 (2008). doi:10.1513/pats.200709-155MG

3.

Z.T. Bloomgarden, The American Diabetes Association's 57th annual advanced postgraduate course: diabetes risk, vitamin D, polycystic ovary syndrome, and obstructive sleep apnea. Diabetes Care 34(1), e1–e6 (2011). doi:10.2337/dc11-zb01

4.

L.H. Li, X.Y. Yin, C.Y. Yao, X.C. Zhu, X.H. Wu, Serum 25-hydroxyvitamin D, parathyroid hormone, and their association with metabolic syndrome in Chinese. Endocrine (2013). doi:10.1007/s12020-013-9885-2

5.

J.A. George, S.A. Norris, H.E. van Deventer, N.J. Crowther, The association of 25 hydroxyvitamin D and parathyroid hormone with metabolic syndrome in two ethnic groups in South Africa. PLoS One 8(4), e61282 (2013). doi:10.1371/journal.pone.0061282

6.

T. Mete, Y. Yalcin, D. Berker, B. Ciftci, S. Guven Firat, O. Topaloglu, H. Cinar Yavuz, S. Guler, Relationship between obstructive sleep apnea syndrome and thyroid diseases. Endocrine (2013). doi:10.1007/s12020-013-9927-9

7.

A. Barcelo, C. Esquinas, J. Pierola, M. De la Pena, M. Sanchez-de-la-Torre, J.M. Montserrat, J.M. Marin, J. Duran, M. Arque, J.M. Bauca, F. Barbe, Vitamin D status and parathyroid hormone levels in patients with obstructive sleep apnea. Respiration (2012). doi:10.1159/000342748

8.

T. Skaaby, L.L. Husemoen, C. Pisinger, T. Jorgensen, B.H. Thuesen, K. Rasmussen, M. Fenger, P. Rossing, A. Linneberg, Vitamin D status and 5-year changes in urine albumin creatinine ratio and parathyroid hormone in a general population. Endocrine (2013). doi:10.1007/s12020-013-9887-0

9.

T. Skaaby, L.L. Husemoen, C. Pisinger, T. Jorgensen, B.H. Thuesen, M. Fenger, A. Linneberg, Vitamin D status and incident cardiovascular disease and all-cause mortality: a general population study. Endocrine 43(3), 618–625 (2013). doi:10.1007/s12020-012-9805-x

10.

N.C. Bozkurt, E. Cakal, M. Sahin, E.C. Ozkaya, H. Firat, T. Delibasi, The relation of serum 25-hydroxyvitamin-D levels with severity of obstructive sleep apnea and glucose metabolism abnormalities. Endocrine 41(3), 518–525 (2012). doi:10.1007/s12020-012-9595-1

11.

L.N. Vandenberg, M.V. Maffini, C. Sonnenschein, B.S. Rubin, A.M. Soto, Bisphenol-A and the great divide: a review of controversies in the field of endocrine disruption. Endocr. Rev. 30(1), 75–95 (2009). doi:10.1210/er.2008-0021

12.

A.M. Calafat, Z. Kuklenyik, J.A. Reidy, S.P. Caudill, J. Ekong, L.L. Needham, Urinary concentrations of bisphenol A and 4-nonylphenol in a human reference population. Environ. Health Perspect. 113(4), 391–395 (2005)

13.

K. Moriyama, T. Tagami, T. Akamizu, T. Usui, M. Saijo, N. Kanamoto, Y. Hataya, A. Shimatsu, H. Kuzuya, K. Nakao, Thyroid hormone action is disrupted by bisphenol A as an antagonist. J. Clin. Endocrinol. Metab. 87(11), 5185–5190 (2002)

14.

J. Wei, Y. Lin, Y. Li, C. Ying, J. Chen, L. Song, Z. Zhou, Z. Lv, W. Xia, X. Chen, S. Xu, Perinatal exposure to bisphenol A at reference dose predisposes offspring to metabolic syndrome in adult rats on a high-fat diet. Endocrinology 152(8), 3049–3061 (2011). doi:10.1210/en.2011-0045

15.

P. Alonso-Magdalena, E. Vieira, S. Soriano, L. Menes, D. Burks, I. Quesada, A. Nadal, Bisphenol A exposure during pregnancy disrupts glucose homeostasis in mothers and adult male offspring. Environ. Health Perspect. 118(9), 1243–1250 (2010). doi:10.1289/ehp.1001993

16.

B.S. Rubin, A.M. Soto, Bisphenol A: perinatal exposure and body weight. Mol. Cell. Endocrinol. 304(1–2), 55–62 (2009). doi:10.1016/j.mce.2009.02.023

17.

R.R. Newbold, E. Padilla-Banks, W.N. Jefferson, Environmental estrogens and obesity. Mol. Cell. Endocrinol. 304(1–2), 84–89 (2009). doi:10.1016/j.mce.2009.02.024

18.

D. Melzer, N.E. Rice, C. Lewis, W.E. Henley, T.S. Galloway, Association of urinary bisphenol a concentration with heart disease: evidence from NHANES 2003/06. PLoS One 5(1), e8673 (2010). doi:10.1371/journal.pone.0008673

19.

I.A. Lang, T.S. Galloway, A. Scarlett, W.E. Henley, M. Depledge, R.B. Wallace, D. Melzer, Association of urinary bisphenol A concentration with medical disorders and laboratory abnormalities in adults. JAMA 300(11), 1303–1310 (2008). doi:10.1001/jama.300.11.1303

20.

C.A. Richter, L.S. Birnbaum, F. Farabollini, R.R. Newbold, B.S. Rubin, C.E. Talsness, J.G. Vandenbergh, D.R. Walser-Kuntz, F.S. vom Saal, In vivo effects of bisphenol A in laboratory rodent studies. Reprod. Toxicol. 24(2), 199–224 (2007). doi:10.1016/j.reprotox.2007.06.004

21.

M.W. Johns, A new method for measuring daytime sleepiness: the Epworth sleepiness scale. Sleep 14(6), 540–545 (1991)

22.

C. Iber, S. Ancoli-Israel, A. Chesson, S.F. Quan, American Academy of Sleep Medicine. The AASM manual for the scoring of sleep and associated events: rules, terminology and technical specifications, 1st edn. (American Academy of Sleep Medicine, Westchester, IL, 2007)

23.

L. Cobellis, N. Colacurci, E. Trabucco, C. Carpentiero, L. Grumetto, Measurement of bisphenol A and bisphenol B levels in human blood sera from healthy and endometriotic women. Biomed. Chromatogr. 23(11), 1186–1190 (2009). doi:10.1002/bmc.1241

24.

M.F. Holick, Vitamin D deficiency. New Engl J Med 357(3), 266–281 (2007). doi:10.1056/NEJMra070553

25.

S. Reddy Vanga, M. Good, P.A. Howard, J.L. Vacek, Role of vitamin D in cardiovascular health. Am J Cardiol 106(6), 798–805 (2010). doi:10.1016/j.amjcard.2010.04.042

26.

S.H. Pearce, T.D. Cheetham, Diagnosis and management of vitamin D deficiency. BMJ 340, b5664 (2010). doi:10.1136/bmj.b5664

27.

A. Fraser, D. Williams, D.A. Lawlor, Associations of serum 25-hydroxyvitamin D, parathyroid hormone and calcium with cardiovascular risk factors: analysis of 3 NHANES cycles (2001–2006). PLoS One 5(11), e13882 (2010). doi:10.1371/journal.pone.0013882

28.

G. Zhao, E.S. Ford, C. Li, Associations of serum concentrations of 25-hydroxyvitamin D and parathyroid hormone with surrogate markers of insulin resistance among U.S. adults without physician-diagnosed diabetes: NHANES, 2003–2006. Diabetes Care 33(2), 344–347 (2010). doi:10.2337/dc09-0924

29.

J.P. Reis, D. von Muhlen, E.R. Miller 3rd, Relation of 25-hydroxyvitamin D and parathyroid hormone levels with metabolic syndrome among US adults. Eur. J. Endocrinol. 159(1), 41–48 (2008). doi:10.1530/EJE-08-0072

30.

M.B. Snijder, R.M. van Dam, M. Visser, D.J. Deeg, J.M. Dekker, L.M. Bouter, J.C. Seidell, P. Lips, Adiposity in relation to vitamin D status and parathyroid hormone levels: a population-based study in older men and women. J. Clin. Endocrinol. Metab. 90(7), 4119–4123 (2005). doi:10.1210/jc.2005-0216

31.

K.A. Young, C.D. Engelman, C.D. Langefeld, K.G. Hairston, S.M. Haffner, M. Bryer-Ash, J.M. Norris, Association of plasma vitamin D levels with adiposity in Hispanic and African Americans. J. Clin. Endocrinol. Metab. 94(9), 3306–3313 (2009). doi:10.1210/jc.2009-0079

32.

T. Mete, Y. Yalcin, D. Berker, B. Ciftci, S.F. Guven, O. Topaloglu, H.C. Yavuz, S. Guler, Obstructive sleep apnea syndrome and its association with vitamin D deficiency. J. Endocrinol. Invest. (2013). doi:10.3275/8923

33.

M.F. McCarty, C.A. Thomas, PTH excess may promote weight gain by impeding catecholamine-induced lipolysis-implications for the impact of calcium, vitamin D, and alcohol on body weight. Med. Hypotheses 61(5–6), 535–542 (2003)

34.

S. Arunabh, S. Pollack, J. Yeh, J.F. Aloia, Body fat content and 25-hydroxyvitamin D levels in healthy women. J. Clin. Endocrinol. Metab. 88(1), 157–161 (2003)

35.

J. Wortsman, L.Y. Matsuoka, T.C. Chen, Z. Lu, M.F. Holick, Decreased bioavailability of vitamin D in obesity. Am. J. Clin. Nutr. 72(3), 690–693 (2000)

36.

H. Uzkeser, K. Yildirim, B. Aktan, S. Karatay, H. Kaynar, O. Araz, K. Kilic, Bone mineral density in patients with obstructive sleep apnea syndrome. Sleep Breath. 17(1), 339–342 (2013). doi:10.1007/s11325-012-0698-y

37.

R.R. Newbold, E. Padilla-Banks, W.N. Jefferson, J.J. Heindel, Effects of endocrine disruptors on obesity. Int. J. Androl. 31(2), 201–208 (2008). doi:10.1111/j.1365-2605.2007.00858.x

38.

B.S. Rubin, M.K. Murray, D.A. Damassa, J.C. King, A.M. Soto, Perinatal exposure to low doses of bisphenol A affects body weight, patterns of estrous cyclicity, and plasma LH levels. Environ. Health Perspect. 109(7), 675–680 (2001)

39.

J. Miyawaki, K. Sakayama, H. Kato, H. Yamamoto, H. Masuno, Perinatal and postnatal exposure to bisphenol a increases adipose tissue mass and serum cholesterol level in mice. J. Atheroscler. Thromb. 14(5), 245–252 (2007)

40.

B.T. Akingbemi, C.M. Sottas, A.I. Koulova, G.R. Klinefelter, M.P. Hardy, Inhibition of testicular steroidogenesis by the xenoestrogen bisphenol A is associated with reduced pituitary luteinizing hormone secretion and decreased steroidogenic enzyme gene expression in rat Leydig cells. Endocrinology 145(2), 592–603 (2004). doi:10.1210/en.2003-1174en.2003-1174

41.

A.L. Wozniak, N.N. Bulayeva, C.S. Watson, Xenoestrogens at picomolar to nanomolar concentrations trigger membrane estrogen receptor-alpha-mediated Ca2+ fluxes and prolactin release in GH3/B6 pituitary tumor cells. Environ. Health Perspect. 113(4), 431–439 (2005)

42.

T.J. Key, P.N. Appleby, G.K. Reeves, A. Roddam, J.F. Dorgan, C. Longcope, F.Z. Stanczyk, H.E. Stephenson Jr, R.T. Falk, R. Miller, A. Schatzkin, D.S. Allen, I.S. Fentiman, D.Y. Wang, M. Dowsett, H.V. Thomas, S.E. Hankinson, P. Toniolo, A. Akhmedkhanov, K. Koenig, R.E. Shore, A. Zeleniuch-Jacquotte, F. Berrino, P. Muti, A. Micheli, V. Krogh, S. Sieri, V. Pala, E. Venturelli, G. Secreto, E. Barrett-Connor, G.A. Laughlin, M. Kabuto, S. Akiba, R.G. Stevens, K. Neriishi, C.E. Land, J.A. Cauley, L.H. Kuller, S.R. Cummings, K.J. Helzlsouer, A.J. Alberg, T.L. Bush, G.W. Comstock, G.B. Gordon, S.R. Miller, Body mass index, serum sex hormones, and breast cancer risk in postmenopausal women. J. Natl. Cancer Inst. 95(16), 1218–1226 (2003)

43.

C. Teng, B. Goodwin, K. Shockley, M. Xia, R. Huang, J. Norris, B. Alex Merrick, A.M. Jetten, C.P. Austin, R.R. Tice, Bisphenol A affects androgen receptor function via multiple mechanisms. Chem. Biol. Interact. (2013). doi:10.1016/j.cbi.2013.03.013

44.

H.J. Lee, S. Chattopadhyay, E.Y. Gong, R.S. Ahn, K. Lee, Antiandrogenic effects of bisphenol A and nonylphenol on the function of androgen receptor. Toxicol. Sci. 75(1), 40–46 (2003). doi:10.1093/toxsci/kfg150

45.

P.J. Saylor, M.R. Smith, Metabolic complications of androgen deprivation therapy for prostate cancer. J. Urol. 189(1 Suppl), S34–S42 (2013). doi:10.1016/j.juro.2012.11.017. discussion S43–42

46.

E.A. Lucassen, K.I. Rother, G. Cizza, Interacting epidemics? Sleep curtailment, insulin resistance, and obesity. Ann. N. Y. Acad. Sci. 1264(1), 110–134 (2012). doi:10.1111/j.1749-6632.2012.06655.x

47.

C.J. Gu, M. Li, Q.Y. Li, N. Li, G.C. Shi, H.Y. Wan, Obstructive sleep apnea is associated with impaired glucose metabolism in Han Chinese subjects. Chin. Med. J. 126(1), 5–10 (2013)

48.

P. Alonso-Magdalena, S. Morimoto, C. Ripoll, E. Fuentes, A. Nadal, The estrogenic effect of bisphenol A disrupts pancreatic beta-cell function in vivo and induces insulin resistance. Environ. Health Perspect. 114(1), 106–112 (2006)

49.

S. Jayashree, D. Indumathi, N. Akilavalli, S. Sathish, J. Selvaraj, K. Balasubramanian, Effect of bisphenol-A on insulin signal transduction and glucose oxidation in liver of adult male albino rat. Environ. Toxicol. Pharmacol. 35(2), 300–310 (2013). doi:10.1016/j.etap.2012.12.016

50.

R. Scragg, M. Sowers, C. Bell, Serum 25-hydroxyvitamin D, diabetes, and ethnicity in the Third National Health and Nutrition Examination Survey. Diabetes Care 27(12), 2813–2818 (2004)

51.

N.G. Forouhi, J. Luan, A. Cooper, B.J. Boucher, N.J. Wareham, Baseline serum 25-hydroxy vitamin D is predictive of future glycemic status and insulin resistance: the Medical Research Council Ely Prospective Study 1990–2000. Diabetes 57(10), 2619–2625 (2008). doi:10.2337/db08-0593

52.

C. Guillet, A. Masgrau, S. Walrand, Y. Boirie, Impaired protein metabolism: interlinks between obesity, insulin resistance and inflammation. Obes. Rev. 13(Suppl 2), 51–57 (2012). doi:10.1111/j.1467-789X.2012.01037.x

53.

D.G. Moon, D.J. Sung, Y.S. Kim, J. Cheon, J.J. Kim, Bisphenol A inhibits penile erection via alteration of histology in the rabbit. Int. J. Impot. Res. 13(5), 309–316 (2001)

54.

J. Pant, P. Ranjan, S.B. Deshpande, Bisphenol A decreases atrial contractility involving NO-dependent G-cyclase signaling pathway. J. Appl. Toxicol. 31(7), 698–702 (2011). doi:10.1002/jat.1647

55.

T.W. Storer, R. Miciek, T.G. Travison, Muscle function, physical performance and body composition changes in men with prostate cancer undergoing androgen deprivation therapy. Asian J. Androl. 14(2), 204–221 (2012). doi:10.1038/aja.2011.104
About this article
Cite this article
Erden, E.S., Genc, S., Motor, S. et al. Investigation of serum bisphenol A, vitamin D, and parathyroid hormone levels in patients with obstructive sleep apnea syndrome. Endocrine 45, 311–318 (2014). https://doi.org/10.1007/s12020-013-0022-z
Received:

Accepted:

Published:

Issue Date:
Keywords
Bisphenol A

Obstructive sleep apnea syndrome

Vitamin D

Parathyroid hormone