Comprehensive Analysis of Serum and Fecal Bile Acid Profiles and Interaction with Gut Microbiota in Primary Biliary Cholangitis
Abstract
Accumulation of bile acids (BAs) contributes significantly to the pathogenesis of primary biliary cholangitis (PBC). Here, we sought to systematically characterize the serum and fecal BA profiles and the linkage between BAs and gut microbiota in PBC. The serum and fecal BAs were compared between 65 UDCA treatment-naive PBC and 109 healthy controls using UPLC-MS in cross-sectional study. In a prospective study, a subgroup of patients was enrolled for BA and microbiota analysis before and after UDCA therapy. BA compositions in serum and feces significantly differed between treatment-naive PBC and controls. Particularly, PBC was associated with decreased conversions of conjugated to unconjugated, and primary to secondary BAs, indicating impaired microbial metabolism of BAs. PBC patients at advanced stage exhibited a more abnormal BA profile compared with early-stage patients. UDCA treatment led to a decreased level of taurine-conjugated BAs, thereby reversing the conjugated/unconjugated ratio in PBC. Moreover, the level of secondary BAs such as DCA and conjugated DCA inversely correlated with PBC-enriched gut microbes (e.g., Veillonella, Klebsiella), while positively correlated with control-enriched microbes (e.g., Faecalibacterium, Oscillospira). Microbiota analysis also revealed a significant increase of taurine-metabolizing bacteria Bilophila spp. in patients after UDCA, which was strongly correlated with decreased taurine-conjugated BAs. In addition, serum FGF19 was remarkably increased in treatment-naïve PBC and decreased after UDCA. Our study established specific alterations of BA compositions in serum and feces of PBC, suggesting the potential for using BAs for diagnosis, and highlighting the possibility of modulating BA profile by altering gut microbiota.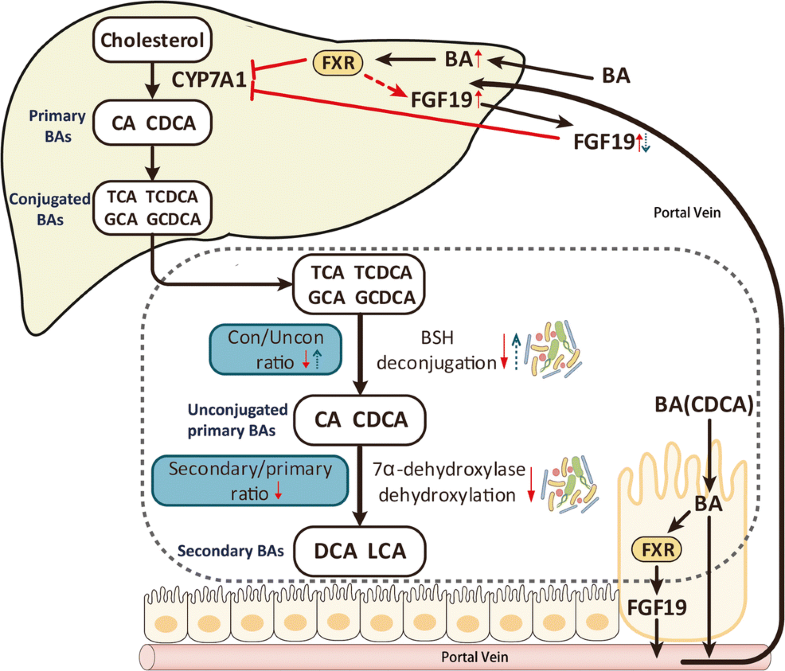 Keywords
Primary biliary cholangitis 
Bile acids 
Gut microbiota 
Ursodeoxycholic acid 
Abbreviations
PBC

Primary biliary cholangitis

UDCA

Ursodeoxycholic acid

BA

Bile acid

CA

Cholic acid

TCA

Taurocholic acid

GCA

Glycocholic acid

DCA

Deoxycholic acid

TDCA

Taurodeoxycholic acid

GDCA

Glycodeoxycholic acid

CDCA

Chenodeoxycholic acid

TCDCA

Taurochenodeoxycholic acid

GCDCA

Glycochenodeoxycholic acid

TUDCA

Tauroursodeoxycholic acid

GUDCA

Glycoursodeoxycholic acid

HDCA

Hyodeoxycholic acid

THDCA

Taurohyodeoxycholic acid

LCA

Lithocholic acid

TLCA

Taurolithocholic acid

UPLC-MS

Ultra-performance liquid chromatography/mass spectrometry

BSH

Bile salt hydrolase

CYP7A1

Cholesterol 7α-hydroxylase

FXR

Farnesoid X receptor

FGF19

Fibroblast growth factor 19

AKP

Alkline phosphatase

GGT

γ-Glutamyl transferase

ALT

Alanine aminotransferase

AST

Aspartate transaminase

IgM

Immunoglobulin M

ULN

Upper limit of normal

BMI

Body mass index

GEE

Generalized estimated equation

FDR

False discovery rate
Notes
Acknowledgements
We are grateful for all the subjects who participated in the study.
Financial Support
This work was supported by the National Natural Science Foundation of China grants (#81620108002, 81771732, and 81830016 to XM, # 81570469 and 81873561 to RT, #81573581 to LY, #81421001 to JF, #81500435 to XX) and Shanghai Municipal Education Commission-Gaofeng Clinical Medicine Grant Support (#20161311 to RT).
Author Contributions
XM, RT, LY, and MEG designed and supervised the project; XM, RT, LY, and JF obtained funding. QW, ML, QM, and DQ performed clinical diagnosis and treatment. WC, YW, YL, BL, ZB, QC, and PF collected samples. YW, YL, AX, HG, and JZ contributed to data collection. YW, YL, and WC performed the experiments. RT, YW, YL, and AX performed bioinformatics and statistical analysis; interpreted data. RT, YW, and WC drafted the manuscript. WZ, XM, MEG, and LY revised the manuscript for important content.
Compliance with Ethical Standards
Competing Interests
None declared.
Copyright information
© Springer Science+Business Media, LLC, part of Springer Nature 2019