Abstract
The etiology and pathogenesis of autoimmune diseases have long been an enigmatic subject that have involved genetic and environmental factors. Recent intriguing data has contributed to the mechanisms involved, including the relationship of infectious agents and loss of tolerance. This loss of tolerance is illustrated by the data on the immune response to Hepatitis B virus such as the molecular mimicry between HBV antigens and self proteins, the generation of immune complexes between HBV antigens and antibodies, and apoptosis/tissue damage resulting in the exposure of intracellular antigens to the immune system. In this paper, we review the current database related to HBV infection and a variety of autoimmune conditions, including autoimmune hepatitis, systemic lupus erythematosus, aplastic anemia, antiphospholipid syndrome, polyarteritis nodosa, rheumatoid arthritis, type 1 diabetes, multiple sclerosis, thyroid disease and uveitis.
This is a preview of subscription content, log in to check access.
Access options
Buy single article
Instant unlimited access to the full article PDF.
US$ 39.95
Price includes VAT for USA
Subscribe to journal
Immediate online access to all issues from 2019. Subscription will auto renew annually.
US$ 99
This is the net price. Taxes to be calculated in checkout.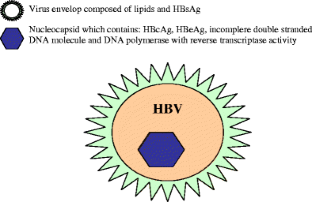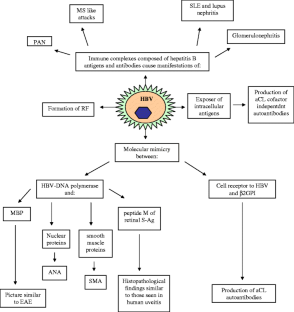 Abbreviations
HbsAg:

hepatitis B surface antigen

HbsAb:

hepatitis B surface antibody

HbcAb:

hepatitis B core antibody

HbeAg:

hepatitis B e antigen

HbeAb:

hepatitis B e antibody

HBx protein:

hepatitis B × protein

AID:

autoimmune disease

MS:

multiple sclerosis

APS:

antiphospholipid syndrome

RA:

rheumatoid arthritis

SLE:

systemic lupus erythematosus

GN:

Glomerulonephritis

MN:

membranous nephropathy

PAN:

polyarteritis nodosa

AIH:

autoimmune hepatitis

T1D:

type 1 diabetes

EAE:

experimental autoimmune encephalomyelitis

MBP:

myelin basic protein

aCL:

anticardiolipin

b2GPI:

b2-glycoprotein I

RF:

rheumatoid factor

CCP:

cyclic citrullinated peptide

ANA:

antinuclear antibodies

SMA:

smooth muscle antibodies

LKM1:

Liver/kidney microsomes type 1
References
1.

Bogdanos DP, Mieli-Vergani G, Vergani D (2000) Virus, liver and autoimmunity. Dig Liver Dis 32(5):440–446 (June–July)

2.

Oertelt S, Invernizzi P, Podda M, Gershwin ME (2007) What is an autoantibody. In: Shoenfeld Y, Gershwin ME, Meroni PL (eds) Autoantibodies. Elsevier, Amsterdam, pp. 3–6

3.

Fujinami RS, von Herrath MG, Christen U, Whitton JL (2006) Molecular mimicry, bystander activation, or viral persistence: infections and autoimmune disease. Clin Microbiol Rev 9(1):80–94 (Jan)

4.

Miller SD, Katz-Levy Y, Neville KL, Vanderlugt CL (2001) Virus-induced autoimmunity: epitope spreading to myelin autoepitopes in Theiler's virus infection of the central nervous system. Adv Virus Res 56:199–217

5.

Lawson CM (2000) Evidence for mimicry by viral antigens in animal models of autoimmune disease including myocarditis. Cell Mol Life Sci 57(4):552–560 (Apr)

6.

Bach JF (2005) Infections and autoimmune diseases. J Autoimmun 25(Suppl):74–80

7.

Mimouni D, Pemphigus DM (2004) Infection. In: Shoenfeld Y, Rose NR (eds) Infection and autoimmunity. Elsevier, Amsterdam, pp 531–535

8.

Hsu TC, Tsay GJ, Chen TY, Liu YC, Tzang BS (2006) Anti-PCNA autoantibodies preferentially recognize C-terminal of PCNA in patients with chronic hepatitis B virus infection. Clin Exp Immunol 144(1):110–116 (Apr)

9.

Shepard CW, Simard EP, Finelli L, Fiore AE, Bell BP (2006) Hepatitis B virus infection: epidemiology and vaccination. Epidemiol Rev 28:112–125

10.

Bertoletti A, Gehring AJ (2006) The immune response during hepatitis B virus infection. J Gen Virol 87(Pt 6):1439–1449 (Jun)

11.

Huang CF, Lin SS, Ho YC, Chen FL, Yang CC (2006) The immune response induced by hepatitis B virus principal antigens. Cell Mol Immunol 3(2):97–106 (Apr)

12.

Baumert TF, Thimme R, von Weizsacker F (2007) Pathogenesis of hepatitis B virus infection. World J Gastroenterol 13(1):82–90 (Jan 7)

13.

Csepregi A, Nemesanszky E, Rojkovich B, Poor G (2001) Rheumatoid arthritis and hepatitis B virus: evaluating the pathogenic link. J Rheumatol 28(3):474–477 (Mar)

14.

Pan CQ, Zhang JX (2005) Natural history and clinical consequences of hepatitis B virus infection. Int J Med Sci 2(1):36–40

15.

Custer B, Sullivan SD, Hazlet TK, Iloeje U, Veenstra DL, Kowdley KV (2004) Global epidemiology of hepatitis B virus. J Clin Gastroenterol 38(10 Suppl):S158–168 (Nov–Dec)

16.

Yokosuka O, Arai M (2006) Molecular biology of hepatitis B virus: effect of nucleotide substitutions on the clinical features of chronic hepatitis B. Med Mol Morphol 39(3):113–120 (Sep)

17.

Allain JP (2006) Epidemiology of Hepatitis B virus and genotype. J Clin Virol 36(Suppl 1):S12–17 (May)

18.

Wieland SF, Chisari FV (2005) Stealth and cunning: hepatitis B and hepatitis C viruses. J Virol 79(15):9369–9380 (Aug)

19.

Ganem D, Prince AM (2004) Hepatitis B virus infection-natural history and clinical consequences. N Engl J Med 350(11):1118–1129 (Mar 11)

20.

Ichiki Y, He XS, Shimoda S, Ishibashi H, Keeffe EB, Rossaro L et al (2005) T cell immunity in hepatitis B and hepatitis C virus infection: implications for autoimmunity. Autoimmun Rev 4(2):82–95 (Feb)

21.

McFarlane BM, Bridger CB, Smith HM, Antonov KA, Naoumov N, Williams R et al (1995) Autoimmune mechanisms in chronic hepatitis B and delta virus infections. Eur J Gastroenterol Hepatol 7(7):615–621 (Jul)

22.

Tzang BS, Chen TY, Hsu TC, Liu YC, Tsay GJ (1999) Presentation of autoantibody to proliferating cell nuclear antigen in patients with chronic hepatitis B and C virus infection. Ann Rheum Dis 58(10):630–634 (Oct)

23.

Wucherpfennig KW (2001) Structural basis of molecular mimicry. J Autoimmun 16(3):293–302 (May)

24.

Wucherpfennig KW (2001) Mechanisms for the induction of autoimmunity by infectious agents. J Clin Invest 108(8):1097–1104 (Oct)

25.

Abbas A, Lohr J, Knoechel B (2007) Balancing autoaggressive and protective T cell responses. J Autoimmun 28:59–61

26.

Abou-Raya A, Abou-Raya S (2006) Inflammation: a pivotal link between autoimmune diseases and atherosclerosis. Autoimmun Rev 5(5):331–337 (May)

27.

Alvarado-Sanchez B, Hernandez-Castro B, Portales-Perez D, Baranda L, Layseca-Espinosa E, Abud-Mendoza C et al (2006) Regulatory T cells in patients with systemic lupus erythematosus. J Autoimmun 27(2):110–118 (Sep)

28.

Awdeh ZL, Yunis EJ, Audeh MJ, Fici D, Pugliese A, Larsen CE et al (2006) A genetic explanation for the rising incidence of type 1 diabetes, a polygenic disease. J Autoimmun 27(3):174–181 (Nov)

29.

Bizzaro N (2007) Autoantibodies as predictors of disease: the clinical and experimental evidence. Autoimmun Rev 6(6):325–333 (Jun)

30.

Duan B, Morel L (2006) Role of B-1a cells in autoimmunity. Autoimmun Rev 5(6):403–408 (Jul)

31.

Eaton WW, Rose NR, Kalaydjian A, Pedersen MG, Mortensen PB (2007) Epidemiology of autoimmune diseases in Denmark. J Autoimmun 29(1):1–9 (Aug)

32.

Furuzawa-Carballeda J, Vargas-Rojas MI, Cabral AR (2007) Autoimmune inflammation from the Th17 perspective. Autoimmun Rev 6(3):169–175 (Jan)

33.

Gleicher N, Barad D (2007) Gender as risk factor for autoimmune diseases. J Autoimmun 28:1–6

34.

Hernandez-Molina G, Svyryd Y, Sanchez-Guerrero J, Mutchinick OM (2007) The role of the X chromosome in immunity and autoimmunity. Autoimmun Rev 6(4):218–222 (Mar)

35.

Holvast B, Huckriede A, Kallenberg CG, Bijl M (2007) Influenza vaccination in systemic lupus erythematosus: safe and protective? Autoimmun Rev 6(5):300–305 (Apr)

36.

Rieger R, Gershwin ME (2007) The X and why of xenobiotics in primary biliary cirrhosis. J Autoimmun 28(2–3):76–84 (Mar–May)

37.

Franssila R, Hedman K (2006) Infection and musculoskeletal conditions: Viral causes of arthritis. Best Pract Res Clin Rheumatol 20(6):1139–1157 (Dec)

38.

Bogdanos DP, Smith H, Ma Y, Baum H, Mieli-Vergani G, Vergani D (2005) A study of molecular mimicry and immunological cross-reactivity between hepatitis B surface antigen and myelin mimics. Clin Dev Immunol 12(3):217–224 (Sep)

39.

Denman AM, Rager-Zisman B (2004) Viruses: the culprits of autoimmune diseases? In: Shoenfeld Y, Rose NR (eds) Infection and autoimmunity. Elsevier, Amsterdam, pp 123–153

40.

Achiron A (2004) Viruses and multiple sclerosis. In: Shoenfeld Y, Rose NR (eds) Infection and autoimmunity. Elsevier, Amsterdam pp 263–270

41.

Yaron T, Villanueva R (2004) Infection and autoimmune thyroid diseases. In: Shoenfeld Y, Rose NR (eds) Infection and autoimmunity. Elsevier, Amsterdam, pp 515–530

42.

Nagao Y, Hanada S, Shishido S, Ide T, Kumashiro R, Ueno T et al (2003) Incidence of Sjogren's syndrome in Japanese patients with hepatitis C virus infection. J Gastroenterol Hepatol 18(3):258–266 (Mar)

43.

Permin H, Aldershvile J, Nielsen JO (1982) Hepatitis B virus infection in patients with rheumatic diseases. Ann Rheum Dis 41(5):479–482 (Oct)

44.

Matsui M, Kakigi R, Watanabe S, Kuroda Y (1996) Recurrent demyelinating transverse myelitis in a high titer HBs-antigen carrier. J Neurol Sci 139(2):235–237 (Aug)

45.

Pierangeli SS, Chen PP, Gonzalez EB (2006) Antiphospholipid antibodies and the antiphospholipid syndrome: an update on treatment and pathogenic mechanisms. Curr Opin Hematol 13(5):366–375 (Sep)

46.

Zachou K, Liaskos C, Christodoulou DK, Kardasi M, Papadamou G, Gatselis N et al (2003) Anti-cardiolipin antibodies in patients with chronic viral hepatitis are independent of beta2-glycoprotein I cofactor or features of antiphospholipid syndrome. Eur J Clin Invest 33(2):161–168 (Feb)

47.

Harada M, Fujisawa Y, Sakisaka S, Kawaguchi T, Taniguchi E, Sakamoto M et al (2000) High prevalence of anticardiolipin antibodies in hepatitis C virus infection: lack of effects on thrombocytopenia and thrombotic complications. J Gastroenterol 35(4):272–277

48.

Matsuura E, Dier KJ, Lopez LR (2007) b2- Glycioriteub I /autoantibodies. In: Shoenfeld Y, Gershwin ME, Meroni PL (eds) Autoantibodies, 2nd ed. Elsevier, Amsterdam, pp 687–754

49.

Guglielmone H, Vitozzi S, Elbarcha O, Fernandez E (2001) Cofactor dependence and isotype distribution of anticardiolipin antibodies in viral infections. Ann Rheum Dis 60(5):500–504 (May)

50.

Kansu A, Kuloglu Z, Demirceken F, Girgin N (2004) Autoantibodies in children with chronic hepatitis B infection and the influence of interferon alpha. Turk J Gastroenterol 15(4):213–218 (Dec)

51.

Dumoulin FL, Leifeld L, Sauerbruch T, Spengler U (1999) Autoimmunity induced by interferon-alpha therapy for chronic viral hepatitis. Biomed Pharmacother 53(5–6):242–254 (Jun)

52.

Jara LJ, Medina G, Vera-Lastra O, Navarro C, Miranda JM (2004) Interaction between Rheumatoid Arthritis and Infections. In: Shoenfeld Y, Rose NR (eds) Infection and autoimmunity. Elsevier, Amsterdam, pp 729–740

53.

O'Dell JR (2004) Therapeutic strategies for rheumatoid arthritis. N Engl J Med 350(25):2591–2602 (Jun 17)

54.

Lee SI, Yoo WH, Yun HJ, Kim DS, Lee HS, Choi SI, et al (2006) Absence of antibody to cyclic citrullinated peptide in sera of non-arthritic patients with chronic hepatitis B virus infection. Clin Rheumatol 9:A1–A5 (Nov 29)

55.

D'Cruz DP, Khamashta MA, Hughes GR (2007) Systemic lupus erythematosus. Lancet 369(9561):587–596 (Feb 17)

56.

Bagavant H, Deshmukh US, Gaskin F, Fu SM (2004) Lupus glomerulonephritis revisited 2004: autoimmunity and end-organ damage. Scand J Immunol 60(1–2):52–63 (Jul–Aug)

57.

Gisele Zandman-Goddard, Shoenfeld Y (2004) SLE and infections. In: Y Shoenfeld, Rose NR (eds) Infection and autoimmunity. Elsevier, Amsterdam, pp 491–503

58.

Looi LM, Prathap K (1982) Hepatitis B virus surface antigen in glomerular immune complex deposits of patients with systemic lupus erythematosus. Histopathology 6(2):141–147 (Mar)

59.

Lai KN, Lai FM, Lo S (1987) Leung A Is there a pathogenetic role of hepatitis B virus in lupus nephritis? Arch Pathol Lab Med 111(2):185–188 (Feb)

60.

Ziegenfuss J, Bergquist E, Burka E (1972) Australia antigen in systemic lupus erythematosus. N Engl J Med 286(15):842–843 (Apr 13)

61.

Hricik DE, Chung-Park M, Sedor JR (1998) Glomerulonephritis. N Engl J Med 339(13):888–899 (Sep 24)

62.

Maggiore Q, Bartolomeo F, L'Abbate A, Misefari V (1981) HBsAg glomerular deposits in glomerulonephritis: fact or artifact? Kidney Int 19(4):579–586 (Apr)

63.

Lai KN, Lai FM, Chan KW, Chow CB, Tong KL, Vallance-Owen J (1987) The clinico-pathologic features of hepatitis B virus-associated glomerulonephritis. Q J Med 63(240):323–333 (Apr)

64.

Hsu HC, Lin GH, Chang MH, Chen CH (1983) Association of hepatitis B surface (HBs) antigenemia and membranous nephropathy in children in Taiwan. Clin Nephrol 20(3):121–129 (Sep)

65.

Mader R, Keystone EC (1992) Infections that cause vasculitis. Curr Opin Rheumatol 4(1):35–38 (Feb)

66.

Chanseaud Y, Tamby MC, Guilpain P, Reinbolt J, Kambouchner M, Boyer N et al (2005) Analysis of autoantibody repertoires in small- and medium-sized vessels vasculitides. Evidence for specific perturbations in polyarteritis nodosa, microscopic polyangiitis, Churg-Strauss syndrome and Wegener's granulomatosis. J Autoimmun 24(2):169–179 (Mar)

67.

Guillevin L, Pascal C, Pagnoux C (2004) Virus-induced systemic Vasculitides. In: Shoenfeld Y, Rose NR (eds) Infection and autoimmunity. Elsevier, Amsterdam, pp 213–219

68.

Pagnoux C, Cohen P, Guillevin L (2006) Vasculitides secondary to infections. Clin Exp Rheumatol 24(2 Suppl 41):S71–S81 (Mar–Apr)

69.

Chi ZC, Ma SZ (2003) Rheumatologic manifestations of hepatic diseases. Hepatobiliary Pancreat Dis Int 2(1):32–37 (Feb)

70.

Tervaert JWC, Stegeman CA (2004) Infections and Vasculitis. In: Shoenfeld Y, Rose NR (eds) Infection and autoimmunity. Elsevier, Amsterdam, pp 549–557

71.

Guillevin L, Lhote F, Cohen P, Sauvaget F, Jarrousse B, Lortholary O et al (1995) Polyarteritis nodosa related to hepatitis B virus. A prospective study with long-term observation of 41 patients. Medicine (Baltimore) 74(5):238–253 (Sep)

72.

Guillevin L, Mahr A, Callard P, Godmer P, Pagnoux C, Leray E et al (2005) Hepatitis B virus-associated polyarteritis nodosa: clinical characteristics, outcome, and impact of treatment in 115 patients. Medicine (Baltimore) 84(5):313–322 (Sep)

73.

Trepo CG, Zucherman AJ, Bird RC, Prince AM (1974) The role of circulating hepatitis B antigen/antibody immune complexes in the pathogenesis of vascular and hepatic manifestations in polyarteritis nodosa. J Clin Pathol 27(11):863–868 (Nov)

74.

Murakami C, Hino K, Okazaki M, Fujii K, Okuda M, Hanada H et al (1996) Hepatitis B virus carrier status linked to autoimmune hepatitis. Intern Med 35(6):468–471 (Jun)

75.

Czaja AJ, Carpenter HA, Santrach PJ, Moore SB, Taswell HF, Homburger HA (1993) Evidence against hepatitis viruses as important causes of severe autoimmune hepatitis in the United States. J Hepatol 18(3):342–352 (Jul)

76.

Sandro Vento, Cainelli F (2004) Viral Infections and Autoimmune Hepatitis. In: Shoenfeld Y, Rose NR (eds) Infection and autoimmunity. Elsevier, Amsterdam, pp 221–227

77.

Jun HS, Yoon JW (2003) A new look at viruses in type 1 diabetes. Diabetes Metab Res Rev 19(1):8–31 (Jan–Feb)

78.

Khuri KG, Shamma'a MH, Abourizk N (1985) Hepatitis B virus markers in diabetes mellitus. Diabetes Care 8(3):250–253 (May–Jun)

79.

Halota W, Muszynska M, Pawlowska M (2002) Hepatitis B virus serologic markers and anti-hepatitis B vaccination in patients with diabetes. Med Sci Monit 8(7):CR516–CR519 (Jul)

80.

Singh DP, Kikuchi T, Singh VK, Shinohara T (1994) A single amino acid substitution in core residues of S-antigen prevents experimental autoimmune uveitis. J Immunol 152(9):4699–4705 (May 1)

81.

Gregorio GV, Jones H, Choudhuri K, Vegnente A, Bortolotti F, Mieli-Vergani G et al (1996) Autoantibody prevalence in chronic hepatitis B virus infection: effect in interferon alfa. Hepatology 24(3):520–523 (Sep)

82.

Gregorio GV, Choudhuri K, Ma Y, Vegnente A, Mieli-Vergani G, Vergani D (1999) Mimicry between the hepatitis B virus DNA polymerase and the antigenic targets of nuclear and smooth muscle antibodies in chronic hepatitis B virus infection. J Immunol 162(3):1802–1810 (Feb 1)

83.

Vergani D, Gregorio GV, Choudhuri K, Ma Y, Vegnente A, Mieli-Vergani G (1998) Hepatitis virus induced autoimmunity. Acta Gastroenterol Belg 61(2):217–218 (Apr–Jun)

84.

Geier DA, Geier MR (2005) A case-control study of serious autoimmune adverse events following hepatitis B immunization. Autoimmunity 38(4):295–301 (Jun)

85.

Piaggio E, Ben Younes A, Desbois S, Gout O, Tourbah A, Lyon-Caen O et al. (2005) Hepatitis B vaccination and central nervous system demyelination: an immunological approach. J Autoimmun 24(1):33–37 (Feb)

86.

Berkun Y, Mimouni D, Shoenfeld Y (2005) Pemphigus following hepatitis B vaccination-coincidence or causality? Autoimmunity 38(2):117–179 (Mar)

87.

Maillefert JF, Sibilia J, Toussirot E, Vignon E, Eschard JP, Lorcerie B et al (1999) Rheumatic disorders developed after hepatitis B vaccination. Rheumatology (Oxford) 38(10):978–983 (Oct)

88.

Ravel G, Christ M, Horand F (2004) Descotes J. Autoimmunity, environmental exposure and vaccination:is there a link? Toxicology 196(3):211–216 (Mar 15)

89.

Girard M (2005) Autoimmune hazards of hepatitis B vaccine. Autoimmun Rev 4(2):96–100 (Feb)

90.

Anaya JM, Castiblanco J, Tobon GJ, Garcia J, Abad V, Cuervo H et al (2006) Familial clustering of autoimmune diseases in patients with type 1 diabetes mellitus. J Autoimmun 26(3):208–214 (May)

91.

J AutoimmunAoki CA, Roifman CM, Lian ZX, Bowlus CL, Norman GL, Shoenfeld Y, et al (2006) IL-2 receptor alpha deficiency and features of primary biliary cirrhosis. J Autoimmun 27(1):50–53 (Aug)

92.

Ban Y, Tozaki T, Tobe T, Ban Y, Jacobson EM, Concepcion ES et al (2007) The regulatory T cell gene FOXP3 and genetic susceptibility to thyroid autoimmunity: an association analysis in Caucasian and Japanese cohorts. J Autoimmun 28(4):201–207 (Jun)

93.

Binder SR, Hixson C, Glossenger J (2006) Protein arrays and pattern recognition: new tools to assist in the identification and management of autoimmune disease. Autoimmun Rev 5(4):234–241 (Apr)

94.

Borchers AT, Selmi C, Cheema G, Keen CL, Shoenfeld Y, Gershwin ME (2006) Juvenile idiopathic arthritis. Autoimmun Rev 5(4):279–298 (Apr)

95.

Brandt D, Gershwin ME (2006) Common variable immune deficiency and autoimmunity. Autoimmun Rev 5(7):465–470 (Aug)

96.

Fleming SD, Tsokos GC (2006) Complement, natural antibodies, autoantibodies and tissue injury. Autoimmun Rev 5(2):89–92 (Feb)

97.

Foreman AL, Van de Water J, Gougeon ML, Gershwin ME (2007) B cells in autoimmune diseases: Insights from analyses of immunoglobulin variable (Ig V) gene usage. Autoimmun Rev 6(6):387–401 (Jun)

98.

Fry L, Baker BS, Powles AV (2007) Psoriasis-a possible candidate for vaccination. Autoimmun Rev 6(5):286–289 (Apr)

99.

Lapierre P, Beland K, Djilali-Saiah I, Alvarez F (2006) Type 2 autoimmune hepatitis murine model: the influence of genetic background in disease development. J Autoimmun 26(2):82–89 (Mar)

100.

Nilsson BO, Skogh T, Ernerudh J, Johansson B, Lofgren S, Wikby A et al (2006) Antinuclear antibodies in the oldest-old women and men. J Autoimmun 27(4):281–288 (Dec)

101.

Pontynen N, Miettinen A, Arstila TP, Kampe O, Alimohammadi M, Vaarala O et al (2006) Aire deficient mice do not develop the same profile of tissue-specific autoantibodies as APECED patients. J Autoimmun 27(2):96–104 (Sep)
About this article
Cite this article
Maya, R., Gershwin, M.E. & Shoenfeld, Y. Hepatitis B Virus (HBV) and Autoimmune Disease. Clinic Rev Allerg Immunol 34, 85–102 (2008) doi:10.1007/s12016-007-8013-6
Keywords
Hepatitis B virus

Autoimmune disease

Autoimmune hepatitis

Systemic lupus erythomatosus

Antiphospholipid syndrome

Polyarteritis nodosa

Rheumatoid arthritis

Type 1 diabetes

Multiple sclerosis

Thyroid disease and uveitis