Role of Liposomes-Based Stem Cell for Multimodal Cancer Therapy
Abstract
The utilization of stem cells as novel carriers to target tissues or organs of interest is a challenging task in delivery system. The composite cellular delivery with diverse signalling molecules as therapeutics increases stem cell capability and possesses the promising potential to augment, modify or commence localized or systemic restoration for vital applications in regenerative medicine. The inherent potential of stem cells to immigrate and reside at wounded site facilitates transportation of genes, polypeptides or nanosized molecules. Liposomes are micro- to nano-lipidic vesicles formed in aqueous solutions to encapsulate complex hydrophilic and lipophilic chemical substances. Moreover, these novel nanocarriers provide safer and efficient delivery of bioactives together with their potential applications in vaccine production, cosmeceuticals, imaging and diagnostic purpose. Tissue engineering promotes rejuvenation process and involves the synchronized utilization of cells with 3D bio-material scaffolds to fabricate living structures. This strategy requires regulated stimulus of cultured cells through combined mechanical signals and bioactive agents. This review highlights and summarizes the mechanism involved in stem cell migration, strategies to enhance homing, safety and efficacy studies of stem cells in various disease models and discusses the potential role of liposomes in prolonged and localized delivery of bioactives for regenerative medicines and tissue engineering techniques.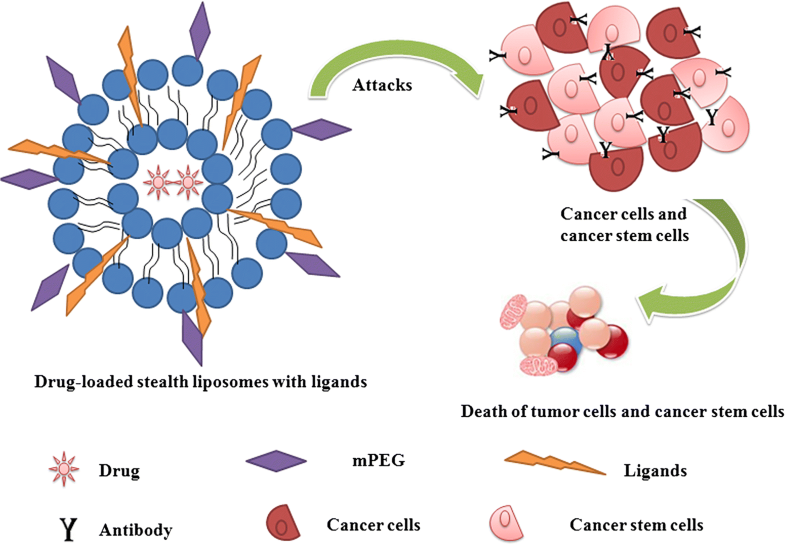 Keywords
Liposomes 
Scaffolds 
Cancer 
Osteoarthritis 
Regenerative medicine 
Tissue engineering 
Stem cells 
Abbreviations
SC

Stem cells

TI

Therapeutic index

RES

Reticulo-endothelial system

RM

Regenerative medicine

ASCs

Adult stem cells

PSCs

Pluripotent stem cells

ESCs

Embryonic stem cells

MSCs

Mesenchymal stem cells

GFs

Growth factors

TE

Tissue engineering

RM

Regenerative medicine

ECM

Extracellular matrix

PAI-10

Plasminogen activator inhibitor

uPAR

urokinase Plasminogen activator receptor

TLR-4

Toll-like receptor 4

IA

Intra-articular

VLA-4

Very late activation antigen-4

VCAM-1

Vascular cell adhesion molecule 1

CXCL12

C-X-C motif chemokine 12

CXCR4 (CD184)

C-X-C chemokine receptor type 4

HSC

Hematopoietic progenitor cells

SDF-1α

Stromal cell-derived factor 1

ACKR-3

Atypical Chemokine Receptor 3

NPs

Nanoparticles

MNPs

Magnetic nanoparticles

OI

Osteogenesis imperfecta

BMP

Bone morphogenetic protein

BMMSCs

Bone marrow originated mesenchymal stem cells

ADMSCs

Adipose derived mesenchymal stem cells

hFIX

Autologous gene-engineered factor IX

HUMBSCs

Human umbilical cord blood-derived mesenchymal stem cells

MRI

Magnetic resonance imaging

E-PCL

Electrospun polycaprolactone

NFMs

Nanofiber meshes

RUNX2

Runt-related transcription factor 2

TGF-β

Transforming growth factor β

COL1A1

Collagen type 1, alpha 1

PEG

Poly (ethylene) glycol

PEG-LP

PEGylated lipoplexes

PLLA

Poly-l-lactic acid

NGF

Nerve growth factor

MCLs

Magnetic cationic liposomes

PCM

Polycarbonate membrane

LPH

Lipid polymer hybrid

SEM

Scanning electron microscopy

ICAM-1

Intercellular adhesion molecule-1

BF-ELIP

Bifunctional echogenic immunoliposomes

LGR-5

Leucine-rich repeat-containing G protein coupled receptor 5

MCF-7

Michigan Cancer Foundation-7

SCID

Severe combined immunodeficiency

HIF-1α

Hypoxia inducible factor-1α

GCs

Glioma cells

GSCs

Glioma stem cells

WGA

Wheat germ agglutinin

BBB

Blood brain barrier

SP

Side population

BCSCs

Brain cancer stem cells

VM

Vasculogenic mimicry

MGMT

O6-methylguanine-DNA methyltransferase

Si RNA

Small-interfering RNA

pDNA

Polyrotaxane-plasmid DNA

RNAi

RNA interference

mRNA

Messenger RNA

TMZ

Temozolomide

CED

Convection-enhanced delivery

RSPO-1

R-spondin family proteins

BCCs

Breast cancer cells

CSCs

Cancer stem cells

MAB

Monoclonal antibody

MBC

Metastatic breast cancer

GVHD

Graft versus host disease

LVEF

Left ventricular ejection fraction

CAD

Coronary artery disease

bFGF

Basic fibroblast growth factor
Notes
Compliance with Ethical Standards
Conflict of Interest
The authors declare that they have no conflict of interest.
Copyright information
© Springer Science+Business Media, LLC, part of Springer Nature 2019