Reprogramming of Keratinocytes as Donor or Target Cells Holds Great Promise for Cell Therapy and Regenerative Medicine
Abstract
One of the most crucial branches of regenerative medicine is cell therapy, in which cellular material is injected into the patient to initiate the regenerative process. Cells obtained by reprogramming of the patient's own cells offer ethical and clinical advantages could provide a new source of material for therapeutic applications. Studies to date have shown that only a subset of differentiated cell types can be reprogrammed. Among these, keratinocytes, which are the most abundant proliferating cell type in the epidermis, have gained increasing attention as both donor and target cells for reprogramming and have become a new focus of regenerative medicine. As target cells for the treatment of skin defects, keratinocytes can be differentiated or reprogrammed from embryonic stem cells, induced pluripotent stem cells, fibroblasts, adipose tissue stem cells, and mesenchymal cells. As donor cells, keratinocytes can be reprogrammed or direct reprogrammed into a number of cell types, including induced pluripotent stem cells, neural cells, and Schwann cells. In this review, we discuss recent advances in keratinocyte reprogramming, focusing on the induction methods, potential molecular mechanisms, conversion efficiency, and safety for clinical applications.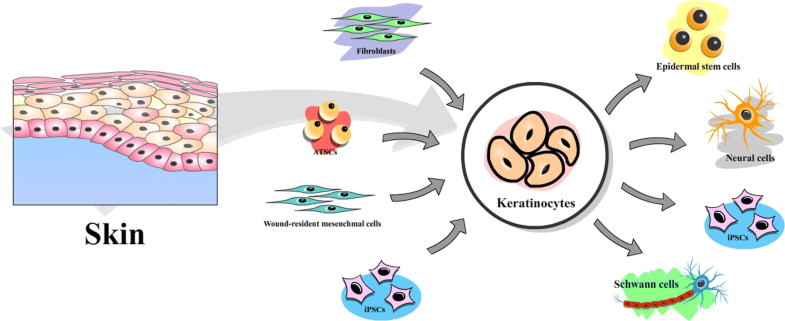 Keywords
Reprogramming 
Keratinocytes 
iPSCs 
Regeneration medicine 
Stem cell 
Abbreviations
ESCs

embryonic stem cells

iPSCs

induced pluripotent stem cells

ATSCs

adipose tissue stem cells

KCs

keratinocytes

RA

retinoic acid

Bmp4

bone morphogenetic protein 4

iKCs

induced keratinocytes

RDEB

recessive dystrophic epidermolysis bullosa

HFSCs

Hair follicle stem cells

STEMCCA

stem cell cassette

OSNL

Oct4/Sox2/Nanog and Lin28

TCHH

trichohyalin

BMMSCs

bone marrow mesenchymal stem cells
Notes
Acknowledgements
This work was supported by the National Nature Science Foundation of China (81571905, 81830064, 81721092), the National Key Research Development Plan (2017YFC1103300) and Military Logistics Research Key Project (AWS17J005).
Compliance with Ethical Standards
Conflict of Interest
The authors declare no potential conflicts of interest.
Copyright information
© Springer Science+Business Media, LLC, part of Springer Nature 2019