Abstract
Zinc plays a major role in skin integrity, which can be affected by dromedary camels' hard life conditions. Deficiencies in some trace elements especially in zinc can explain susceptibility of this species to skin diseases. Compared with ruminants, camel is already known for his relatively low zincemia. In order to assess dromedary camels' skin zinc content, the present study was carried out in several provinces located in the south of Morocco where camel skin diseases are commonly observed. Zinc content in dromedary camel skin was determined using for the first time laser-induced breakdown spectroscopy (LIBS), method considered so far quick and simple with few or no sample processing. Collected data showed that zinc skin contents ranged between 115 ± 60 (for external side) and 94 ± 82 ppm (for internal side) with significant variability according to animals and to skin layers (external side versus internal side). Zinc skin content decreased from external to internal layers. Such preliminary results could be used to compare skin zinc nutritional level in healthy camels with those affected by skin diseases.
This is a preview of subscription content, log in to check access.
Access options
Buy single article
Instant access to the full article PDF.
US$ 39.95
Price includes VAT for USA
Subscribe to journal
Immediate online access to all issues from 2019. Subscription will auto renew annually.
US$ 954
This is the net price. Taxes to be calculated in checkout.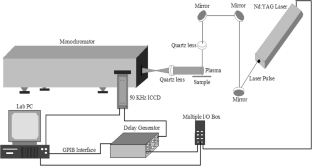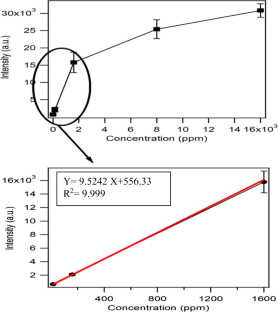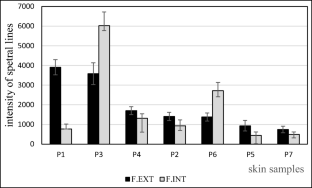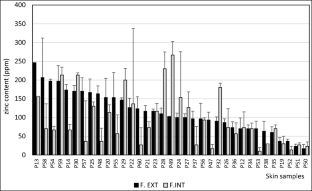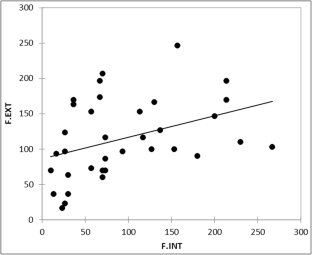 References
1.

Ahmed MM, Hamed TF, Barri ME (2001) Variation of zinc and copper concentrations in the plasma of Nubian goats according to physiological state. Small Rumin Res 39:189–193

2.

Bengoumi M, Faye B, Tressol JC (1994) Composition minérale du lait de chamelle du Sud-marocain. Actes de l'atelier "Chameaux et dromadaires, Animaux laitiers" Nouakchott (Mauritanie), Ed. CIRAD, 1998 (coll. Colloques), 145-149

3.

Bengoumi M, Faye B, El Kasmi K, Tressol C (1995) Facteurs de variations des indicateurs plasmatiques du statut nutritionnel en oligo-éléments chez le dromadaire au Maroc. Rev Elev Méd Vét Pays Trop 48(3):271–276

4.

Bengoumi M, Essamadi K, Tressol JC, Faye B (1998) Comparative study of copper and zinc metabolism in cattle and camel. Biol Trace Element Res 63:81–94

5.

Clauss M, Lendl C, Schramel P, Streich WJ (2004) Skin lesions in alpacas and llamas with low zinc and copper status- a preliminary report. The Vet J 167:302–305

6.

Faye B, Mulato C (1991) Facteurs de variation des paramètres protéo-énergétiques, enzymatiques et minéraux dans le plasma chez le dromadaire de Djibouti. Rev Elev Med Vét Pays Trop 44:325–334

7.

Faye B, Bengoumi M (1994) Trace-elements status in camels: a review. Biol Trace element Res 41:1–10

8.

Faye B, Bengoumi M (2000) Le dromadaire face à la sous-nutrition minérale : un aspect méconnu de son adaptabilité aux conditions désertiques. Sécheresse 11(3):155–161

9.

Faye B, Bengoumi M, Seboussi R (2011) The mineral nutrition and imbalances in camel: a constraint in pastoral areas. Proceedings of the International conference on camel research and development "Bridging knowledge and technology gaps in camel production" (S Bediye, S Tilahun, G Animut, M Egie and T Getahun, Eds), Jijiga (Ethiopia), Oct. 27-29th 2011, 109-124

10.

Faye B, Bengoumi M (2018) Camel clinical biochemistry and hematology. Springer Publ:217–274

11.

Ghosal AK, Shekawati VS (1992) Observations on serum trace elements levels (zinc, copper and iron) in camel (Camelus dromedaries) in the arid tracts of Thar Desert in India. Rev Elev Méd Vét Pays trop 45(1):43–48

12.

Mc Dowell LR (2003) Minerals in animal and human nutrition, 2nd edn. Elsevier Science B.V, Amsterdam

13.

Mohamed HE (2004) The zinc and copper concentration of the plasma of Sudanese camels (Camelus dromedarius). Vet Res Comm 28:359–363

14.

Ogawa Y, Kawamura T, Shimada S (2016) Zinc and skin biology. Arch Bioch Biophys 611:113–119

15.

Ogawa Y, Kinoshita M, Shimada S, Kawamura T (2018) Zinc and skin disorders. Nutrients 10(2):199–218

16.

Ramiche A (2001) Etude des abcès superficiels chez le dromadaire (Camelus dromedarius) au Sud du Maroc. Thèse doct vét, IAV Hassan II, Rabat, Maroc

17.

Rostan EF, DeBuys HV, Madey DL, Pinnell SR (2002) Evidence supporting zinc as an important antioxidant for skin. Int J Dermatol 41(9):606–611

18.

Seboussi R, Faye B, Alhadrami G (2004) Facteurs de variation de quelques éléments trace (sélénium, cuivre, zinc) et d'enzymes témoins de la souffrance musculaire (CPK, ALT et AST) dans le sérum du dromadaire (Camelus dromedarius) aux Emirats Arabes Unis. Rev Elev Med Vét Pays Trop 57(1–2):87–94

19.

Singh AP, Sharma SN, Taneja M (1994) Status of zinc in camel (Camelus dromedarius) with reference to blood serum, seminal plasma and hair. Indian J Anim Sci 64(7):750–751

20.

Sun Q, Tran M, Benjamin WS, Winefordner JD (2000) Zinc analysis in human skin by laser induced-breakdown spectroscopy. Talanta 52:293–300
Acknowledgments
Warm thanks to the Moroccan veterinary services and the staff of LSAMA laboratory in Tunis for their technical support especially Prof. Nejmedine Jaidane, Prof. Guy Taieb, and Prof. Zohra Benlekhdar.
Funding
The present study was achieved in the frame of PRAD project n°16867 entitled "Skin diseases and mineral metabolism in camel."
Ethics declarations
Conflict of Interest
The authors declare that they have no conflict of interest.
Additional information
Publisher's Note
Springer Nature remains neutral with regard to jurisdictional claims in published maps and institutional affiliations.
About this article
Cite this article
Kamili, A., Faye, B., Mbesse Kongbonga, Y.G. et al. Determination of Zinc in Camel Skin Using Laser-Induced Breakdown Spectroscopy. Biol Trace Elem Res (2020). https://doi.org/10.1007/s12011-020-02073-3
Received:

Accepted:

Published:
Keywords
LIBS

Dromedary camels

Zinc

Skin

Morocco