Abstract
Oxidative stress is the main mechanism of arsenite toxicity. Long intergenic non-coding RNA regulator of reprogramming is a newly found stress-response long non-coding RNA that is activated in various stress conditions. However, whether long intergenic non-coding RNA, regulator of reprogramming (linc-ROR) is involved in arsenite-induced oxidative stress has not been explored. In this study, we found that arsenite dose responsively increased the expression of linc-ROR in human bronchial epithelial (HBE) cells, along with elevated oxidative stress demonstrated by increased intracellular reactive oxygen species (ROS) and DNA damage, as well as decreased antioxidant glutathione and superoxide dismutase. We further found that the pre-treatment with N-acetylcysteine, a widely used ROS scavenger, and the over-expression of antioxidant NRF2 protein, both significantly reduced arsenite-induced oxidative stress in arsenite-treated HBE cells, and the linc-ROR over-expression was also inhibited, suggesting that oxidative stress is a key factor for the increase of linc-ROR in arsenite-treated HBE cells. Moreover, our results of bio-informatic analysis showed that arsenite-induced oxidative stress might modulate linc-ROR expression via 3 genes and the up-regulated linc-ROR in arsenite-induced oxidative stress may get involved in cellular processes such as cellular stress response, RNA metabolism, and DNA repair. Collectively, our study demonstrates that oxidative stress plays the key role in arsenite-induced over-expression of linc-ROR, and linc-ROR may be a new clue for exploring the mechanism of arsenite toxicity.
This is a preview of subscription content, log in to check access.
Access options
Buy single article
Instant access to the full article PDF.
US$ 39.95
Price includes VAT for USA
Subscribe to journal
Immediate online access to all issues from 2019. Subscription will auto renew annually.
US$ 954
This is the net price. Taxes to be calculated in checkout.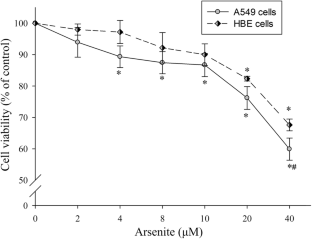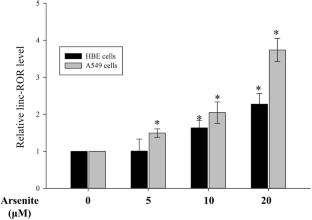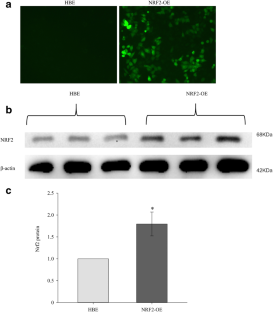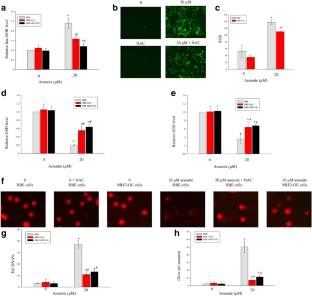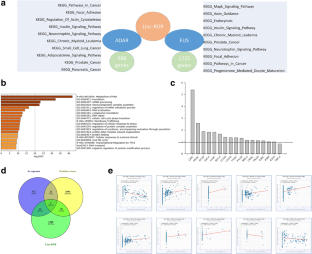 References
1.

Rinn JL, Chang HY (2012) Genome regulation by long noncoding RNAs. Annu Rev Biochem 81:145–166. https://doi.org/10.1146/annurev-biochem-051410-092902

2.

Gu S, Dai J, Qu T, He Z (2019) Emerging roles of microRNAs and long noncoding RNAs in cadmium toxicity. Biol Trace Elem Res:1–10. https://doi.org/10.1007/s12011-019-01859-4

3.

Zhang HY, Liang F, Zhang JW, Wang F, Wang L, Kang XG (2017) Effects of long noncoding RNA-ROR on tamoxifen resistance of breast cancer cells by regulating microRNA-205. Cancer Chemother Pharmacol 79(2):327–337. https://doi.org/10.1007/s00280-016-3208-2

4.

Liu C, Yang Q, Fang G, Li BS, Wu DB, Guo WJ, Hong SS, Hong L (2016) Collagen metabolic disorder induced by oxidative stress in human uterosacral ligament-derived fibroblasts: a possible pathophysiological mechanism in pelvic organ prolapse. Mol Med Rep 13(4):2999–3008. https://doi.org/10.3892/mmr.2016.4919

5.

Turk E, Kandemir FM, Yildirim S, Caglayan C, Kucukler S, Kuzu M (2019) Protective effect of hesperidin on sodium arsenite-induced nephrotoxicity and hepatotoxicity in rats. Biol Trace Elem Res 189(1):95–108. https://doi.org/10.1007/s12011-018-1443-6

6.

Kim C, Kang D, Lee EK, Lee JS (2017) Long noncoding RNAs and RNA-binding proteins in oxidative stress, cellular senescence, and age-related diseases. Oxidative Med Cell Longev 2017(3):2062384. https://doi.org/10.1155/2017/2062384

7.

Tani H, Onuma Y, Ito Y, Torimura M (2014) Long non-coding RNAs as surrogate indicators for chemical stress responses in human-induced pluripotent stem cells. Plos one 9(8):e106282. https://doi.org/10.1371/journal.pone.0106282

8.

Takahashi K, Yan IK, Kogure T, Haga H, Patel T (2014) Extracellular vesicle-mediated transfer of long non-coding RNA ROR modulates chemosensitivity in human hepatocellular cancer. FEBS Open Bio 4:458–467. https://doi.org/10.1016/j.fob.2014.04.007

9.

Takahashi K, Yan IK, Haga H, Patel T (2014) Modulation of hypoxia-signaling pathways by extracellular linc-RoR. J Cell Sci 127(Pt 7):1585–1594. https://doi.org/10.1242/jcs.141069

10.

Loewer S, Cabili MN, Guttman M, Loh YH, Thomas K, Park IH, Garber M, Curran M, Onder T, Agarwal S, Manos PD, Datta S, Lander ES, Schlaeger TM, Daley GQ, Rinn JL (2010) Large intergenic non-coding RNA-RoR modulates reprogramming of human induced pluripotent stem cells. Nat Genet 42(12):1113–1117. https://doi.org/10.1038/ng.710

11.

Zhang A, Zhou N, Huang J, Liu Q, Fukuda K, Ma D, Lu Z, Bai C, Watabe K, Mo YY (2013) The human long non-coding RNA-RoR is a p53 repressor in response to DNA damage. Cell Res 23(3):340–350. https://doi.org/10.1038/cr.2012.164

12.

Jiang F, Zhou X, Huang J (2016) Long non-coding RNA-ROR mediates the reprogramming in cardiac hypertrophy. PLoS One 11(4):e0152767. https://doi.org/10.1371/journal.pone.0152767

13.

Huang J, Zhang A, Ho TT, Zhang Z, Zhou N, Ding X, Zhang X, Xu M, Mo YY (2016) Linc-RoR promotes c-Myc expression through hnRNP I and AUF1. Nucleic Acids Res 44(7):3059–3069. https://doi.org/10.1093/nar/gkv1353

14.

Yang N, Li S, Li G, Zhang S, Tang X, Ni S, Jian X, Xu C, Zhu J, Lu M (2016) The role of extracellular vesicles in mediating progression, metastasis and potential treatment of hepatocellular carcinoma. Oncotarget 8(2):3683

15.

Feng S, Yao J, Chen Y, Geng P, Zhang H, Ma X, Zhao J, Yu X (2015) Expression and functional role of reprogramming-related long noncoding RNA (lincRNA-ROR) in glioma. J Mol Neurosci 56(3):623–630. https://doi.org/10.1007/s12031-014-0488-z

16.

Zhao T, Wu L, Li X, Dai H, Zhang Z (2017) Large intergenic non-coding RNA-ROR as a potential biomarker for the diagnosis and dynamic monitoring of breast cancer. Cancer Biomark 20(2):165–173. https://doi.org/10.3233/cbm-170064

17.

Harmon ME, Lewis J, Miller C, Hoover J, Ali AS, Shuey C, Cajero M, Lucas S, Pacheco B, Erdei E, Ramone S, Nez T, Campen MJ, Gonzales M (2018) Arsenic association with circulating oxidized low-density lipoprotein in a Native American community. J Toxicol Environ Health A 81(13):535–548. https://doi.org/10.1080/15287394.2018.1443860

18.

Zubair M, Ahmad M, Qureshi ZI (2017) Review on arsenic-induced toxicity in male reproductive system and its amelioration. Andrologia 49(9):e12791

19.

Jomova K, Jenisova Z, Feszterova M, Baros S, Liska J, Hudecova D, Rhodes CJ, Valko M (2011) Arsenic: toxicity, oxidative stress and human disease. J Appl Toxicol 31(2):95–107. https://doi.org/10.1002/jat.1649

20.

Guidarelli A, Fiorani M, Cerioni L, Scotti M, Cantoni O (2017) Arsenite induces DNA damage via mitochondrial ROS and induction of mitochondrial permeability transition. Biofactors 43(5):673–684. https://doi.org/10.1002/biof.1375

21.

Samadder A, Das J, Das S, Das D, De A, Bhadra K, Khuda-Bukhsh AR (2012) Dihydroxy-isosteviol methyl ester of Pulsatilla nigricans extract reduces arsenic-induced DNA damage in testis cells of male mice: its toxicity, drug-DNA interaction and signaling cascades. J Chin Integr Med 10(12):1433–1442

22.

Sinha D, Biswas J, Bishayee A (2013) Nrf2-mediated redox signaling in arsenic carcinogenesis: a review. Arch Toxicol 87(2):383–396

23.

Dutta S, Saha S, Mahalanobish S, Sadhukhan P, Sil PC (2018) Melatonin attenuates arsenic induced nephropathy via the regulation of oxidative stress and inflammatory signaling cascades in mice. Food Chem Toxicol

24.

Wang Z, Liang M, Li H, Cai L, He H, Wu Q, Yang L (2019) L-methionine activates Nrf2-ARE pathway to induce endogenous antioxidant activity for depressing ROS-derived oxidative stress in growing rats. J Sci Food Agric 99(10):4849–4862

25.

Zhao P, Guo Y, Zhang W, Chai H, Xing H, Xing M (2017) Neurotoxicity induced by arsenic in Gallus Gallus: regulation of oxidative stress and heat shock protein response. Chemosphere 166:238–245

26.

Tang Z, Xu M, Ito H, Cai J, Ma X, Qin J, Yu D, Meng Y (2019) Deciphering the non-coding RNA-level response to arsenic stress in rice (Oryza sativa). Plant Signal Behav 14(9):1629268. https://doi.org/10.1080/15592324.2019.1629268

27.

Li X, Gu S, Sun D, Dai H, Chen H, Zhang Z (2018) The selectivity of artemisinin-based drugs on human lung normal and cancer cells. Environ Toxicol Pharmacol 57:86–94. https://doi.org/10.1016/j.etap.2017.12.004

28.

Li JH, Liu S, Zhou H, Qu LH, Yang JH (2014) starBase v2.0: decoding miRNA-ceRNA, miRNA-ncRNA and protein-RNA interaction networks from large-scale CLIP-Seq data. Nucleic Acids Res 42(Database issue):D92–D97. https://doi.org/10.1093/nar/gkt1248

29.

Zhao T, Li X, Sun D, Zhang Z (2019) Oxidative stress: one potential factor for arsenite-induced increase of N(6)-methyladenosine in human keratinocytes. Environ Toxicol Pharmacol 69:95–103. https://doi.org/10.1016/j.etap.2019.04.005

30.

Chen C, Jiang X, Gu S, Lai Y, Liu Y, Zhang Z (2017) Protection of Nrf2 against arsenite-induced oxidative damage is regulated by the cyclic guanosine monophosphate-protein kinase G signaling pathway. Environ Toxicol 32(8):2004–2020. https://doi.org/10.1002/tox.22374

31.

Kang KA, Kim JS, Zhang R, Piao MJ, Ko DO, Wang ZH, Maeng YH, Eun SY, Hyun JW (2008) Induction of heme oxygenase-1 by plant extract KIOM-79 via Akt pathway and NF-E2 related factor 2 in pancreatic beta-cells. J Toxicol Environ Health A 71(20):1392–1399. https://doi.org/10.1080/15287390802271624

32.

Ronchetti SA, Bianchi MS, Duvilanski BH, Cabilla JP (2016) In vivo and in vitro arsenic exposition induces oxidative stress in anterior pituitary gland. Int J Toxicol 35(4):463–475. https://doi.org/10.1177/1091581816645797

33.

Ren X, Gaile DP, Gong Z, Qiu W, Ge Y, Zhang C, Huang C, Yan H, Olson JR, Kavanagh TJ, Wu H (2015) Arsenic responsive microRNAs in vivo and their potential involvement in arsenic-induced oxidative stress. Toxicol Appl Pharmacol 283(3):198–209. https://doi.org/10.1016/j.taap.2015.01.014

34.

Wen W, Lu L, He Y, Cheng H, He F, Cao S, Li L, Xiong L, Wu T (2016) LincRNAs and base modifications of p53 induced by arsenic methylation in workers. Chem Biol Interact 246:1–10. https://doi.org/10.1016/j.cbi.2016.01.003

35.

Li C, Zhao Z, Zhou Z, Liu R (2016) Linc-ROR confers gemcitabine resistance to pancreatic cancer cells via inducing autophagy and modulating the miR-124/PTBP1/PKM2 axis. Cancer Chemother Pharmacol 78(6):1199–1207. https://doi.org/10.1007/s00280-016-3178-4

36.

Kumar M, Lalit M, Thakur R (2016) Natural antioxidants against arsenic-induced genotoxicity. Biol Trace Elem Res 170(1):84–93. https://doi.org/10.1007/s12011-015-0448-7

37.

Wang Y, Xu Z, Jiang J, Xu C, Kang J, Xiao L, Wu M, Xiong J, Guo X, Liu H (2013) Endogenous miRNA sponge lincRNA-RoR regulates Oct4, Nanog, and Sox2 in human embryonic stem cell self-renewal. Dev Cell 25(1):69–80. https://doi.org/10.1016/j.devcel.2013.03.002

38.

Zhan HX, Wang Y, Li C, Xu JW, Zhou B, Zhu JK, Han HF, Wang L, Wang YS, Hu SY (2016) LincRNA-ROR promotes invasion, metastasis and tumor growth in pancreatic cancer through activating ZEB1 pathway. Cancer Lett 374(2):261–271. https://doi.org/10.1016/j.canlet.2016.02.018

39.

Li C, Lu L, Feng B, Zhang K, Han S, Hou D, Chen L, Chu X, Wang R (2017) The lincRNA-ROR/miR-145 axis promotes invasion and metastasis in hepatocellular carcinoma via induction of epithelial-mesenchymal transition by targeting ZEB2. Sci Rep 7(1):4637. https://doi.org/10.1038/s41598-017-04113-w

40.

Zafarullah M, Li WQ, Sylvester J, Ahmad M (2003) Molecular mechanisms of N-acetylcysteine actions. Cell Mol Life Sci 60(1):6–20

41.

Hemalatha P, Reddy AG, Reddy YR, Shivakumar P (2013) Evaluation of protective effect of N-acetyl cysteine on arsenic-induced hepatotoxicity. J Nat Sci Biol Med 4(2):393–395. https://doi.org/10.4103/0976-9668.116986

42.

Ray PD, Huang BW, Tsuji Y (2015) Coordinated regulation of Nrf2 and histone H3 serine 10 phosphorylation in arsenite-activated transcription of the human heme oxygenase-1 gene. Biochim Biophys Acta 1849(10):1277–1288. https://doi.org/10.1016/j.bbagrm.2015.08.004

43.

Nishimoto S, Suzuki T, Koike S, Yuan B, Takagi N, Ogasawara Y (2016) Nrf2 activation ameliorates cytotoxic effects of arsenic trioxide in acute promyelocytic leukemia cells through increased glutathione levels and arsenic efflux from cells. Toxicol Appl Pharmacol 305:161–168. https://doi.org/10.1016/j.taap.2016.06.017

44.

Zhang Y, Xia J, Li Q, Yao Y, Eades G, Gernapudi R, Duru N, Kensler TW, Zhou Q (2014) NRF2/long noncoding RNA ROR signaling regulates mammary stem cell expansion and protects against estrogen genotoxicity. J Biol Chem 289(45):31310–31318. https://doi.org/10.1074/jbc.M114.604868

45.

Keegan L, Khan A, Vukic D, O'Connell M (2017) ADAR RNA editing below the backbone. RNA (New York, NY) 23(9):1317–1328. https://doi.org/10.1261/rna.060921.117

46.

Ito D, Suzuki N (2011) Conjoint pathologic cascades mediated by ALS/FTLD-U linked RNA-binding proteins TDP-43 and FUS. Neurology 77(17):1636–1643. https://doi.org/10.1212/WNL.0b013e3182343365

47.

Wang Y, Guo Z, Zhao Y, Jin Y, An L, Wu B, Liu Z, Chen X, Chen X, Zhou H, Wang H, Zhang W (2017) Genetic polymorphisms of lncRNA-p53 regulatory network genes are associated with concurrent chemoradiotherapy toxicities and efficacy in nasopharyngeal carcinoma patients. Sci Rep 7(1):8320. https://doi.org/10.1038/s41598-017-08890-2

48.

Yang P, Yang Y, An W, Xu J, Zhang G, Jie J, Zhang Q (2017) The long noncoding RNA-ROR promotes the resistance of radiotherapy for human colorectal cancer cells by targeting the p53/miR-145 pathway. J Gastroenterol Hepatol 32(4):837–845. https://doi.org/10.1111/jgh.13606
Acknowledgment
We appreciate the technical support of Public Health and Preventive Medicine Provincial Experiment Teaching Center at Sichuan University and Food Safety Monitoring and Risk Assessment Key Laboratory of Sichuan Province.
Funding
This work was supported by the National Natural Science Foundation of China under Grant number 81773380 to Zunzhen Zhang.
Ethics declarations
Conflict of Interest
The authors declare that they have no conflict of interest.
Additional information
Publisher's Note
Springer Nature remains neutral with regard to jurisdictional claims in published maps and institutional affiliations.
Electronic Supplementary Material
About this article
Cite this article
Li, X., Zuo, C., Sun, D. et al. Arsenite Increases Linc-ROR in Human Bronchial Epithelial Cells that Can Be Inhibited by Antioxidant Factors. Biol Trace Elem Res (2020). https://doi.org/10.1007/s12011-020-02065-3
Received:

Accepted:

Published:
Keywords
Linc-ROR

Arsenite

Oxidative stress

Antioxidants