Abstract
Element sensitization is frequent cause of allergic contact dermatitis, and Ni is the main reason for this condition owing to daily use of different Ni-containing items. European Union established a limit of 0.2 μg/cm2/week Ni release for the items by the Ni Directive in 2004. The aim of this study was to determine the amount of element release of imitation earrings sold in different points of Istanbul with different prices and consider the element release levels including 29 trace and toxic elements. After calculation of released nickel amounts, 31.80% of earrings (71 of 223) were observed over the limit of European Commission Directive's migration limit. Minimum and maximum nickel release amounts were found as 0.21 and 30.11 μg/cm2/week, respectively, and mean level was found 3.24 μg/cm2/week among 71 positive earrings. Results showed that essential part of imitation earrings used especially by women release nickel particles over the European Commission Directive's migration limit. In addition, other elements such as Cu, Cr, and Co were found to be in the structure of the imitation earrings, as well as high amounts of toxic element Pb.
This is a preview of subscription content, log in to check access.
Access options
Buy single article
Instant unlimited access to the full article PDF.
US$ 39.95
Price includes VAT for USA
Subscribe to journal
Immediate online access to all issues from 2019. Subscription will auto renew annually.
US$ 954
This is the net price. Taxes to be calculated in checkout.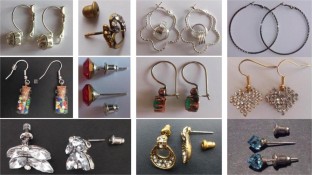 References
1.

Miller RL, Peden DB (2014) Environmental effects on immune responses in patients with atopy and asthma. J Allergy Clin Immunol 134(5):1001–1008. https://doi.org/10.1016/j.jaci.2014.07.064

2.

Alinaghi F, Bennike NH, Egeberg A, Thyssen JP, Johansen JD (2019) Prevalence of contact allergy in the general population: a systematic review and meta-analysis. Contact Dermatitis 80:77–85. https://doi.org/10.1111/cod.13119

3.

Berk DR, Bayliss SJ (2011) Cellular phone and cellular phone accessory dermatitis due to nickel allergy: report of five cases. Pediatr Dermatol 28:327–331. https://doi.org/10.1111/j.1525-1470.2011.01313.x

4.

Wöhrl S, Hemmer W, Focke M, Götz M, Jarisch R (2003) Patch testing in children, adults, and the elderly: influence of age and sex on sensitization patterns. Pediat Dermatol 20:119

5.

Yoshihisa Y, Shimizu T (2012) Element allergy and systemic contact dermatitis: an overview. Dermatol Res Pract 749561. https://doi.org/10.1155/2012/749561

6.

Bregnbak D, Thyssen JP, Jellesen MS, Zachariae C, Johansen JD (2017) Experimental patch testing with chromium-coated materials. Contact Dermatitis 76:333–341. https://doi.org/10.1111/cod.12747

7.

Fowler JF (1998) Occupational dermatology. Curr Probl Dermatol 10:213–244

8.

Hedberg YS, Wei Z, Matura M (2019) High release of hexavalent chromium into artificial sweat in a case of leather shoe–induced contact dermatitis. Contact Dermatitis 1–3. https://doi.org/10.1111/cod.13425

9.

Walker T, Rutkowski L, Innmann M, Panzram B, Herre J, Gotterbarm T, Aldinger PR, Merle C (2019) Unicondylar knee arthroplasty using cobalt-chromium implants in patients with self-reported cutaneous element hypersensitivity. Bone Joint J 101-B(2):227–232. https://doi.org/10.1302/0301-620X.101B2.BJJ-2018-0778.R1

10.

Fage SW, Faurschou A, Thyssen JP (2014) Copper hypersensitivity. Contact Dermatitis 71:191–201

11.

Deleuran MG, Ahlström MG, Zachariae C, Johansen JD, Thyssen JP (2019) Patch test reactivity to aluminium chambers. Contact Dermatitis 81:318–319. https://doi.org/10.1111/cod.13309

12.

Schuttelaar MLA, Ofenloch RF, Bruze M, Cazzaniga S, Elsner P, Gonçalo M, Naldi L, Svensson Å, Diepgen TL (2018) Prevalence of contact allergy to elements in the European general population with a focus on nickel and piercings: the EDEN fragrance study. Contact Dermatitis 79:1–9. https://doi.org/10.1111/cod.12983

13.

Warshaw EM, Aschenbeck KA, DeKoven JG, Maibach HI, Taylor JS, Sasseville D, Belsito DV, Fowler JF Jr, Zug KA, Zirwas MJ, Fransway AF, DeLeo VA, Marks JG Jr, Pratt MD, Mathias T (2017) Piercing and element sensitivity: extended analysis of the north American contact dermatitis group data, 2007-2014. Dermatitis 28(6):333–341. https://doi.org/10.1097/DER.0000000000000324

14.

EU (2004) Commission directive 2004/96/EC of 27 September 2004 amending council directive 76/769/EEC as regards restrictions on the marketing and use of nickel for piercing post assemblies for the purpose of adapting its annex I to technical progress. In: Official Journal of the European Union

15.

UNI EN 1811:2011. Reference test method for release of nickel from all post assemblies which are inserted into pierced parts of the human body and articles intended to come into direct and prolonged contact with the skin

16.

EU (2013) SANCO/12571/2013 Guidance document on analytical quality control and validation procedures for pesticide residues analysis in food and feed

17.

Junping Y, Wei L, Chang W (2012) Nickel release of 10 K white gold alloy for jewelry. Rare Elem Mater Eng 41(6):947–951

18.

Bocca B, Forte G (2009) The epidemiology of contact allergy to elements in the general population: prevalence and new evidences. Open Chem Biomed Methods J 2:26–34

19.

Duarte I, Mendonça RF, Korkes KL, Lazzarini R, Hafner M (2018) Nickel, chromium and cobalt: the relevant allergens in allergic contact dermatitis. Comparative study between two periods: 1995-2002 and 2003-2015. An Bras Dermatol 93(1):59–62. https://doi.org/10.1590/abd1806-4841.20186047

20.

Fowler JF Jr (2016) Cobalt. Dermatitis 27:3–8

21.

Bocca B, Forte G, Senofonte O, Violante N, Paoletti L, De Berardis B, Petrucci F, Cristaudo A (2007) A pilot study on the content and the release of Ni and other allergenic elements from cheap earrings available on the Italian market. Sci Total Environ 388(1-3):24–34

22.

Meijer C, Bredberg M, Fischer T, Widström L (1995) Ear piercing,and nickel and cobalt sensitization, in 520 young Swedish men doing compulsory military service. Contact Dermatitis 32:147

23.

Fischer T, Fregert S, Gruvberger B, Rystedt I (1984) Nickel release from ear piercing kits and earrings. Contact Dermatitis 10:39–41. https://doi.org/10.1111/j.1600-0536.1984.tb00059.x

24.

Akyol A, Boyvat A, Peksari Y, Gürgey E (2005) Contact sensitivity to standard series allergens in 1038 patients with contact dermatitis in Turkey. Contact Dermatitis 52:333–337. https://doi.org/10.1111/j.0105-1873.2005.00608.x

25.

Hamann CR, Hamann DJ, Hamann QJ, Hamann CP, Boonchai W, Li L, Thyssen JP (2010) Assessment of nickel release from earrings randomly purchased in China and Thailand using the dimethylglyoxime test. Contact Dermatitis 62:232–240. https://doi.org/10.1111/j.1600-0536.2010.01694.x

26.

Thyssen JP, Menné T, Johansen JD (2009) Nickel release from inexpensive jewelry and hair clasps purchased in an EU country - are consumers sufficiently protected from nickel exposure? Sci Total Environ 407(20):5315–5318. https://doi.org/10.1016/j.scitotenv.2009.06.034

27.

Ahlström M, Thyssen J, Menné T, Midander K, Julander A, Lidén C, Johnsen C, Johansen J (2018) Short contact with nickel causes allergic contact dermatitis: an experimental study. Br J Dermatol 179:1127–1134. https://doi.org/10.1111/bjd.16935

28.

Thyssen JP, Maibach HI (2008) Nickel release from earrings purchased in the United States: the San Francisco earring study. J Am Acad Dermatol 58(6):1000–1005. https://doi.org/10.1016/j.jaad.2008.03.017

29.

Bregnbak D, Johansen JD, Jellesen MS, Zachariae C, Thyssen JP (2015) Chromium(VI) release from leather and elements can be detected with a diphenylcarbazide spot test. Contact Dermatitis 73:281–288. https://doi.org/10.1111/cod.12406
Acknowledgements
Author would like to thank The Scientific And Technological Research Council of Turkey (TUBITAK) and Scientific Research Fund of Istanbul University-Cerrahpasa, Turkey, for support of this work with the Project numbers 213S098 and BYP-54488, respectively. The author also grateful to Assoc. Prof. Hayriye Vehid for her valuable contribution to the statistical evaluation of the study's findings and to Murat Yayla and Sevcan Şemen for their technical assistant.
Ethics declarations
Conflict of Interest
The author declares that she has no conflict of interest.
Additional information
Publisher's Note
Springer Nature remains neutral with regard to jurisdictional claims in published maps and institutional affiliations.
About this article
Cite this article
Mercan, S. A Comprehensive Artificial Sweat Study for Quantitation of Nickel and Other Inorganic Elements Released from Imitation Earrings Purchased in Istanbul Market. Biol Trace Elem Res (2020) doi:10.1007/s12011-020-02042-w
Received:

Accepted:

Published:
Keywords
Artificial sweat

Earrings

Nickel allergy

Nickel release

Toxic elements