Abstract
Hexavalent chromium, a well-known environmental toxicant, adversely affects female reproduction and results in abnormal implantation, fetal resorption, and reduction in litter size. Uterine myogenic activity is under control of number of receptors and ion channels, and it regulates fetal-implantation and feto-maternal communication. Despite several known adverse effects of chromium on female reproduction, direct action of chromium on myometrial activity is yet to be understood. In the present study, the effect of in vitro exposure of hexavalent chromium (Cr-VI) on the myogenic activity of isolated myometrial strips of rats was evaluated after mounting the tissue in thermostatically (37 ± 0.5 °C) controlled organ bath under a resting tension of 1 g. Chromium produced concentration-dependent (0.1 nM–0.1 mM) inhibitory effect on myometrial activity. Following pre-treatment of the myometrial strips with glibenclamide (a KATP channel blocker) and 4-aminopyridine (a Kv channel blocker), the concentration–response curve (CRC) of chromium was significantly (P < 0.05) shifted towards right with decrease in the maximum relaxant effect. Contractile effects of CaCl2 and BAY K-8644 (a selective opener of L-type Ca2+ channel) were significantly (P < 0.05) attenuated in the presence of chromium. Chromium-induced myometrial relaxation was also significantly (P < 0.05) reduced in the presence of ICI 118,551 (a selective β2-antagonist) and SR 59230A (a selective β3-antagonist). These findings evidently suggest that chromium produced relaxant effect on rat myometrium by interfering with Ca2+ entry through voltage-dependent Ca2+ channels, and by interacting with beta-adrenoceptors (β2 and β3) and potassium channels (especially KATP and Kv channels).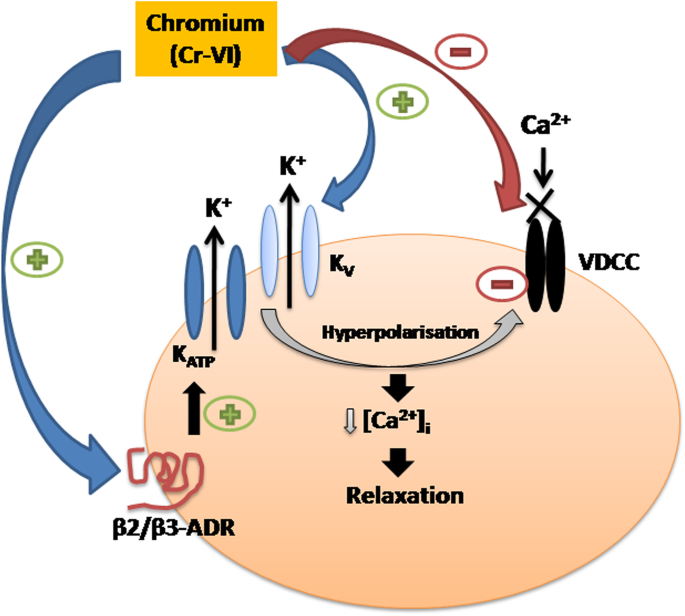 This is a preview of subscription content, log in to check access.
Access options
Buy single article
Instant access to the full article PDF.
US$ 39.95
Price includes VAT for USA
Subscribe to journal
Immediate online access to all issues from 2019. Subscription will auto renew annually.
US$ 954
This is the net price. Taxes to be calculated in checkout.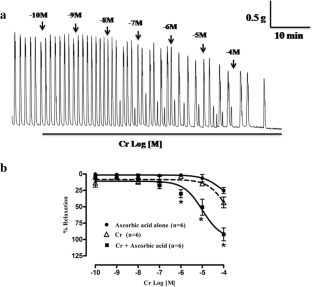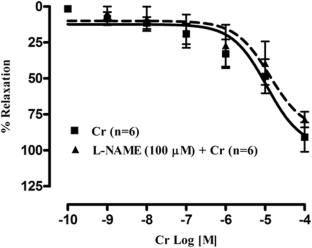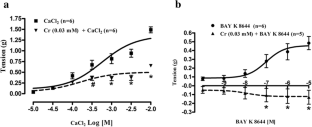 References
1.

Hamamy HA, Al-Hakkak ZS, Hussain AF (1987) Chromosome aberrations in workers at a tannery in Iraq. Mutat Res 189:395–398

2.

Nriagu JO, Nieboer E (1988) Chromium in the natural and human environment. Wiley, NewYork Weinheim, Deerfield Beach, p 273

3.

Bonde JP, Christensen JM (1991) Chromium in biological samples from low-level exposed stainless steel and mild steel welders. Arch Environ Health 46:225–229

4.

Domingo JL (1994) Metal-induced developmental toxicity in mammals: a review. J Toxicol Environ Health 42:123–141

5.

Abdalla HI, Beastall G, Fletcher D, Hawthorn JS, Smith J, Hart DM (1987) Sex steroid replacement in post-menopausal women: Effects on thyroid hormone status. Maturitas 9:49–54

6.

Anderson RA (2000) Chromium in the prevention and control of diabetes. Diabetes Metab 26:22–27

7.

US Environmental Protection Agency (1999) Integrated Risk Information System (IRIS) on chromium VI. National Center for Environmental Assessment, Office of Research and Development, Washington

8.

Marcondes FK, Bianchi FJ, Tanno AP (2002) Determination of the estrous cycle phases of rats: some helpful considerations. Braz J Biol 62:609–614

9.

Samuel JB, Stanley JA, Vengatesh G, Princess RA, Muthusami S, Roopha DP, Suthagar E, Banu SK, Aruldhas MM (2012) Ameliorative effect of vitamin C on hexavalent chromium-induced delay in sexual maturation and oxidative stress in developing Wistar rat ovary and uterus. Toxicol Ind Health 28:720–733

10.

Barceloux DG (1999) Chromium. J Toxicol Clin Toxicol 37:173–194

11.

Sadiq S, Ghazala Z, Chowdhury A, Büsselberg D (2012) Metal toxicity at the synapse: presynaptic, postsynaptic, and long-term effects. J Toxicol 2012

12.

Bonde JP (1993) The risk of male sub fecundity attributable to welding of metals: studies of semen quality, infertility, fertility, adverse pregnancy outcome and child hood malignancy. Int J Androl 1:11–29

13.

Greene LE, Riederer AM, Marcus ML, Khasuren O (2010) Association of fertility and pregnancy outcomes with leather tannery work in Mongolia: a pilot study. Int J Occup Environ Health 16:60–68

14.

Wilbur SB (2000) Toxicological profile for chromium. US Department of Health and Human Services, Public Health Service, Agency for Toxic Substances and Disease Registry

15.

Aaronson PI, Sarwar U, Gin S, Rockenbauch U, Connolly M, Tillet A, Watson S, Liu B, Tribe RM (2006) A role for voltage-gated, but not Ca2+-activated, K+ channels in regulating spontaneous contractile activity in myometrium from virgin and pregnant rats. Br J Pharmacol 147:815–824

16.

Nakade UP, Garg SK, Sharma A, Choudhury S, Yadav RS, Gupta K, Sood N (2015) Lead-induced adverse effects on the reproductive system of rats with particular reference to histopathological changes in uterus. Indian J Pharmacol 47:22–26

17.

Nakade UP, Sharma A, Choudhury S, Yadav RS, Garg SK (2017) Lead modulates calcium entry and beta-adrenoceptors signaling to produce myometrial relaxation in rats. Biol Trace Elem Res 176(1):176–180

18.

Saroj VK, Nakade UP, Sharma A, Yadav RS, Hajare SW, Garg SK (2016) Functional involvement of L-type calcium channels and cyclic nucleotide-dependent pathways in cadmium-induced myometrial relaxation in rats. Hum Exp Toxicol 36(3):276–286

19.

Koli S, Prakash A, Choudhury S, Mandil R, Garg SK (2019) Calcium channels, rho-kinase, protein kinase-C, and phospholipase-C pathways mediate mercury chloride-induced myometrial contractions in rats. Biol Trace Elem Res 187:418–424

20.

Koli S, Prakash A, Choudhury S, Mandil R, Garg SK (2019) Mercury affects uterine myogenic activity even without producing any apparent toxicity in rats: involvement of calcium-signaling cascades. J Trace Elem Med Biol 57:40–47

21.

Dong YL, Fang L, Gangula PR, Yallampalli C (1998) Regulation of inducible nitric oxide synthase messenger ribonucleic acid expression in pregnant rat uterus. Biol Reprod 59:933–940

22.

Yallampalli C, Dong YL, Gangula PR et al (1998) Role and regulation of nitric oxide in the uterus during pregnancy and parturition. J Soc Gynaecol Invest 5:58–67

23.

Bagchi D, Hassoun EA, Bagchi M, Stohs SJ (1995) Chromium-induced excretion of urinary lipid metabolites, DNA damage, nitric oxide production, and generation of reactive oxygen species in Sprague-Dawley rats. Comp Biochem Physiol C Pharmacol Toxicol Endocrinol 110:177–187

24.

Mehany HA, Abo-youssef AM, Ahmed LA, Arafa ESA, El-Latif HAA (2013) Protective effect of vitamin E and atorvastatin against potassium dichromate-induced nephrotoxicity in rats. Beni-Suef Univ J Basic Appl Sc 2(2):96–102

25.

Abebe W, Liu JY, Wimborne H, Mozaffari MS (2010) Effects of chromium picolinate on vascular reactivity and cardiac ischemia-reperfusion injury in spontaneously hypertensive rats. Pharma Rep 62:674–682

26.

Avila-Rojas SH, Tapia E, Briones-Herrera A, Aparicio-Trejo OE, León-Contreras JC, Hernández-Pando R, Pedraza-Chaverri J (2018) Curcumin prevents potassium dichromate (K2Cr2O7)-induced renal hypoxia. Food Chem Toxicol 121:472–482

27.

Brainard AM, Korovkina VP, England SK (2007) Potassium channels and uterine function. Semin Cell Dev Biol 18:332–339

28.

Tribe RM (2001) Regulation of human myometrial contractility during pregnancy and labour: are calcium homeostatic pathways important. Exp Physiol 86(2):247–254

29.

Rang HP, Dale MM, Ritter JM, Flower RJ, Henderson G (2012) Pharmacology, 7th edn. Elsevier Churchill Livingstone

30.

Toda N (1973) Influence of cadmium ions on contractile response of isolated aortas to stimulatory agents. Am J Phys 225(2):350–355

31.

Legrand C, Mhaouty S, Rigolot C, Maltier JP (1993) Heterogeneity of alpha-2 adrenoceptors in pregnant rat uterus: identification of subtypes and auto radiographic distribution. J Pharmacol Exp Ther 266(1):439–449

32.

Legrand C, Vivat V, Rigolot C, Maltier JP (1991) Selective distribution of alpha-1 and beta adrenoceptors in pregnant rat uterus visualized by autoradiography. J Pharmacol Exp Ther 256(2):767–772

33.

Katzung GB (2001) Basic and clinical pharmacology, 8th edn. McGraw-Hill, Philadelphia

34.

Toro L, Ramos-Franco J, Stefani E (1990) GTP-dependent regulation of myometrial KCa channels incorporated into lipid bilayers. J Gen Physiol 96(2):373–394

35.

Hamada Y, Nakaya Y, Hamada S, Kamada M, Aono T (1994) Activation of K+ channels by ritodrine hydrochloride in uterine smooth muscle cells from pregnant women. Eur J Pharmacol 288(1):45–51

36.

Kafali H, Kaya T, Gursoy S, Bagcivan I, Karadas B, Sarioglu Y (2002) The role of K(+) channels on the inhibitor effect of sevoflurane in pregnant rat myometrium. Anesth Analg 94(1):174–178

37.

Minorics R, Gaspar R, Gal A, Klukovits A, Falkay G (2009) Progesterone decreases the relaxing effect of the β3-adrenergic receptor agonist BRL37344 in the pregnant rat myometrium. Reproduction 138:383–390

38.

Parida S, Singh TU, Prakash VR, Mishra SK (2013) Molecular and functional characteristics of β3-adrenoceptors in late pregnant mouse uterus: a comparison with β2-adrenoceptors. Eur J Pharmacol 700:74–79

39.

Sharma V, Nair SV, Jaitley P, Nakade UP, Sharma A, Choudhury S, Garg SK (2018) ATP-sensitive and maxi potassium channels regulate BRL 37344-induced tocolysis in buffaloes - an in vitro study. Theriogenology 107:194–202

40.

Bardou M, Loustalot C, Cortijo J, Simon B, Naline E, Dumas M, Esteve S, Croci T, Chalon P, Frydman R, Sagot P, Manara L, Morcillo EJ, Advenier C (2000) Functional, biochemical and molecular biological evidence for a possible β3-adrenoceptor in human near-term myometrium. Br J Pharmacol 130:1960–1966

41.

Lagerström MC, Klovins J, Fredriksson R, Fridmanis D, Haitina T, Ling MK, Berglund MM, Schiöth HB (2003) High affinity agonistic metal ion binding sites within the melanocortin 4 receptor illustrate conformational change of transmembrane region 3. J Biol Chem 278(51):51521–51526

42.

Elling CE, Thirstrup K, Holst B, Schwartz TW (1999) Conversion of agonist site to metal-ion chelator site in the β2-adrenergic receptor. Proc Natl Acad Sci U S A 96(22):12322–12327
Funding
The first author received financial assistance from the Indian Council of Agricultural Research (ICAR), New Delhi, in the form of Senior Research Fellowship (SRF). The research work presented in this MS was supported by the Indian Council of Agriculture Research (ICAR), New Delhi, under Niche Area of Excellence Programme (NAE) to Department of Veterinary Pharmacology and Toxicology, DUVASU, Mathura, India (Grant no: 10(10)/2012-EPD, dated: 23rd March 2012).
Ethics declarations
All the experimental studies were undertaken after the approval of the Institutional Animal Ethics Committee (IAEC), DUVASU, Mathura, as per the guidelines of the Committee for the Purpose of Control and Supervision of Experiments on Animals (CPCSEA), Gov. of India.
Conflict of Interest
The authors declare that they have no conflict of interest.
Additional information
Publisher's Note
Springer Nature remains neutral with regard to jurisdictional claims in published maps and institutional affiliations.
About this article
Cite this article
Bhatiya, S., Choudhury, S., Gari, M. et al. Myometrial Calcium and Potassium Channels Play a Pivotal Role in Chromium-Induced Relaxation in Rat Uterus: an In Vitro Study. Biol Trace Elem Res (2020). https://doi.org/10.1007/s12011-020-02041-x
Received:

Accepted:

Published:
Keywords
Chromium

L-type calcium channel

Potassium channel

β-Adrenoceptors

Uterus